Date 1943 Dec22/22
A/C Type: B-24 H Liberator
SN: 42-7638
Code:
A/C Nickname: Big Banner
File: 148
Airforce: USAAF
Sqn/Unit: 44 BG - 66 BS
Mission/Raid: Osnabrück
1
Pilot
F/O Kent F. Miller MIA
9
RWG
S/Sgt Gerald D. McCord w.a. Volendam
2
Co-pilot
2Lt. Charles E. Taylor rescued by German boat
10
TG
S/Sgt William J. Sheehan fished up, Urk.
3
Nav.
2Lt. Frank A. Passavant MIA
11
4
B
2Lt. Donald E. Shaffer MIA
12
5
RO
T/Sgt James C. Childers MIA
13
6
BTG
S/Sgt. Stanley Pilch Jr. MIA
14
7
E
S/Sgt Edward E. Birge fished up, Bunschoten (BU25)
15
8
LWG
S/Sgt John H. Larson German boat, buried Kampen
16

Returned from Münster high above the clouds. Two engines damaged by the Münster-Flak, lost speed and altitude. Near the south-eastern coastline of Lake IJsselmeer (Old Zuyder Sea), the other a/c in the formation witnessed aircraft '638' gliding down under the clouds, out of further view. Pilot gave order to jump, 3 men bailed out (drowned). Eventually the B-24 belly landed, unseen, in the icecold lake. Weather conditions were bad. Co-pilot Charles Taylor was picked up by a German boat by coincidence, only survivor. Wreck recovered 1975 with 4 MIA on board. In the final clearing of the wreckage, the 5th MIA was found.

Co-Pilot Charles E. Taylor (only survivor, POW), post war statement: "I believe four men jumped. Bailout order was changed to ditching as soon it was learned, through a break in the clouds, that we were over water". In 1975 it became clear that not four, but three men had bailed out, the tail- and waist gunners:

That day, 22 Dec 1943, a German patrol boat picked up an American parachutist from the water, which was near freezing point. It was waist gunner S/Sgt. John H. Larson. The Germans told surviving co-pilot Charles Taylor in Amsterdam jail that Larson was picked up in the water but failed to respond to artificial respiration. Taylor saw his personal affects, including dog tags. In the MACR is a document that the German boat headed for Kampen. They handed Larson over to the hospital there. He was buried in the Kampen-IJsselmuiden 'Zandberg' Cemetery, row for washed ashore Allied pilots, grave 14. Post war he was reburied in Neuville-en-Condroz ('Ardennes'), in 1949 reburied USA (Arizona). The empty grave of Larson in Kampen is well visible today.

On 17 February 1944, a fisherman from Urk fished up tail gunner S/Sgt. William J. Sheehan on a location 12km SW Urk. He was buried in Urk on 22 February 1944 in grave 613, deep 2. In July 1947 exhumed by a US Quartermaster Grave Recovery Team and reburied up to this day in centralization war cemetery in Neuville-en-Condroz, Belgium. Today named American Cemetery "Ardennes", Neupré.

Waist gunner S/Sgt. Gerald D. McCord. American translation of the German report: "he washed ashore in the harbor of Volendam on 31 July 1944, 09:00hrs". In fact he did not wash ashore into the port, but was recovered on the Lake by a fisherman who brought McCord's body inside the Volendam harbor. It was laid down on the slipway of the old boat repair wharf ('de Oude Helling') and was inspected by a German doctor. Despite 7 months in the water, they found on him his full name, service no. and mothers address in Fresno, California. Designated cemetery for the Volendam area was Amsterdam. McCord received a coffin on the slipway. Buried in the Amsterdam New Eastern Cemetery grave 81, in the upper coffin of four stacked. On 20 February 1946 he was exhumed and reburied in US Cemetery "Netherlands" in Margraten, rests there today.


























Above:
The Volendam slipway. Image shows coffins with drowned and brought ashore American airmen, 1944. This photo came from the attic of the maker. It was one of the intriguing items that came to light in the interviews on the air war with elder people on the dyke.

======================================

Engineer T/Sgt. Edward E. Birge was assisting the pilots during the ditching. He was standing in cockpit door, the hard hit on the water smashed him forward into the controls. His body eventually got clear from the wreck and half year later on 26 June 1944, he was recovered on sea in an area named 'De Knar' by fishing boat Bunschoten 25. Dead Allied airmen brought in port Bunschoten were buried in Amersfoort, in the 'Oud Leusden-Rusthof' Cemetery. He was buried there on the airwar war graves plot, row 8. Post war reburied US Cemetery "Netherlands" and in 1949 reburied USA (Florida).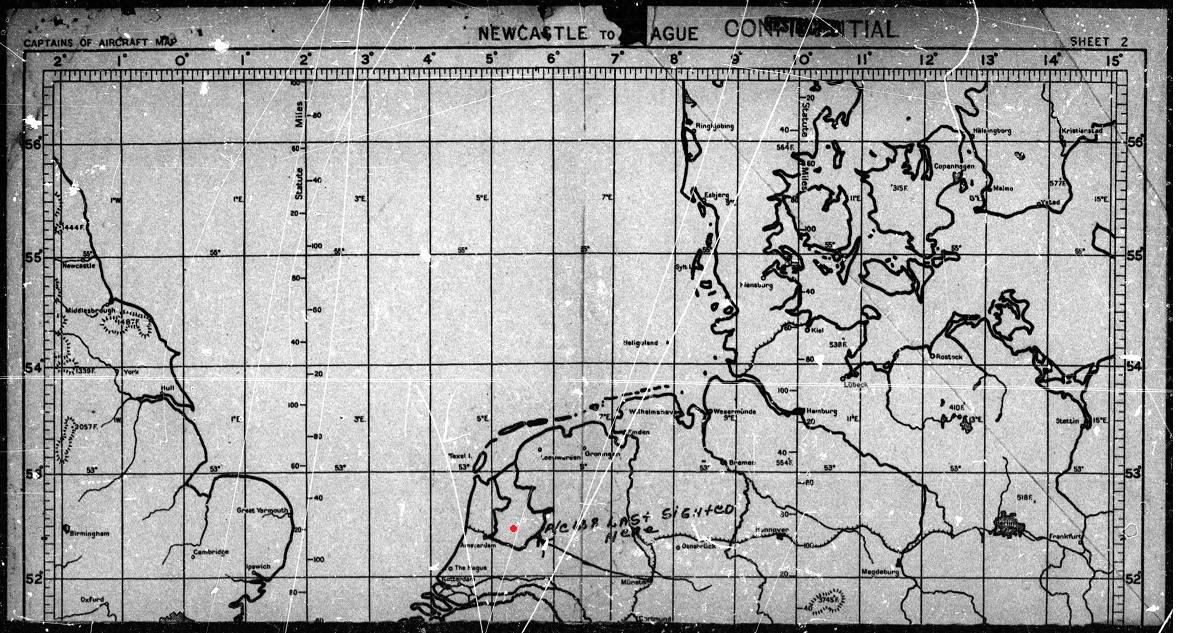 Map above: used in the 44BG-debriefing in England 22 Dec. 1943. A very accurate line is drawn with the course of Miller's missing 42-7638 and where it went under the clouds. Text: "A/C (aircraft) 638 last sighted here". In 1971 it became known that Miller flew on for 17 miles and landed into the sea at the red dot. Weather was bad, it sunk unseen in the shipping lane Amsterdam-Kampen. After 15 minutes a German patrol boat underway to Amsterdam passed the spot and picked-up the almost dead co-pilot Charles Taylor, hanging onto a dinghy in the cold water. They revived him (POW).


Discovery of the wreck 1968

Below: his part of Lake IJsselmeer (Old Zuyder Sea) was made into land 1960. Dykes were laid around the area and water was pumped out. In 1968 when one meter (3 ft) of water was left, a Dutch helicopter (based on shadow an Alouette III) took underneath photo of an aircraft wing that emerged. Location was north of Huizen. Pilot marked rough location on photo. The spot was unknown before and not marked as underwater obstacle or known aircraft wreck on the sea charts 1943-1968. This because the location was not fished and the fishermen therefore never reported it. The wreck lay exactly in the shipping lane Amsterdam (Pampus) to Kampen (entrance IJssel River).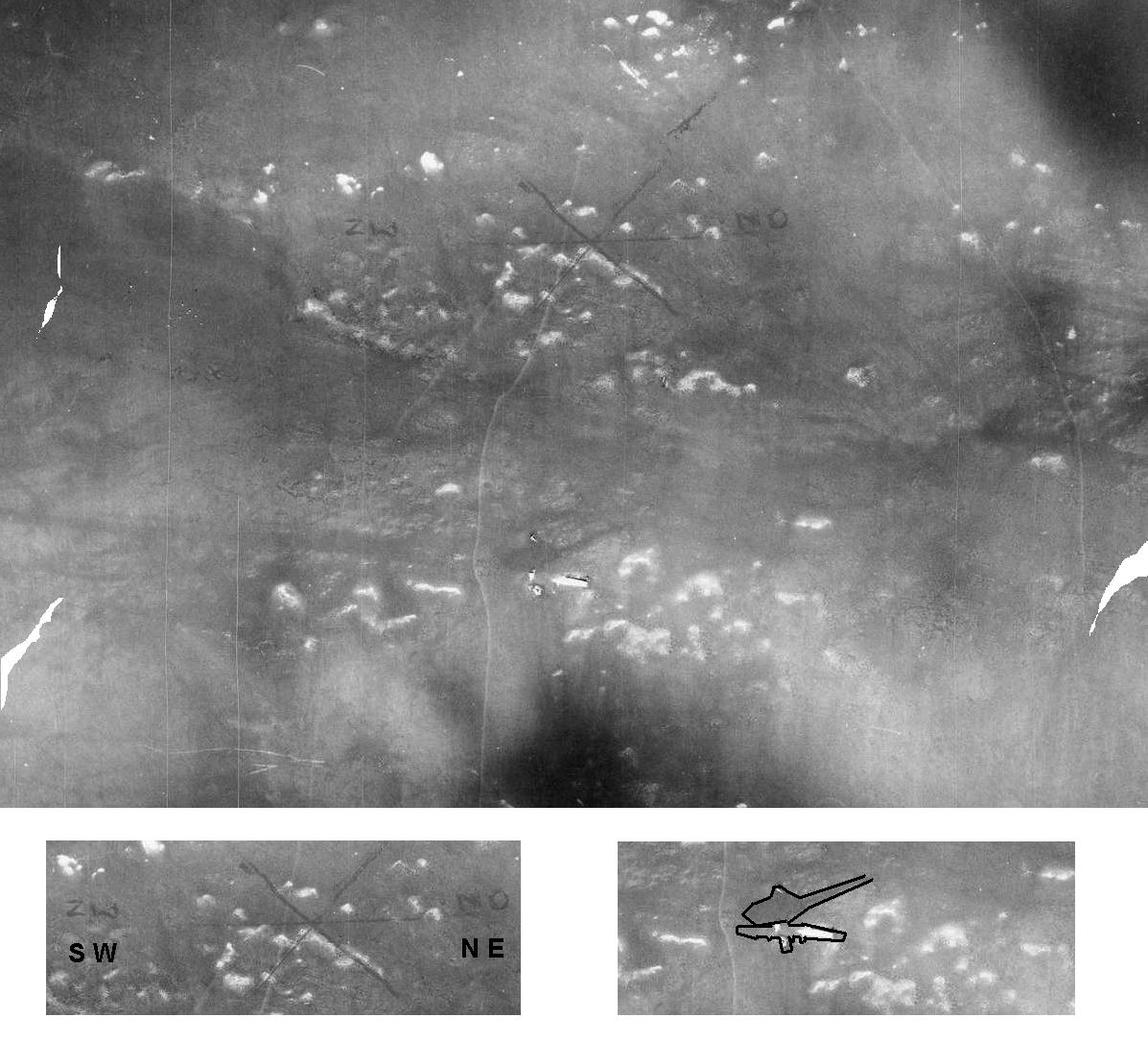 Below: it became clear it was a WW2 USAAF B-24 bomber. In 1971, Dutch Airforce Recovery Officer Gerrit Zwanenburg recovered a dinghy from the wreck. It had stamped on it '42-7638' which identified the aircraft. Realized was that a thorough recovery operation would be necessary, because 5 MIA crew could be expected inside.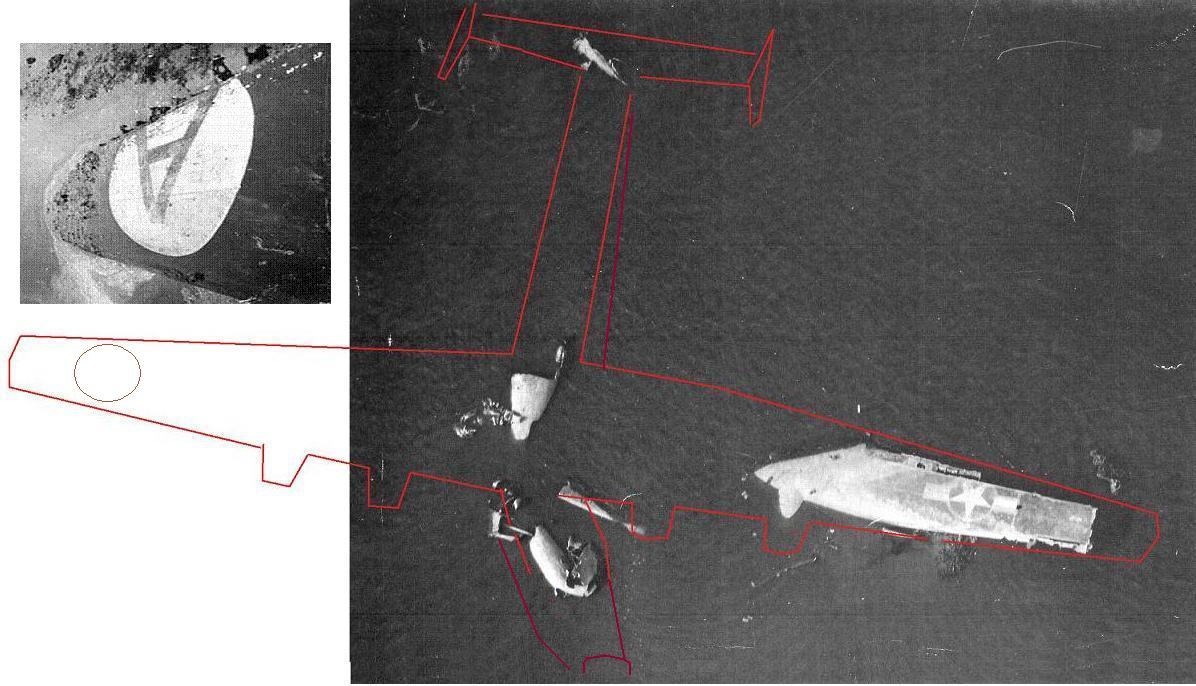 Because this lake contained fresh water since 1932 (salt water before that), the wreck was well preserved. The hard belly landing had broken the back of the aircraft. The USAAF-markings were still the old red outlined ones from 1942. There simply had not been time (or desire) in the 44BG to overpaint them.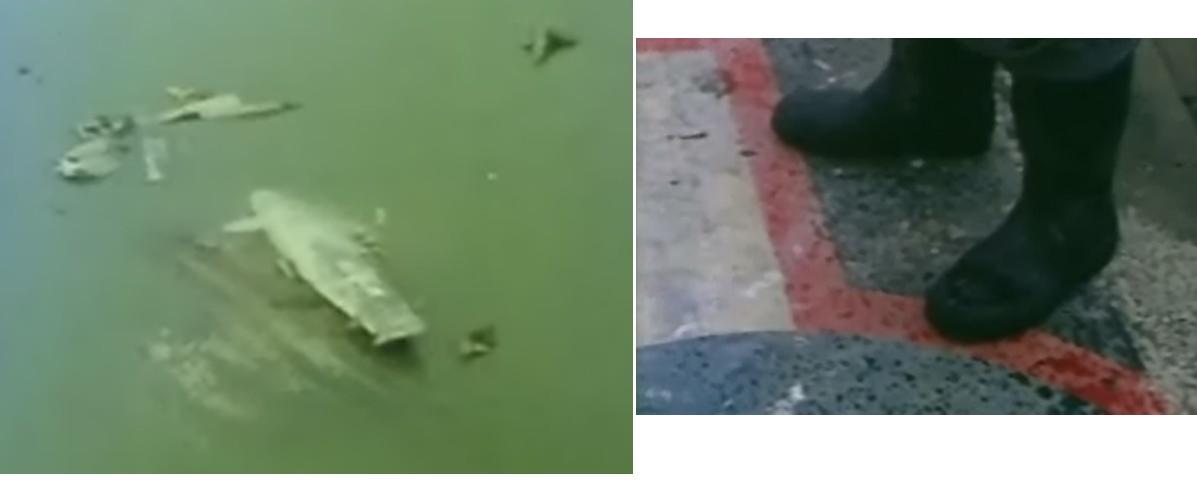 Recovery operation and finding of the 5 MIA. August - December 1975.

August 1975 recovery started. The Dutch Army Engineers (11 Genie Battalion from Wezep) build a 800m long sand dam from the new dyke to the wreck. This was necessary to reach the bomber, because it lay in a sort of muddy quicksand. Around the wreck a construction-pit was build. A ring of wooden planks and pumps held the water out (still 3 ft on the other side). Former co-pilot Charles Taylor visited the site. In November 1975 the remains of 3 men and their ID tags were found against the radio room bulkhead (crash position). These were bombardier 2Lt. Frank E. Shaffer, navigator 2Lt. Frank A. Passavant and radio operator T/Sgt. James C. Childers. Remains of the 4th man, pilot FlyingOfficer Kent F. Miller and his golden pilot ring were found in the cockpit down at the rudder pedals. To the surprise of the Dutch Army Grave and Identification Service (Adjutant Arie van der Graaf en his trainee 1/Sgt. Harry Jonge, skulls were not found. We locals know that big eels eat their way inside and come out at another opening. They can swim away with a skull around their body. Below photos: Collectie Nederlands Instituut voor Militaire Historie.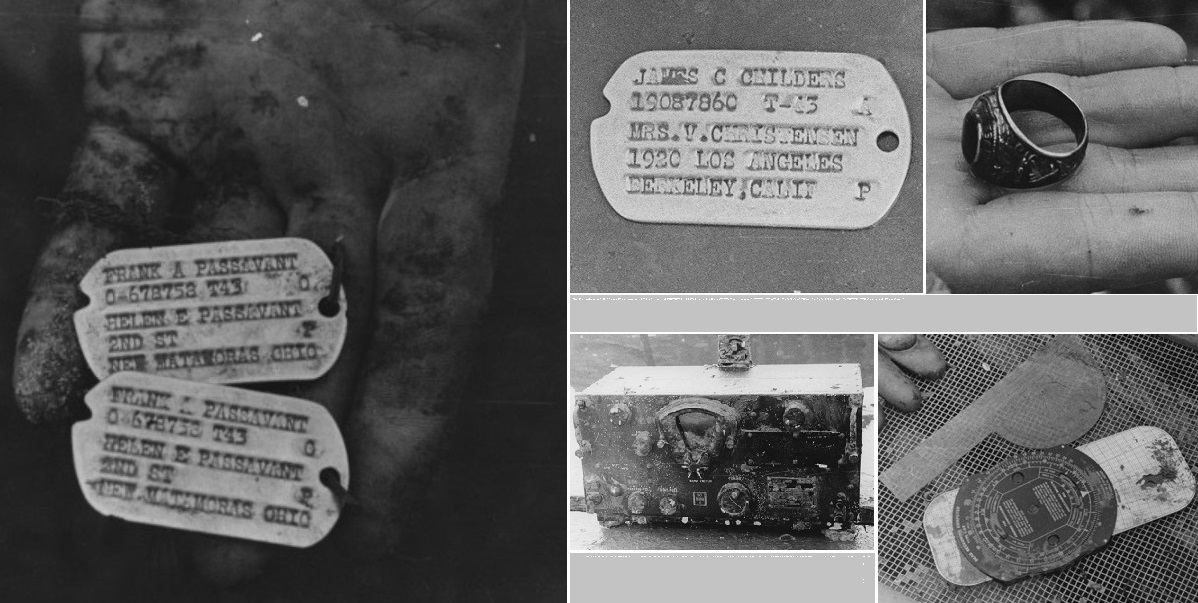 BTG S/Sgt. Stanley Pilch Jr. was not found at first. After the ditching in December 1943, co-pilot Taylor regained consciousness, climbed out through the big crack in the side of the cockpit and swam away from the sinking aircraft. When it appeared to stay afloat, Taylor swam back and climbed the fuselage to open a dinghy storage. He noticed Pilch in the cold water, outside and next to the side of the a/c. They exchanged a hand signal. The dinghy inflated itself automatically, but the wind blew it in the water. Taylor swam after it and grabbed it, but because of the cold and weight of his flying suit, Flak jacket and Mae West he could not climb in. Taylor hold on to it and passed out (water was near freezing point). S/Sgt. Stanley Pilch was never seen since then and became MIA. It was expected he lay on the bottom of the lake somewhere or had washed ashore in 1944 and probably was buried as not identified airman. However, on the last day of the recovery operation, an Army tank pulled parts of the wreck from place and the remains of Sgt. Pilch were discovered. The last and 5th man was found.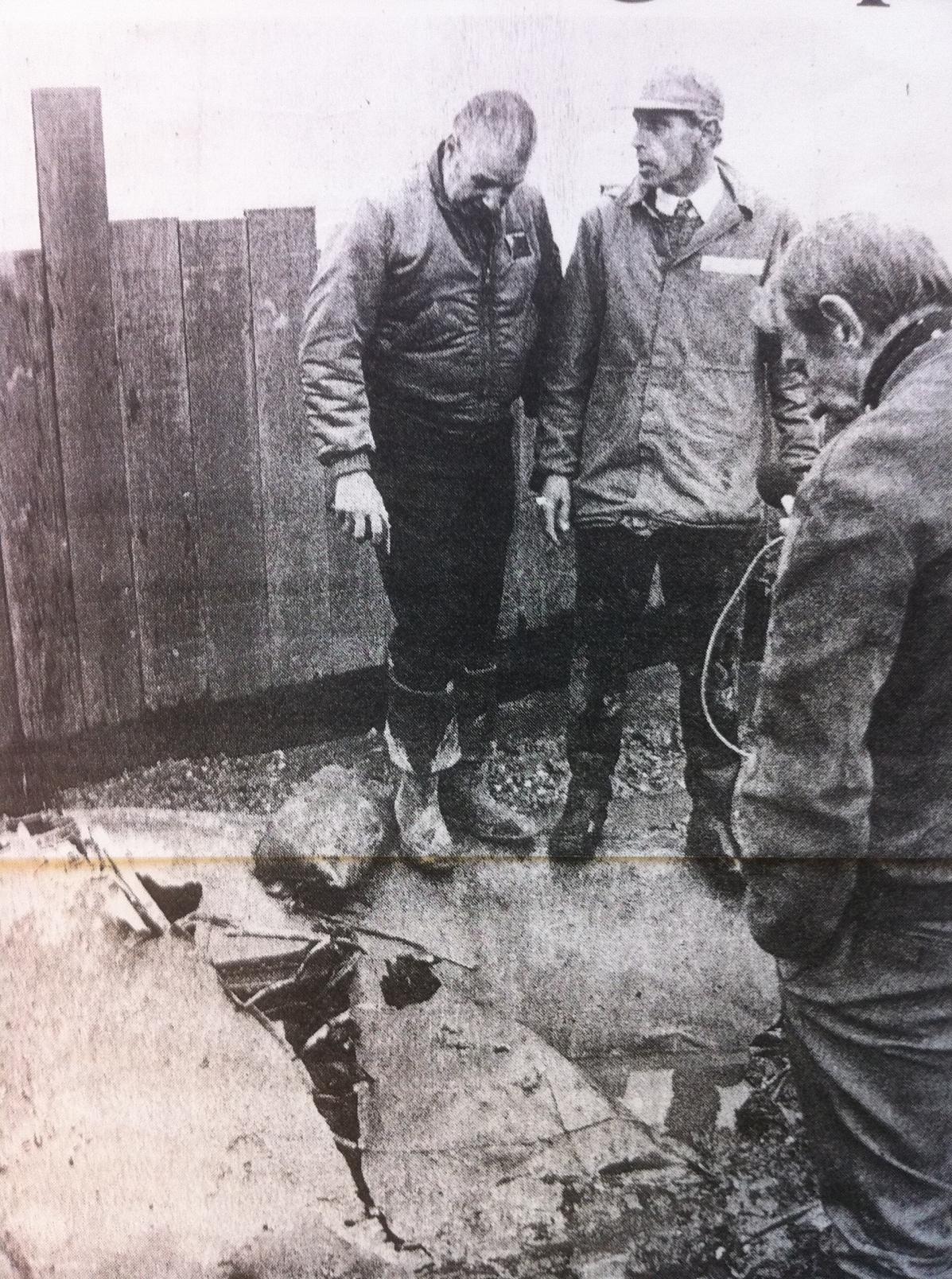 Above: A moved Charles Taylor visiting the recovery in 1975.
--
Below: View inside the fuselage.


















Below, 1975. A soldier of the Dutch AF Recovery Unit and two men of the Dutch Army Grave Recovery and Identification Unit, Adjutant Arie van der Graaf and his trainee Sgt. Harry Jonge (later the successful tracker Captain Harry Jonge 'de Neus/the Nose'). They inspect the cockpit floor at the controls and look at the remains of pilot Kent Miller.

In the British TV-documentary 'Some of our Airmen are not longer missing' (1978) this recovery is subject at 13:20--16:00 (intro), 19:17--27:30 (recovery B-24 42-7638) and 32:34--37:00 (interview with the brother of Lt. Kent Miller), 49:33--51:20 (Charles Taylor laying flowers in Margraten, brother Kent Miller). The documentary on You Tube: https://www.youtube.com/watch?v=gTpAXE4WIJM&list=PLFAA96C8A4CD6DD45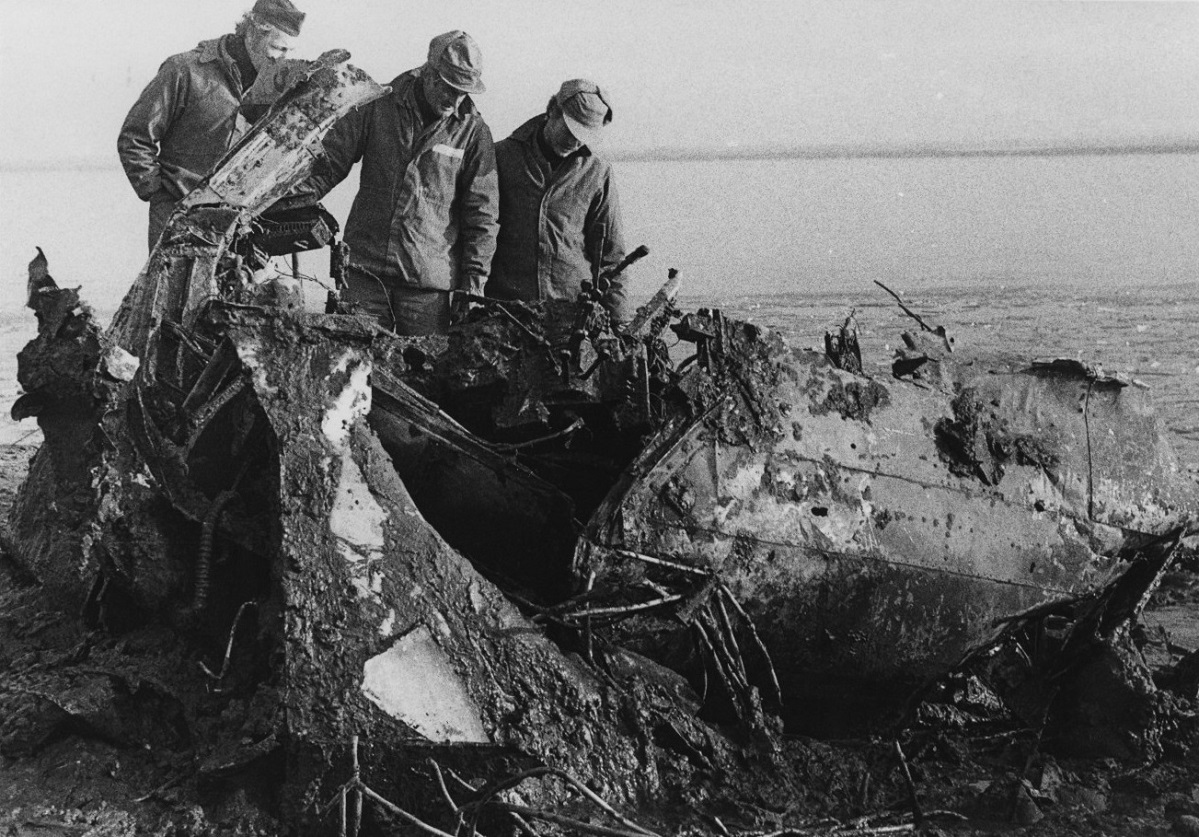 Below: Close-up of the controls. This and above two photos are from the 'Collectie Nederlands Instituut voor Militaire Historie'.
























































The crew of 42-7638 is commemorated by a permanent exhibition in The National Museum of the US Airforce in Dayton, Ohio. Here are parts that were recovered in 1975 on display, including the 1942-style USAAF marking on the wing. Nice touch are the planks around the glass display (as the construction pit around the wreck in 1975).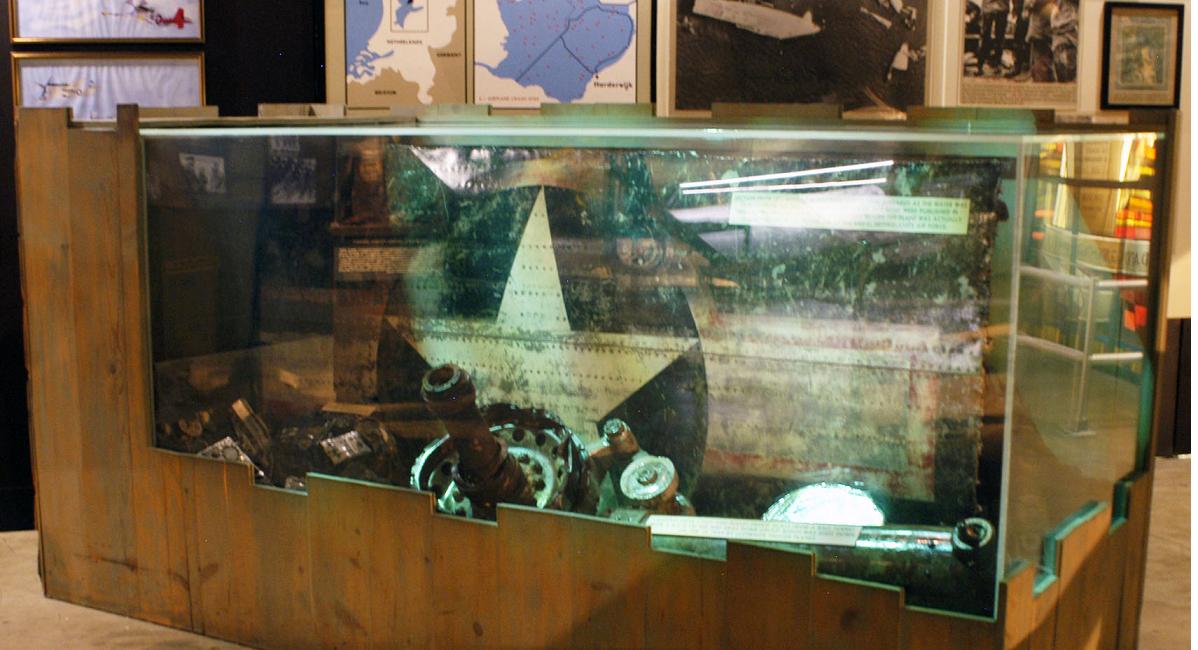 Below. View from the dyke towards the crash and recovery position in distance (thin low island). The sand dam that was constructed by the engineers towards the thin island was demolished. Before 1960 this was all sea. The dyke with this road was functional in 1965 and used during the recovery as base to get to the crash position.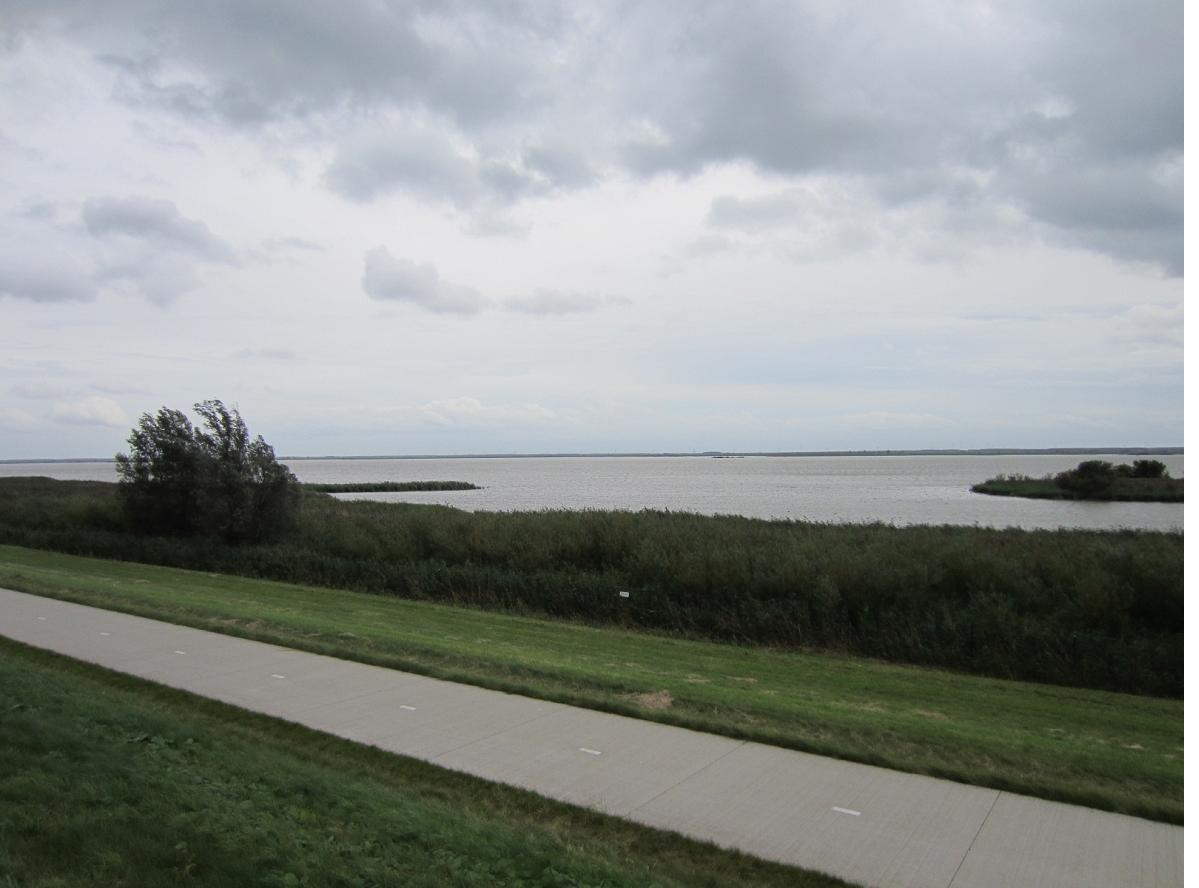 Below. On the dyke, view to the other side, towards Uitdam (centre-left). In 1943 this dyke-road and visible green islands did not exist. It was water all around.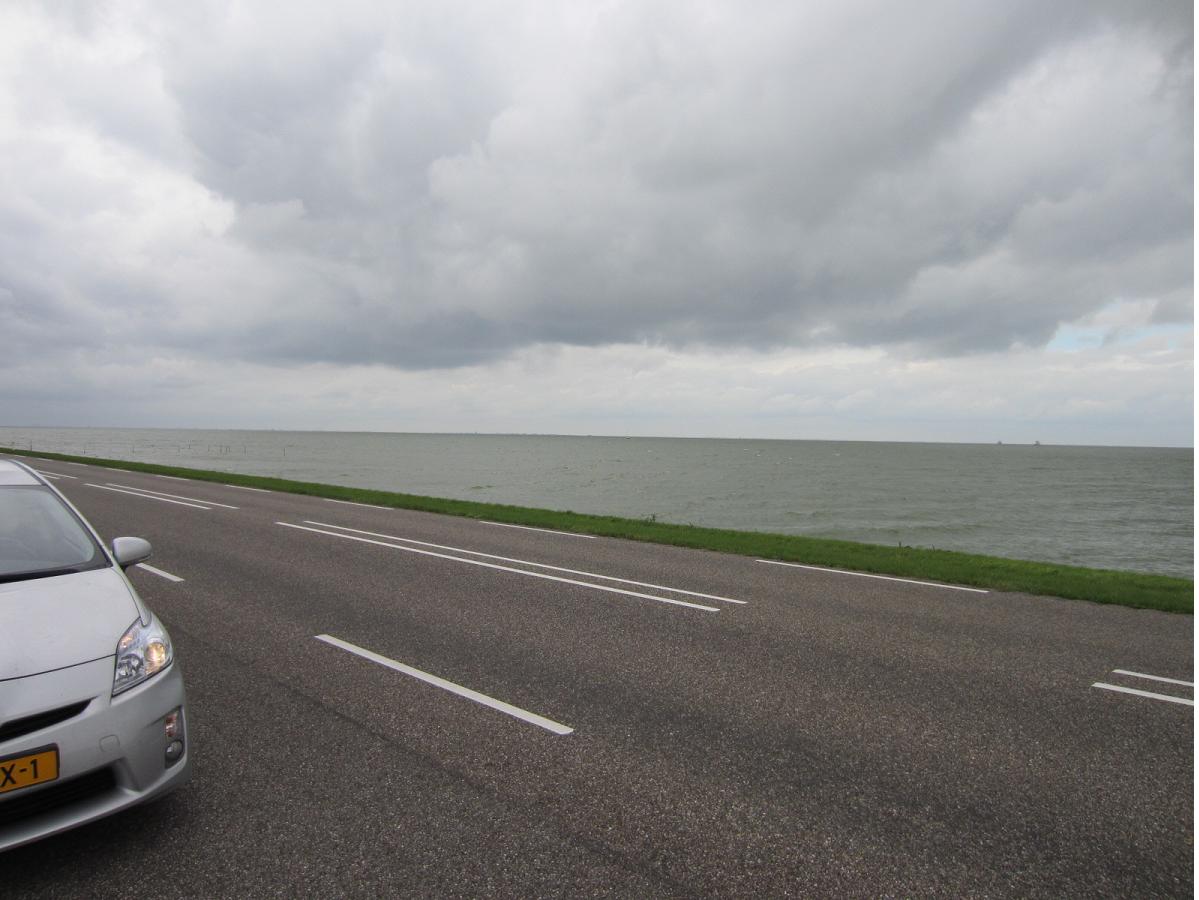 Below: View towards the north-north-east.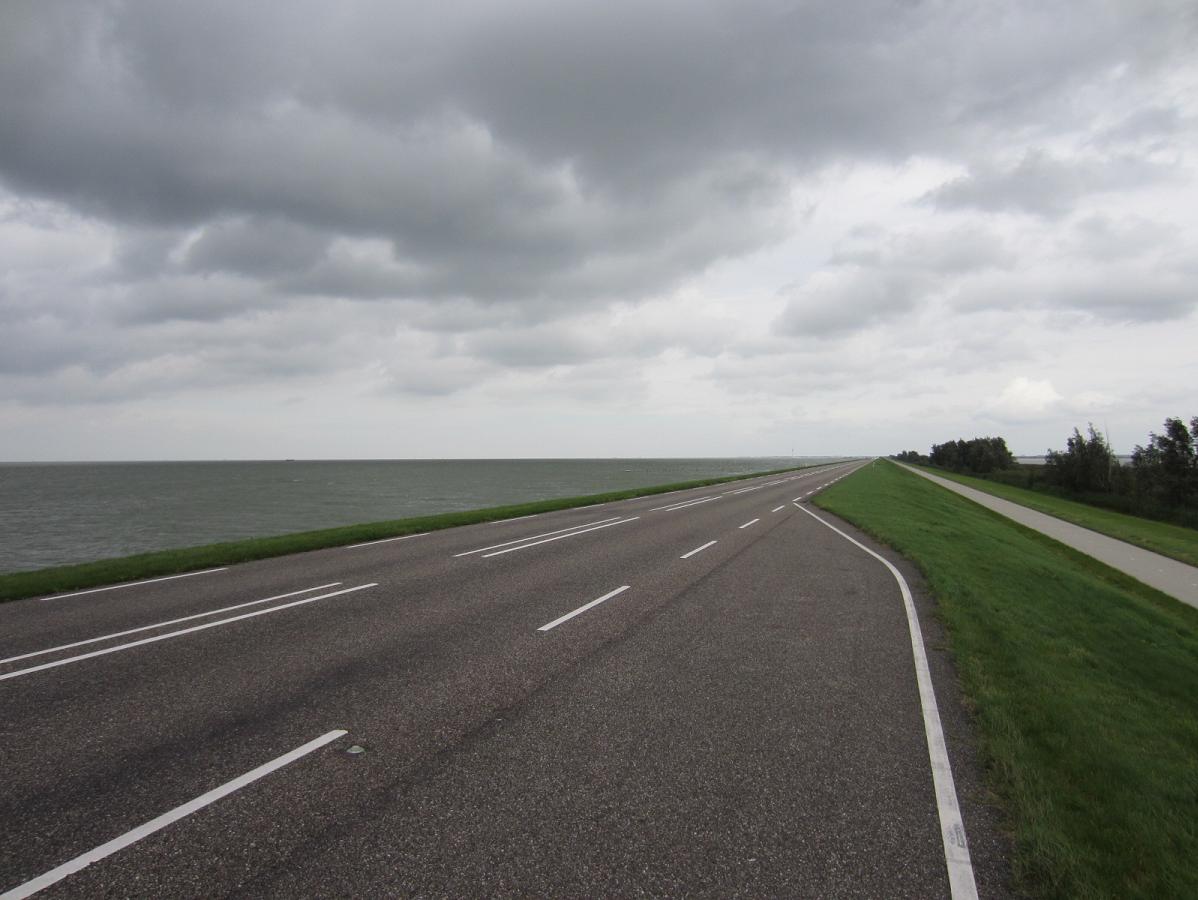 Below: 14 cylinder radial engine from B-24H 42-7638. On display at Nieuw Land Polder Museum, Lelystad, NL. It is a Pratt & Whitney R-1830-43 Twin Wasp 1200 HP.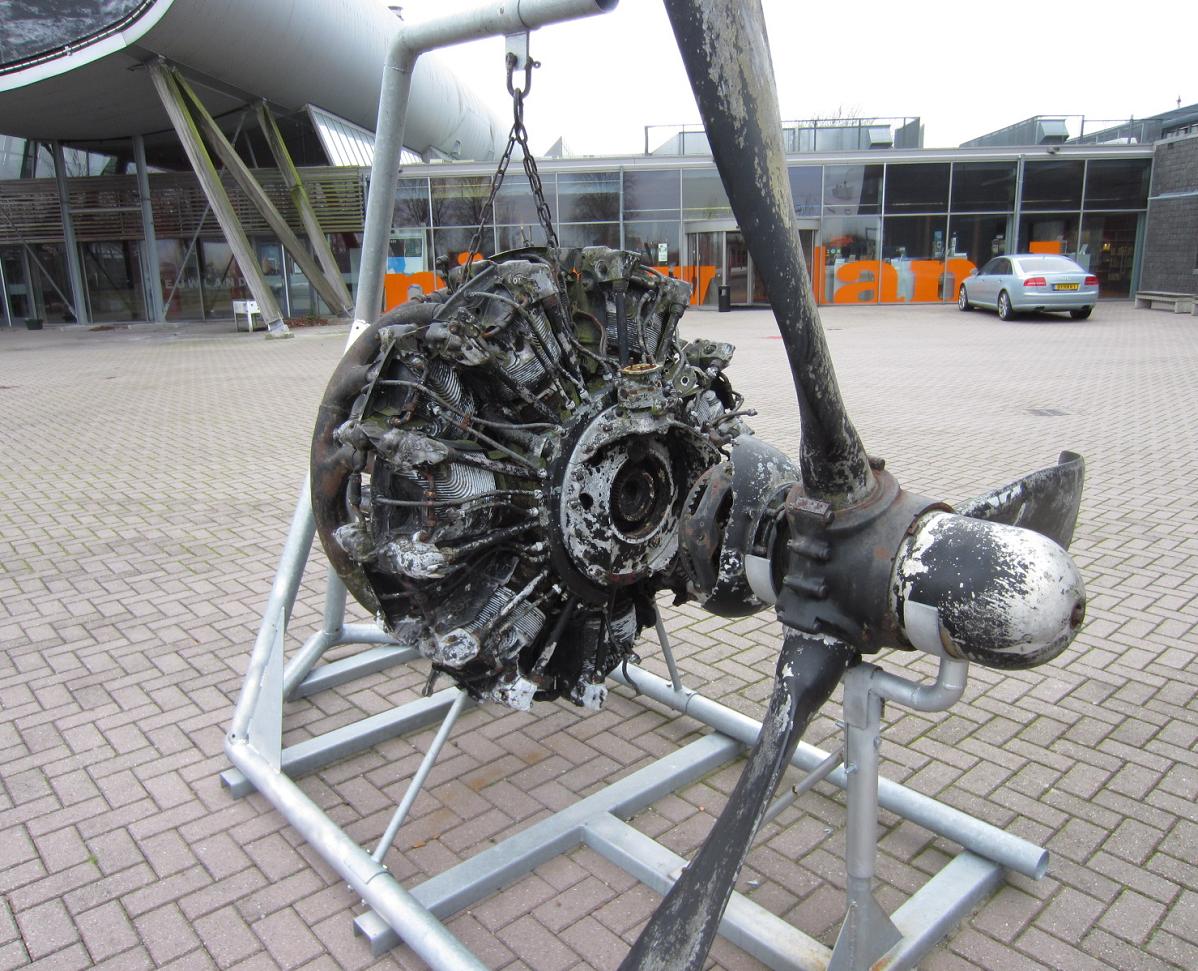 More photos: http://www.107kaucie.nl/fotos%20Lelystad.html

Sources/Read more:

- MACR
- Research on war dead in Volendam and 1940-1945 burials in Amsterdam, Kampen, Urk and Amersfoort
- Dutch 1943/1944 Police reports (Proces Verbaal)
- Dutch newspaper articles 1975, interviews with Charles Taylor.
- Book 'In de schaduw van de glorie', by S.L. Veenstra (ex Dutch Airforce Recovery Team), 1992.
- Website ABMC
- Museum US Airforce Dayton Ohio. http://www.nationalmuseum.af.mil/Visit/MuseumExhibits/FactSheets/Display/tabid/509/Article/196177/wwii-relics-from-the-polders.aspx
- Crew: http://www.teunispats.nl/t3252.htm
- Miller: http://www.fieldsofhonor-database.com/index.php/american-war-cemetery-margraten-m/64269-miller-kent-f
- Passavant: http://www.wvculture.org/History/wvmemory/vets/passavantfrank/passavantfrank.html
- Pilch: http://www.findagrave.com/cgi-bin/fg.cgi?page=pv&GRid=45727843&PIpi=31269925
- Birge: http://www.findagrave.com/cgi-bin/fg.cgi?page=gr&GRid=24359769
- Larson: http://www.findagrave.com/cgi-bin/fg.cgi?page=gr&GRid=19162988
- Sheehan: http://www.findagrave.com/cgi-bin/fg.cgi?page=pv&GRid=56360842
- Memorial Plaque in the US: http://farmtown3.rssing.com/browser.php?indx=1793814&item=6137
- Nederlands Instituut Militaire Historie (photos).





© ZZairwar (Zuyder Zee Air War), 11/2015, updated 04/2019.