Date:1944 Feb 03/04
A/C Type: Ju-88 A-4
SN: 550283
Code: B3 + EK
A/C Nickname:
File: 172
Airfrce: Luftwaffe
Sqn/Unit: 2./KG 54
Mission/Raid: Operation Steinbock
1
P
Uffz. Helmut Weiss all crew KIA
9
2
Obs/Nav
Uffz. Franz Prinke
10
3
BF
Uffz. Herbert Garske
11
4
BS
Uffz. Alfons Auerbach
12
5
13
6
14
7
15
8
16

Crashed in Lake IJsselmeer. Position today is near the town of Lelystad. The crew members washed ashore or were found in the water by ships, buried in Zwolle and Hilversum. All four were reburied in 1948 en 1950 in Ysselsteyn.


Operation Steinbock were a series of bombings on London early 1944. In the night 3 on 4 February 1944, the German KG54 dispatched several Ju-88 for this operation. They flew from airfields in northwest Germany, via The Hague towards London and back, See below map. As many attackers in Operation Steinbock, also Ju-88 no. 550283 (B3 + EK) piloted by Uffz. Helmut Weiss did not return. For the Germans it became clear that 550283 had crashed somewhere in Lake IJsselmeer (former Zuider Sea) because all four crew were recovered from the water in the days after the raid.

Pilot Uffz. Helmut Weiss was buried in Hilversum. This suggest washing ashore or recovery by a fisherman from Naarden or Huizen. Hilversum had more war graves from the Lake.
Weiss was exhumed 1st June 1948 and reburied in Centralization War Cemetery for German soldiers 'Ysselsteyn' in the South of the Netherlands. Grave BG-3-61, date of death on cross 4 Feb. 1944.

It made sense that the other 3 were buried in Zwolle, cem. Kranenburg, because the predominant SW-wind blew corpes towards Kampen, which lead for German casulaties to burial in Zwolle.

Navigator Uffz. Franz Prinke was buried Zwolle Kranenburg. He was reburied 23 May 1950 in Ysselsteyn, grave CF-2-46. On his cross is his wash ashore date 10 February 1944.
Radio operator Uffz. Herbert Garske was buried in Zwolle Kranenburg. Reburied 23 May 1950 in Ysselsteyn, grave CF-2-50. Date on his stone 22 April 1944.
Gunner Uffz. Alfons Auerbach was buried Zwolle Kranenburg. Reburied 23 May 1950 in Ysselsteyn, grave CF-2-51. Date on this cross is 4 February 1944.
Photos Ysselsteyn: http://www.zzairwar.nl/dossiers/982.html Photos of crosses crew 550283: https://nl.findagrave.com/cemetery/2346270/Deutscher-Soldatenfriedhof-Ysselsteyn

The German KG54 had a pirate 'skull & bones' as squadron emblem, which was painted under the cockpit of their aircraft. A few years ago, British modeller Paul build an aircraft model JU-88 with code B3 + EK including the skull & bones emblem of KG54. This model is representative for Uffz. Helmut Weiss' aircraft. For the night raid on London early 1944, the white band around the tail and underside were painted black. Link JU-88 A-4 B3+ EK model: https://www.airfix.com/us-en/forum/junkers-ju-88-a-4-03007/?p=1/

In 1961 remains of a Ju-88 were found when a new polder (named East Flevoland) was constructed, it proved to be 550283. See story below.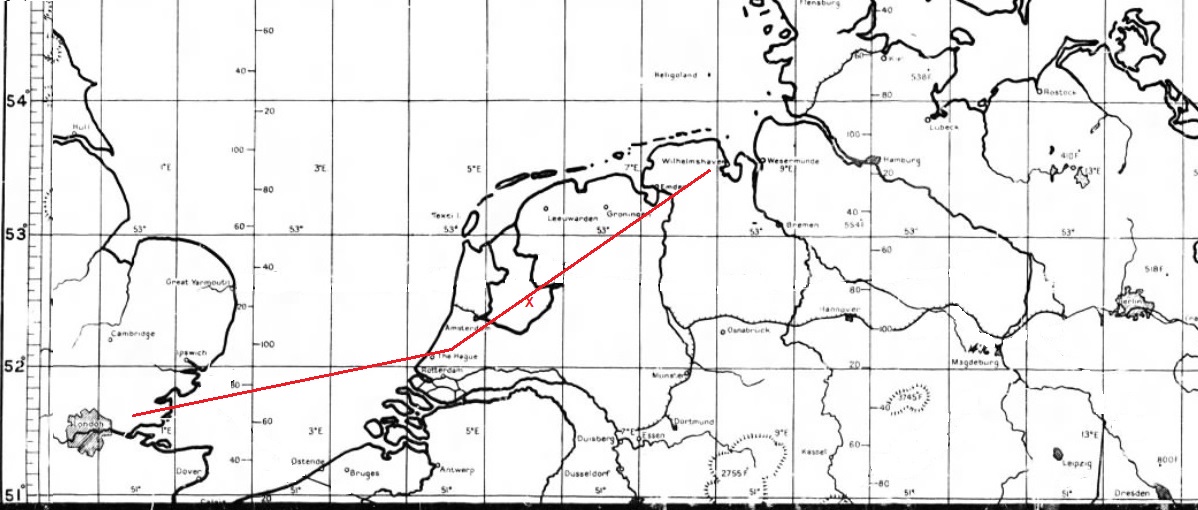 1961
On 31 May 1961 the Dutch Department for Polder-construction 'Dienst Zuider Zee Werken' (ZZW) wrote a letter to the Dutch Airforce, that remains of a German fighterbomber were encountered while digging a canal in section G-118, today just east of Lelystad. ZZW requested removal of the wreck. The recovery team of the Airforce took action but could not do much because the soil was still very wet (former seabed) and it rained constantly. A year later, end July -begin August 1962, the recovery team lead by Sgt. Hinssen returned to this location, which was by then overgrown by reeds as far as the eye could see. It was already the 7th aircraft wreck that Hinssen and his team had to work on since they entered the polder for the first time May 3rd 1960.

The parts deep in the mud were extracted by crane. Just before this recovery (on the 6th recovery) an officer was added to the recovery team with also the task of press-liaison (press-officer). This was captain A.P. de Jong. He arranged for the recovery of this aircraft that newspaper and TV-reporters were allowed on the scene. Below image shows three reporters (captain de Jong taking this picture) and four men of the recovery team in the pit. They are hoisting a rubber fuel tank from the Ju-88 wing. Sgt. Hinssen is squated and smiling (third person from the right).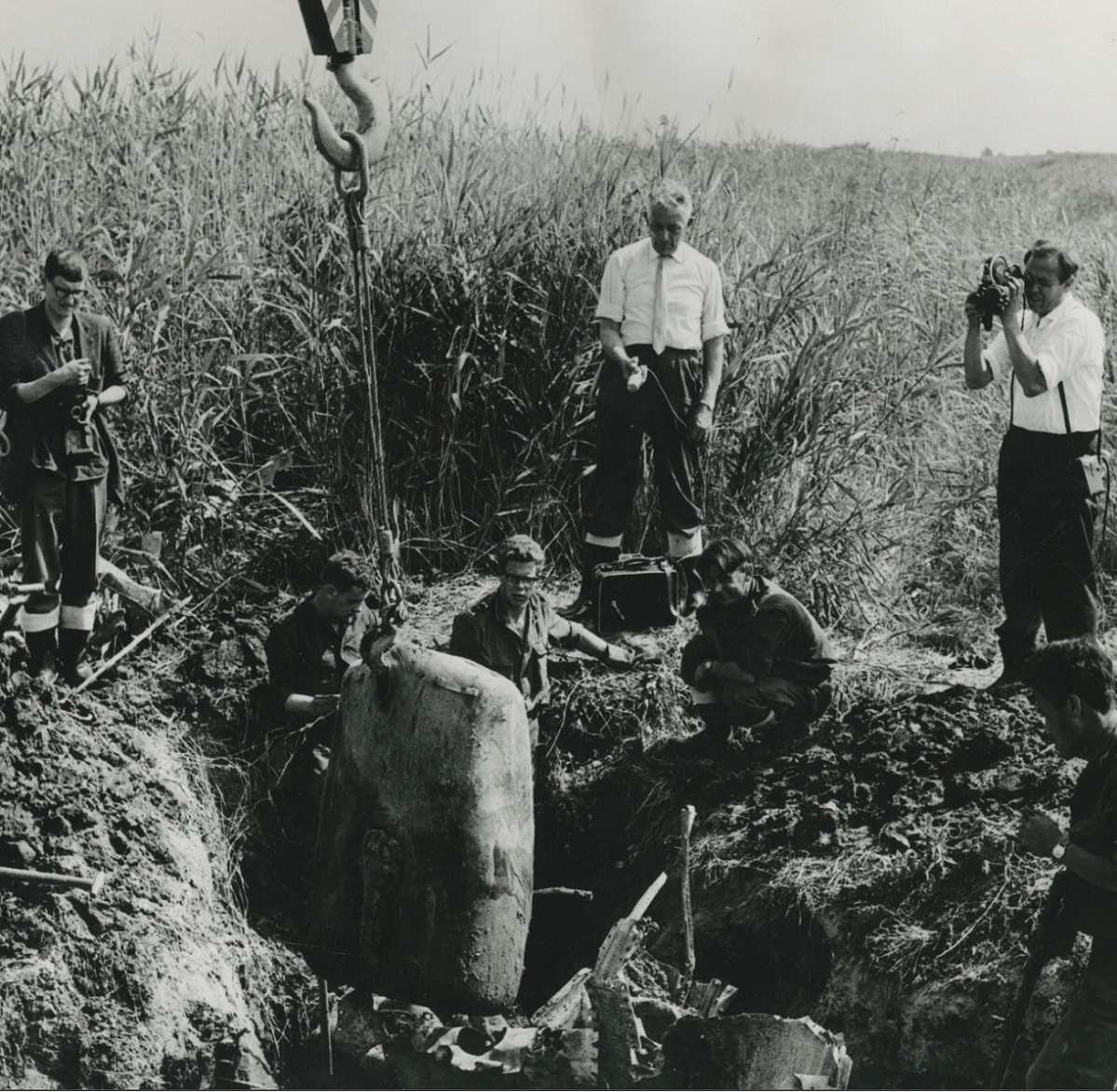 The debris were put on a flat-bed trailer, type name "Queen Mary".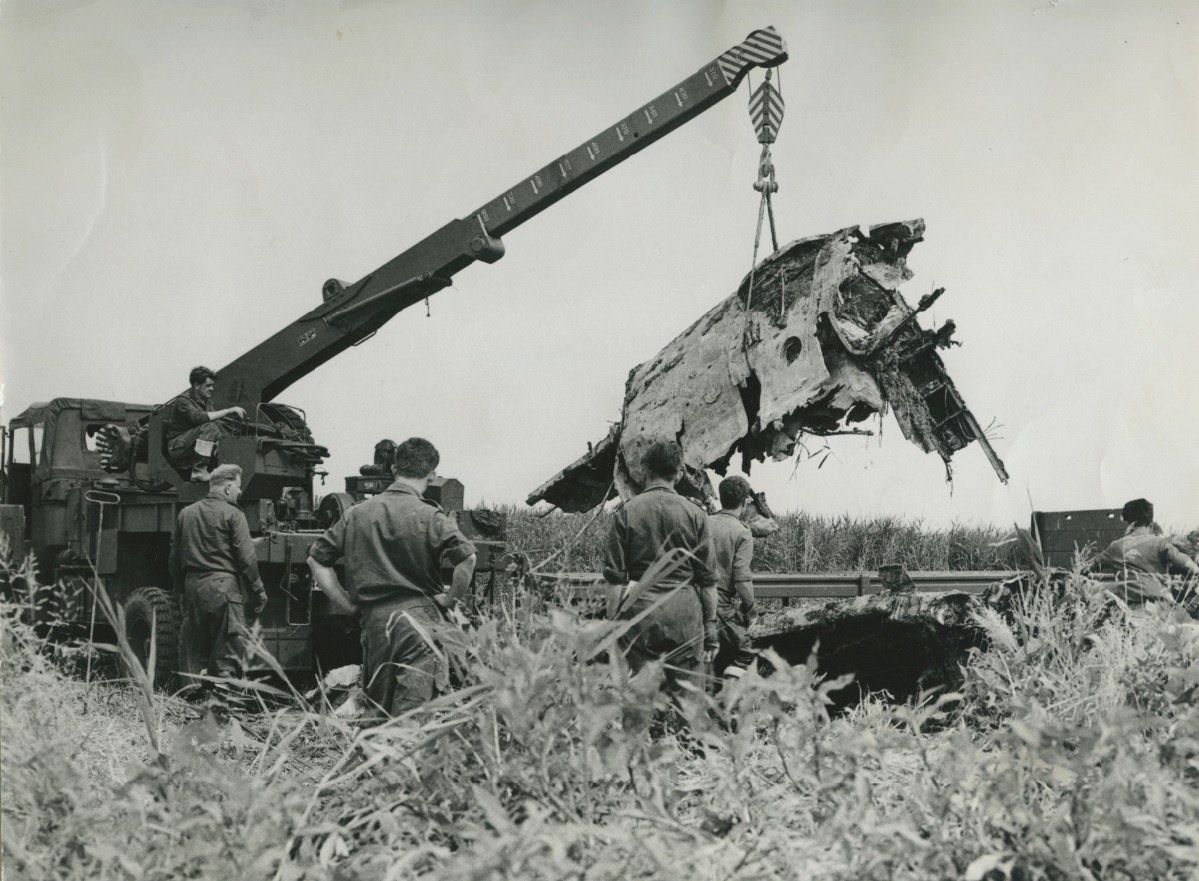 Above photos: NIMH (Netherlands Institute for Military History).

Below. July/August 1962. Among the items found that recovery, was an intact bottle of perfume Eau de Cologne. This was highlighted in most newspaper articles on this recovery. Another item was a pilot seat. This was stored in the storage for archeological finds of the ZZW/Dir. Wieringermeer (later 'RIJP'). It was part of a display 10 and 20 years later, the information-card which type of aircraft it had belonged to ('Ju-88 near Lelystad') was still attached, but the Ju-88 itself was not identified. This was succesfully done in 1971.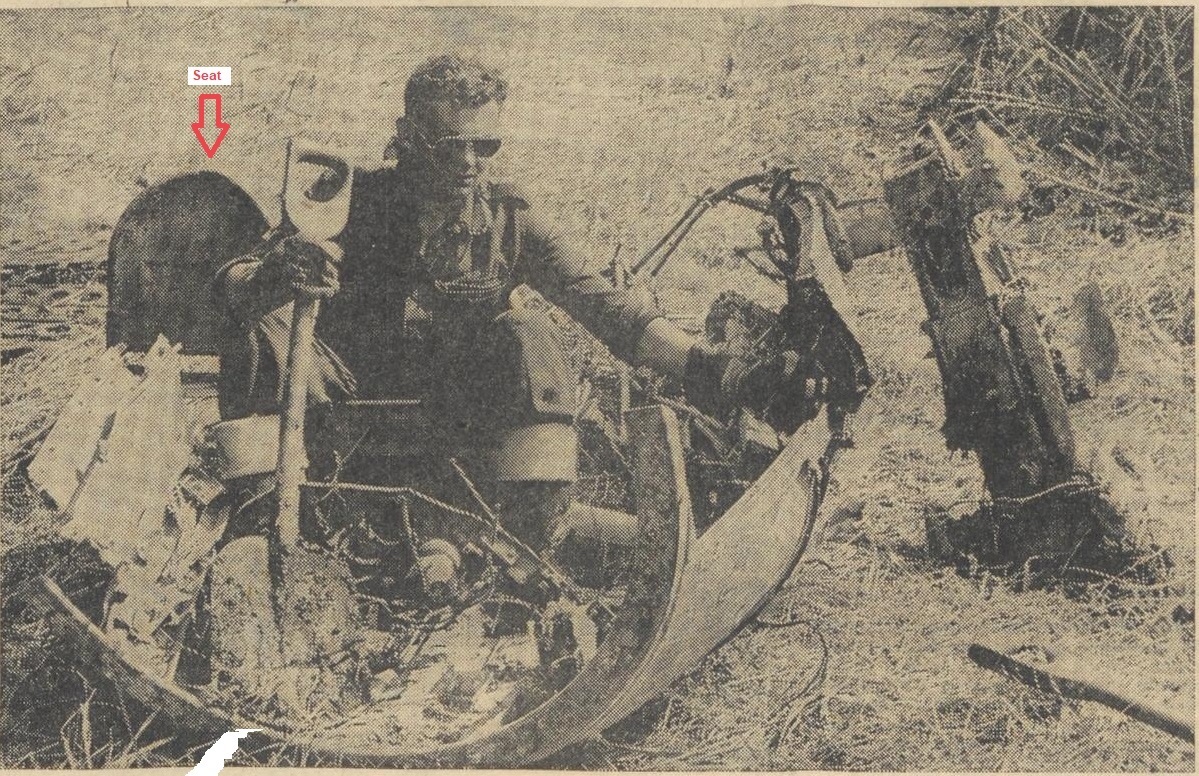 .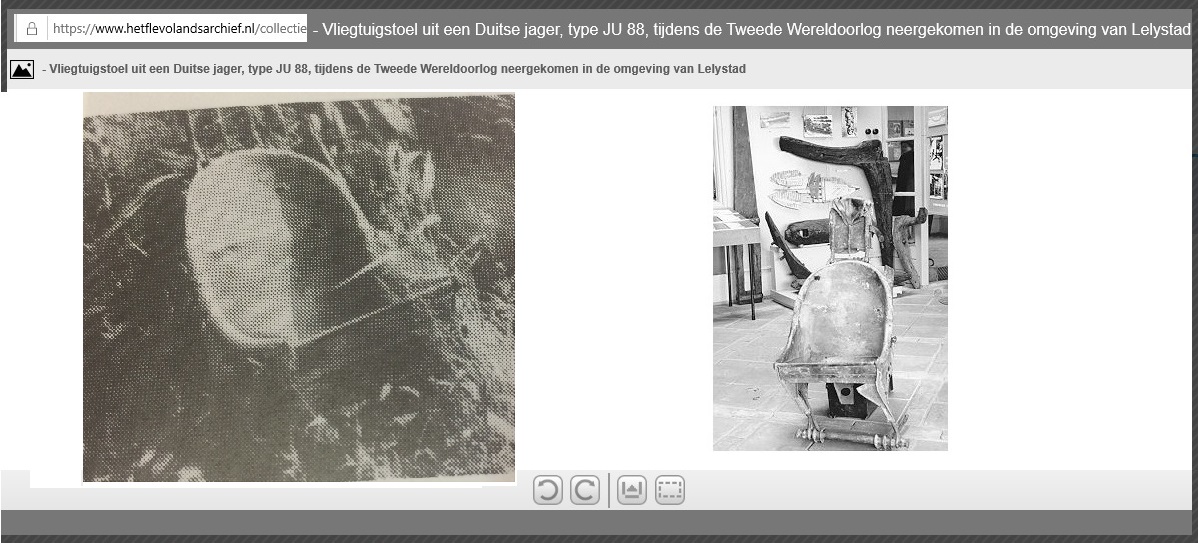 Another find was 'a cannon'. It was not a cannon, but a rear-cockpit MG81 machinegun, 7,92mm (rifle calibre), or possibly a MG131 (13mm / .51" cal.).






























Find location, engines, cause of crash.
The first items were found in 1961, when digging canal 'Neushoorntocht' at the top of section G-118 (see below). This was then the outer edge of the polder development project, most far distanced from the mainland (Elburg & Kampen). This far west into the new polder there was nothing there yet, only mud (wet sea bed), as the photo left under shows. The development started with digging canals for de-watering purposes.

In 1962 the area was filled with reeds and the first sand roads were laid. In 1971, ten years later, the tail section was found in section G-105/106. This identified the JU-88 as the 550283. The sections 71, 70, G-105 towards G-107 and onwards were not farmed initially and is the reason the tail was not discovered before. In this strech a motorway or railroad was planned, running west to east. See map below between canals 'Mammoettocht' and 'Neushoorntocht', trajectory is still very well visible today, but a road or railroad never finalized. Only a walking path brings you close to G-105 and G-118. Nearest roads are Edelhertweg and Runderweg, just east of motorway A6, east in Lelystad.

In the recoveries in 1962 and 1971 no engines were found. However before in the year 1954 when the area was still sea (Lake IJsselmeer), two 12-cylinders engines were recovered from the bottom nearby, by ship. One was identified as 'Junkers aircraft engine with some loose parts', the other as '12 cylinder aircraft engine'. We believe both were Junkers (JU) Motorenwerke (MO) type JUMO 211, an inverted V12-cylinder line engine, both belonging to 550283.

In the 1962 recovery Sgt. Hinssen reported that bullet holes were present in the rubber fuel tank. This suggest an intercepting attack by a RAF nightfighter and a (slow) occuring lack of fuel of the JU-88, on route to London or the way back. The aircraft was found nose down in the former sea bed. We believe fishing activity (trawling with bottom nets which was very frequent in this Lake-area), was responsible for detachment and displacement of tail and engines/propellers.
A few km to the East-North-East a lone 1000kg bomb was found NW of Dronten (KG, not Pounds), however, it cannot be proven this was from Ju-88 550283.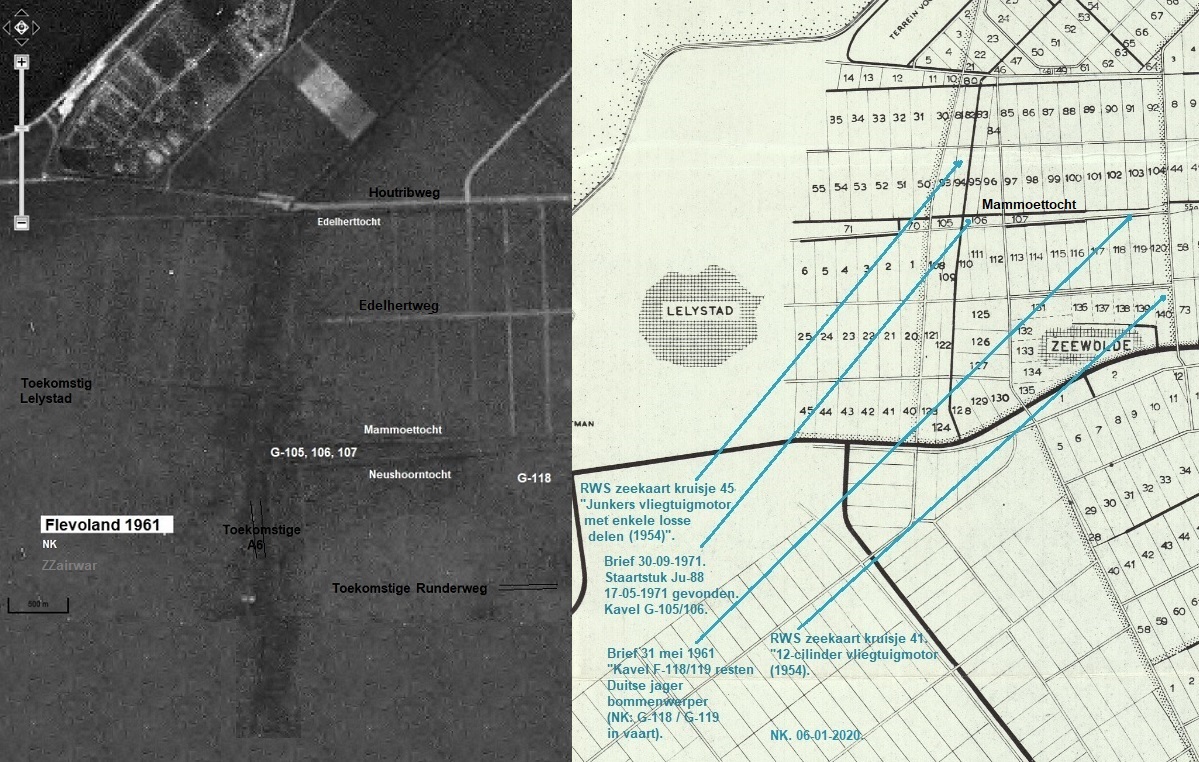 1971.
Images of the May 1971 tail recovery. Photos: S.L. Veenstra, book 'In the schaduw van de glorie', 1992. The book mentiones section J-104, but it was G-105/106.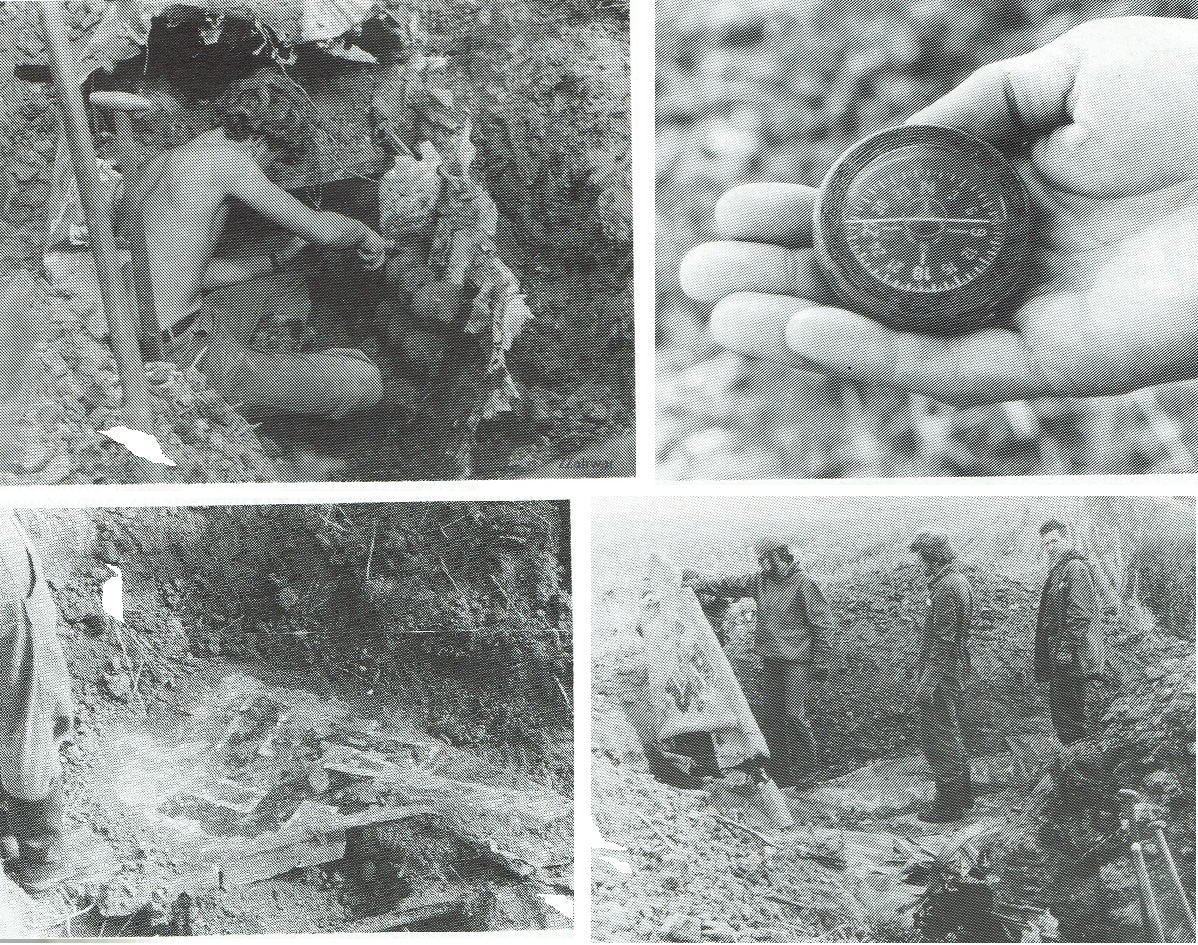 Sources:

-Book 'In the schaduw van de glorie, by S.L. Veenstra 1992.
-Archive research in the Flevoland Archives 2019.
-Website Find a Grave.





© ZZairwar (Zuyder Zee Air War)