Date: 1941 May 15/16
A/C Type: Hampden I
SN: AD841
Code: PL-Q
A/C Nickname:
File: 195
Airforce: RAF
Sqn/Unit: 144 Sqn
Mission/Raid: Hannover
1
Pilot
P/O William A. McVie KIA
9
2
CP/Obs
P/O Stanley L. Bailey KIA
10
3
WO/AG
Sgt. J.K. Scouller POW
11
4
Rear gunner
Sgt. Charles W. Carter POW
12
5
13
6
14
7
15
8
16

Damaged by Flak on return from Hannover and gradually decended. Crashed at night, W of Monnickendam at Overleek.


.
Pilot McVie let his crew jump when he reached the westcoast of Lake IJsselmeer (Old Zuyder Sea) at Uitdam, just north of the German seaplane base Schellingwoude. The aircraft flew on a 305° course home.

P/O Bailey jumped by parachute but landed in water and drowned. By coincidence buried a few weeks later in an empy grave next to his pilot.

Sgt. Carter landed just behind the dike at Uitdam on dry land. He walked in the darkness on the dike-road into direction (unknown to him) of the German seaplane base Amsterdam-Schellingwoude. A German guard was so shocked to see the Englishman appear before him, that he ran away to get reinforcements.

Sgt. Scouller landed in a hamlet named Zuiderwoude and could hide on a farm, but was betrayed by mayor Peereboom of Broek in Waterland. He let his (NSB) policeman Baars arrest Scouller and hand him over to the Germans. Scouller had to identify his dead pilot.

Pilot Officer McVie held the aircraft on course to let the crew use their parachute, but he himself jumped out too low and fell dead next to his aircraft, but he looked untouched.

A usual, the assistant of seaplane base commander Hauptmann Dr. C. Pössel made a lot of photos of his boss in action. He sold copies to anyone who had interest. A set of 13 photos were also stolen from the overcoat of Dr. Pössel in a cafe in Monnickendam. Most copies however came into circulation thanks to photographer Blauw in Monnickendam. He developed the extra copies for Dr. Pössels assistant, but made double prints also for himself. The images circulate also on the internet:

- http://www.netwerkoorlogsbronnen.nl/zoekresultaat?n_o_m=pager&query=type%3A(%22image%22)&month=5&year=1941&day=16&list=0&pageSize=100



Sources:

- Local history, interviews
- original photo album with the McVie-photo serie with the corrrect captions.
- 2012 reconstruction of the original Amsterdam burial files 1940-1945.
- website CWGC




© ZZairwar (Zuyder Sea Air War)




Below: the crash site is the field behind the cross. Because the cows knocked over the cross, it was replaced from the field into the water. Photo August 2014.
Address of the cross: Overleek (W of Monnickendam), Overleek 6, next to restaurant de Theetuin (30m. further down the road).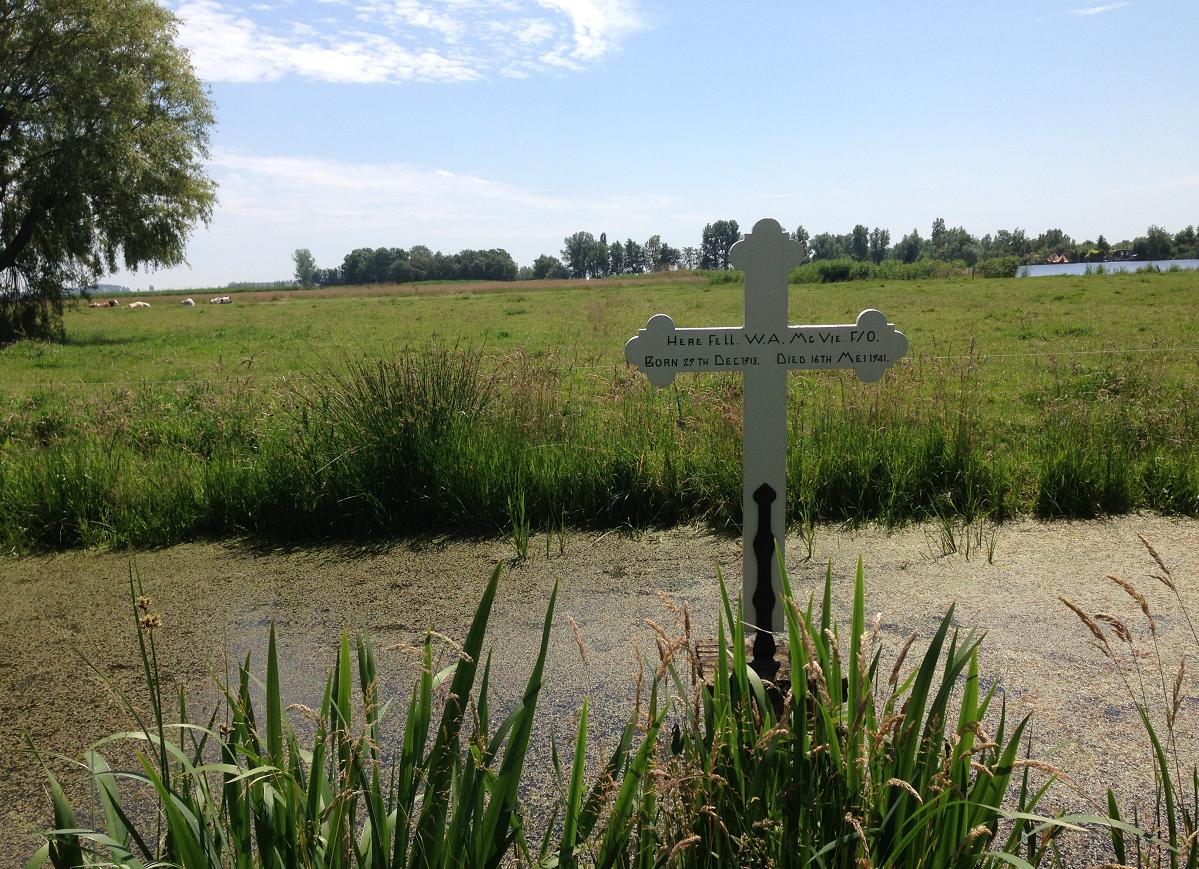 ====