Date: 1944 Feb 21/21
A/C Type: P-47D Thunderbolt
SN: 42-22769
Code: E2-
A/C Nickname:
File: 303
Airforce: USAAF
Sqn/Unit: 361 FG - 375 FS
Mission/Raid: Bomber escort
1
Pilot
2Lt. Floyd Martin Stegall evd.
9
RWG
2
Co-pilot
10
TG
3
Nav.
11
4
B
12
5
E
13
6
RO
14
7
BTG
15
8
LWG
16

On route to Germany with the bombers left formation with mechanical problems, belly landed between Volendam and Edam. Evaded via Amsterdam, Maastricht and Liège. Was liberated by American troops in the Ardennes area on 9 September 1944 (village Petite-Eneille). September 11 he was back in England with his escape companion Lt. Col. David G. Alford.


Young 22 year old 2Lt. Floyd M. Stegall left his formation P-47 underway to Germany when they were inside Holland 30 miles past The Hague. He had problems with the hydraulic pitch control of his propeller. The prop-blades went flat and did not longer pulled the 7 tonnes heavy P-47 fighter. His flight leader Capt. Charles Cummins saw Stegall turn back. However, Lt. Stegall regained some control with the electrical emergency control and rejoined the rear of his squadron. At the German-Dutch border the problems became definitive and he had to shut the engine off. At that moment he floated through the air as a glider, altitude was high above the clouds at 25.000 feet.

Stegall turned and glided down with high speed, planned for a belly landing in 'The Zieder Zee' (Lake IJsselmeer, the Zuyder Sea). Hoping to be rescued by fishermen who were usually there. He loosened his parachute and seat belt, for he expected the P-47 would sink after landing as a stone and he wanted to get out fast. The glide down without engine power lasted 25 minutes and were the longest minutes of his life. Coming through the clouds, there was little water left! The Western shore line was already in front. A dyke blocked the route, but speed was high enough to veer over it using wing flaps.

On the other side was meadow and the aircraft slided on it. Witnesses saw him passing low over the road to the sluize (Oorgat). Stegall kept the wheels up and held one hand on the gun sight, one hand on the stick and professionally dragged the tail in the grass first to reduce speed in the belly landing, which was still 160 Mph. He overpassed several small canals and came to a stop, jumped out and ran to a small road, 'The Edammer Footpath' between Edam en Volendam.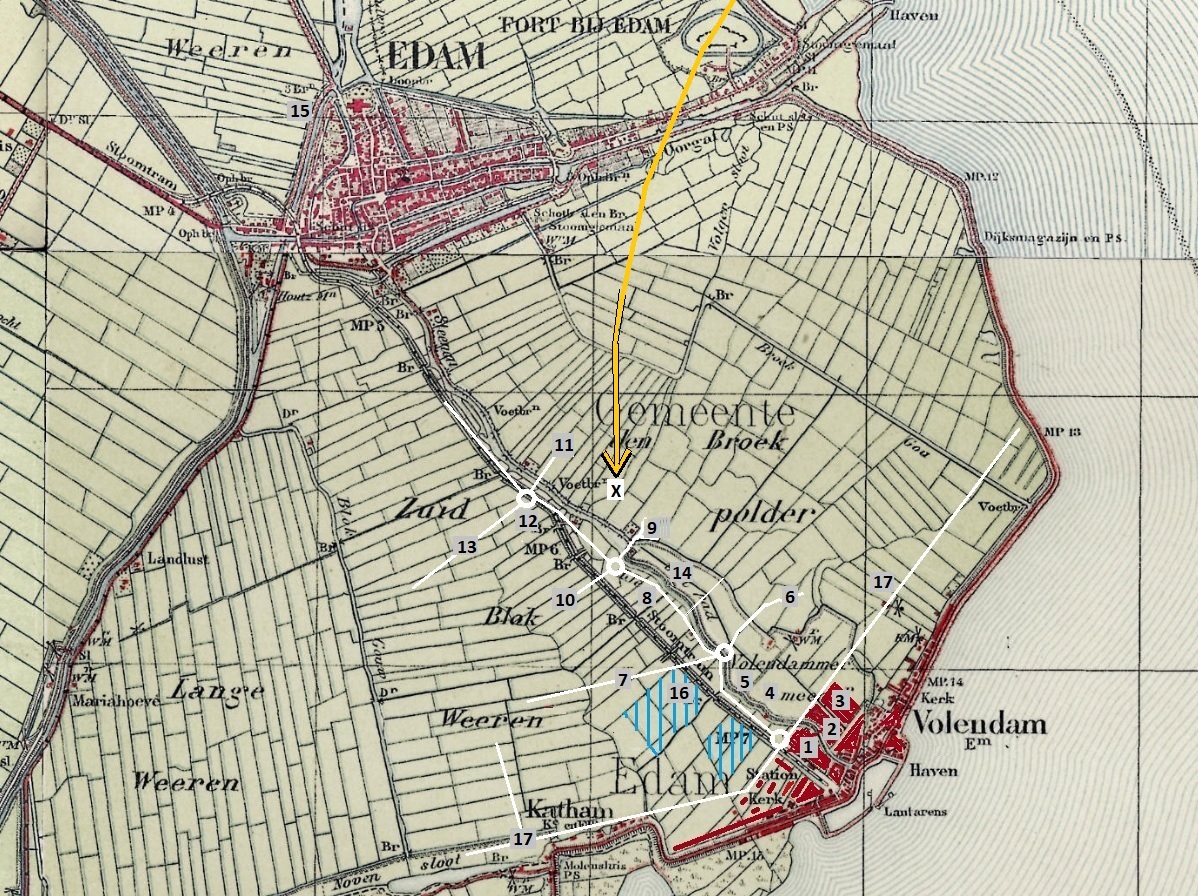 MAP LEGENDA. X-Belly landing position. 1-Spoorbuurt, W.J. Tuijnstraat. 2-Edammerweg, Overste Ludenstraat. 3-Zwaardstraat. 4-Cultureel Centrum. 5-Nicolaas/Kennedy School. 6-Rotonde naar Van Baarstraat en 7 Plutostraat. 8-Jupiterlaan. 14-IJsbaan. 9-Rotonde boven ijsbaan naar farm Beets en Torenvalkstraat en 10 Mercuriuslaan. 12-Evodam. Rotonde naar 11 Middengebied en 13 Stadskantoor. 15-Proveniershuis Edam. 16-Puulhokken vader Ouwe Keesie Doede met Maishok/Corn Shed. 17-Nu rotonde ingang Volendam (Bowling) en verdere verloop Julianaweg (1950).































On the path to Edam was bicycling the 21 years old Volendammer Dick Veerman, nickname 'Dick Doede'. He had a portion of eel with him to trade for butter at a farm near Purmerend. Stegall saw people from Edam running towards the downed plane, so went himself running in the other direction and stopped at a 'nice brick farm' (farmer Beets, no. 9 on above map and photo below). Two men were lowering hay from the loft. Stegall: "I said I am American and climed up the ladder, asked them to cover me with hay". Of course, apparently unknown to Stegall, this was not a good place to hide with German soldiers from Edam approaching. At that moment the young Dick Doede stepped up. He took off his coverall and old felt hat and motioned Stegall to take off his flying suit and put on Dick's overall. Dick took Stegall on the back of his bicycle and pedalled away like hell in direction of Volendam.

The downed a/c above is an example of a P-47 Thunderbolt, not Stegall's 42-22769. The boy on the bicycle is representative for Dick, because it is his younger brother Kees.


Photo below. Farm Beets where Stegall ran to first (no. 9 on map). Landing position left, at back row trees. The foot path runs on the waterfront in front of the farm. The water is the canal between Volendam and Edam and is the old (sanded) harbour entrance channel to Edam. Dick and Stegall crossed the canal to this side a bit further in a small boat (a John-boat) to escape the Germans and their search dogs.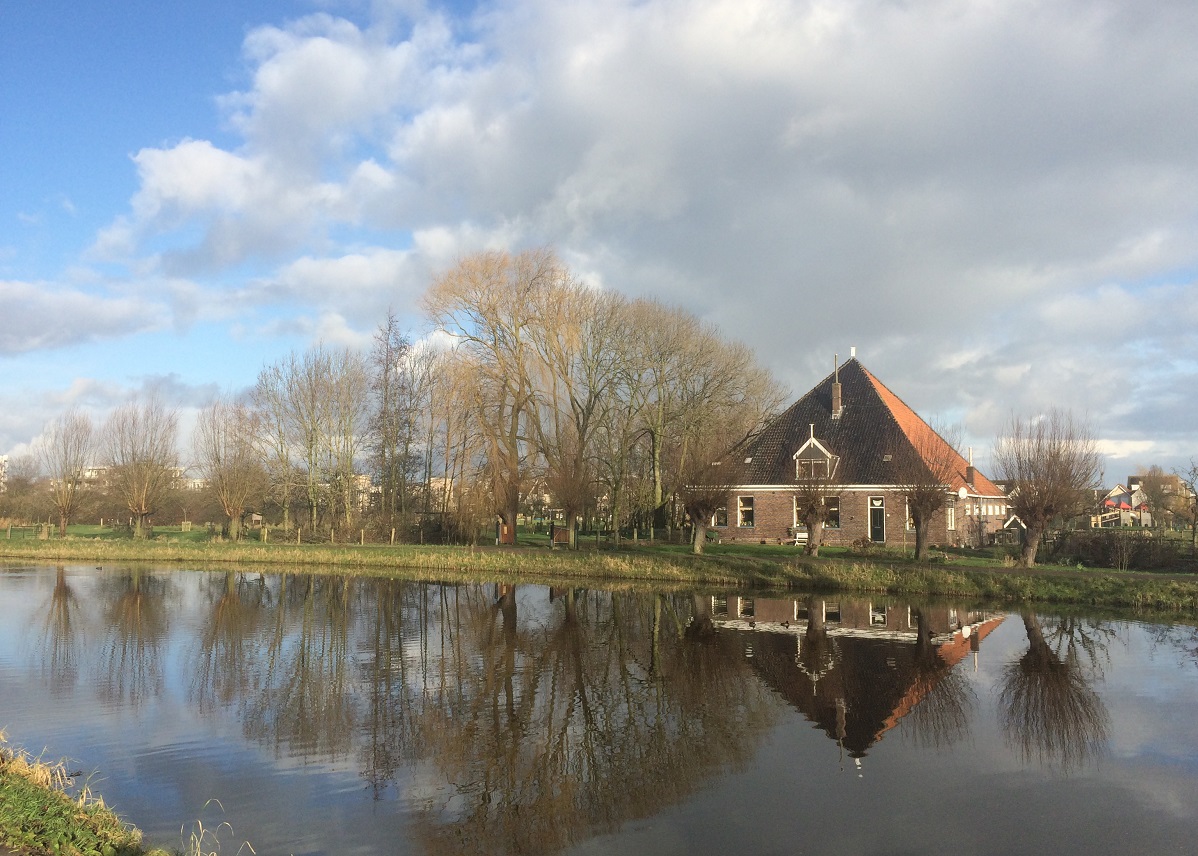 Dick and Floyd did not bicycle down the whole path. Just before Volendam they crossed over the water and train track and went into hiding in a duck farm that belonged to Dick's father. That is on the fields left of the strait running train track.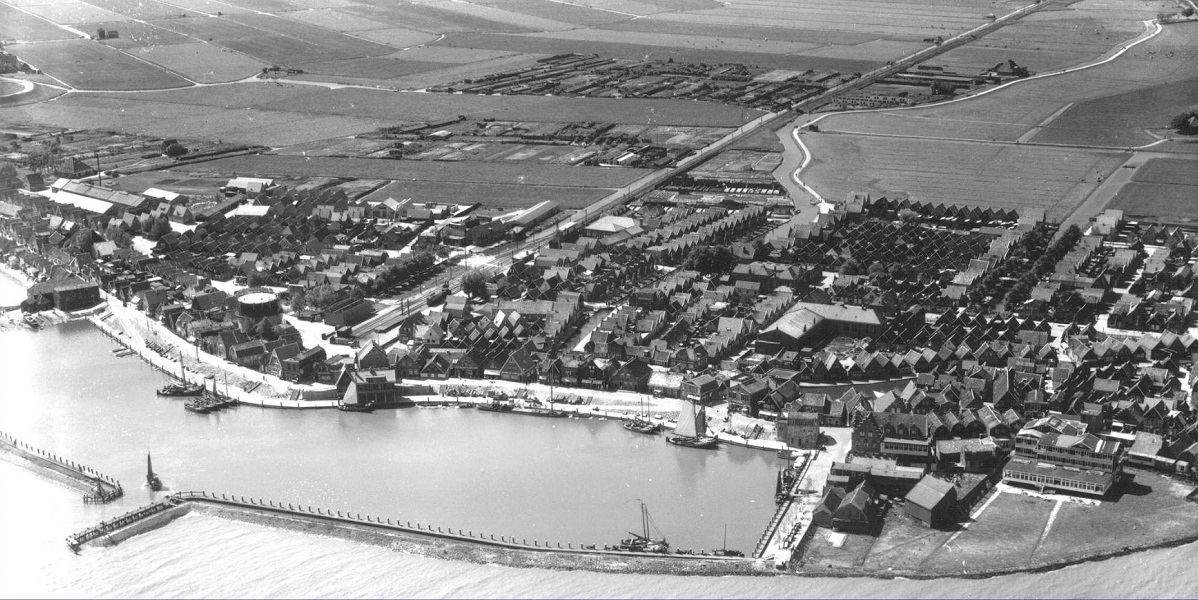 Below. The Corn shed on the Duck Farm, first hiding of Floyd Stegall in the afternoon and evening of the 21st Feb. 1944. In front a man playing his Singing Saw.

From a window in the Corn shed Stegall could see his aircraft laying in the field. A man from Volendam who could speak English was asked to talk to Floyd to ease him down and explain that the plan was to get him back to England. This man was photographer Zwarthoed (Japie Jennootje). He had a business on the dyke making pictures of tourists in traditional Dutch costume. It was too dangerous for Floyd to stay on the Duck farm or Volendam where the Germans were searching for him. Resistance man Otje Kwakman ('Pap') took Stegall during the night to Edam where he was kept in hiding for three days at the Molenaar family and the last day in the Proveniers-house (no. 15 on map) near the Nicolas Church in Edam. The day after the belly landing, resistance man Pieter Spaander succeeded to set the aircraft a fire. He noticed a petrol track in the grass behind the plane. He lighted a match and threw it on the track, the fuel began burning towards the plane and 15 seconds later the P-47 was ablaze.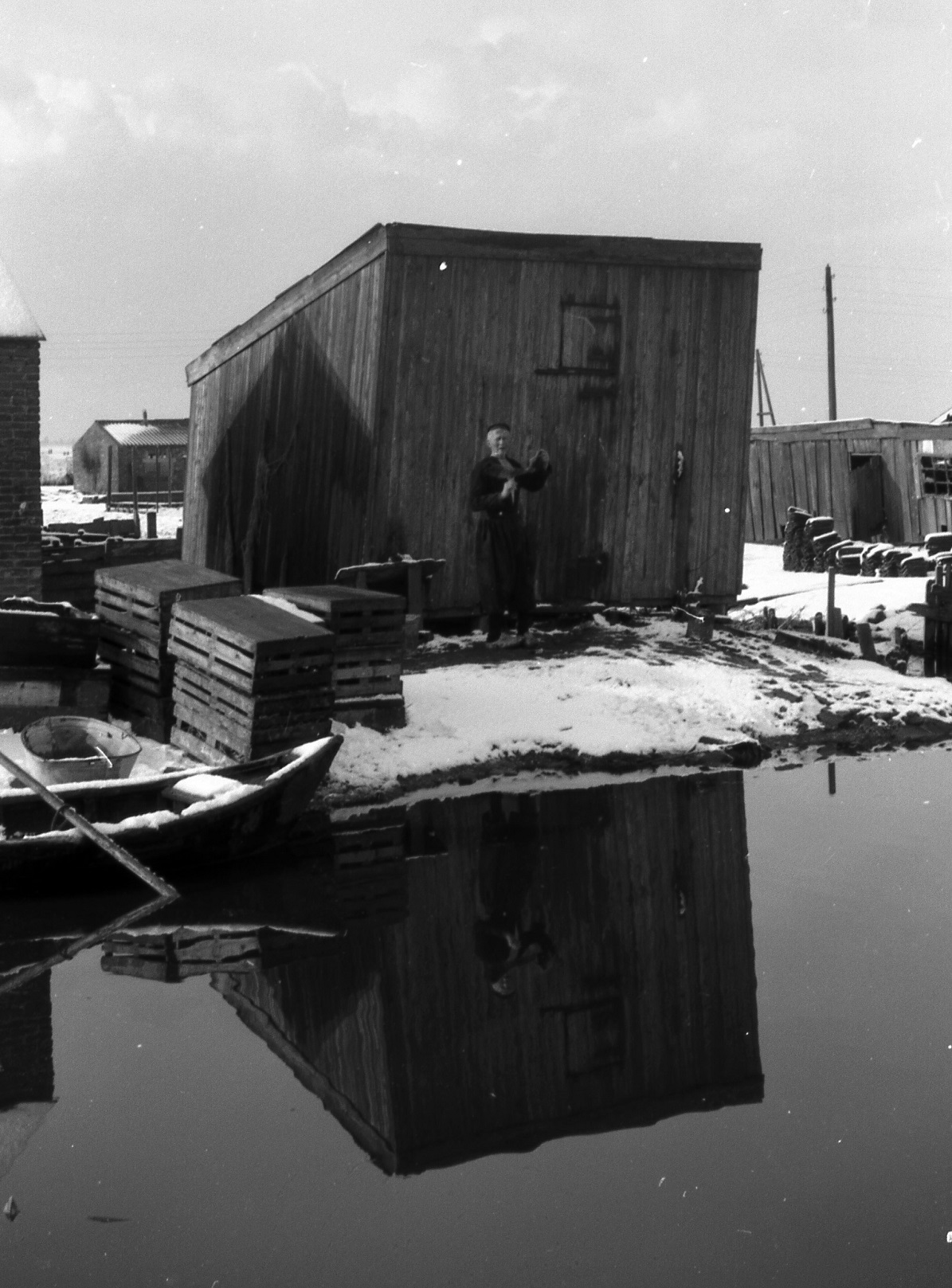 Photo below. Section of the Duck farm in 1970.

Pilot helper Dick Doede at age 25. The farmer on below photo says goodbye because the farm will be demolished in favor of houses and a new road (Jupiterlaan). In the background are visible the five rooftops of Tulpenstraat 10 to 14 (Evert Molenaar "de Blauwe") and the houses at the end of the Mgr. Veermanlaan (no. 93-83).







































End of the Duck farm in 1970.

Mr. Kees Doede (the boy on the bicycle in top of this page) and brother pilothelper Dick Doede (longer, darker coat) in year 1970, age 48. They are on the foot path between Edam and Volendam. They look worried because the Duck farm on the left will be flattened in next weeks. However, Dick has bought one of the new houses that will be build there (Jupiterlaan). In background with black triangle roof, farm Beets (no. 9 on above map) where Lt. Floyd Stegall ran to first and wanted to hide under hay. In between the men the white booth of the ice-scating club and on the right the ice-scating track (de IJsbaan). Further right on the corner is the house on Torenvalkstraat no. 45 and the electricity transformer station next to it accross the road.


































































=================================================================

End February 1944 - 14 June 1944. Coin as souvenir.

End February 1944 Floyd was moved from Edam to a safehouse in Purmerend by 16 year old courier Ms. Frieda Molenaar. At the goodbye, Floyd had given Dick Doede a souvenir, a British coin, and told Dick his name was Floyd Martin Stegall and that he lived in Cameron, Illinois. In Purmend Floyd was in hiding in the house of Mr. Klaas de Boer. Also his brother-in-law Fam. Schrieken-de Boer would receive an American flyer in hiding a few days later, this was S/Sgt. Victor W. Kruger of B-24 42-52450 crew Ballard ( http://www.zzairwar.nl/dossiers/450.html ). In the next weeks underground, Floyd learned a bit Dutch and met Victor Kruger for some conversation regulary. In the house was also in hiding local resistance leader Egbert Snijder. Together they helped Snijder with printing illegal pamphlets.

Wormerveer - Amsterdam, Jan Goedkoop family, Prinsengracht. Until begin June 1944.
The intention was to bring Stegall south onto the famous Comète escape line, starting in Brussels, Belgium. Floyd stayed two weeks in Wormerveer before he could be moved to Amsterdam. Here he stayed with the Goedkoop family in a beautiful house on the Prinsengracht canal. Another American was there, a bomber co-pilot. In June a new evader came in the Goedkoop-house: the resolute USAAF Lt. Colonel David G. Alford. He would play a significant role in the successful evasion of himself and Lt. Stegall.

Lt. Col. David G. Alford, escape-buddy of Floyd Stegall.
Alford was a 30-year old high ranking officer, in fact he was pilot, Wing Leader, Operations Leader and Radar Expert in the 482 Bomb Group, Bassingbourne, UK. On the 4th of February 1944, B-17 42-3500 with pilot 1Lt. Warren E. Bock at the helm, this B-17 was hit by Flak near the Dutch-German border at Winterswijk. Pilot Lt. Warren was severely wounded by shrapnel in the hip. Also other crew were hit, two engines were shot out and a fuel line in the wing was burning. All crew jumped out, but when it was Alford's turn, his parachute proved damaged and unusable. The only thing he could do, was to regain control of the B-17 and land it. He jumped in the pilot seat, which was filled with a puddle of blood and managed to bellyland the aircraft. He fled the scene and remained in hiding (with help) in the forrests around Castle Onstein near Vorden for 7 weeks.

The resistance got Alford by train to Amsterdam, dressed as a uptown business man. He was at the Goedkoop house between 28 March and 25 May, before Stegall arrived. Alford was moved to policeman R. de Jong (born in Friesland) who was an inspector in Amsterdam and stayed there (Marowijnestraat 8-11) for one week with a young American B-17 gunner with Italian roots from New York. He returned to Goedkoop where he met Stegall for the first time and the American co-pilot. They got acqainted with Johan (Carl) Meeuwis (Medal of Freedom in Bronze). Alford requested moving further south to the Belgian border. Mr. Wienik Everts, the brother of Mrs. Goedkoop, volunteered to bring Alford and Stegall with false papers by train to Maastricht. Here they arrived around June 7, 1944.

Maastricht to Liège.
All handing-over of the evadees was done in secret and without the pilothelpers knowing each other. From the Maastricht train station, both were lead by a courier of 'Group Symons' to the house of Doctor Van der Ley. He was from the North of Holland and Protestant, which was unusual in the Catholic Maastricht medical scene. Doctor Van der Ley was about 46 years old and had been an athlete in the 1928 Olympic Games in Amsterdam (Joop van der Leij? Died Purmerend 1991?). His wife was Jewish and held in a German concentration camp. For three days and nights, Alford and Stegall had to hide in the caves inside the Pietersberg mountain, before they were smuggled with two other Americans 15 June to Liège in Belgium in the famous 'double front' panel truck of Mr. Fernand Dumoulin. There was great excitement and much German control and activity, since the Normandy Invasion had started 1,5 week before (June 6).

City Liège, 15 - 29 June 1944. Hiding in the Ardennes forrest and liberation by American troops 9 September 1944.
In Liège (Luik) they were freed from the hiding compartment in the truck in a shoe factory of which Fernand Dumoulin was the owner, the factory was put out of business by German order. Stayed with Gaston de Lairesse (Rue Joffre) until June 23. Alford: "On the 24th we were moved across town. The station was bombed by our own aircraft and only one house was left standing there. Went up a steep hill to a 2-story brick house. We were greeted by an older lady and a young girl. Five Americans were playing cards around the dining table! With us four included, we were with nine men...".

Alford did not felt comfortable and safe there. He decided to leave the safehouse with Stegall and walk further south. Resistance (?) leader "Roger" put a pistol in Alford's face and threatened to shoot him if they dared to leave, but on the 29th the decisive Alford and Stegall simply walked out the door and left the town. The next day the block was surrounded by a German search party. They searched every house room by room. The five remaining Americans were found and arrested.

Alford and Stegall walked at least 35 miles further south to Barveux, Somme-Leuze (stayed three weeks) and until September 9 in the forrests of Petite-Eneille where they stepped into a US Army recon jeep. In fact they were close to Havelange, Rochefort, La Roche-en-Ardennes, Trois Ponts and Stavelot, the area where three months later the Battle of the Bulge (Bastogne) would break loose. A day later in Paris, Alford (hometown Rising Star, Texas) demanded a direct flight to London and arrived there with Stegall September 11th 1944.

=================================================


The coin and the picture of the girls.

Direct after WW2, Dick sent a letter to Floyd to say hello. In the letter Dick included a picture of his two sisters. The address was as he remembered from 1944: Floyd Stegall, Cameron, USA. It arrived, but in a flooding of the cellar, Floyd lost the letter and Dick's full name and address, only the picture of the girls was saved. More than 46 years later (1992), Floyd and his 2nd wife Patrica came to Europe, to Volendam where Floyd had belly landed and started his evasion. They showed the photo of the two girls in the Volendam Museum and asked if anyone recognised them. They did, and brought the couple to the Dick Veerman Doede & Sons Electro-store. The now 71 year old Floyd Stegall entered the store and walked up to the old grey man behind the counter. Floyd lay down the picture of the girls on the counter without saying a word. The silver-grey man behind the counter didn't say a word either, but opened his wallet and lay down next to the picture the coin he received in 1944 from an American pilot. Dick and Floyd stood embraced for a hour.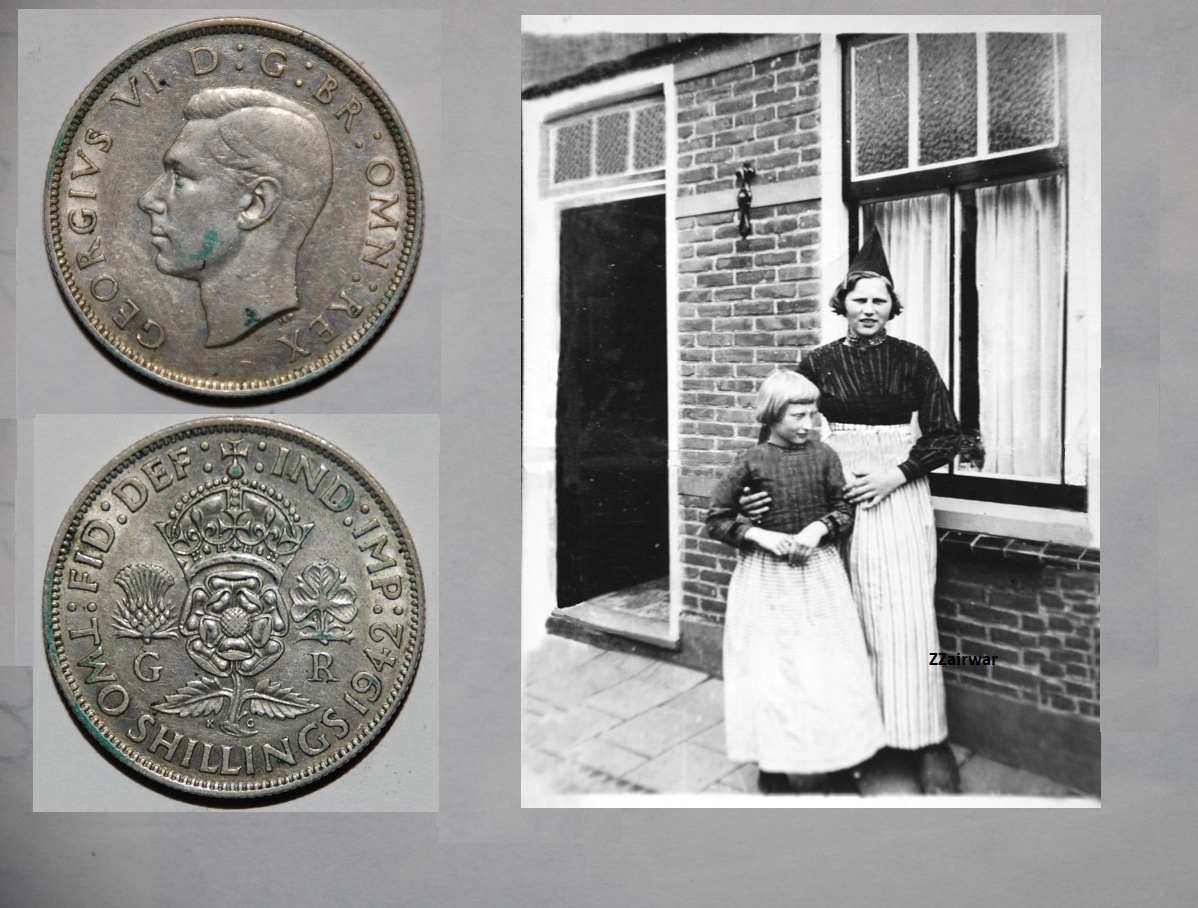 Below photos of the reunion. Dick's house on the Jupiterlaan, exact on position of the former Corn shed. Electro shop on the right.



































Our WW2 hero USAAF Lt. Floyd M. Stegall, later with his Volendam fishermen's cap.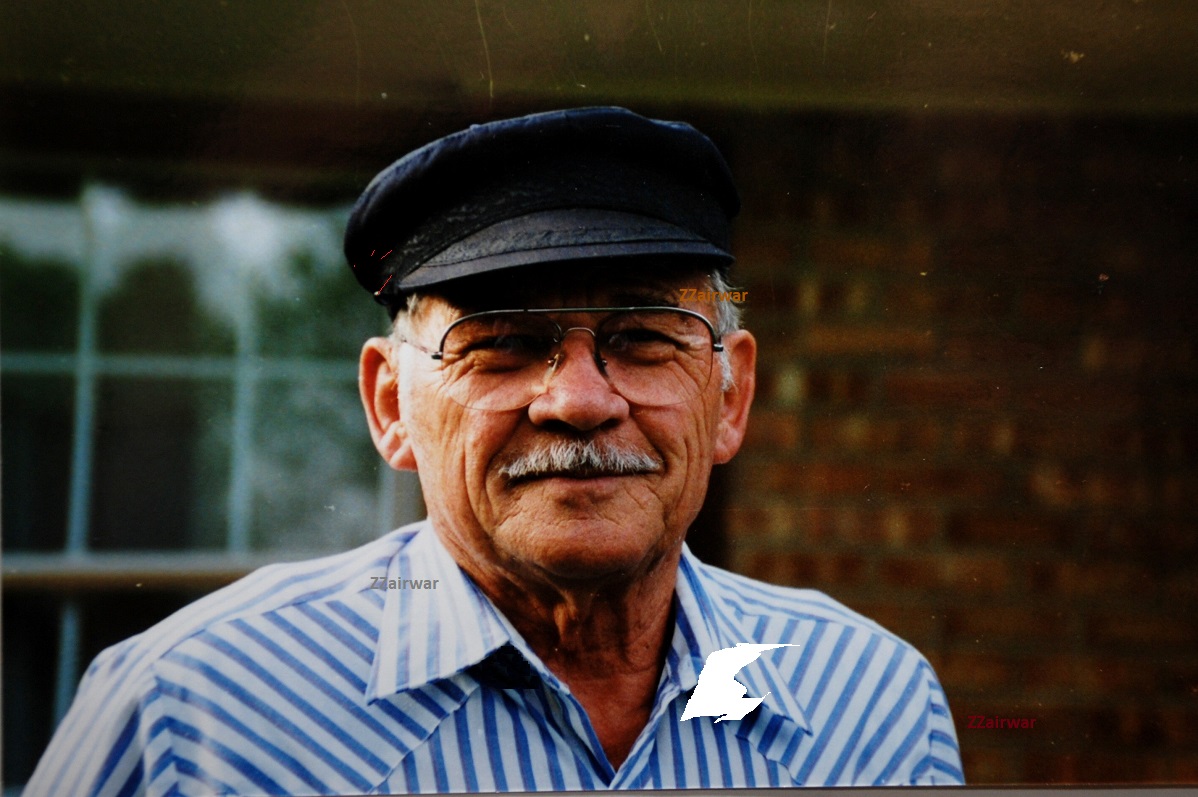 Sources - read more:

- MACR P-47 42-22769
- MACR B-17 42-3500
- Escape & Evasion Report Lt. Floyd M. Stegall
- Escape & Evasion Report Lt. Col. David G. Alford.
- Interviews with Floyd Stegall in local newspapers.
- Book 'Wereldoorlog in het dorp' by Piet and Evert Koning, 2010.
- Kees Veerman-Doede
- Website family Floyd: http://ceadserv1.nku.edu/longa/family/clines/floyd.html
- Website Find a Grave: https://www.findagrave.com/memorial/14631386









© ZZairwar (Zuyder Zee Air War)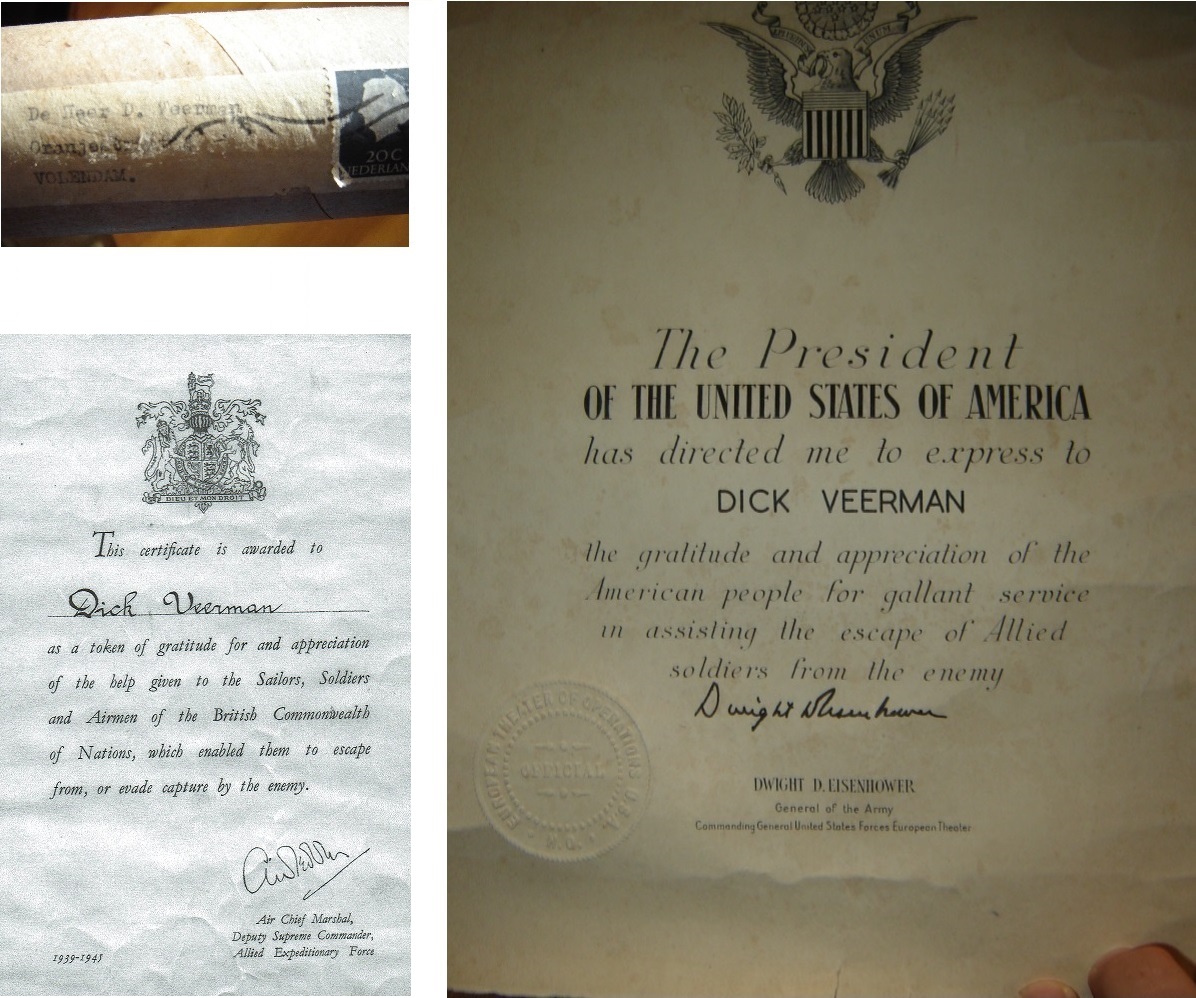 .