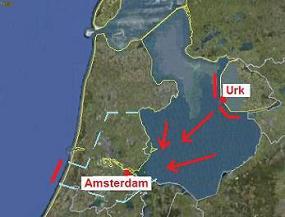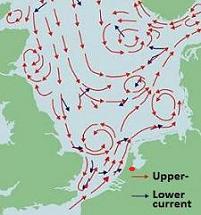 Relation with Lake (class): Lake Casualty Cemetery (LCC)  
Total nr. of casualties buried here (TC): 330 end WW2, today 300. 
Lake casualties, initially, end WW2 (LC-I): 100 
Unknown today: 50, all airmen & naval, 
of which unknown from Lake (LC-U): 12
of which unknown from North Sea (NS-U): 10
Initial burial site in WW2: yes, Lake Cemetery West side of Lake (LCW)
Post war burial site for collection and reburial from other sites: yes 
Cemetery with Lake casualties today: yes (LCW).


       


AMSTERDAM war graves 1940

See for intro file 537 Amsterdam Intro. Below the war-time gate of the Amsterdam New Eastern Cemetery. On the other side of this central building was the morgue. 



The Luftwaffe and German Navy had taken over the Dutch sea plane base Amsterdam-Schellingwoude after the invasion of the Netherlands. This is closeby this cemetery. They recovered the dead English pilots from the wrecks and buried them here with the same military honour as their own casualties. The grave making and other burial-technical matters was left to the civilian staff of the cemetery. Below photos are an example of a RAF burial in the winter of 1940-1941.




























Below a German funeral for a three men crew of a Heinkel He-115 C, summer 1940. Crashed in the IJ-meer (southwest IJsselmeer, in front of todays Amsterdam-Zeeburg). They leave the morgue on their way to the German burial plot 70. The coffins are covered with the German war flag, the so called 'Reichskriegsflagge'. On the left a civil official is standing in front of the tomb of Dutch General van Heutsz (1924).




















Allied Plot 72 today.

Burials started in the left corner of this field. A few years after the war the remains were exhumed and transferred to Plot 85 and 69.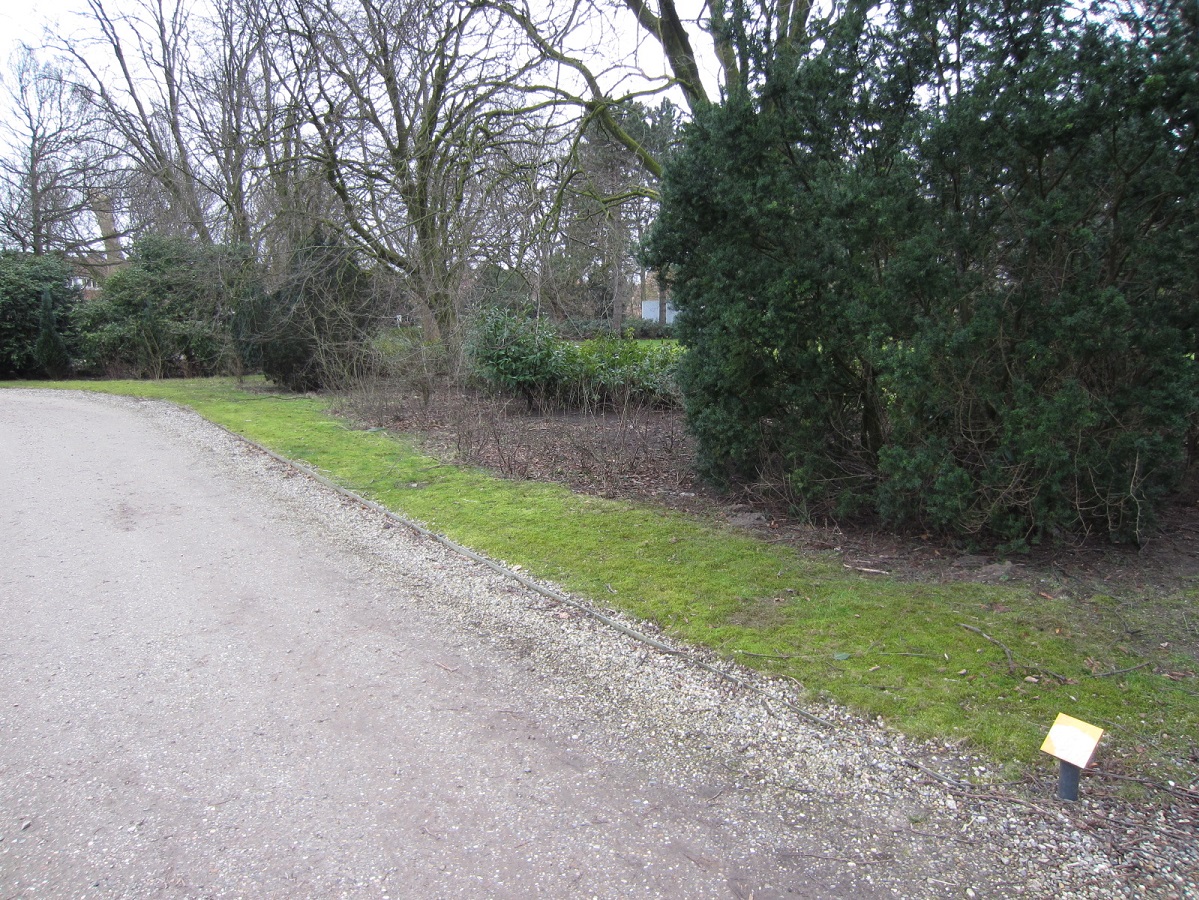 First Allied casualties in Amsterdam: crew of three Blenheims, crashed 23 and 27 June 1940

On 23 June 1940 (daylight) the RAF attacked with Blenheim light bombers the German industry in Vohwinkel (Wuppertal) and the railway yards in the German town Soest. Two Blenheims crashed at Amsterdam. One on a farmland in Amsterdam-West near Spaarnwoude/Halfweg (Blenheim IV L8754, P/O T.C. Prescott) and the other in a meadow in Amsterdam-West, today the Sloterplas pond (Blenheim N3593, F/Lt. Stephens POW). Four crew members were buried here on 26 June 1940 in this empty plot: Sgt. Kenyon (grave no. 1), Sgt. Swallow ( grave 3), P/O Prescott ( grave 5) and Sgt. Barrett of N3593 (grave 7). They usually kept one grave spacing in between. Space was needed for the planking around each grave to stand on and lower the coffin.  























On the 27 June 1940 another Blenheim (P6958) came down, south of Amsterdam at Ouderkerk aan de Amstel. They were patrolling the North Sea and Lake IJsselmeer in search for one of their aircraft that was missing. On 1st July 1940, Pilot Officer Saunders, Sgt. Thorley and pilot P/O Hugh S. Pardoe-Williams were buried here in resp. grave 2, 4 and 6 (see below). Saunders and Thorley as unknowns. The other with name was 'Eng. Mil. Williams'. They were identified after the war.  























In opposite Plot 70 the Germans buried their own dead. 

In the background of underneath burial, the Allied Plot 72 is visible. The arrow points at the tool shed left on Plot 72 and the first wooden crosses. This photo dates summer 1940. A German Kriegsmarine (Navy) seaplane Lt. zur See at the grave of a KIA crew member, died after an emergency landing in Lake IJsselmeer. Seaplane base commander Dr. Pössel holds the flowers on the centre photo.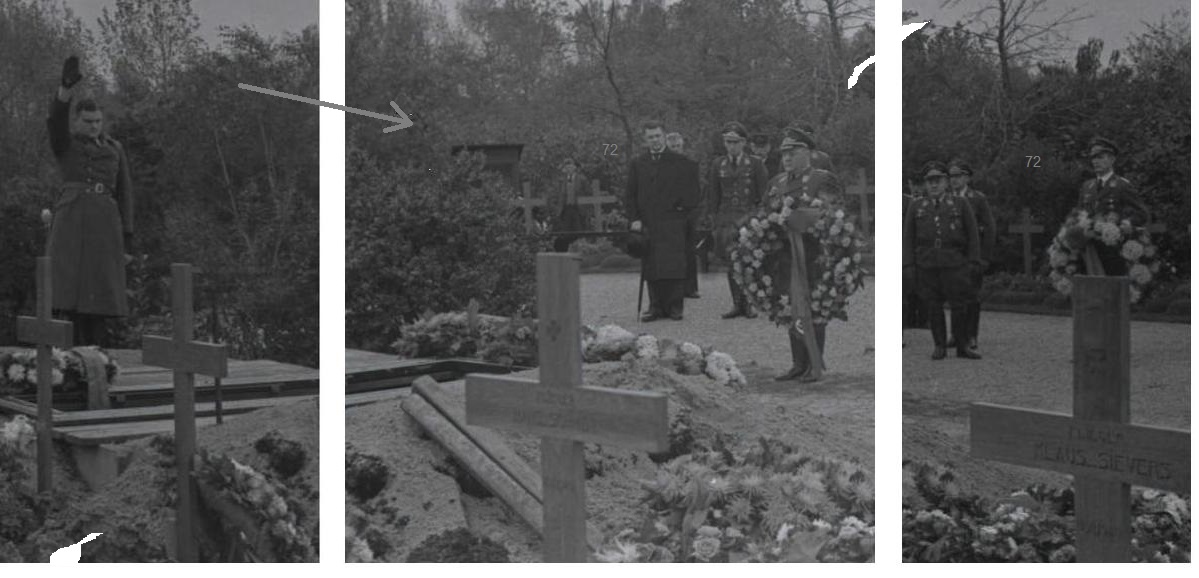 Then and Now. German Plot 70 and Allied plot 72.

Situation year 2012. Photo taken from the same angle as the above German burial. Former German Plot 70 is the field in the foreground, Allied Plot 72 is the stretch on the other side of the path. The trees are the same as in 1940, only bigger. After the exhumation of the war graves, both plots remained empty. We wonder if sculpturer Mr. Gerrit Bolhuis (1907-1975) knew about the history of this field.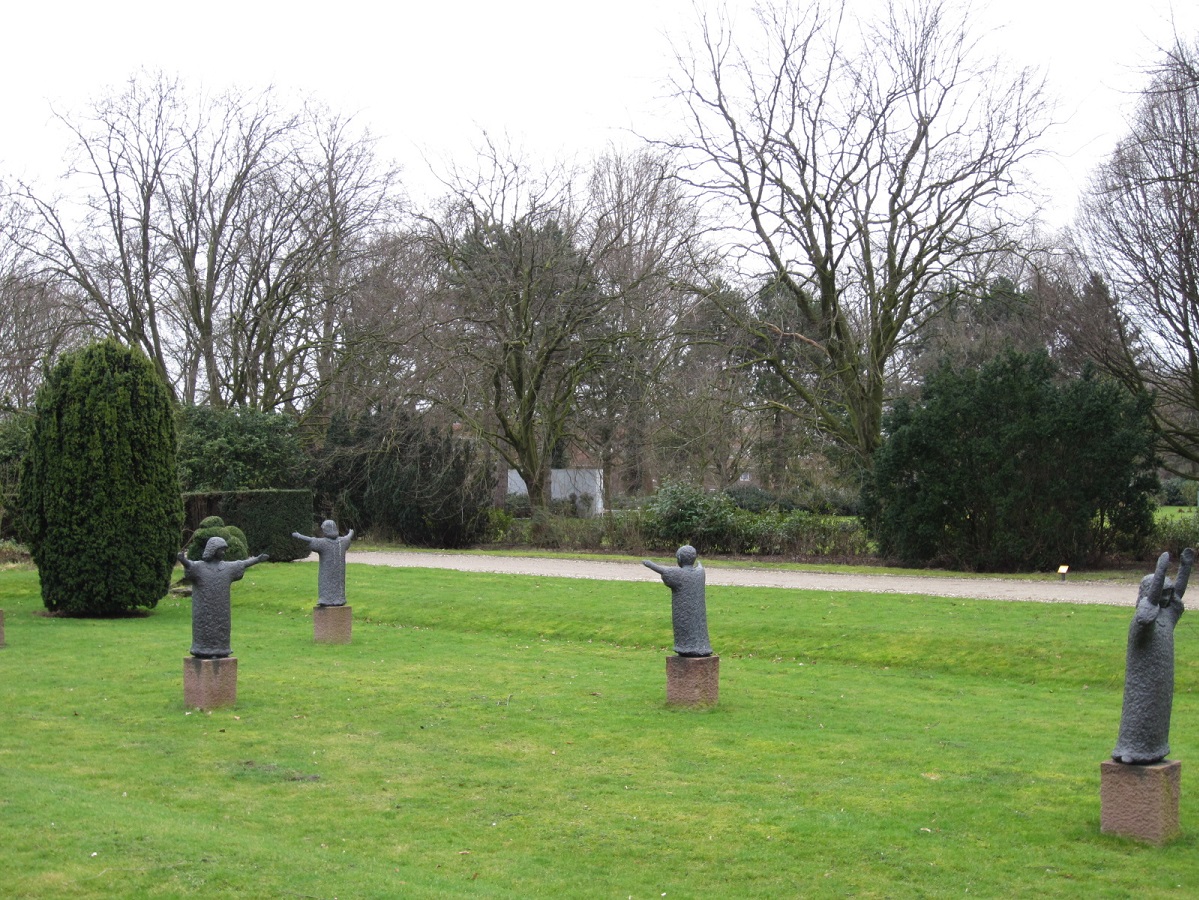 A Fairey Swordfish bi-plane attacked Schiphol Amsterdam Airfield, 2 July 1940 

The Germans were assembling barges on the southern Dutch coast for the invasion of Great Britain. A British Navy Fairey Swordfish searched east of Rotterdam for targets in the night of 2 June 1940. It attacked as alternative target a searchlight south of Schiphol airfield and was shot down by a machinegun post. Pilot J. Kiddell became POW, gunner Harry W.V. Burt buried Amsterdam grave 9. 
























The first Wellington bomber down, attacked Schiphol Airfield, 05/06 Jul 1940

On route to a target in Germany, this Wellington (R3170, pilot Officer Willis) turned back because of icing. On the return it bombed Schiphol Airfield, but it did not get far and belly landed on the eastern outskirts of Haarlem. Next morning Sgt. G.T. Sexton was found dead near the wreck, buried grave 11. The other crew became POW eventually. Apparently more remains were found at the wrecksite of Blenheim N3593 at Sloten, because in grave 8 was buried crew member Sgt. P.E.F. Adams. After the war more of him was found. He now rests in Jonkerbos War Cemetery in Nijmegen.
























The first Allied aircraft in Lake IJsselmeer (Old Zuyder Sea). Wellington R3235, pilot F/O W.H. Coleman, at Uitdam 25/26 July 1940.

All crew drowned. This Wellington came back from a raid on Kassel. Sgt. William E. Neville was first crew member recovered, and the first Allied airman recovered in Lake IJsselmeer in WW2, buried 1st of August 1940 in grave 10.























Photo below: graves of Sergeant Neville (1) in grave 10 and Sgt. G.T. Sexton (2) in grave 11. At the time of burial, the back row was not there yet. Photo dates winter 1945.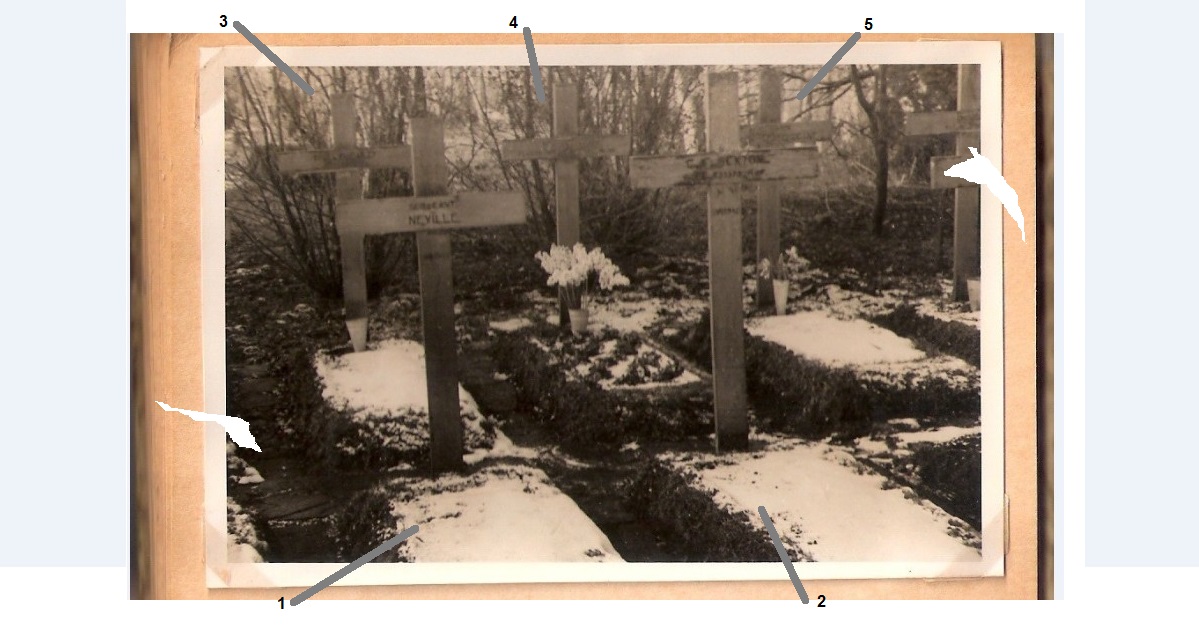 A week later four other crew of Wellington R3235 were recovered from the lake and buried. Pilot Officer Poole, Pilot Coleman (New Zealand), Sgt. Dowds and Sgt. N.W. Brown in grave 19. Sgt. Brown was fished up in the trawlnet of the VD46, skipper Jan Kes. He brought Brown's body to the Volendam harbour.
























Whitley bomber N1473 crash northwest of Schiphol Airport (Vijfhuizen), 24/24 August 1940, crew P/O Montagu.

Crew buried here 30 August: Sgt. Penny (grave 12), Pilot Officer Montagu (14), Sgt. Ward (16) and Sgt. Clarke (18). Together with them was also buried Sgt. Annan (New Zealand), recovered from lake IJsselmeer (grave 20), rear gunner of Coleman's crew.  
























Sgt. Edwin J. Clarke in grave 18 was first buried as unknown (without name). On his cross (photo below) was engraved in German "ZWEI UNBEKANNTE ENGLISCHE SOLDATEN" (Two unknown English soldiers). Possible in this grave were also body parts of other crew members of his aircraft, or Sgt. Annan was placed (later) with him. Grave 19  has engraved 'N.W. Brown' (Wellington R3235). In 1940 back row was not there yet. Photo dates summer 1945 or 1946.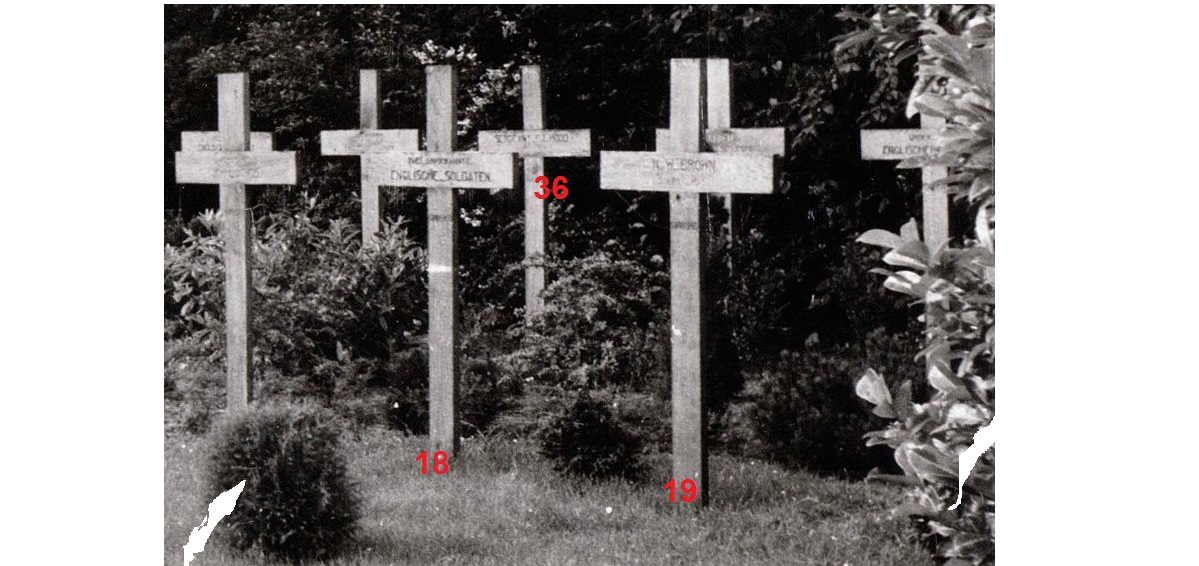 Burial 28 November 1940: four airmen from Deventer (Lettele). Whitley T4208, P/O Geoffrey M. Wiltshear's crew.

At this time the Germans used Amsterdam also as centralization cemetery for aircraft crashed further in the Netherlands. Whitley T4208 came down night 12/13 November 1940 near Deventer. Four casualties were interred here on 28 November 1940 in grave 21, 23, 25 and 27; the first graves on the back row, see below. 

Below photo was sold by the German military photographer to civilians and a set was stolen from the overcoat of Hauptmann Dr. Pössel when he was in a cafe in Monnickendam. He is the officer seen on the back. It is often believed this scene is the burial of Flying Officer McVie on 20 May 1941, but that is not correct. This photo shows winter 28 Nov. 1940: the trees are bare, the German soldier left is cold despite wearing his overcoat. The German National flag decal on his helmet was abolished (taken off) in March 1941. The wooden cross on the right is grave 10 with engraved 'Sergeant Neville'.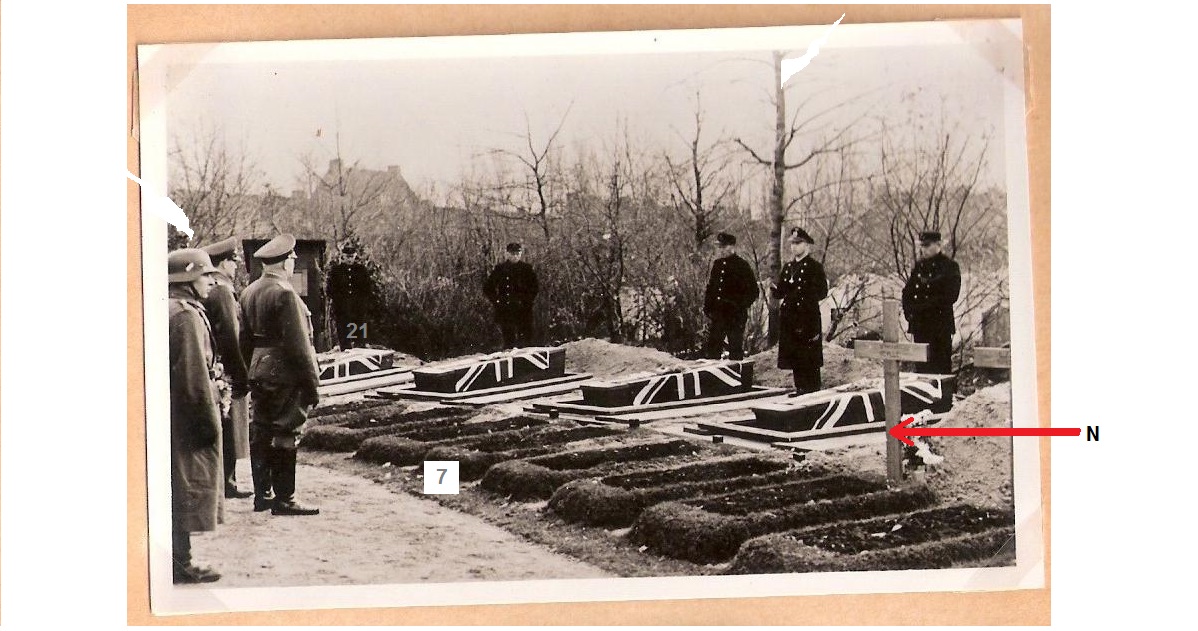 Casualties of the 'Lettele Whitley T4208': Grave 21 Pilot Officer G. Henocq, Grave 23 Sgt. Herbert Hutchinson, Grave 25 Albert E.G. Everest, Grave 27 Sgt. Alex D. Wilson
























28 November 1940. Photo from another angle. The man in black speaking over the grave is a German Navy Marine Pfarrer (Chaplain). The men in black uniform next to him are civil cemetery employees. For the occasion the wooden crosses on grave 1 to 9 are removed. They can be replaced without error, because each grave is also marked with a low black pole with the grave number. At the grey line with 'M' will be buried F/O McVie six months later.  
































.



































                                                                                                                 ========= 1940 =========

  








© ZZairwar (Zuyder Zee Air War)