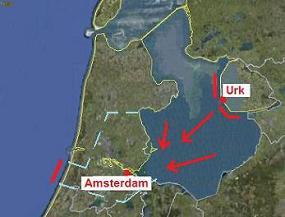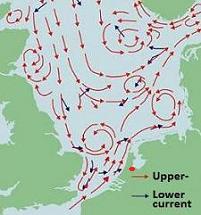 Relation with Lake (class): Lake Casualty Cemetery (LCC)
Total nr. of casualties buried here (TC): 330 end WW2, today 300.
Lake casualties, initially, end WW2 (LC-I): 100
Unknown today: 50, all airmen & naval,
of which unknown from Lake (LC-U): 12
of which unknown from North Sea (NS-U): 10
Initial burial site in WW2: yes, Lake Cemetery West side of Lake (LCW)
Post war burial site for collection and reburial from other sites: yes
Cemetery with Lake casualties today: yes (LCW).




AMSTERDAM war graves July - December 1942

Begin July 1942 Plot 69 was empty. It was pre-war designed for five rows (A, B, C, D and E) with each 20 civilian graves on each row. Grave numbers ran from 1 to 100.

Burial started on 03 July 1942, back row E, grave 1. On the 1st August 1942, row E was full with 20 Allied airmen (one coffin per grave). In the same period, ten more airmen were buried in the last empty spaces of Plot 85. Based on the mounting casualties, but also hearable during the night, the RAF had intensified its bomber offensive on Germany. Dead crew of Wellington bombers still came in, but now also larger aircraft with 7 men crew as the Stirling, Halifax and Lancaster where shot down all around. After grave 20 was used on 1st August 1942, it was decided to place two coffins in every grave on the next row (row D), increasing its capacity to 40.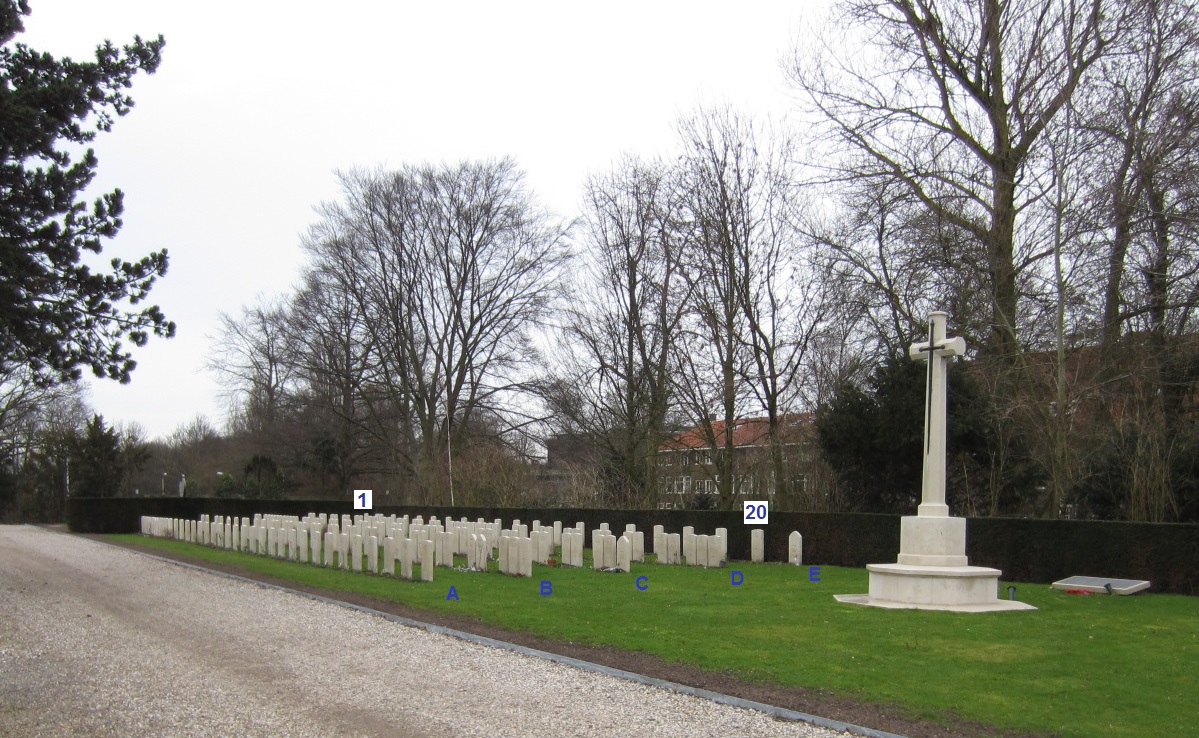 03 July 1942. First burials on Plot 69.

On 3 July 1942 a group of eight airmen were buried. Most of them belonged to one crew. On plot 85 were positions left for five men, but they preferred to keep this crew together and therefore turned to the empty Plot 69. At least four of the dead came from the Lake via the German Seaplane base Amsterdam-Schellingwoude, which was also had a quay for boats. They where the crew of (as we known now) Stirling BF310, shot down in the lake off Marken Island, night 29/30 June 1942 (raid on Bremen), Pilot Officer Cecil W. Simmons. He was an American volunteer from North Carolina and became an instructor pilot in the Canadian airforce before the USA entered WW2. He rests here today in grave 7.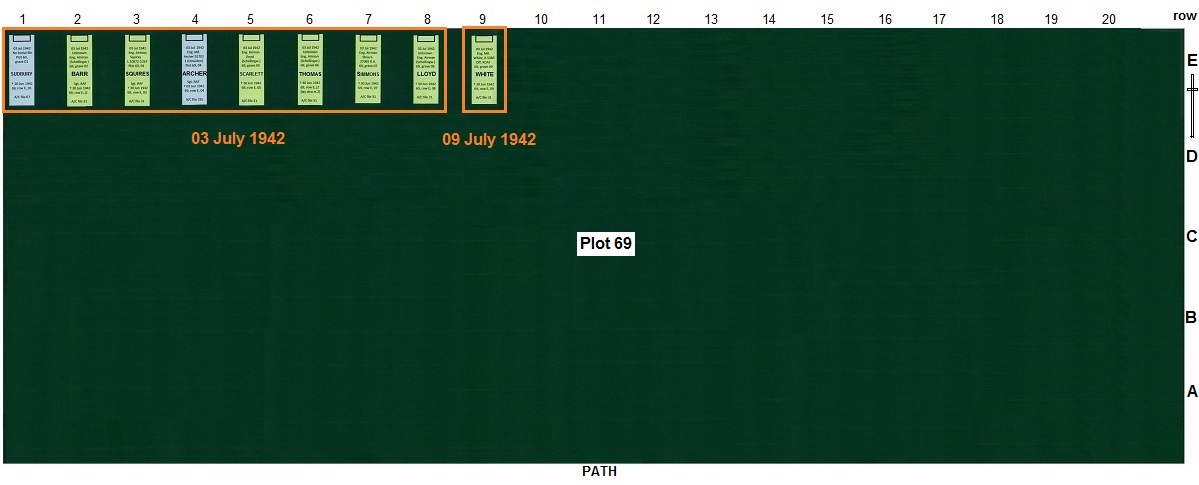 On 9 July 1942 the last crew member of BF310, Canadian Flying Officer Kenneth White was interred in grave 9. In grave 1, buried as first on plot 69, was Sgt. Richard T. Sudbury of Stirling W7500, crashed North Sea 02/03 June 1942 (raid on Essen). In grave 4 was buried Sgt. Ron Archer of Wellington X9875, North Sea night 25/26 June 1942 (target Bremen).



















July 20, 1942. Back to Plot 85 (photo below).
























Blenheim V6071 made a night-attack on Deelen airfield near Arnhem, 13/14 July 1942. On route it came too close to Amsterdam Schiphol airfield and was shot down near Amstelveen. On the 20 of July the crew was buried here in grave 51, 52 and 53. Only the name of Pilot Officer Peter Coulthard (grave 53) was retrieved by the Germans, Sgt. Arthur D. Meech and Pilot Officer Lyn G.L. Ward were initially buried as unknown English airmen.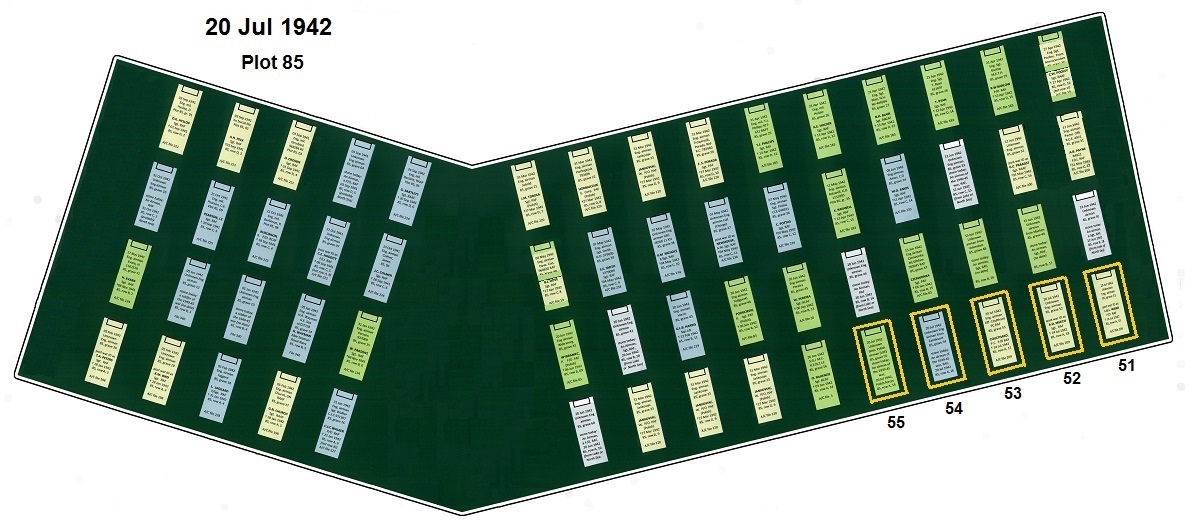 On the unknown RAF airman from Zandvoort beach (North Sea, unknown no. 16) in grave 54 is no further information.















20 July 1942. The unknown Polish airman in Plot 85 grave 55 is an interesting case in our research. He came from an aircraft crashed in Lake IJsselmeer (Old Zuyder Sea) and was sailed over in a coffin from Urk, at the time already recognized as Polish by the Urkers. We believe he is crew of Wellington IV, Z1204, BH-V, Polish 300 Sqn (operated by 301 Sqn), in Lake 02/03 July 1942 (target Bremen). Three of this crew are MIA, but they can be buried all three here in Amsterdam as unknown airman.

Wellington Z1204 came down between Urk and Lemmer in the Lake. Probably west of the Northeast Polder dyke, at a point named 'Rotterdamse Hoek'. Three men of the crew washed ashore just north of this point (down wind of the crash site), which meant burial in Lemmer. These were gunners Lozinski, Lugowski and (Porucznik) observer Flying Officer Krasnodebski. They rest in Lemmer. Washing ashore south of point Rotterdam Corner meant recovery by the airwarden of Urk (Harmen Kramer and team).

Burial of airmen was not longer allowed 'on' Urk since September 1941 and they had to sail the coffins with airmen to their administrative community, which was the city of Amsterdam (Urk was an island and an Amsterdam lighthouse in the Old Zuyder Sea for ages). The boat from Urk docked at the German Seaplane Amsterdam Schellingwoude boat quay. With the burial of the Polish airman in grave 55, Plot 85 was full.

On July 23 again two unknown airmen from the Lake were delivered at Schellingwoude. They were buried in Plot 69, back row E, in grave 10 and 11 (see below), because Plot 85 was full. Also they could not be identified after the war. In the end they received a Commonwealth headstone, but the fact that rank could not be established, is an indication that they could be Polish, as the man buried 3 days before them. The three missing in action men of Wellington Z1204 are: Sierz. pil. (Sgt. pilot) Teofiel J. Kubiak, co-pilot Plutonowy pil. (Corporal pilot) Zdzislaw Czapski and St. Ster Strz. (Aircraftman 1) Longin Pokrant. http://www.polishwargraves.nl/ned/z.1204.htm









.







=====================================================================

01 August 1942. Nine airmen buried. First Lancaster casualty, Pilot Officer Kelvin C. Billing. (RNZAF). Three aircraft North Sea off The Hague.

Lancaster I, R5564 of 83 Sqn, (raid Essen, night 01/02 June 1942, pilot Busby) came down in the North Sea off the Dutch coast north of The Hague. Six crew are MIA, but New Zealand Pilot Officer Kelvin C. Billing washed ashore 2 months later, probably at Zandvoort beach. He was buried 01 August 1942 in grave 12 with three non-identified RAF airmen found on the same beach. These are the unknown airmen in grave 13, 16 and 19. Also from the same North Sea beach came French-Canadian (Quebec) pilot F/Sgt. Edmour Fortin (grave 15) and Sgt. Morffew (grave 14), Wellington X3312, also North Sea off The Hague, raid Duisburg 21/22 July, three crew MIA. Sgt. Fortin has on his grave stone: "J'ai combattu le bon combat. J'ai achevé ma course. Jesus ayez pitié de mon âme." The three unknown can also be crew of Fortin's Wellington X3312.

In grave 20, also from North Sea off The Hague, is Sgt. Norman E. Brace, Wellington X3755, pilot Wilding. Shot down by a Flak ship 19/19 July 1942.

















.



















01 Aug 1942. Two New Zealanders from Lake IJsselmeer. The German recovery of Wellington BJ661, F/Sgt. Gibertson, off Uitdam.
The Germans (Luftwaffe) of the seaplane base Schellingwoude recovered this aircraft from the Lake bottom, two days after the crash (night of 28/29 July 1942, raid Hamburg). In the airwar research community this is a well known crash, because a German photo series of the recovery turned up. The impressive photos show the aircraft emerging from the water, cockpit smashed, but New Zealander John Gilbertson still in his seat, holding his steering colomn. He and his co-pilot F/Sgt. Martin J. Bryne were buried in grave 17 and 18 (see above) on 1st August 1942.

==============================================================


19 August 1942. First burials Plot 69, row D. Two coffins in one grave.

Because of the increasing number of casualties arriving, decision was made to place two coffins in each grave on row D. This would increase row-capacity to 40 coffins. The plan was to first fill each grave on the row with a bottom-coffin (deep-2), and when completed, repeat this again with a top coffin in each grave (deep 1), starting again at begin of the row at grave 40.

The first airman buried on row D on 19 August 1942, was Sgt. and pilot Peter Prime (grave 40 - deep 2). He was an American from Wisconsin. He volunteered the Canadian airforce in 1941. His Wellington bomber T2909 came down in the North Sea on a raid to Düsseldorf, night 31 July/01 August 1942. He washed ashore 2 weeks later at Zandvoort beach. Four of his crew are MIA. Next to him in grave 39 -2 was buried an English airman 'E. Higgi'. Post war he was first identified as Sgt. J. Higgens, but later as Royal Navy Seaman Eric Higginbottom. His boat HM Motor Gun Boat 328 sunk in a fight with German vessels in the Dover Strait on 21 July 1942.



















.











Last burials on Plot 85. 16 and 21 September 1942.

In the early morning of 14 September 1942, fisherman Hein Westerink (EB40) saw an aircraft in Lake IJsselmeer (Old Zuyder Sea). It lay on a shallow spot ('Spiekerberg') where only 60cm (2 ft) of water stood, just 2km west of his home port Elburg. The location today is in the Flevopolder, 'Het Spijk', at camping Riviera. Aircraft involved Wellington X9786, shot down by a German nightfighter on return from Bremen, night 13/14 Sept. Hein lowered the tender and approached the location. An airman was standing in the water next to the tail. Together they recovered four dead crew from in and around the wreck and returned to the Elburg harbour.

The dead and the arrested airman (POW) were brought by a German patrolboat to Amsterdam (at this time Elburg did not have a war graves plot yet). The Wellington-wreck was later recovered and delivered on a barge at the quay of Schellingwoude (German photos). At that time the four dead were already buried. The surviving tailgunner was the 22 year old American John A. Gartlan, born in Philadelphia. He volunteered the Canadian Airforce in 1941 to fight the Nazies. Last contact with him was in 1994 when he lived in West Palm Beach (FL). Also his pilot was an American volunteer. This was Pilot Officer Robert Leo Hage from Montana, instructor pilot with the RAF (grave 61). The others were Sgt. Donald Fischer (grave 63), Sgt. A. K. Smith (Alexander Knox, grave 64) and Sgt. Kenneth D. Jones (grave 65).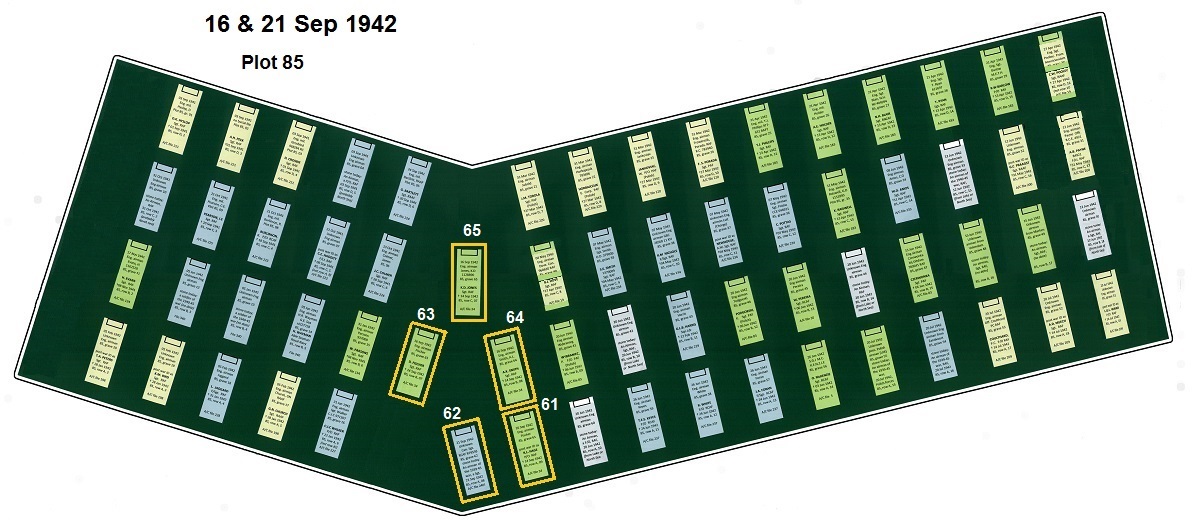 The unknown Canadian Sgt. from the North Sea (Zandvoort Beach), buried 21 Sept. 1942 in grave 62, has non existent service number R79593. He is one of many missing airmen on the North Sea and hard to identify. However, considered that after weeks in the North Sea digits as 3,8 and 9 become hard to read, it has resemblance with R83538, the service number of Canadian Sgt. John Tait. Missing crew member of Sgt. Peter Prime who was buried here August 19.














Original German crosses of Sgt. Alexander K. Smith (Plot 85, gr. 64) and Sgt. Kenneth D. Jones (Plot 85, gr. 65), 1946. Wellington X9786, crew Hage.
Aircraft file crew Hage: https://www.zzairwar.nl/dossiers/34.html
















=====================================================================

Return to Plot 69, definitive.

Burials 25 Sept. & 01 October 1942. Two Stirlings and a Wellington in Lake IJsselmeer around Urk.

In the night of 16/17 September 1942, on route to Essen (Krupp), some 40 aircraft were shot down. Of four aircraft crew members were buried in Amsterdam. Two Short Stirlings came down in Lake IJsselmeer (Old Zuyder Sea) not far from Urk. All 2 x 7 crew were killed. The first was Stirling W7569, 7 Sqn, Pilot Officer Ben Dallenger (New Zealand). The crew of W7569 was buried in Lemmer, but recovered body of Canadian co-pilot P/O Robert E. Clarke and F/Engineer Sgt. Peter Sandison probably came to Amsterdam (grave 38-deep 2 and 37-2) via Urk or on the German recovery ship. The two unknown airmen that were buried same day 25 September next to them in grave 36-2 and 35-2 are in research, there are some developments on who they might be.



















.
















Burial 01 October 1942. The 2nd Stirling that came down in Lake IJsselmeer 16/17 Sept was Stirling BF353, 15 Sqn, pilot O'Hara (USA), raid Essen. Three of his crew were buried here, Sgt. Forster in grave 34-deep 2, Sgt. Orr (South Africa) in gr. 33-2 and Sgt. Cowen in gr. 32-2. The tail gunner of their crew is MIA. This is Canadian Sgt. William E. Johnson, service no. R/84435. In fact a Canadian Sgt. Johnson was buried with them the same day in grave 31-2, but this was Howard E. Johnson, R/137467. His Wellington bomber DV941 came down in the North Sea, also 16/17 Sept. F/Sgt. Howard E. Johnson was an American Volunteer in the Canadian Airforce. His home town was Clawson, Michigan, USA. There seems little doubt it is H.E. Johnson buried here, because '137467' is on the original burial card.

Grave 30 en 29. Wellington Z1663. Daylight raid Lingen (D), 28 Sept. 1942. Pilot Sqn. Ldr. Parsons had to return when cloud cover failed. He pushed-on, was shot down by a Me-109 and came down in Lake IJsselmeer S of Urk. He and F/Sgt. Parker were buried gr. 30-2 and 29-2. Their bodies came via Urk or the German recovery ship.


















.

















.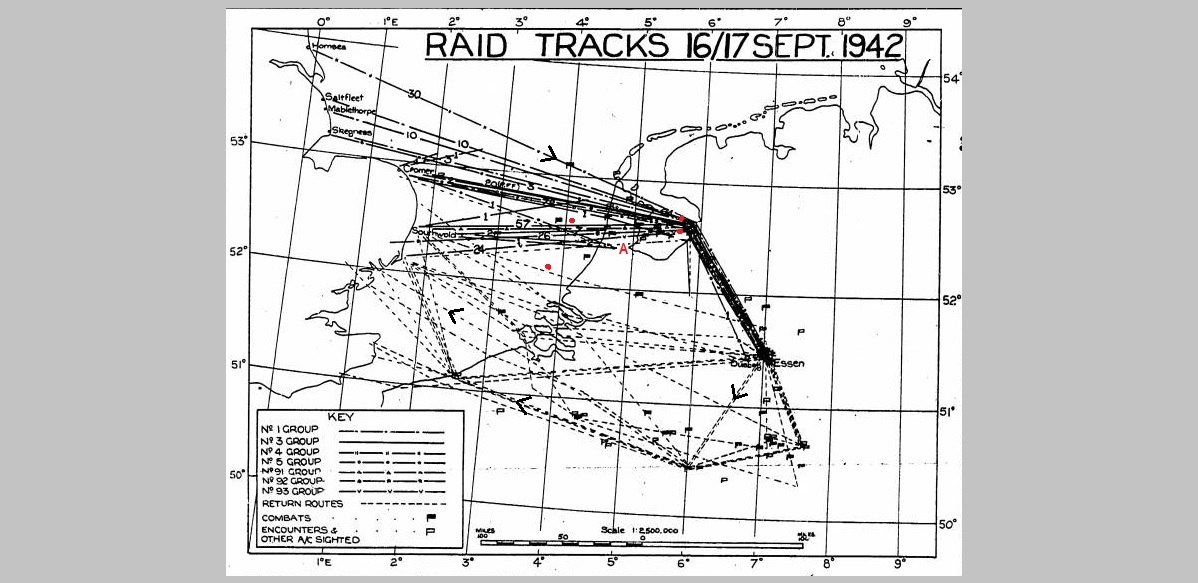 Burials 14 and 21 October have also a relation with bomb raid on Essen night 16/17 September 1942.

In grave 28-2 (deep 2) is an unknown Sergeant. Buried 14 October, which is also on his headstone. He is from Lake IJsselmeer and his body was sailed over from Urk to Amsterdam. He has a link with one of the aircraft previously mentioned. We believe we have identified him, but this needs further research.

The unknowns in grave 27-2 and 25-2 are from Zandvoort beach (North Sea). As was Sgt. Alcwyn Williams in grave 24-2 of Lancaster I, W4178, 106 Sqn. Also in North Sea off Dutch coast in the raid on Essen 16/17 Sept. 1942. Of this crew 6 are MIA. The unknowns can be of this crew. The unknown in grave 25 is a Pilot Officer.



















Canadian F/Sgt. Timothy C. Blair in grave 26-2 was not identified at first, he lay in the North Sea for almost 3 months. His aircraft Lancaster I, R5632, came down North Sea 23/24 July 1942 in a raid on Duisburg. His body came to Amsterdam via IJmuiden port. Six of his crew members are missing.

















=========================================================================================

24 November 1942. Last three coffins on Row D bottom layer (deep 2).

Sgt. Watcham in grave 23-2 also came from the North Sea, as is probably also the unknown RAF airman in grave 22-2. Watcham's aircraft was Wellington BK306, one of the Wellington bombers that were lost on the long-distance air raid Grimsby - Milano (Italy), night 24/25 October 1942.


















.










Ventura raid on Dutch North Sea harbours 6 November 1942.

21 Sqn, based RAF Feltwell, did an attack on Rotterdam, Velsen (IJmuiden) and Den Helder ports. Three Ventura were lost. The Ventura AJ220 (YH-L, Pilot Brown) with F/Sgt. Bernard Bruce Shipton crashed at 2km south of Spijkenisse at Rotterdam-Hoogvliet. Sgt. Shipton was taken by ambulance to the Luftwaffe Hospital in Amsterdam (Wilhelmina Gasthuis). Two weeks later (on 20 November) he died of his wounds and was buried 24 November here in grave 21-2 (deep 2). The unknown RAF airman in grave 22 washed ashore, he was probably not a Sgt., but other rank could not be established. No further info on him.




















02 December 1942. First burials on Row D in the upper layer (deep 1).

On 2 December 1942, the first grave in row D was opened again. This was grave 40 with deep in it the coffin (40-deep 2) of Sgt. Peter Prime, buried 19 August 1942. Lowered on top was another coffin (40-1) with an unknown airman from Zandvoort beach (North Sea). This unknown (no. 29) remained unidentified.

A Ventura light bomber that was also lost on the 6 November Ventura-raid, was AE848 (YH-V, pilot Perry). He came down in the North Sea "off Bergen aan Zee". On 15 December a crew member was buried here in grave 39-1 (upper coffin). He was initially unknown, but post war identified as Canadian Warrant Officer Norman A. Gardner. The others of his crew are missing (F/O Allen E. Perry, P/O Leslie G. Smith and P/O Robert W. Neill (RCAF). Two weeks before Gardner, an unknown airman washed ashore at Zandvoort and was buried here 02 December in grave 40-1, but we do not think he is related to Ventura AE848 because of the time difference with Gardner (2 weeks) and the fact that reported crash position is too far north and down stream of Zandvoort.













=======================================================================================

28 December 1942, last burial of 1942. Eleven airmen. Three Lancasters.

Grave 38-1 to Grave 28-1 were used for three Lancaster crews, but only three or four men of each Lancaster. The bombers fell to earth and drove deep in soft ground. Only the most easy recoverable men were buried, the remains of the others were dug out post war. The Lancasters involved were:

Night 17/18 December 1942. Lancaster I, ED333, OF-B, 97 Sqn, Flying Officer Samuel L. McBurney (Canada). Raid Neustadt. Crashed 3km east of Urk in the half finished Northeast Polder where still 70cm of water stood. The Urker air warden Harmen Kramer and his team managed to recover four bodies from the smashed wreck and mud. Today address is Karel Doormanweg no. 1. The four coffins were sailed to their administrative community, which was city of Amsterdam. Buried were Sgt. Kelleher (grave 38-1), Warrant Officer Thorneycroft (Canada, gr. 37-1), Sgt. James Izatt (34-1) and rear gunner Sgt. Glyn Bull (33-1).

Night 20/21 December 1942. Lancaster I, R5512, OF-C, 97 Sqn, Pilot Officer William N. Eales. Raid Duisburg. Crashed in Volewijkers Park Amsterdam-North. The wreck (including four crew) was found in the construction of the entrance road to the IJ-Tunnel in 1962. On 28 December 1942 were buried: Pilot Officer Milton A. Harper (Canada, gr. 36-1)), Sgt. George Henderson (35-1) and Sgt. Roy H. Bambury (grave 32-1). The crews of Lancaster OF-B and OF-C knew each other well. Although crashed 3 days and 80km apart, they were buried side by side, crews mixed (grave 38-1 to 32-1).

Night 20/21 December 1942. Lancaster I, R5762, 49 Sqn, pilot F/Sgt. Edward Irvine Johnston (Canada). Raid Duisburg. Shot down and crashed in IJmuiden port (North Sea), near Havenkade street. Four coffins were buried here: Sgt. Bignell in grave 31-1, remains unknown crew member(s) in coffin 30-1, Sgt. MacLellan in grave 29-1 and remains unknown crew member(s) in coffin 28-1.




























.

























=========== end of 1942 =========


Note on the Amsterdam 1942 war graves. In 1942 the Germans were at the high point of their military might. Only after the battle of Stalingrad December 1942, the situation would turn slowly. End May 1942, RAF Bomber Command did everything they could to seriously start damaging the German industry, otherwise it would be too late. In a new strategy with 400 to 1000-bomber in streams on single targets, with first use of pathfinder aircraft, modern bombers as the Lancaster and target marker bombs, the enemy air defenses in the entered zones were over flooded. Aiming points were pounded in 90 minutes lasting air strikes which finally started disrupting the German war machine. In the begin of this campaign all available aircraft and crews were deployed for months, including training aircraft, foreign instructors, volunteers and trainees. It was all hands on deck. This is something that can seen here in Amsterdam in the 1942 sections with besides the British almost 35% other nationalities including four American volunteers of which three were valuable instructors.





© ZZAW (Zuyder Zee Air War)