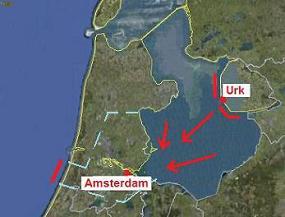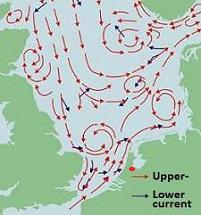 Relation with Lake (class): Lake Casualty Cemetery (LCC)
Total nr. of casualties buried here (TC): 330 end WW2, today 300.
Lake casualties, initially, end WW2 (LC-I): 100
Unknown today: 50, all airmen & naval,
of which unknown from Lake (LC-U): 12
of which unknown from North Sea (NS-U): 10
Initial burial site in WW2: yes, Lake Cemetery West side of Lake (LCW)
Post war burial site for collection and reburial from other sites: yes
Cemetery with Lake casualties today: yes (LCW).




AMSTERDAM war graves January - June 1943

Plot 69, row C. The middle row. The RAF started pounding the German industry and river ports in the Ruhr Valley (Ruhrgebiet). This period is known as 'The Battle of the Ruhr'. Casualties were high. If burial would have continued with two coffins in one grave, as on row D, Plot 69 would have been full within weeks. That is why it was decided to put four coffins in every grave on row C. This increased row-capacity to 80 airmen, 'Flieger', as the Germans named them.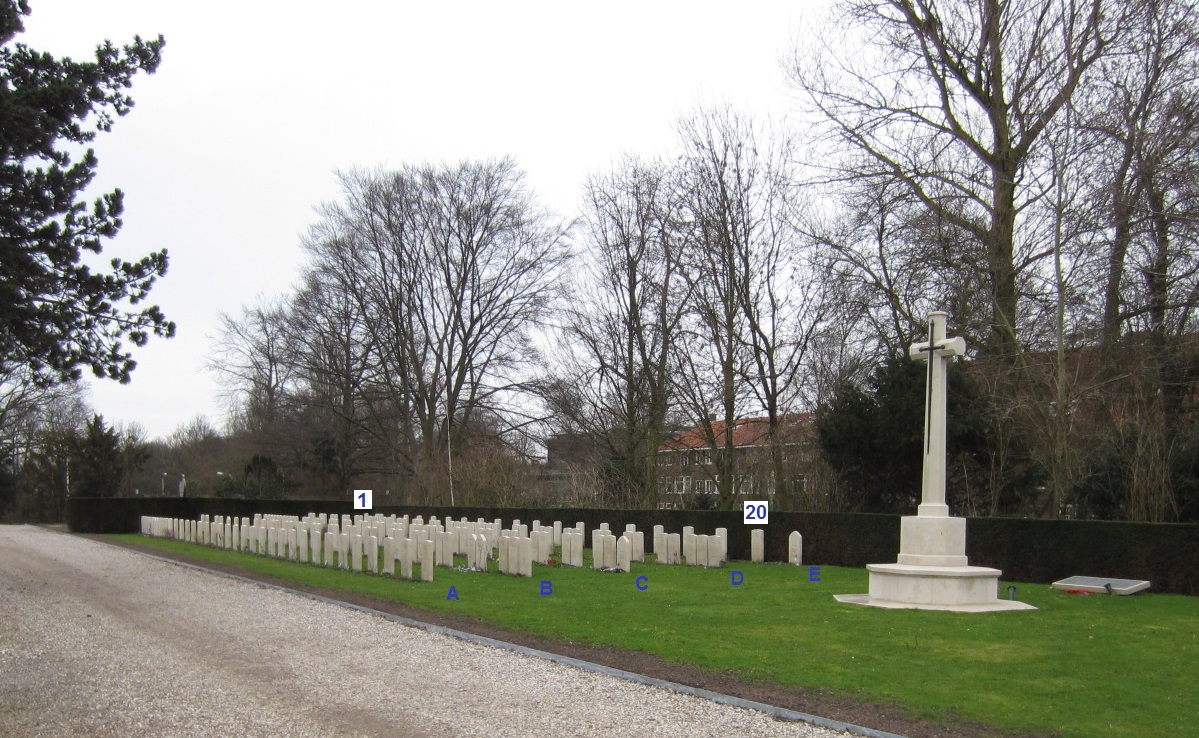 07 January and 16 January 1943.

As first in 1943 the remaining seven graves on the end of row D were used (27-1 to 21-1). Crew Lancaster I, R5697, raid on Duisburg, night 20/21 Dec. 1942. Crashed west of Monnickendam, north of Overleek, near the dyke of the Purmer-polder (Oudelandsdijkje). In the 1980s a Merlin engine was dug up on the site and made running in 2015. The crew (Paterson, Wiberg, Skinner, Anderson, Gardner, Watt and Lamb) are commemorated on the propeller-monument at the Monnickendam church.




























.















Photo below: Commemoration of this crew on Poppy-day November 2015.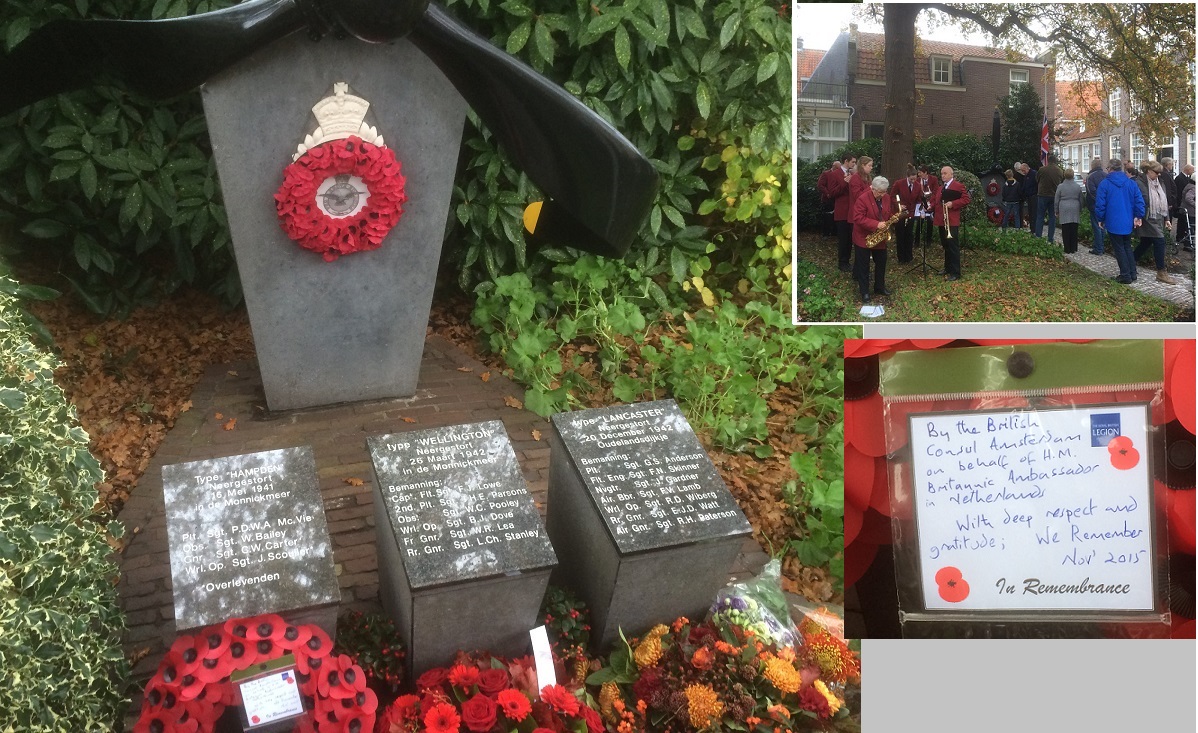 Also men of the other two aircraft on the Monnickendam monument (Zarken street) are buried in Amsterdam New Eastern Cemetery.

==================================================================

After burial the crew of 'Monnickendam Lancaster' R5697 on the end of row D, burials would continue on row C with four coffins per grave.

Schematic view of the coffin lay-out in row E (1942), D and C (1943).



















04 February - 21 April 1943. First burials in Row C.

04 Feb 1943. Crew of Lancaster I, ED447, pilot W/O II Ralph P. Campbell (Canada). Raid on Hamburg. Came down east of Schiphol airfield, between Aalsmeer and Amstelveen. They were buried as first airmen in Row C, next to each other, each on the bottom of a (later) four coffin grave. Sgt. Wilfred E. Debeurier from South-Africa was buried as 'Debrucius' in grave 41-4 (deep 4) and Sgt. Barden in grave 47-4. The graves were left open, only covered with planks.





















On 24 Feb and 1st of March 1943 two unknown airmen were buried in grave 41 (deep 3 and deep 2), both probably from the North Sea. Followed on April 21 by three men of crew Lancaster I, ED554, pilot W/O II Harold Healey (RCAF), down in a raid on Duisburg night 09/10 April 1943 at Jisp (1500 NE of Jisp). The others of this crew (Sgt. Dampier, pilot Healey, F/Sgt. Lewis and Sgt. Whitehouse) were not buried in 1943. Their remains were/are deep in the ground on the crashsite in the wetlands above Jisp. In the years 1945-1955 remains could have been recovered, because their headstones were added between grave 43 and 44. These seem largely symbolical. A monument was placed near the crash site that commemorates the whole crew (propeller-monument at dyke Neck to Spijkerboor, see further below).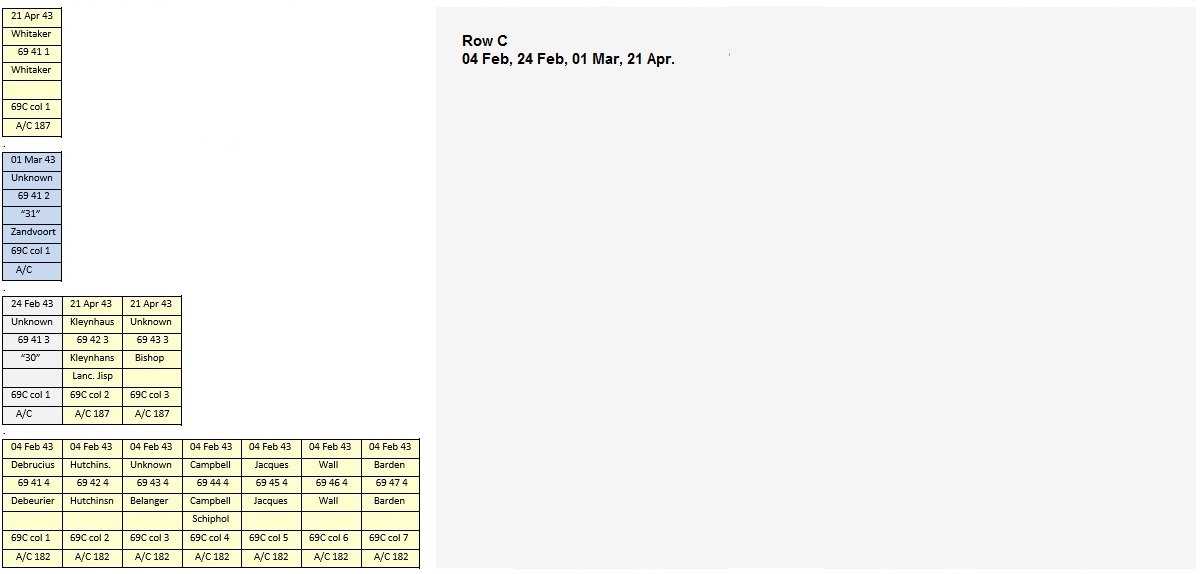 Remark: in above schemes the graves are depicted side by side and connected. In reality there is a meter of space between each grave.

==============================================================================================

Halifax bomber Carlton Hotel

01 May 1943. Crew buried of Halifax DG423. Damaged by nightfighter, eventually crashed with incendiary bomb load in Amsterdam, next to the Carlton Hotel.
Carlton hotel is the brown building with flags on the left. The white office building is the impact site and replaced a whole block of destroyed canal houses.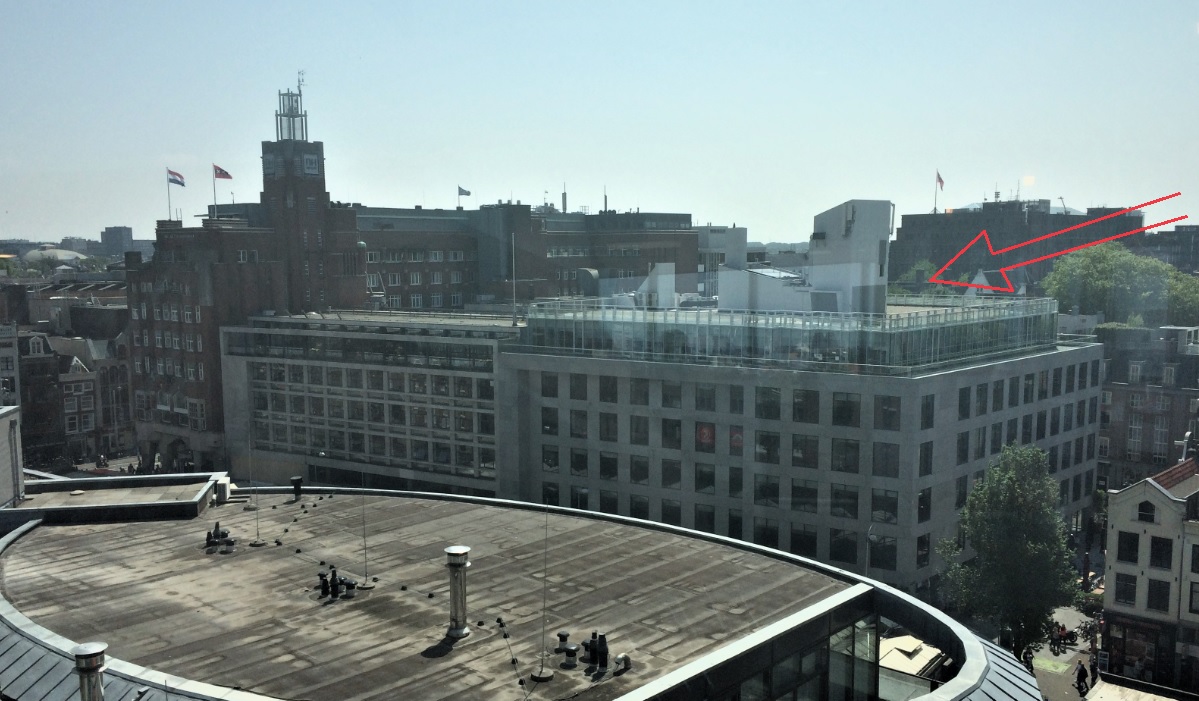 Night 26/27 April 1943 Halifax DG423 was on route to Duisburg. A German nightfighter attacked it over the Dutch North Sea coast, high above the clouds. The aircraft was damaged, altitude was lost fast. West of Amsterdam it was caught in search lights, flying low. Light Flak shot at it. Two engines were out and fire was on board. Pilot Donald McNab struggled to keep the bomber in the air, but damage was to severe. They crashed in Amsterdam city centre behind the Carlton Hotel. A whole block of 17th century buildings used as offices, storage and businesses burned to the ground. The block lay enclosed between canal the Singel (no. 630 & 540, which is the flower market near the Munt, Muntplein), the Geelvincksteeg, the Reguliersdwarsstr. and the Carlton Hotel. The block was rebuild post war and stands out today because of its more modern architecture. The Carlton was damaged but survived. It was used by the German Army as lodging hotel for officers and was evacuated when the fires began. Three Germans, seven civilians and the Halifax crew of seven perished. The event was described by Anne Frank in her diary, hiding in an apartment a few blocks away.


















Six of the crew of the Carlton Halifax were recovered, buried May 1, 1943. One was missing. Initially they lay next to each other in grave 42 to 47. After the war, the British Missing Research Enquiry Unit (MRE Service) moved the three non-identified from graves 45-46-47 to grave 44; the grave of the crew member with the wrist watch. W/O Campbell was moved to grave 45. On the headstones of the three moved appeared four names, which may imply that also remains of a fourth person were found inside, but presumably one name is ceremonial. The four names added were: Sgt. Jack Clegg, pilot Sgt. McNab (New Zealand), Sgt. Clifford C. Strain (Canada) and Sgt. John Wood.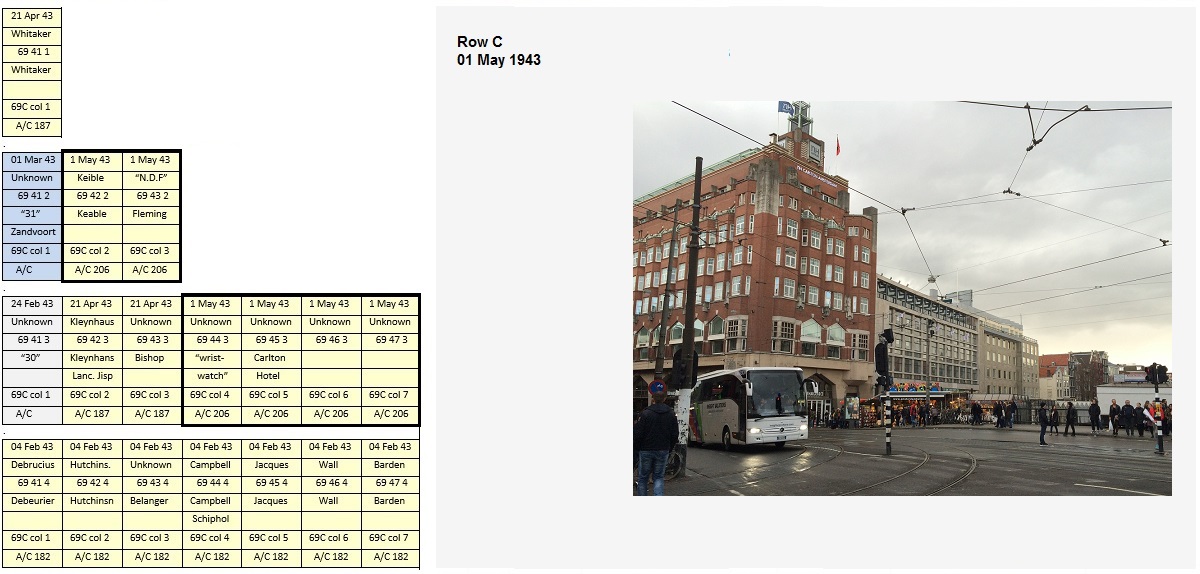 13 May 1943. Fifteen airmen buried.

Mission 'Ramrod 16'. The Ventura raid on the Amsterdam-North Power Station.

May 3rd 1943 a disastrous daylight attack took place in which 11 RAF Lockheed Ventura bombers were shot down. Of three of those aircraft (all 487 Sqn) crew members were buried here: Ventura AJ209, Ventura AE713 and AE780. They came down behind the Fokker factory on the Papaverweg/Klaprozenweg in Amsterdam-N, near the Hembrug-bridge in Oostzaan and the Van Bosse street no. 34 in Amsterdam city (near wholesale market north of Jan van Galen street). Aircraft 193, 184 & 194.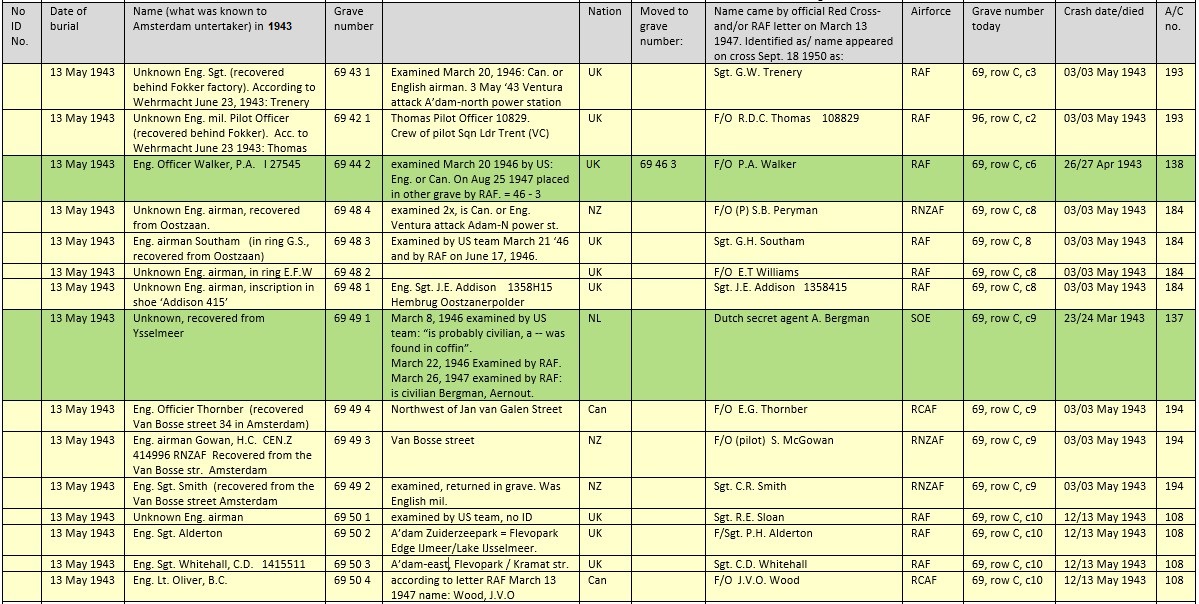 Dutch secret agent Arnoud Bergman and his colleague Pieter Gerbrands had to be parachuted into the occupied Netherlands, night 24/25 March 1943.

Their Halifax HR665, pilot F/O E. Clow, 138 Sqn SOE, received a lucky light Flak hit in an engine and the aircraft had to make an emergency ditch in Lake IJsselmeer between Enkhuizen and Stavoren. Crew of seven (POW) and Gerbrands (escaped) were rescued in the aircrafts dinghy (by Dutch skipper Gerben Bootsma), but Bergman did not came out the sinking aircraft. The Germans learned where the sinking location of this secret mission airplane was. The Amsterdam Schellingwoude seaplane base commander Major Dr. Pössel ordered recovery of the wreck. The body of Bergman was found and taken back to Amsterdam for investigation. He had enough on him to identify him as secret agent from the UK and was therefore buried between the Allied airmen in Plot 69, grave 49-1 on May 13. Although the Germans left a clue in the coffin, the American and British grave investigators had a year after the war still no idea who this civilian dressed man was.

In the Flevopark in Amsterdam-east (Flevoparkbad), on the edge of Lake IJsselmeer, crashed in night 12/13 May 1943 Lancaster I, W4269 on a raid to Duisburg. Pilot was Sgt. Peter H. Alderton. He and his crew were buried here on 13 and 18 May (aircraft 108).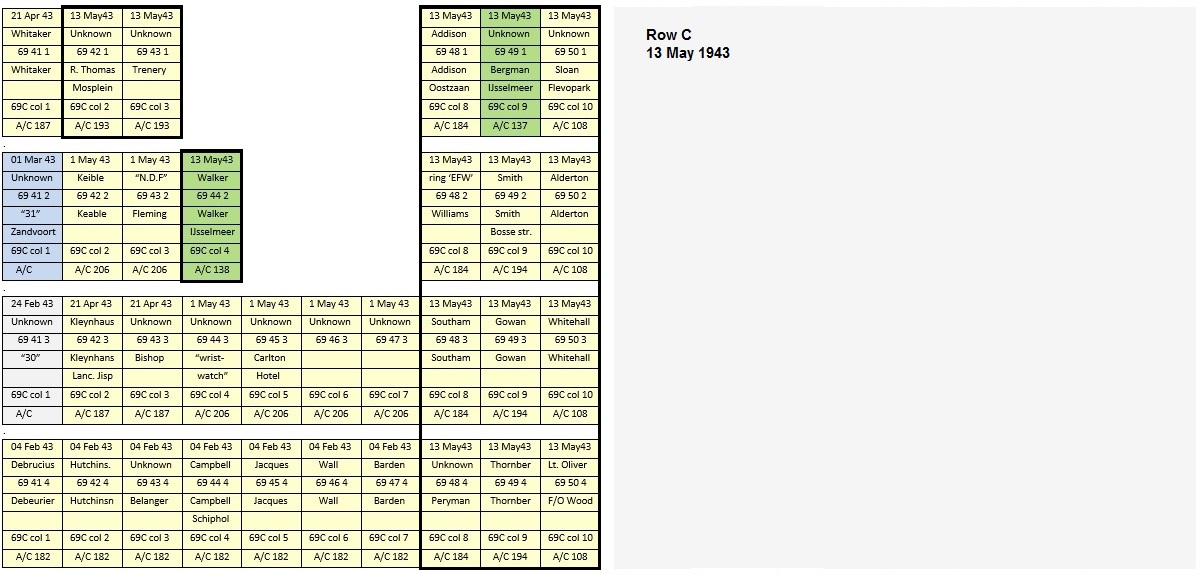 18 May 1943. Stirling BF383. Lake IJsselmeer, night 26/27 April 1943, pilot F/O Ian MacKenzie, 19km northeast of Marken Island, raid Duisburg.

Of this crew P/O Philip Walker, Sgt. Ronald Cocking and Sgt. Joseph Wilson were buried on 13, 18 and 25 May. In a 2015 interview with Mr. Jan Koning from Volendam, he told us he was as young man member of the resistance and in hiding for the Germans. He came out his safehouse when the fishermen laid bodies down of airmen they had found. Usually on their route Volendam to the Geldersman fishing grounds. The Germans had lost interest in dead Allied airmen, and only a single German medic came to investigate the bodies and put them in a coffin that was provided by the local undertaker. Jan helped the German medic by setting the bodies in a sitting position so the German could remove flying gear with a big scissors and look for papers and ID. After that Jan helped to lay the bodies in the coffins, which was sometimes a problem because they, especially the Americans, were often much taller than the people from Volendam. Jan (age 94) remembered after 72 years one name: Cocking.

Stirling BF383 has three men missing: Sgt. Victor Leak, Sgt. James R. Boyes and pilot MacKenzie. There is a chance that the unknown Sgt. No. 32 also buried May 18 in grave 51-1 has a relation with Stirling BF383. The mid section including the bomb load and cockpit of BF383 can still be in the Lake. His date 13 May on stone is very specific.














Note: Unknown no. 32 in grave 69 51 1, buried 18 May 1943 has 13 May 1943 on stone (not 18 May 1943 as in above scheme).























97. Five MIA not found.

This Halifax II, HR786, P/O George W. Locksmith, crashed in the night 12/13 May 1943, 1 km north of Jisp. Two rear gunners were buried on 18 May 1943. These were Sgt. Cyril Cogdell and Flying Officer Gerard Massip-De Turville (as unknown at first). The other five of the crew are MIA and were not found in the wreck recovery in 1997. The two unknown buried in grave 51-1 and 46-2 can have a relation with this aircraft, they could never be identified. One is a sergeant, the other has no rank (no sergeant can mean officer). The four MIA Pilot Officers were in the front of the aircraft (cockpit), which was not there anymore during the recovery in 1997. Only seven 1000 lbs bombs were found, placed side by side. This suggest that in 1945-1948 a scrap-metal dealer has worked illegally here (aircraft no. 207).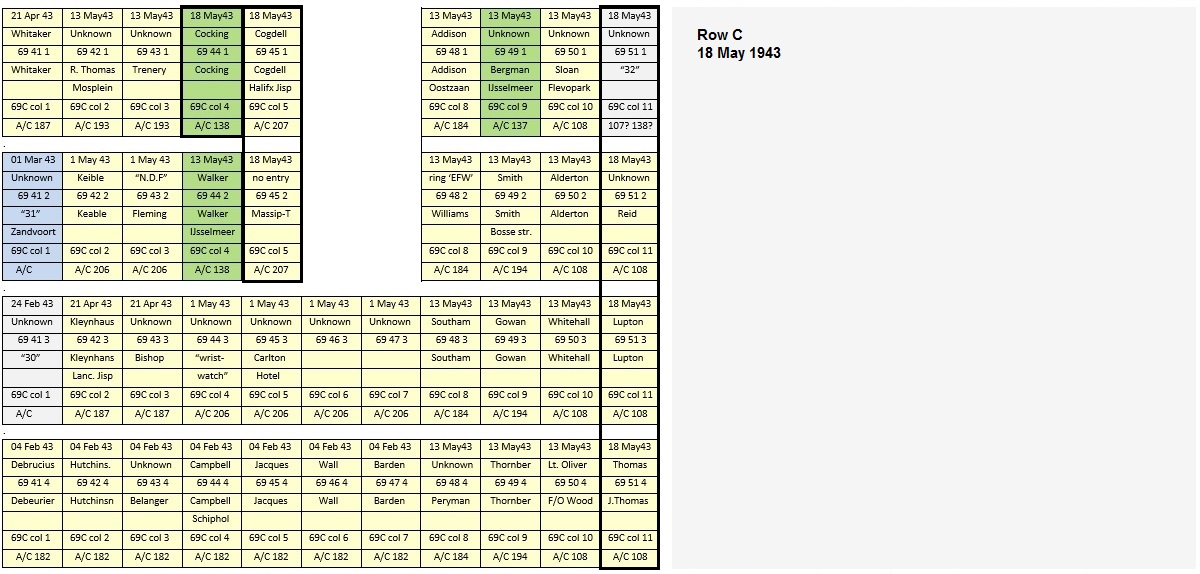 Read more on HR786 monument: http://www.207squadron.rafinfo.org.uk/ed554jisp/creation-jisp.htm




























===========================================================================================

25 May 1943.












Lancaster I, W4762, Pilot Officer Francis H. Huntley. Crashed in Lake IJsselmeer, south, 6km NW of Nijkerk. Raid on Duisburg night 12/13 May 1943.
Of this crew Huntley (grave 47-1), Sgt. Edward Hough and Sgt. Fred Greening were buried here 25 May and 01 June 1943. Co-pilot Harald M. Ivatt (Canada) is MIA.

Stirling III, BK773, Pilot Officer William Holden (Canada). Crashed in Lake IJsselmeer south of Enkhuizen night 04/05 May 1943, raid Dortmund.
Sgt. Reginald W. Conuel buried here 25 May 1943 (grave 47-2), Colleague Sgt. Jack B.J. Hook also buried here, but on 24 July, he came from Urk. Three crew are MIA.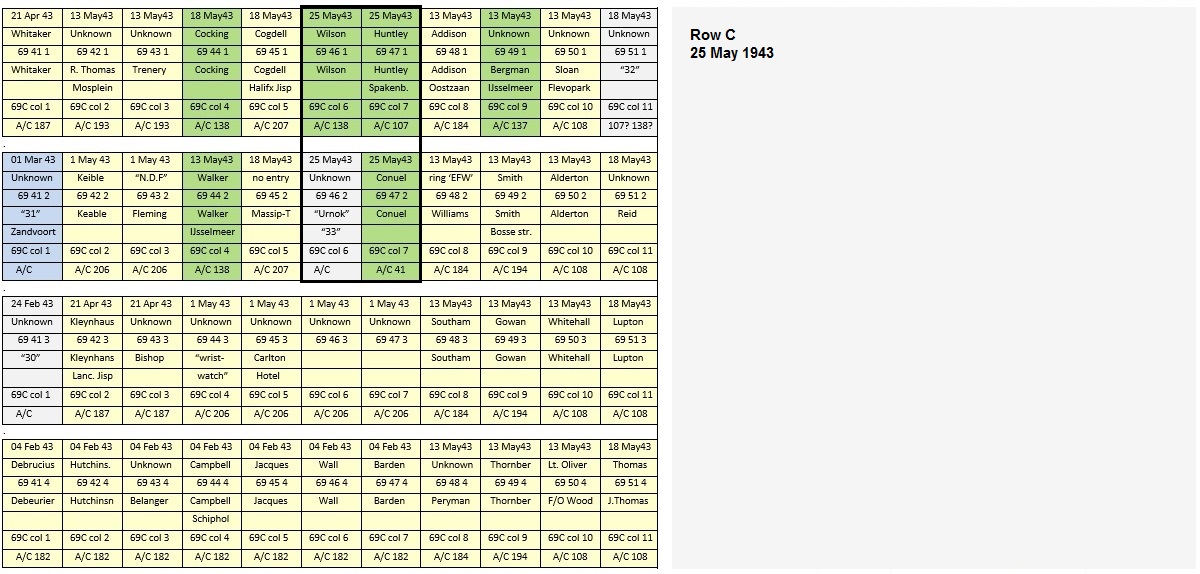 01 June 1943. Nine airmen buried from Lake IJsselmeer.

Halifax DT732. Australian pilot F/Sgt. John Franklin Mills (only MIA of the crew). Crashed in centre Lake IJsselmeer, night 13/14 May, raid Bochum.
Five of Mills' crew were buried here on 1st of June 1943, all in grave 52 and 53: Sgt. John Avent, Sgt. Charles Maltby, Sgt. James C. Howie, Sgt. Eric J. Howard and Sgt. Aeron Jones (via Urk). The fact that he came via Urk and Sgt. John Macadam is buried in Lemmer, suggest this aircraft crashed in the central Lake SW of Urk.























Stirling BF523




























Sgt. Charles Green in the bottom of grave 54 (54-4) was rear gunner of Stirling III, BF523, Pilot Officer Wesley Morey (Canada). Shot down night 12/13 May 1943

Crashed in Lake IJsselmeer off Nijkerk. Raid Duisburg. This aircraft was recovered 1972 near Nijkerk bridge in the new south-Flevopolder, including Morey and two others. In that recovery (above) it became clear that the 'C.G' that washed ashore there in 1943 near Putten and was buried here in Amsterdam in grave 54-4, had to be Charles Green, rear gunner. He received a new headstone with his name engraved. This a/c is known by its double tail wheel on display in the Hendon Museum, London.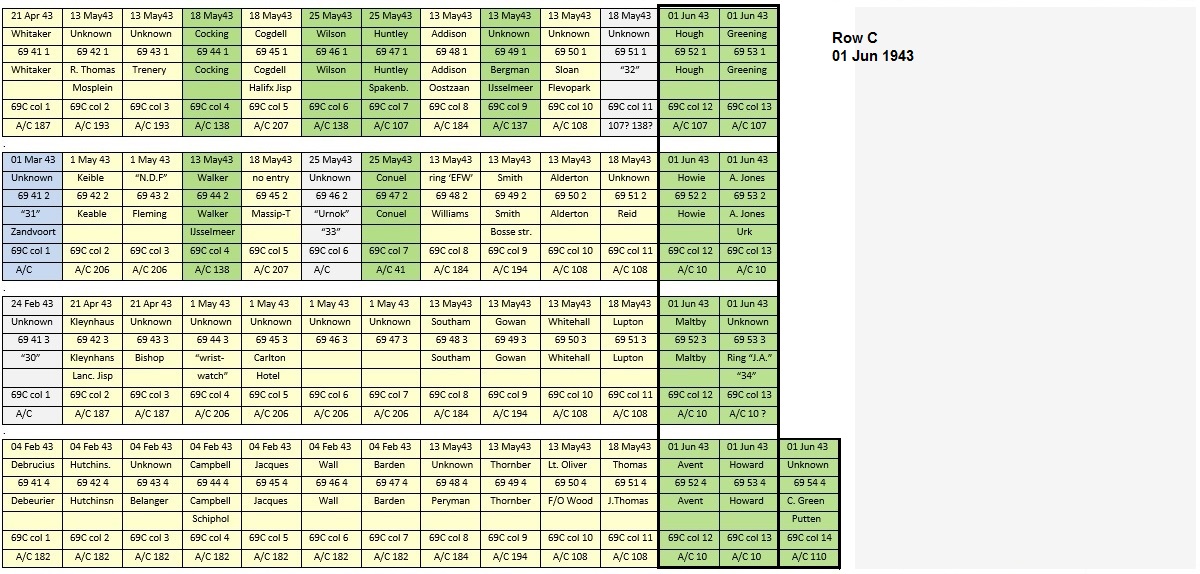 .


















Above image: Eight men from the Lake. Photo is 1946, original German crosses with all burial date I.VI.1943. On the left (grave 52) Avent, Howie and Maltby and right (grave 53) Howard and Jones. All crew of Halifax DT732 in Lake IJsselmeer 13/14 May 1943 off Nijkerk. Hough and Greening are of Lancaster W4762 Lake IJsselmeer 6km NW Nijkerk and the 'Unbekannter Engl. Sergeant I.VI.1943' washed ashore at Urk. Their coffins were stacked on top of each other, deepest coffin in the grave named 'deep 4' and top coffin 'deep 1'. The graves with the four coffins on row C and B were designated post war by the CWGC as "collective graves", but for us Dutch they are not. It is standard burial practice up to this day.


======================================================================================================

08 June 1943 - 166 Squadron burials

Wellington X, HZ280, Pilot Officer Wahl. Raid on Bochum, shot down night 13/14 May 1943. Made an emergency landing in the northern Lake IJsselmeer.
Canadian pilot William Wahl did not survive the ditching, or did he died in the Amsterdam Hospital, where also his wounded rear gunner Sgt. Wright was treated? Wahl was buried on 8 June in grave 54-3. That day 166 Sqn Flight Lieutenant John Eldridge was buried with Wahl in the same grave, possibly they knew each other.

Wellington X, HF486, Eldridge's aircraft. Raid Bochum, down 23/24 May 1943. Crashed in Lake IJsselmeer or the North Sea, probably IJsselmeer.
The other four crew, Griffiths, Sanders, pilot Albert Steward and Jobes were buried in next grave 55.















.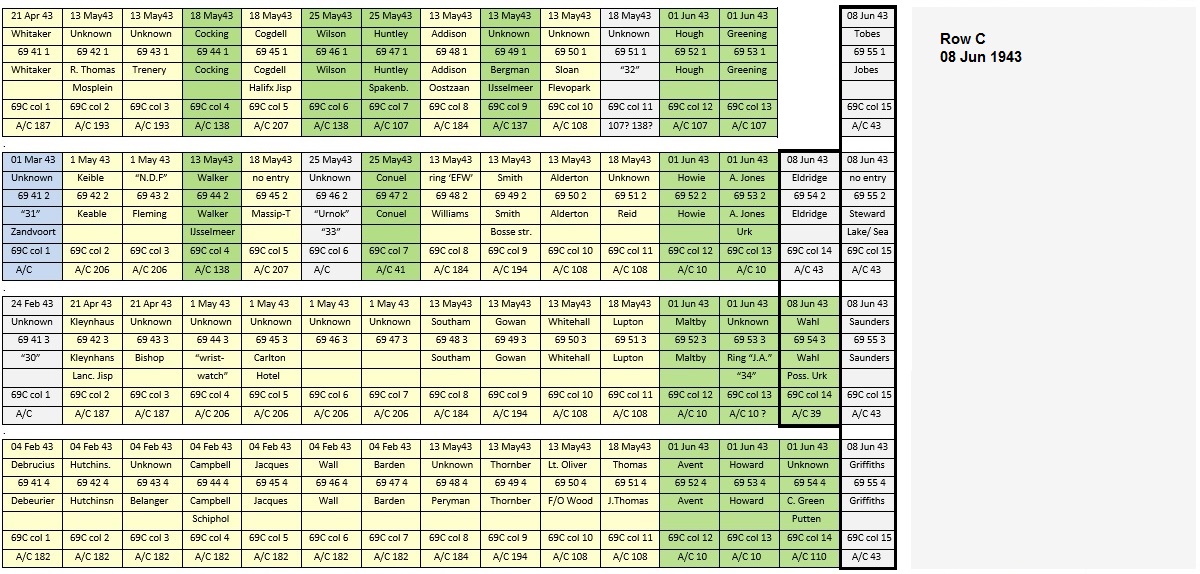 16 June 1943 - Eleven airmen buried, among them the first USAAF American airman.

Airmen of four aircraft were involved here. The unknown (no. 36/Db 515) 'Eng. Sgt' from IJmuiden (North Sea port), buried in grave 54-1 was recognized in 1946 as American (based on clothing) and brought over to the American identification Center in Neuville-en-Condroz, Belgium. Identification failed and he was buried in the cemetery there, today named American War Cemetery "Ardennes" in Neupré. On top of our list for this man is S/Sgt. Harrison E. Kegg. He is MIA and was radio operator in the Norton Twins B-26 Marauder 41-18090, shot down in the 322BG IJmuiden Power Station raid on 17 May 1943.
























A Wellington and a Lancaster in the Amsterdam harbour entrance, coastline Lake IJsselmeer. Most Australian crew. Raid Oberhausen and Düsseldorf.

Wellington HE154, 466 Sqn, pilot F/Sgt. F. Green, night 11/12 June 1943. Düsseldorf. Hit by Flak over Amsterdam and made a rough belly landing southeast of Amsterdam in a meadow at Overdiemen, which is today near the PEN power plant near Muiden/A1 Motorway. The five Australians inside where killed. Buried 16 June in grave 56 (pilot F. Green, F/Sgt. John Mell, Sgt. Arthur Sidney Jones and F/Sgt. Kenneth Fletcher). Sgt. Edward Milliken grave 57-4 (deep 4). A/C 201.

Lancaster DV160, 460 Sqn, pilot Sgt. Robert E. Crook. Night 14/15 June 1943. Oberhausen. Crashed northeast of Amsterdam in the IJdoorn polder near Durgerdam. Only Sgt. J.R. Morrison (RAAF) became POW. The others were buried in grave 57 and 58 on 16 and 23 June 1943. F/Sgt. Clement R. Buckeridge (RAAF) was buried much later on 31 July 1943 in grave 71-4 (row B). He can have washed ashore or was found when the Germans cleared the wrecksite. A/C 140.
Overview of the crash site, the IJdoorn Peninsula: https://www.natuurmonumenten.nl/natuurgebied/ijdoorn/over-dit-natuurgebied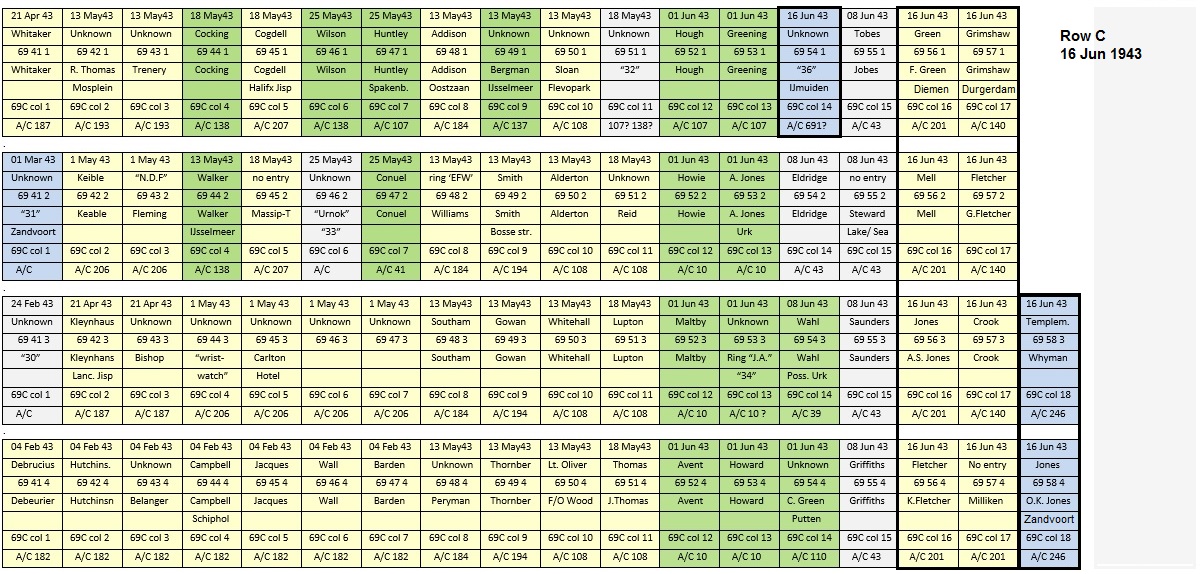 .
























Above map: crash site of Wellington HE154 near Muiden and Lancaster DV160 on the IJdoorn Peninsula east of Durgerdam.

16 June 1943. Lancaster DV157. Pilot Flight Lieutenant Alfred W. Doel (New Zealand, MIA). Raid Düsseldorf. Came down in the North Sea in the approach to IJmuiden port, night 11/12 June 1943. Of this crew were buried here on 16 June New Zealanders F/Sgt. O.K. Whyman (Owen Kendrick) in grave 58-3 and under him Flying Officer O.K. Jones (Owen Kenyon) in grave 58-4. Of this crew three men are MIA. Amazingly a tail piece of this aircraft (including code DV157) washed ashore on the beach of Wijk aan Zee in year 2010. This is now in museum 'Fort Veldhuis' in Heemskerk to commemorate this crew.


======================================================================================================

23 June 1943. Twelve airmen buried. Row C completed (full).

Two Lancasters crashed in Lake IJsselmeer in the night 11/12 June 1943. One we believe southwest of Urk (Lancaster ED935) and the other 14km south of Urk (Lancaster ED357). As usual with the south-western wind, bodies were recovered near Lemmer, Urk and possibly Kampen (an unknown RAAF airman, no rank, buried 5 July 1943). Eleven days after the crashes, on 23 June 1943 a batch of eight airmen, of which six of both these crews, were buried here in Amsterdam. We know for 100% that two of them came via Urk (Bryant and Cowley), possibly the others as well, but also the German recovery ship (with home port Amsterdam) can have played a role in this.

One Lancaster was ED935, pilot Australian F/Sgt. Kenneth Lay (A/C 11). Four crew, sergeants, including Lay, are MIA. The other Lancaster is ED357, Australian pilot F/Sgt. Danny McNicol Thomson (A/C 78). In this crew one Sgt. (Sgt. Kenneth Bowes) is MIA. As the schemes show, there were two unknown sergeants (unknown no. 37 and 38) buried in the same graves (grave 59) same day. Post war identified as sergeant of the RAF. Families of the missing sergeants Kenneth Bowes (ED357) and Sgt. Reginald Ratcliff, Donald Bauman and William Forster (ED935), should put flowers at this grave. We believe that Kenneth Lay is most likely buried in the 2nd war grave in Kampen (IJsselmuiden) as unknown RAAF airman, no rank, buried 5 July 1943.

























The four crew of Lancaster ED357 (possible five, Sgt. Bowes as non-identified) buried here, were brought over from Urk. See below remarks on the Loss Card:
Sgt. Parling statement "Jumped in the Lake", (suggesting fighter attack). Baled out landed in the Zuider Zee.
Campbell's body washed up 17.vi.43 beim Inselbank. This is German for 17 June 1943.
Ward W.N. Thompson D.M. Osborne J.L. washed up 21.vi.43 bei Insel Urk. This is German for 21 June at the Island of Urk. See also below photo 'Steel Crosses'.
These wash ashore positions are consistent with crash location (now Edelhertweg, Lelystad), crash date 11/12 June 1943 and wind direction.
This crew has a monument and streets named after in Dronten, although the crash location was actually in neighbouring town Lelystad.




















Below. With the burials on 23 June 1943 on the right side of plot C grave 58, 59 and 60, the row was full with 80 airmen. For two men was no space his day on row C. and they were buried as first airmen on row B, grave 61. They died in the Amsterdam Luftwaffe Hospital (WG): Sgt. Reginald J. Cook and Sgt. George A.F. Green. Their aircraft crashed in the East of the Netherlands. They were buried as first airmen on row B in first grave 61.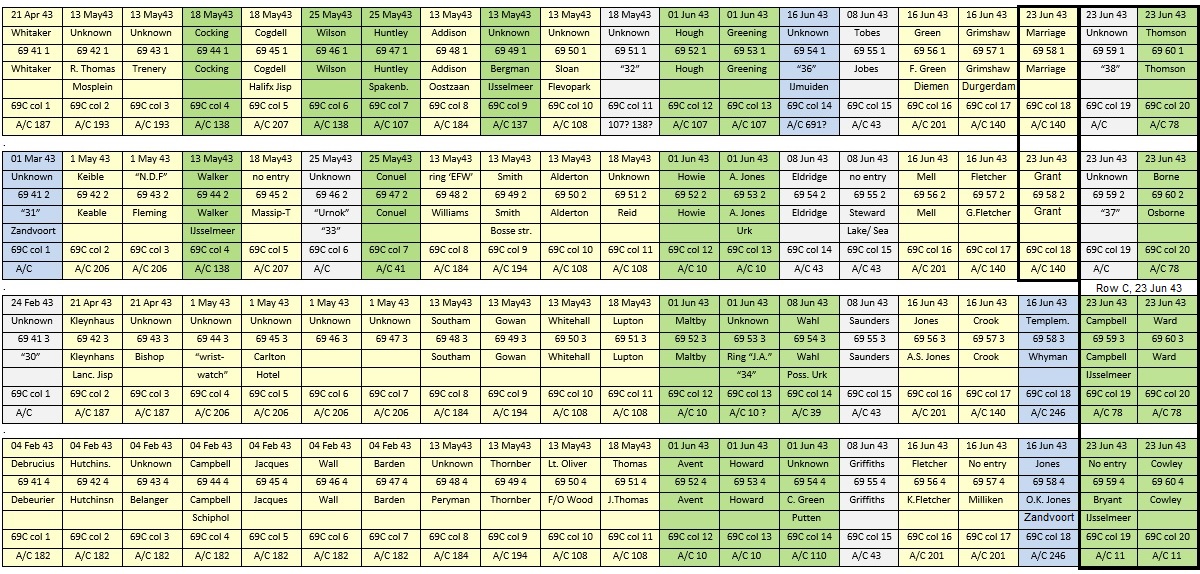 .






























.























Steel Crosses

Below photo (thanks to PATS) shows grave Row C, grave 60 in approx. 1950 (see above scheme). For a short period steel crosses were placed, painted white. They did not stand long because they rusted away fast. The steel crosses were replaced by today's Portland stone headstones. The central cross has the name of Sgt. James L. Osborne (1172557). The cross behind him is of Sgt. Daniel (Danny) M. Thomson. The tip of the cross in front is Sgt. William M. Ward (1553630). All three are crew of Lancaster ED357, crashed in the IJsselmeer night 11/12-06-1943. The crosses are positioned lengthwise over the grave which has the coffins stacked. Behind these crosses are another three crosses, not visible in this photo: Sgt. Brace in grave 20 (row E) and Sgt. Lamb and Sgt. Shipton in grave 21 (row D).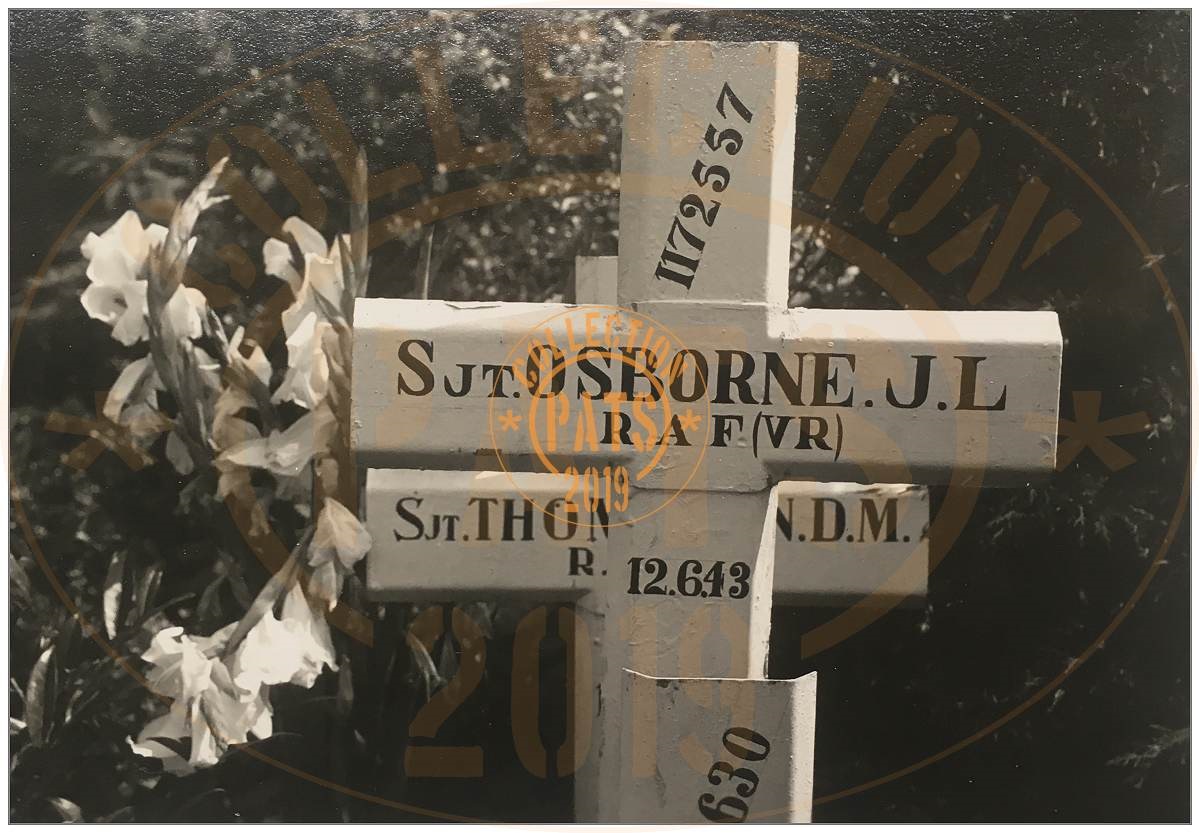 26 June 1943. The "Oostzaan Weapon Dropper".


In the night 23/24 June 1943 Halifax BB379 (138 Special Duty Squadron) made an emergency landing at the northern edge of Amsterdam in the fields near village Oostzanerwerf. The Halifax was on a mission dropping weapons and supplies for the Dutch resistance, but it was picked up by German radar and attacked and damaged by a German Me-110 nightfighter. In the belly landing four crew were killed, two were taken POW and one man (Jan Rech) was helped by the resistance and evaded capture for 3 weeks. The four Polish crew were buried here on 26 June 1943 in row B, grave 62. They were Flying Officer (Porucznik navigator) Waclaw Kalkus (bottom coffin 62-4), Radio operator Sgt. Kazimierz Kidziak (62-3), pilot Sgt. Walenty Sicinski (62-2) and co-pilot Corporal (Plutonowy) Tadeusz Zabicki (upper coffin 62-1).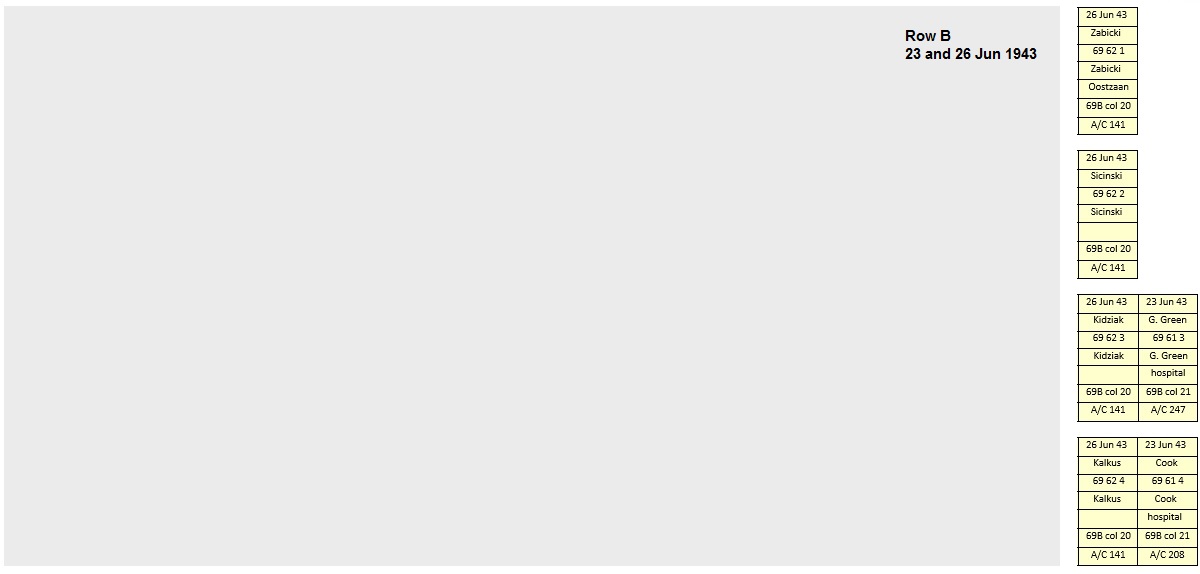 An engine of Halifax BB379 was recovered in 1994: http://www.arg1940-1945.nl/handley%20page%20nf-z%20pagina%202.htm











29 June 1943. Eleven airmen buried. Four aircraft. Men that were suspected crew members were kept together in a same grave.


In this period the 138 and 161 'Tempsford' Special Operations Squadrons were very active in dropping weapons and secret agents in the Netherlands. Regular one was shot down. As was Halifax DG405 of 161 Sqn that crashed 22/23 June 1943 in Lake IJsselmeer (Old Zuyder Sea) 7km west of Urk. Pilot Officer Robert Higgins is MIA, as are Sgt. Gordon George, Frank Groom and George N. Cochrane. The wind blew three bodies of this crew at the foot of the Northeast Polder dyke. They received a coffin in Urk and were sailed over to Amsterdam. On 29 June 1943 were Sgt. Norman Blanchard and Canadian F/Sgt. Maynard H. Moore (the navigator) buried here in grave 61-1 and 62-2. On 7 July crew member Sgt. Rob Pryde-Watson (also from Urk) was buried in grave 66-2.


Lancaster III, ED831, pilot Sqn Leader Alan Hobbs (New Zealand), crashed Lake IJsselmeer night 25/26 June 1943, raid Gelsenkirchen. Crash position was in the Markermeer section of the Lake. All seven crew were recovered on various locations, five men would be buried here. As first on 29 June Sgt. Walter Rowlands in grave 65-4 and Sgt. Fred Sanderson in the coffin above him. Burial after only three days is an unusual short time elapse between lake crash and burial. They probably parachuted out after the nightfighter attack, drowned and their bodies found next morning by a patrolboat or fishermen. Commemoration page for this crew: http://aircrewremembered.com/hobbs-alan.html





























Lancaster III, ED988, with Australian pilot Leslie J. Naile, bellylanded northwest of Purmerend at a village named Westbeemster. This was in the night 25/26 June 1943, raid Gelsenkirchen. The crew was dead or wounded in the wreck, when after some time the bombs exploded. Sgt. Lawrence Porrit (New Zealand), Sgt. Ronald Mepsted and Sgt. Leonard Bennett were the only ones recovered. Buried here in grave 63. The other four crew are officially MIA, but nothing could be found of them after the explosion.

Lancaster I, ED373. Australian pilot F/Sgt. Ivan W. Banks. Shot down, crashed in the North Sea, close to the beach at Zandvoort. Night 25/26 June 1943, raid on Gelsenkirchen. All used their parachutes, but only Sgt. Brook landed on the beach (POW), the other six drowned. Four of them washed ashore and were buried here on 29 June, but Sgt. Geoffrey Branson on 7 July in grave 65 (65-1), next to his colleagues in grave 64.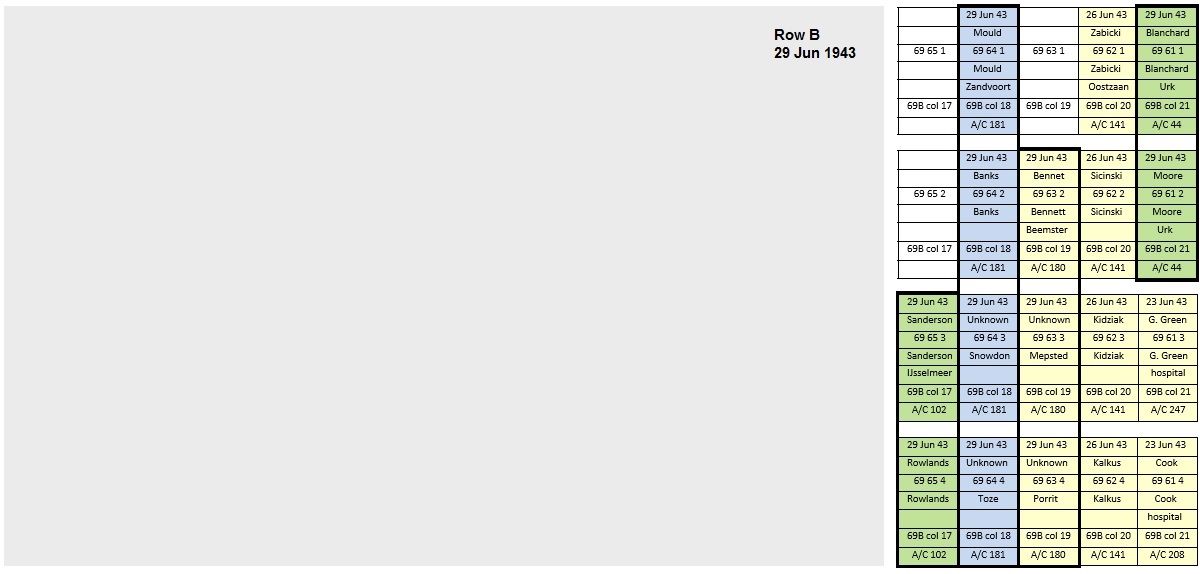 ================================ End section 1943 January - June 30 ================================







© ZZairwar (Zuyder Zee Air War)