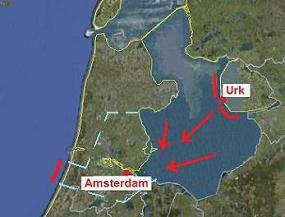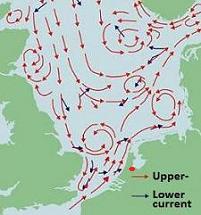 Relation with Lake (class): Lake Casualty Cemetery (LCC)
Total nr. of casualties buried here (TC): 330 end WW2, today 300.
Lake casualties, initially, end WW2 (LC-I): 100
Unknown today: 50, all airmen & naval,
of which unknown from Lake (LC-U): 12
of which unknown from North Sea (NS-U): 10
Initial burial site in WW2: yes, Lake Cemetery West side of Lake (LCW)
Post war burial site for collection and reburial from other sites: yes
Cemetery with Lake casualties today: yes (LCW).




AMSTERDAM war graves July - December 1943

July 1943 until December, 47 airmen were buried centre of row B. Twelve deep graves were used, in each grave four coffins stacked. The RAF attacked the German war industry in the Ruhr Vally almost every night. The casualties buried most washed ashore at Urk (Lake IJsselmeer/Old Zuyder Sea) or the Amsterdam North Sea beach at Zandvoort. All crew of bombers, shot down by German Flak or nightfighters on route to or from the targets in the Ruhr Vally. Gradually the American airforce became active in the Dutch area. Among the 47 dead were 11 Americans, also bomber crews.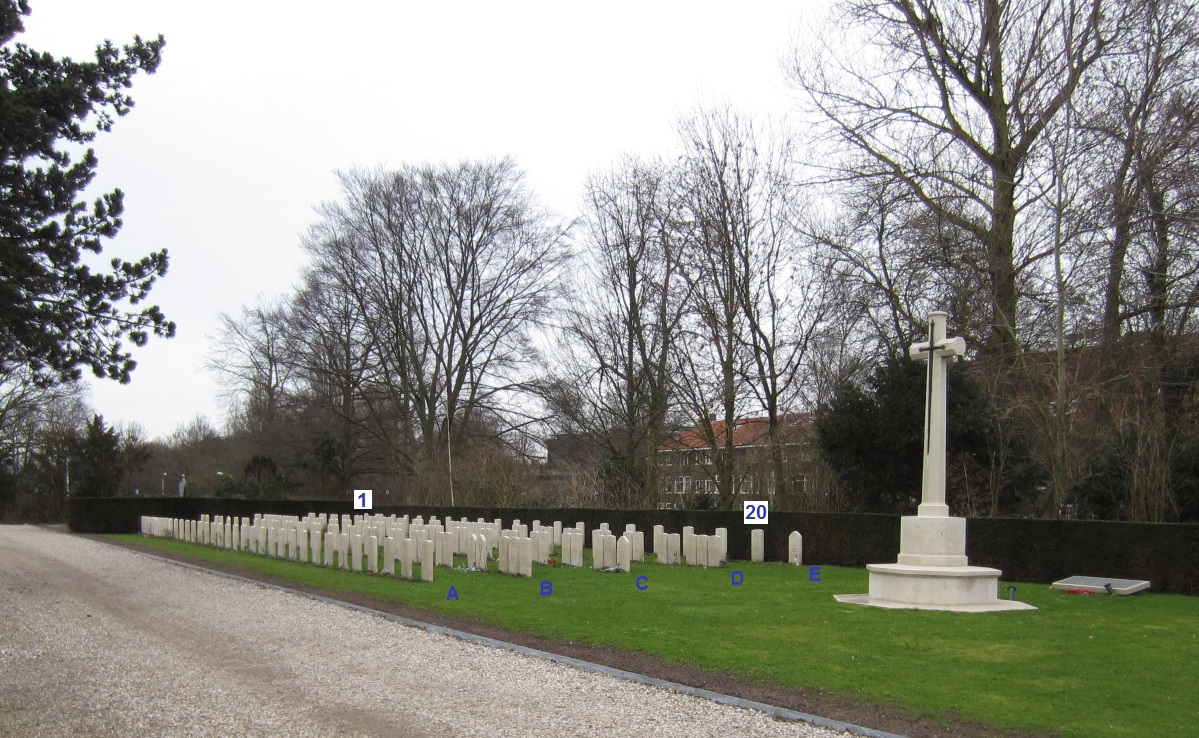 Graves used on centre row B were number 65 to 76, each grave four coffins stacked.





























Above image: Top view on Plot 69 and interment July-December 1943.

Below image: Coffin lay-out Plot 69 under ground. Row E single graves. Row D 'joint graves'.
Row C and B 'collective graves', but each coffin carefully positioned and coded.























7 July 1943.

Burial of 15 airmen, most from Lake IJsselmeer (Old Zuyder Sea). Five remained non-identified. Only Canadian Joe Addison's (grave 63-1) aircraft crashed on land (south-west of Schiphol airfield, under Hoofddorp), the others came from the water. Addison was heavy burned and died in an ambulance underway to Amsterdam Luftwaffe Hospital. This aircraft was Lancaster I, W4827 (103 Sqn, pilot Langille).

End June 1943, several bombers crashed in the Lake southwest and south of Urk. The bodies found on the foot of the dykes there were sailed to Amsterdam for burial. This was on Urk itself not allowed by the Germans, because the Urkers had shown too much respect during funerals of Allied airmen in 1941. Aircraft involved:

Halifax DG405, 161 Sqn (SOE secret operations), night 22/23 June 1943. Lake IJsselmeer, 7km west of Urk. Pilot Robert Higgins (MIA). This is the aircraft of Sgt. Robin Pryde-Watson (coffin 66-2). Next to the pilot, another three RAF sergeants of this aircraft are MIA.

Wellington X, HF544, 466 Sqn. Night 25/26 June 1943 raid Gelsenkrchen. 12km southeast Urk in Lake IJsselmeer (section Ketelmeer). Pilot Warrant Officer Andrew B.R. Airy (RAAF). Aircraft of Flying Officer William E. Riley (Australia) in coffin 66-1. Pilot Airy is missing in action, but also the three RAF sergeants of his crew.























Stirling III, BK768, 75 Sqn. Night 25/26 June 1943, raid Gelsenkirchen. Lake IJsselmeer, west of Urk. Pilot Flying Officer William R. Perrott (New Zealand), coffin 67-4. Sgt. Gordon W. Colyer (coffin 68-4) and Sgt. Harry Squire (coffin 68-3). Of this crew three RAF sergeants are MIA.

Lancaster III, ED831, 9 Sqn. Night 25/26 June 1943, raid Gelsenkirchen. Lake IJsselmeer (centre Markermeer section). Pilot Squadron Leader Alan M. Hobbs, New Zealand in coffin 67-1. Flying Officer John H. Sams in coffin 67-3 and Sgt. Edwin C. Bishop in coffin 67-2. Of this aircraft, all crew are buried, no MIA. On this page more information on the Lancaster bomber and at the bottom of the page a photo of this crew: http://www.strijdbewijs.nl/birds/lancaster/p1.htm























Of the above mentioned aircraft, in total nine RAF sergeants, a RAF Pilot Officer and a RAAF Warrant Officer (F/Sgt) are missing in action. In Urk they recorded that one of the sergeants was a 'PO' (Pilot Officer), but on the headstone this became 'Sgt'. Five of them can be buried here in graves 65 to 69 (unknown numbers 39, 40, 41, 42 and 43). Headstone data is 'a Sgt, RAF, 7 July 1943, Known unto God'. One man has date 25 June 1943 engraved, possibly a missing sergeant of SOE Halifax DG405. Names of the missing are: P/O Robert Higgins, Sgt. George Gordon, Sgt. Frank Groom, Sgt. George Cochrane (DG405), W/O Andrew Airy (RAAF), Sgt. George C. Green, Sgt. Thomas Atkinson, Sgt. George R. Johnson (HF544) and Sgt. William Hilditch, F/Sgt. Clifford J. Whitelaw (New Zealand), Sgt. Charles C. Mould (BK768). Also MIA Sgt. Hiram Davies and Sgt. John Welch of Lancaster W4367 (further below) can be buried here.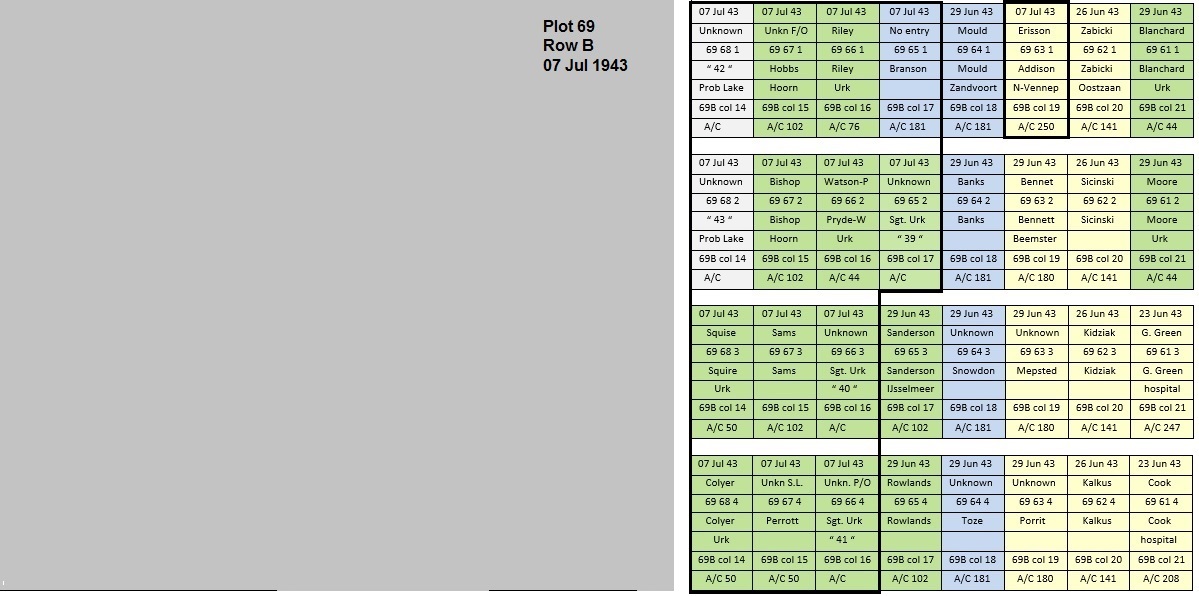 Remark: above scheme shows graves side by side, in reality there is 1 meter of space between each grave.

Below. Image of the initial grave markers. Left grave 69 (burial 12 July 1943, read further below) and grave 68 of Sgt. Colyer and Sgt. Squire, 7 July 1943.

In Urk they recorded the name of the washed ashore Sgt. Harry Squire (Stirling BK768) as 'Squise'. This also ended up on the grave marker.

The texts are not in German, but Dutch. Witch can mean that at this point in the war, the Germans lost completely their interest in the Allied war dead and the Amsterdam cemetery staff were allowed to produce the grave marker themselves, or that these markers are 1946 Dutch copies of the German originals. The texts were made more Dutch, but the words were carefully copied exactly as the German texts before. The German text for example for the unknown Sgt. right above would have been: 'UNBEKANNTER ENG. MIL. SERGT 7.VII.1943', translated in Dutch as 'ONBEKEND ENG. MIL. SERGT. 7-7-43' (UNKNOWN ENG(lish) MIL(itary) SGT.)























Burial 12 July 1943.

Above image: On the left is grave no. 69, with two unknowns and Sgt. MacMillan and Sgt. Holmes.

The word 'OHNE' was not translated in Dutch. This is German for 'WITHOUT'. It involves an 'Eng. Militär Flieger' (English Military Flyer), washed ashore on the Dutch North Sea beach at Wijk aan Zee (German Atlantic Wall defense area) and buried in Amsterdam in this grave on 12 July 1943. Possibly the Amsterdam cemetery personnel received a German note with info on this man and at NAME was noted in German 'Ohne' (Without). They took this literally and engraved OHNE on the grave marker. Also post war the rank of this airman could not be established. Text today on the headstone is 'An Airman, RAF, 12 July 1943, Known unto God'. We believe his date of death is between February and July 11, 1943. His aircraft (bomber) crashed in the North Sea off the Dutch coast southwest of Zandvoort. He is probably not a sergeant.

The ONBEKEND ('UNKNOWN' ENG. MIL.) on the photo above MacMillan, washed ashore at the North Sea beach at Zandvoort on 7 July 1943, buried here 12 July 1943. Also RAF, no rank. On the headstone today the date was changed into the burial date 12 July 1943.


















Lancaster I, W4367, 106 Sqn, Pilot Officer Peter John Page. Lake IJsselmeer, between Harderwijk and Enkhuizen. Shot down by a German nightfighter. Raid was on Gelsenkirchen, night 25/26 June 1943. Four crew are buried in Harderwijk among which pilot Page and navigator Hancock. Two (F/Sgt. Hiram Davies and F/Sgt. John Welch) are MIA. The body of the bomb aimer, F/Sgt. John MacMillan (coffin 69-3) was delivered by boat at the pier at German Seaplane base Amsterdam-Schellingwoude. He was probably recovered at Urk. The 'C.S.' behind his name is most likely his religion C.E. (Church of England). This crew is commemorated by a marker (pole) on the Eskimolane no. 10 in Dronten. So far we did not find any evidence of wreckage of this aircraft found near that location. Please read the story of this crew's navigator Flight Sgt. James Hancock here: http://ww2talk.com/forums/topic/40300-%E2%80%9Ceven-talking-about-it-now-makes-me-choke-up-airman-tribute/

See for info on Sgt. Frank Holmes (coffin 69-1) further below, at burial of his crew mates Sgt. Nuttall and Conway on August 12.


=========================================================================================

Burials 17 - 31 July 1943

"Eng. Mil. Cole". Buried 17 July in grave 70, bottom coffin no. 4. Post war exhumed and taken for further identification. In the American identification center in Neuville-en-Condroz (Belgium) this man turned out to be Captain Lloyd Cole, pilot of B-17F 41-24569 'Memphis Tot' (303 BG). He was taken prisoner on the 4th of February 1943 after one of the very first USAAF raids on northern Germany. This B-17 belly landed in the Wadden Sea, close to Texel Island. Cole was wounded and was flown to Amsterdam Luftwaffe Hospital. He was a prize-catch for the German military intelligence. His death and almost nameless burial is suspicious. Read more in our Aircraft-file on this crew and aircraft in our SEARCH MENU - aircraft B-17, year 1943, 412469, Cole. First American USAAF bomber pilot buried in Amsterdam.

Pilot Officer Len Johnson was supporting the Gelsenkirchen raid night 25/26 June 1943 in a Boulton Paul Defiant (AA572) off the Dutch Zeeland coast. He was shot down by a German nightfighter, washed ashore at IJmuiden. Buried here 17 July in coffin 70-3. http://www.unithistories.com/officers/RAFVR_officers_J01.html

















Sgt. Jack Hook was of Stirling BK773. Shot down in Lake IJsselmeer south off Enkhuizen, night 04/05 May 1943. Sgt. Hook's body was found at the dyke at Urk and sailed over to Amsterdam for burial (grave 70-2). Some time before him was his colleague Sgt. Conuel was buried on row C.

Australian F/Sgt. Clement Buckeridge's Lancaster DV160 crashed night 14/15 June 1943 on the Lake shoreline at Durgerdam (Polder IJdoorn). His crew were buried in the days after the crash, but Sgt. Buckeridge was buried with RAF Flying Officer Watson on 31 July 1943 in grave 71-4 and 70-1. This late burial suggests Buckeridge was found when the Germans cleared the wrecksite or that Sgt. Buckeridge was also found from the Lake south of Marken Island as Watson.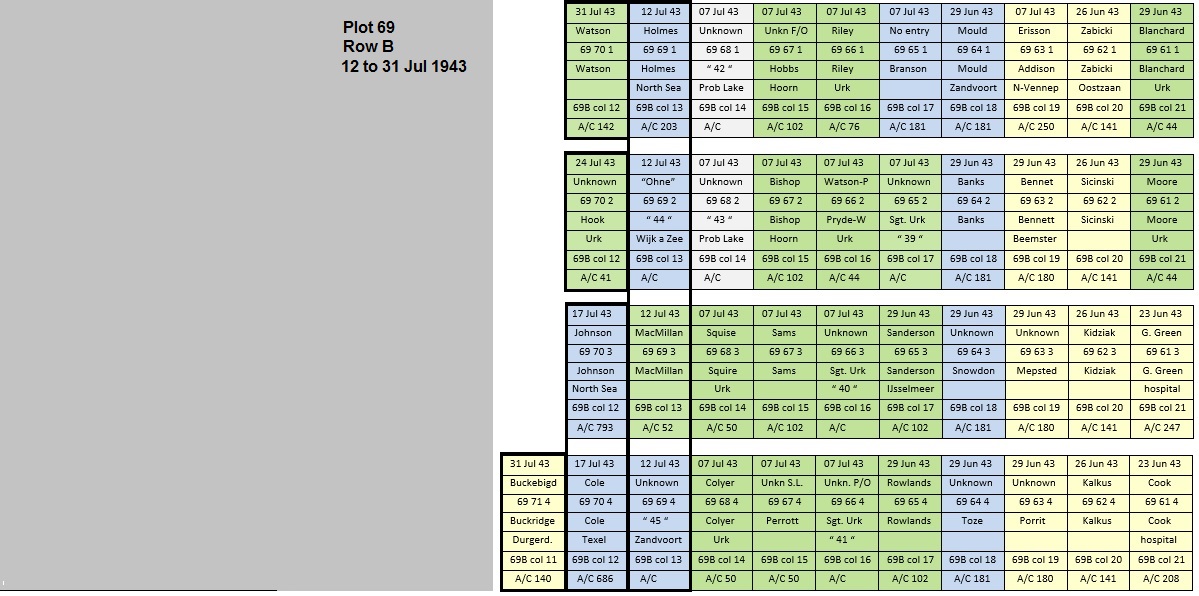 Map of the Lake IJsselmeer (former Zuyder Sea) southern section in 1943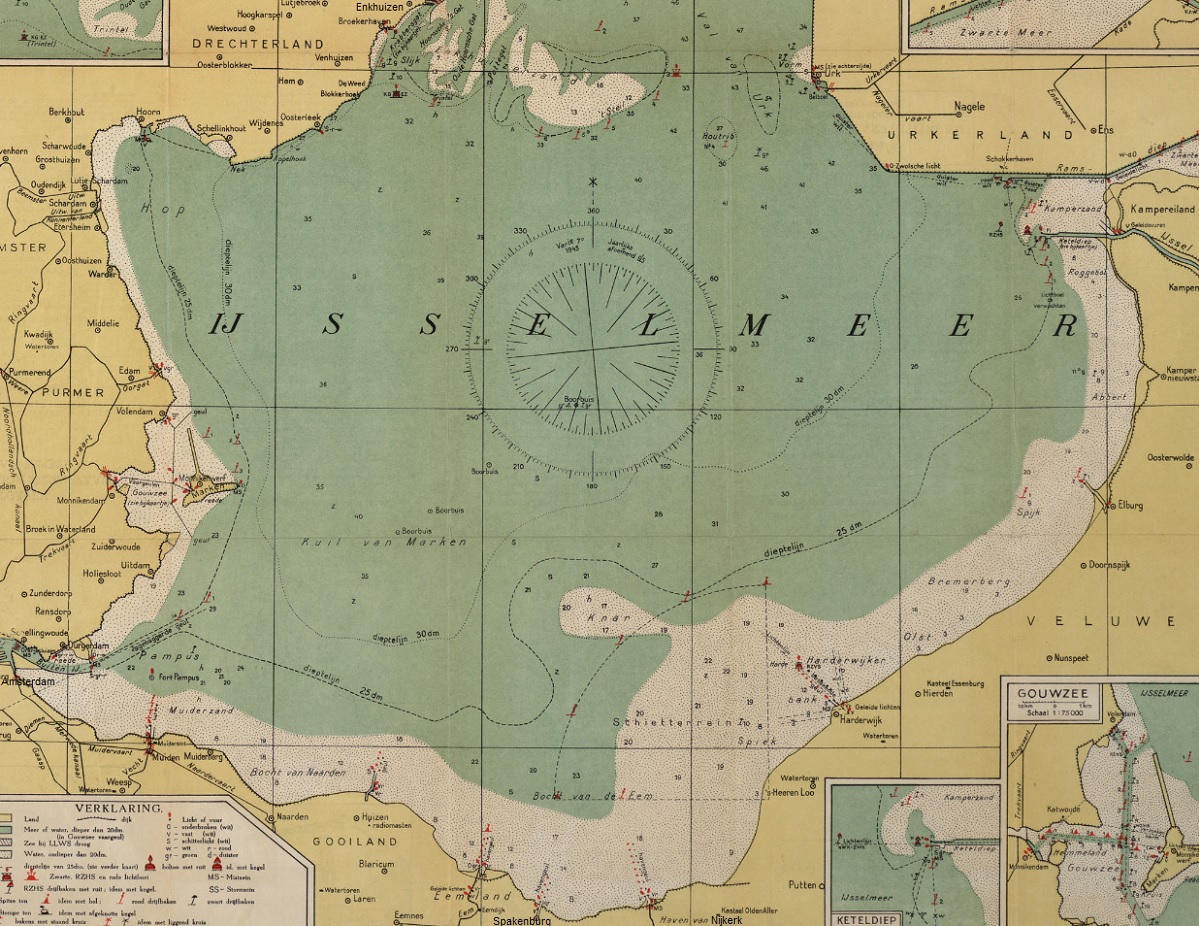 Burial 4 and 12 August 1943.

Mosquito VI, HJ786, 605 Sqn, pilot Flying Officer William M.R.R. Urquhart and his navigator Adam G. McArthur Watson. They had to make an intruder attack on Soesterberg airfield in the night of 26/27 July 1943. Damaged by Flak they came down in Lake IJsselmeer southeast of Marken Island (Kuil van Marken). Watson was buried early on July 31 in coffin 70-1. Pilot Urquhart washed ashore later at Marken Island. He remained unidentified and was buried as Unknown Eng. Mil. in coffin 71-3 on August 4. In 1946 his remains were examined and in September 1950 all was cleared and his name added on the cross.
























12 August 1943

On 12 August four airmen were buried that had washed ashore on Zandvoort beach (Dutch North Sea coast). We know now that they were casualties of the 22/23 June Mühlheim raid. The four men were buried without name, but three could post war be identified.

Halifax II, DT700, 77 Sqn, Crashed in the Southern North Sea NW off the Dutch province of Zeeland. Sgt. Eades washed ashore, buried here in coffin 72-4.

Halifax II, BB324, ZA-X (10 Sqn), pilot Robert Pinkerton (MIA), North Sea, same area. Of this crew Sgt. Frank Holmes was found and buried before on 12 July in coffin 69-1 (see his name on the wooden grave marker, above photo at 12 July 1943). A month later, two of Holmes' crew members of BB324 washed ashore on the same Zandvoort beach. These were Sgt. Fred T. Nuttall and Sgt. John Conway, buried here coffin 72-1 and 72-2.

Combined the above two aircraft have eight men missing in action. The unknown airman no. 46 in grave 72-3 buried also 12 August can have a relation with those aircraft or at least this raid. As also Unknown no. 47 buried 14 August (coffin 71-1). He has no rank but was was post war identified as Australian.

Under: War time post card of Halifax BB324, ZA-X, with nose art "Haigs For Victory"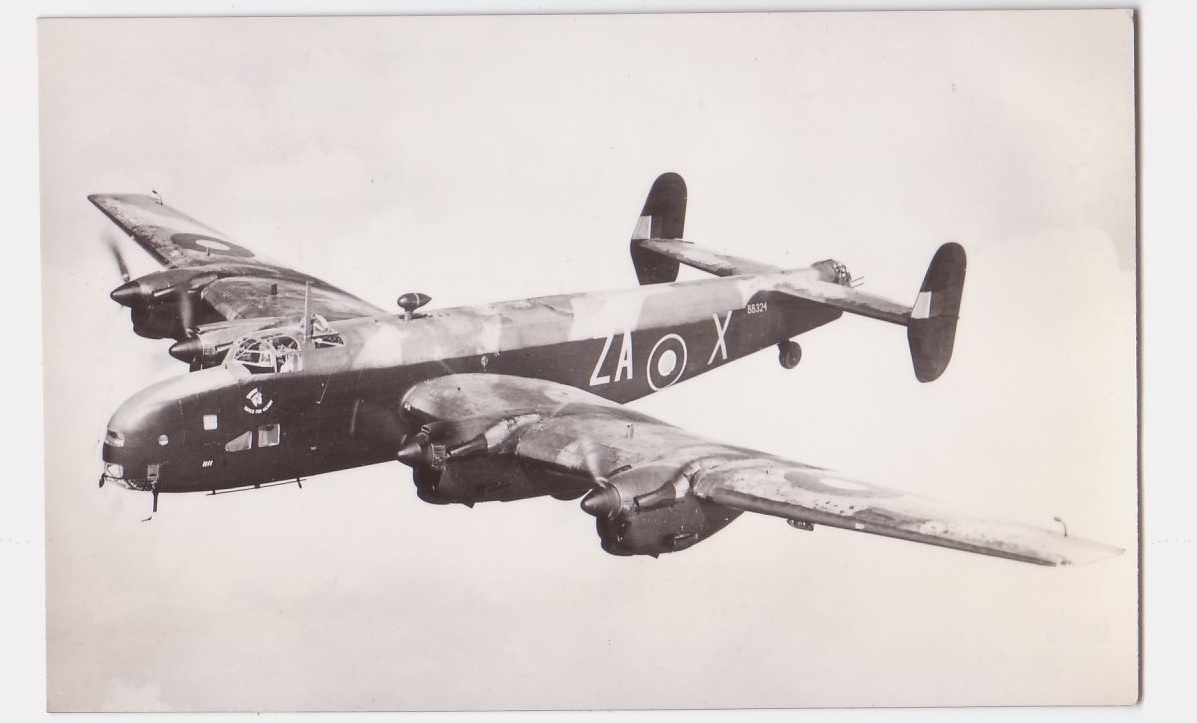 14 August 1943

On this day, three unknown airmen were buried. They came from Zandvoort beach (Dutch North Sea coast). In the post war examination in 1946, they were a Canadian, an Australian and an American. The man from Canada was Sgt. George Labiuk (RCAF) of Stirling III, BF572, down west of The Hague in the North Sea in the 22/23 June 1943 Mühheim raid. The Australian (originally thought to be a Sgt.) was not identified (Unknown no. 47). With their coffins (71-2 and 71-1) grave 71 was full and was closed.

The third men, an American airman, was put in grave 73, bottom coffin 73-4. In 1946 he (Unknown no. 48) was exhumed and transferred to the American ID-center in Neuville-en-Condroz. We believe he remained unidentified and is buried today in American Cemetery "Ardennes".










.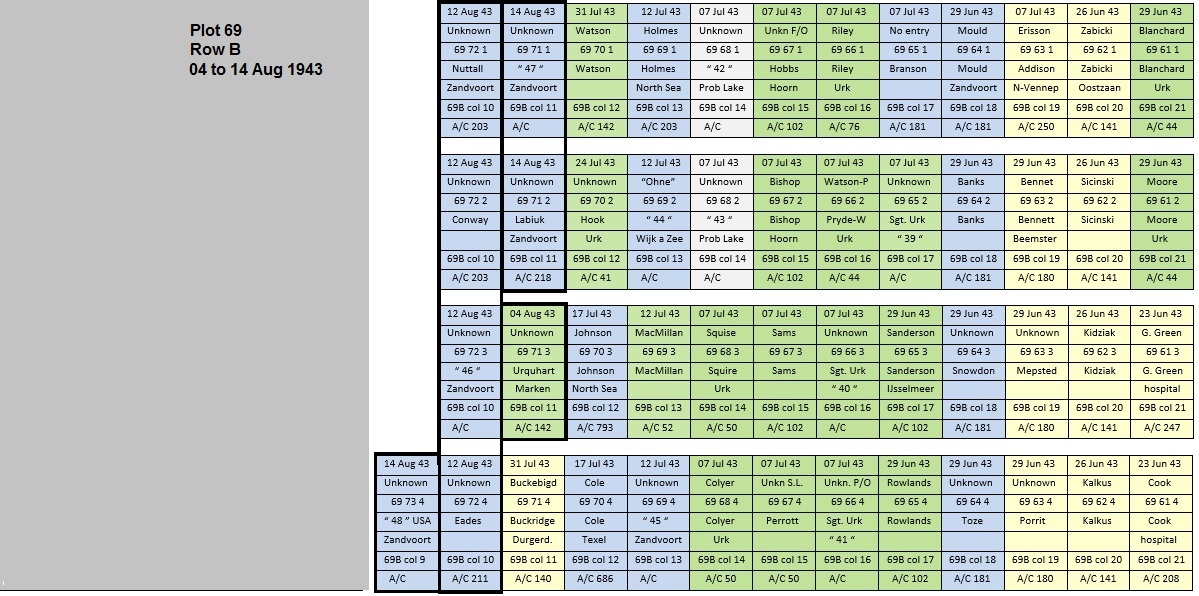 18 August and 1st September 1943

On 18 August again two airmen were buried from Zandvoort. On one man they had a name and service number; Mackenzie (RAF Flying Officer James N. Mackenzie, pilot of Halifax II, JD250, down in North Sea off Zeeland, raid Wuppertal night 24/25 June 1943).

The other man (Unknown no. 49) proved after the war an American (as was the man who washed ashore on the same spot four days before). Mackenzie was buried between these two Americans in coffin 73-3. Grave 73 was closed on September 1st, with coffin 73-1 (upper coffin) with the remains of 'English Military Laurens H. Quillen, Fort Morgan, Colo.' This was American B-17 pilot 2Lt. Quillen, B-17F 42-5392 "Stric Nine",303BG. Shot down after a raid on Gilze-Rijen Airfield near Breda. Received Flak hits and came down in the North Sea off Hook of Holland. Two of this crew are still MIA in the North Sea, but they can not be the two (still unknown) Americans buried 14 and 18 August, because Lt. Quillen crashed on August 19.

















.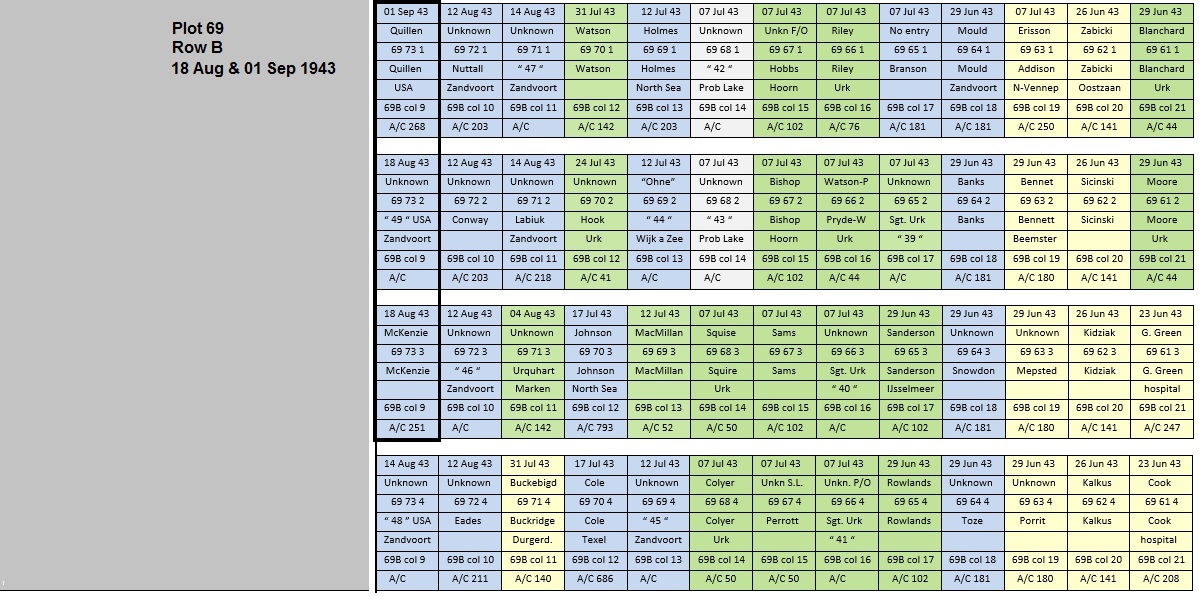 On the 4th of March 1946, the American airmen (Lt. Quillen and the two unknown) above and below F/O Mackenzie were exhumed by an American Quartermaster Grave Registration Company. Their grave markers were removed. Since then English RAF Flying Officer James N. Mackenzie is the only casualty in grave 73.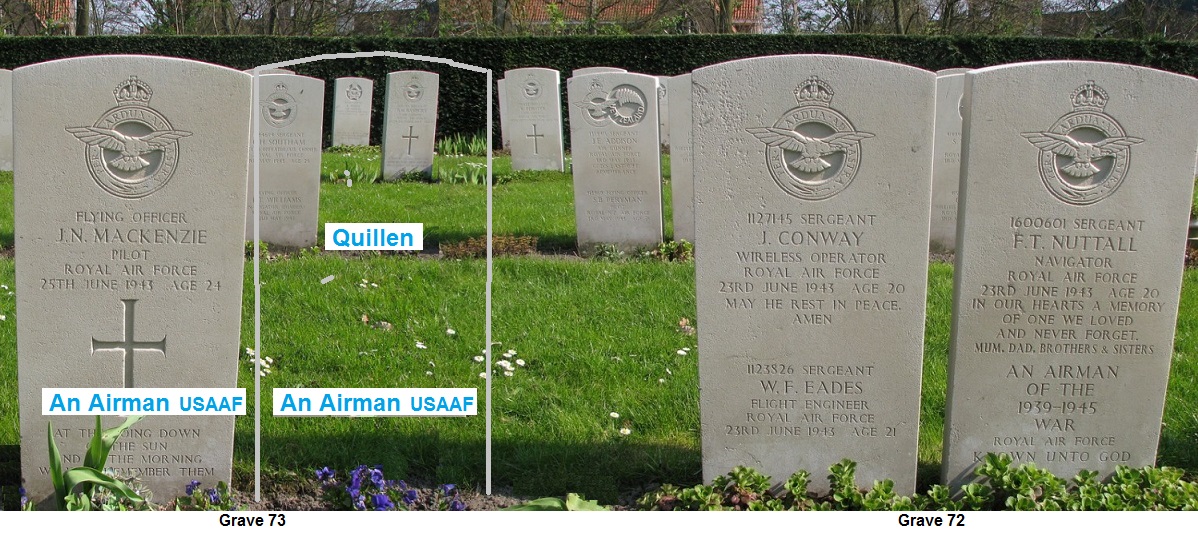 ===========================================================================================

Burials 12 and 15 Nov 1943.

One airman was buried on November 12. This was F/Sgt. James A. Mallinson in grave 74, bottom coffin 74-4. His aircraft was Beaufighter LZ316, down in the North Sea 2,5km west of IJmuiden on the 19th of October 1943. The pilot washed ashore at Bergen aan Zee (buried there), the navigator washed ashore at IJmuiden. He was buried in Amsterdam as 'Mollinson'.

Then on the 15th of November everybody knew they had an American crew to bury, because the Americans had made a daring daylight attack on Schiphol airfield 3rd of November 1943. These men were not buried as 'English mil.' but as 'American airman'. Aircraft shot down was B-26 Marauder 41-34963 "Bugs Bunny" of the 323BG, crew Captain Anthony Geiser (down at Amstelveen-Bovenkerk). The remains of two airmen (two men according to the burial card) were put in coffin no. 74-3 (above Mallinson). Above that was coffin 74-2 with remains later identified (in Neuville) as T/Sgt. William Fortwengler. The grave was closed with upper coffin 74-1, S/Sgt. James R. Kitchell, the only one recovered with name after the severe crash and subsequent fire on the ground. Exhumed March 4, 1946 and because he was identified by name, he was interred in US Cemetery "Netherlands" in Margraten. The others were transferred to the American ID-center in Neuville-en-Condroz (Belgium). Since then RAF F/Sgt. Mallinson rests alone in grave 74 (just as F/O Mackenzie in grave 73).




















.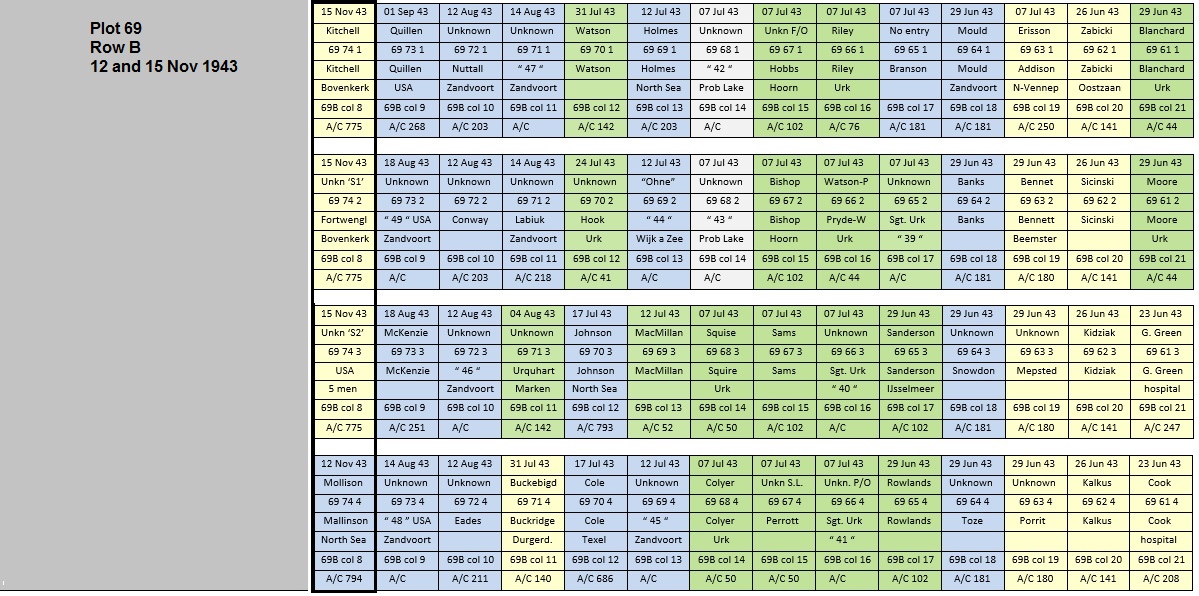 Under: B-26 Marauder on route to Amsterdam-Schiphol airfield.































Burials 10 and 17 December 1943.

Mosquito DD739 (456 Sqn) supported a RAF attack on Leipzig, night 03/04 December 1943, crashed at Amstelveen. Australian crew Pilot Officer John L. May and Flying Officer Leslie R. Parnell were buried here on 10 December in coffin 75-3 and 75-4 as "Eng. airman Parnell, L. and May, F.L.".
























B-26 41-31625 "Hell's Fury", 386BG, Capt. Raymond Sanford's crew. Crashed Schiphol at Aalsmeer-east. http://www.zzairwar.nl/dossiers/494.html

200 USAAF Marauder B-26 attacked Amsterdam-Schiphol airfield on 13 December 1943. With wiping this German fighter base off the map, they were clearing the way for the large American bomber streams of B-17 and B-24 that went deeper and deeper into northern Germany (Bremen, Osnabruck, Münster, Berlin). Luftwaffe airfields on the direct route were put out of order, as the attack of Lt. Quillen on Gilze-Rijen and these B-26 attacks on Schiphol demonstrate. Captain Sanford was thrown clear in the explosion of the aircraft in the air and became POW.

In 1946 the man buried with name, co-pilot Flying Officer Raymond C. Roberts (coffin 76-3) was exhumed and because with name, he was buried in the US centralization War cemetery "Netherlands" in Margraten. The others were transferred to the US Identification Center in Neuville-en-Condroz (Belgium) and buried there on its burial grounds, today named American Cemetery "Ardennes". Navigator 1Lt. Charles A. Jackson still rests there today. In 1950, radio operator T/Sgt. Sloan B. Peterson (identified in 1946) and the coffin with remains of sergeants Turner, Becker and King were exhumed from "Ardennes" and reburied in Arlington Cemetery, Fort Myer, Virginia. Together with the coffin with the five remains of Capt. Geiser's crew (Geiser, 1Lt. Lesher, 1Lt. Savino, 1Lt. Stadler and S/Sgt. Lombardo). Their nine names or one headstone.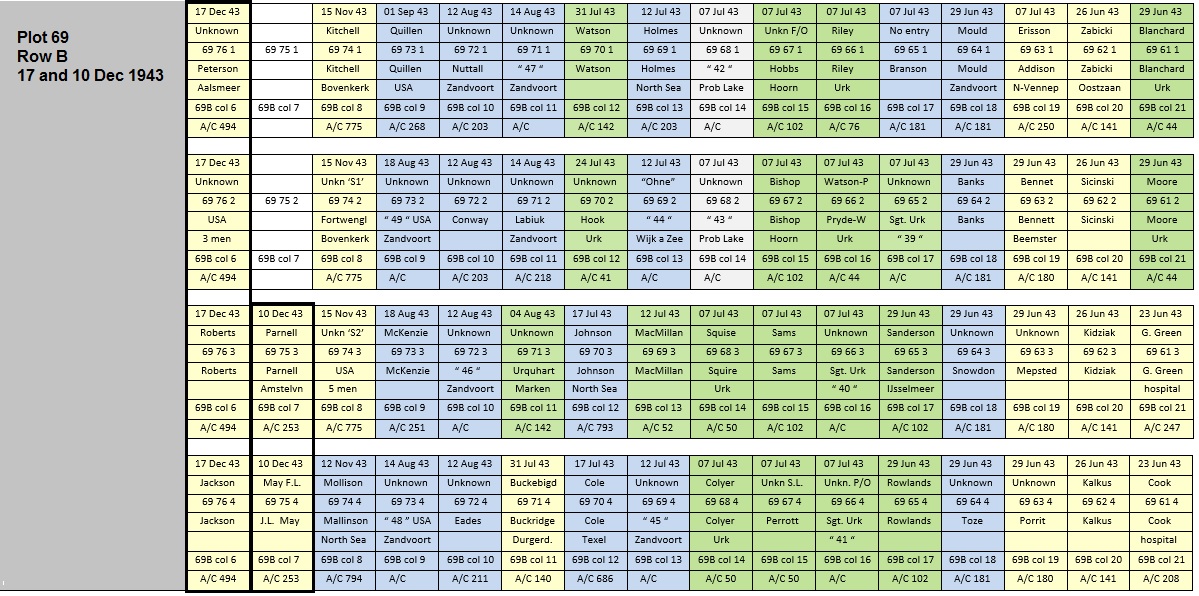 In the B-26 attack 13 December 1943 that closed Amsterdam-Schiphol airfield down for the rest of war, one B-26 that was hit by Flak over Schiphol and sunk out of the formation on the return to the UK. It crashed in the North Sea off the Dutch coast at Noordwijk. All six crew are MIA up to today. Unfortunately no sign of them found in burial records of Amsterdam. No unknowns from the Zandvoort or IJmuiden North Sea beach were buried here that could have a relation with this B-26. 41-34940 "Raunchy Rascal", 323 Bomb Group. Crew 1Lt. Pipher, 1Lt. Grindstaff and sergeants Carpenter, Schneider, Wilson and Chance.





================================== End of 1943 ==================================







© ZZairwar (Zuyder Zee Air War)