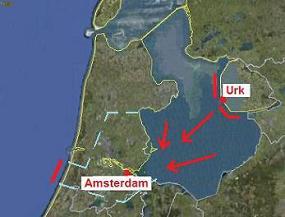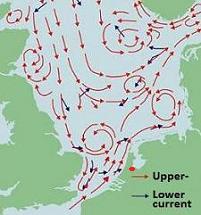 Relation with Lake (class): Lake Casualty Cemetery (LCC)
Total nr. of casualties buried here (TC): 330 end WW2, today 300.
Lake casualties, initially, end WW2 (LC-I): 100
Unknown today: 50, all airmen & naval,
of which unknown from Lake (LC-U): 12
of which unknown from North Sea (NS-U): 10
Initial burial site in WW2: yes, Lake Cemetery West side of Lake (LCW)
Post war burial site for collection and reburial from other sites: yes
Cemetery with Lake casualties today: yes (LCW).



AMSTERDAM war graves 1944

In 1944 in total 26 airmen were buried. This was at the far side of Row B (in the back, left) and first two graves of Row A (back, at the hedge). 18 of them were Americans, mostly crew of B-17 and B-24 bombers that crashed in Lake IJsselmeer (Old Zuyder Sea) or had washed ashore on Zandvoort beach (Dutch North Sea coast).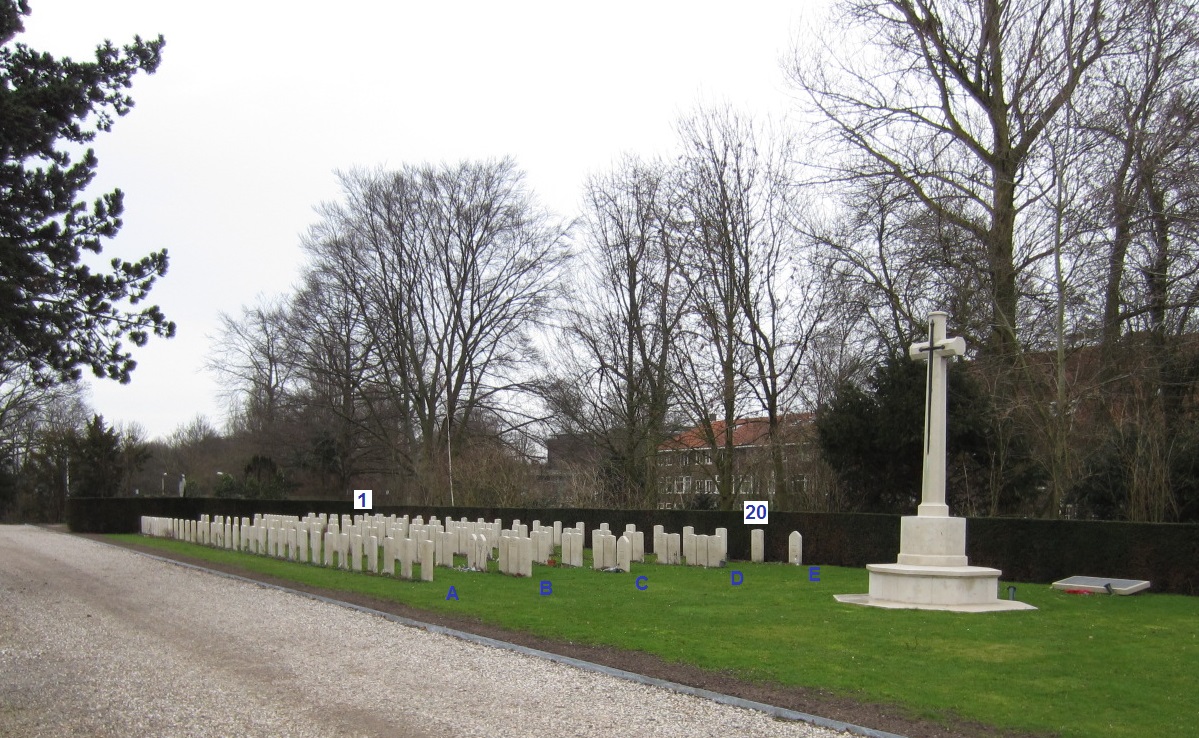 On row A, B and C, the coffins were stacked 4-high in each grave. Each coffin kept its own code. This is standard practice in Holland in situations were burial ground is limited. We do not see these graves as 'Collective Graves' as the Commonwealth War Graves Commission named them. Grave 75 had two coffins in it (Australian F/O Parnell and May, buried 10 Dec. 1943). This grave was completed in 1944 with two coffins of American airmen from the Lake. For the next 24 coffins, grave 77 to 82 were used.

Plot 69. Scheme below, view from above.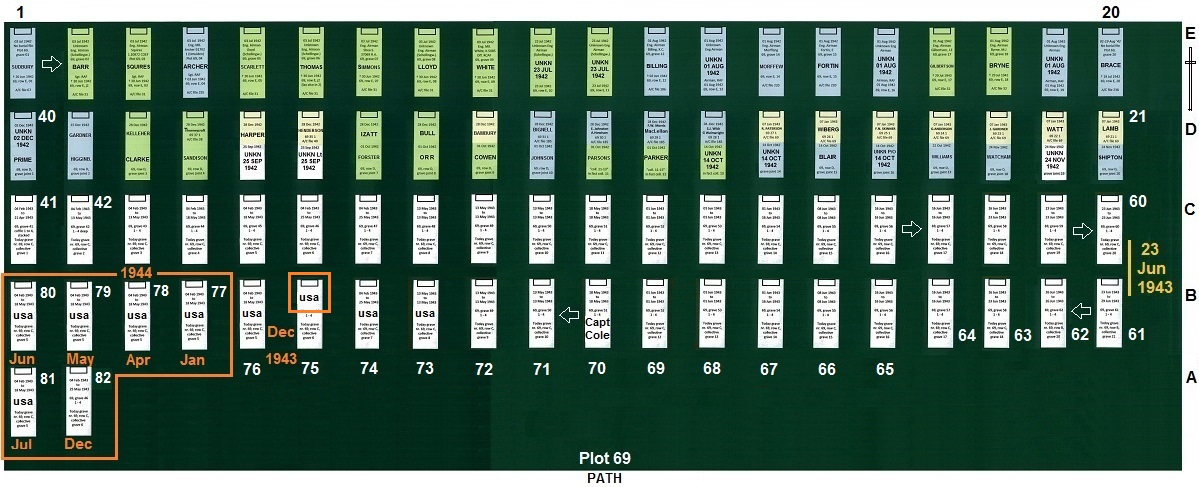 In 1946 the Americans were exhumed by an American Quartermaster Grave Registration Company. The men with name were reburied in US Cemetery "Netherlands" in Margraten. Unknown American airmen (recognizable on clothing as American) were transferred to the US Identification Centre in Neuville-en-Condroz (Belgium) and after examination reburied there. Today the ID-centre's burial ground is named American Cemetery "Ardennes".

Below image shows the situation Plot 69 after the war in 1946. The original WW2 wooden (brown oak) grave markers with German text still stand. The Americans were already exhumed on the moment this photo was taken. Grave 76, 77, 78 and 79 each contained four Americans and are empty, grave markers removed. In graves where one, two or three Americans were exhumed, as for example in grave 70, 73, 74, 75, 80 and 81, the grave marker was placed back because there were still one or more RAF casualties inside these graves. The American volunteers in Canadian or RAF service were not exhumed and rest here today.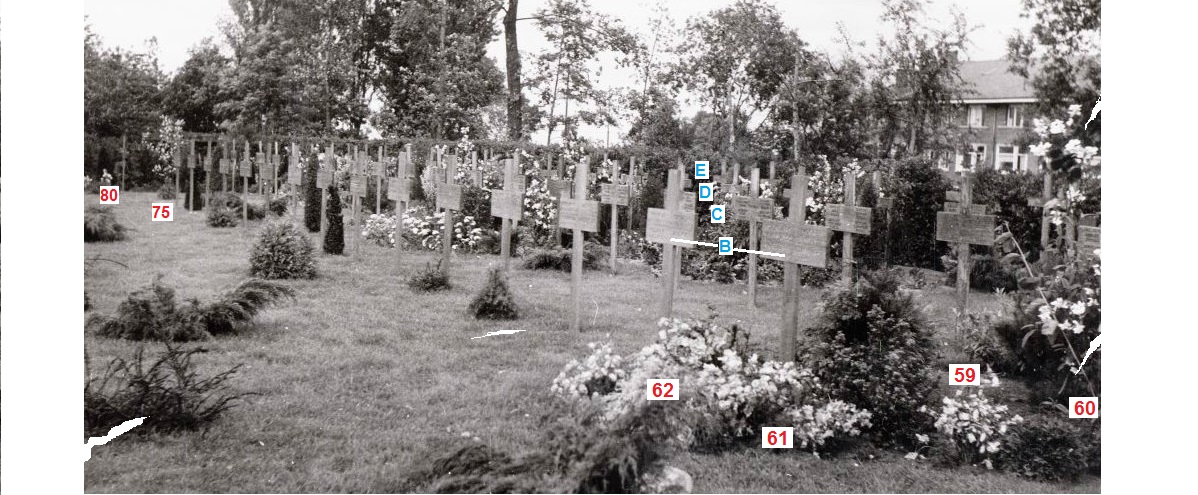 Above image shows Row E, D, C and row B, which was the front row after WW2.

Today there is a another front row, Row A, but this row was added post war during restructuring. End 1944 and begin 1945, only the first six graves of Row A were used, opposite to grave 80 (out of view on above image). The original graves on Row A are the compact placed headstones on the far end of Row A on above colour photo.



Burial sequence 1944.


17 January 1944

On the 17 January a group of four American airmen were buried in grave 77. 2Lt. Mark A. Osborn was a P-47D escort pilot of the 358FG (42-8552). They had his service number wrong, but address Ewing Avenue in Charlotte, V.C. = N.C - North Carolina was correct. With him were interred two men of B-17F 42-29524 "Meat Hound": Sgt. Fred H. Booth and bomb aimer 2Lt. Vance R. Colvin. They had parachuted out and drowned only a few miles northeast of this cemetery in Lake IJsselmeer at Durgerdam. This was close to a German Flak position and seaplane base, they were the first two men recovered of this aircraft.

2Lt. Leavitt P. Hobbs (coffin 77-1) was co-pilot of B-17G 42-37773 "Full House", pilot Bull. This bomber came down in Lake IJsselmeer off Edam after a raid on the rail assembly yards in Münster. Our file: http://www.zzairwar.nl/dossiers/150.html Lt. Bendix of this crew was buried June 2nd, see further below.





















Below scheme shows Plot 69, Row B underground and shows the front of each coffin.

Burials started on the right side under (23 June 1943, Cook, grave 61-deep 4) to left upper grave 69-80-deep 1. On 17 January 1944 Lt. Osborne was buried in grave 77-deep 4 and the grave was closed with Lt. Hobbs in upper coffin 77-deep 1.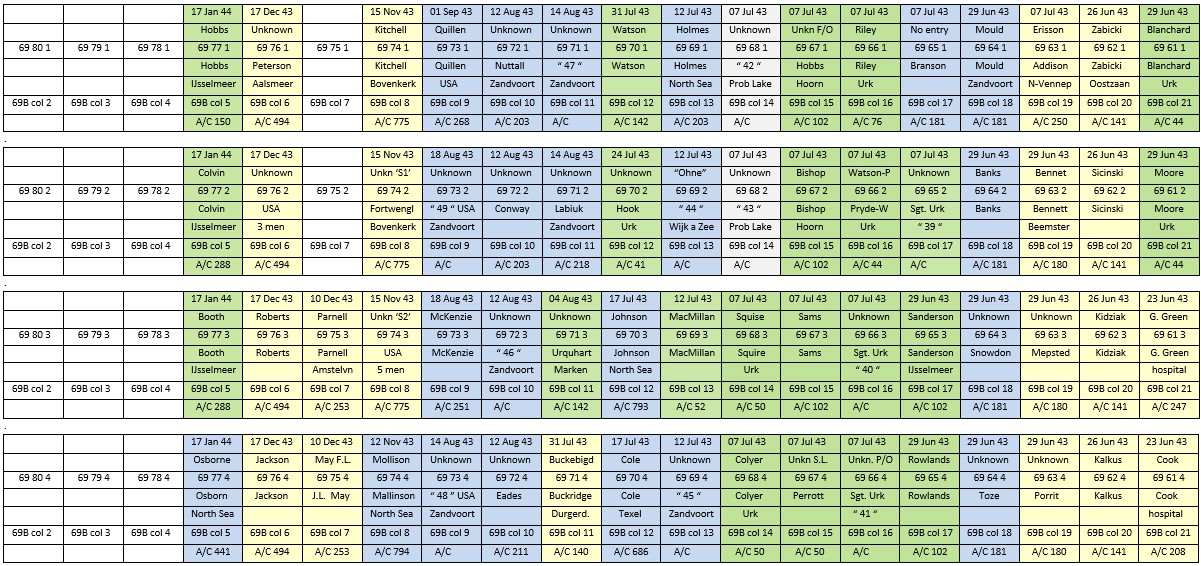 Below left: an early photo of B-17F 42-29524 "Meat Hound". On return from Oschersleben 11 January 1944, pilot 1Lt. Jack W. Watson's B-17 Meat Hound was in serious trouble and the crew parachuted out at the Lake-dyke northeast of Amsterdam. The first four men who jumped drowned. These were 2Lt. Vance Colvin, S/Sgt. Samuel L. Rowland, Sgt. Fred H. Booth. Waist gunner Sgt. William H. Fussner landed behind the dyke, but unfortunately in an inland lake named Kinselmeer at Durgerdam/Ransdorp (the MACR mentions 'Kinsel Sea'). All four were buried in Amsterdam 17 Jan. and 25 April 1944.
























Of the Meat Hound crew, three men were taken POW: 2Lt. John G. Leverton, S/Sgt. Harry Romaine and Sgt. Roman P. Kosinski.

Co-Pilot 2Lt. David C. Clayton landed next to the dyke and could hide himself in the countryside with help of farmer Piet Schouten. After two days Clayton was transferred to the Amsterdam Underground and helped further. The famous Dutch courier Ms. Joke Folmer escorted him by train to Venlo. In Limburg Clayton passed the Belgian border through the Jacques Vrij Group and via France and Spain he was back in the UK on 25 May 1944.

To everybody's surprise the damaged 'Meat Hound' with also two engines out did not crash, but flew on, flying low, towards the Dutch North Sea coastline. Here pilot Jack Watson (alone in the aircraft) escaped the German Flak positions and flew on to England, where he crashlanded on the first airfield he could find. The next day, Mayor La Guardia of New York telegraphed and pardoned him for the fines Watson received for buzzing the Yankee Stadium with a B-17 during a baseball match a few months before. Story and early 1943 Watson crew training photos: http://www.303rdbg.com/358watson.html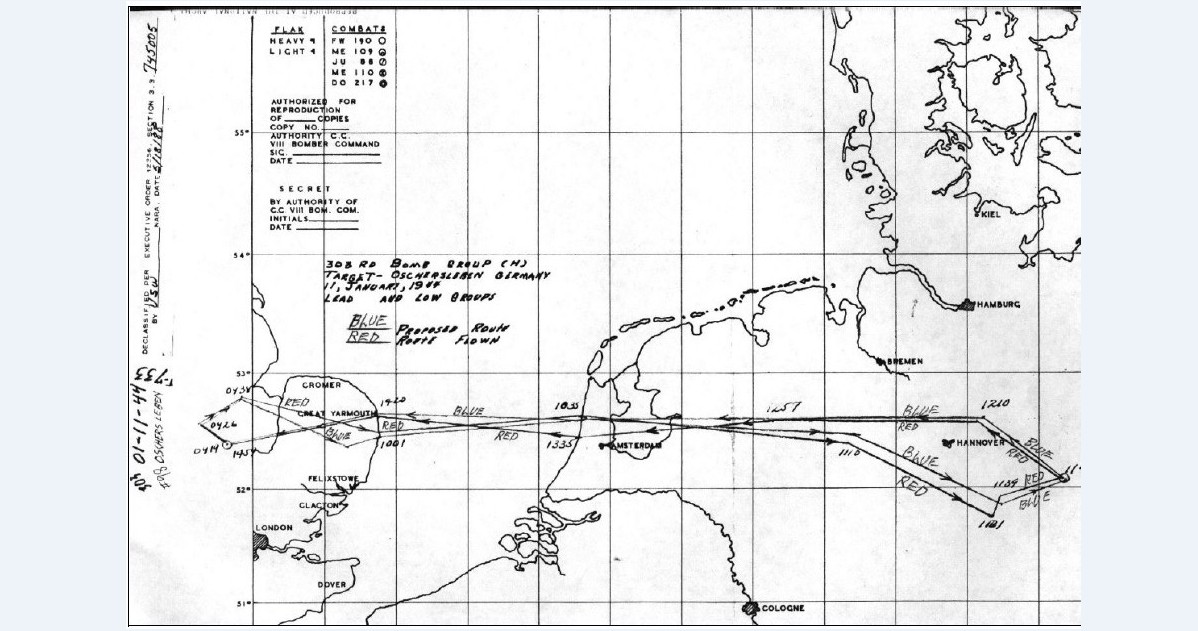 11 January 1944. Except for Meat Hound, two more B-17s came down in Lake IJsselmeer (Old Zuyder Sea) on 11 Jan. 1944.

On return from Germany, the German fighters that damaged Meat Hound also shot down 'pathfinder' B-17 GSF 42-3486 'Invictus' (482BG), pilot Maginnis. This crew was not buried in Amsterdam but in the Harderwijk city war graves plot.

The other that went down that day was B-17G 42-37719 'Hellcat' (381BG), pilot 2Lt. Donald E. Nason. Of this crew, bomb aimer 2Lt. Charles D. Fiery was buried here. As unknown at first (coffin 69-75-2) on April 25, 1944. He was identified here in Amsterdam during the examination on 26 March 1946.

The Hellcat was on route to the target and was damaged by Flak near the Dutch-German border. Engine 3 lost oil and had to be shut-off. Pilot Lt. Nason decided to leave formation and turn back to England, using clouds as cover for German fighters. Then engine 2 and 4 jammed. Nason started engine 3 again, but it caught fire. It was clear they had to use their parachutes. Navigator Anagnos reported that they were over water, but they had to jump, there was no other option. The bail-out signal came over the intercom. Right waist gunner Sgt. John R. Lantz made a free fall jump for a while before he opened his parachute. This made he did not see his plane go down and was removed somewhat from his crewmates. He landed in the cold water of the Old Zuyder Sea which was near freezing point and shouted for help. This was heard by Dutch fishing boat BU57 (Bunschoten 57) that had witnessed the aircraft come through the clouds with at least five or six parachutes. The brothers Johannes and Albert de Graaf helped the almost succumbed Lantz on board, rubbed him warm and gave him a dry overall. Lantz showed nine fingers to the fishermen. They understood the message and searched for an hour to find the other nine crew, but there was no trace of them. Then a small old Dutch police boat came alongside. Policemen Pronk and Kuit were underway from Spakenburg to Broekerhaven (Enkhuizen). They took over Lantz, who received a pair of wooden shoes, with the idea to hand him over to the resistance. But in Broekerhaven a German waterpolice boat (Wasserschützpolizei) was already waiting for them. A Dutch Waffen-SS volunteer shouted and cursed at Lantz, but he didn't understand anything. The German skipper ordered the SS-man to shut up and hand over his oil-skin overcoat to the prisoner. Lantz was brought to Amsterdam for interrogation. The wooden shoes and overall were later returned in a postal package to Pronk and Kuit's police station.

In 1966 some parts of the aircraft were recovered in a shallow part of the central Lake named Enkhuizerzand. Found were fuselage parts, the belly turret and tail fin with 237719. Not all was found, no bomb load, neither the four MIA: Sgt. Ralph L. Lab, Sgt. Paul W. Stonich, Sgt. Raymond C. Beus and Sgt. George A. Whitney.

In 1973 John Lantz from Tulsa Oklahoma started a search for his rescuers via the Dutch newspapers. At first fishermen brothers Jaap and Klaas Kwakman were contacted by journalists ( article ), but they denied to have rescued Lantz because they helped two airmen from the water, not one (a B-24 pilot and co-pilot, see story further below). Eventually Johannes de Graaf was traced. As thank you he received the Honorary Tulsa Citizen' ship. Photos of Hellcat and crew.

Since Hellcat 42-37719 has four MIA, the unknown American airman buried 28 April 1944 in grave 69-79-3 (see below scheme) could be one of them, but this can also be a member of B-17 42-37773 'Full House', crew Bull (see link further above).

Burial 25 and 28 April 1944: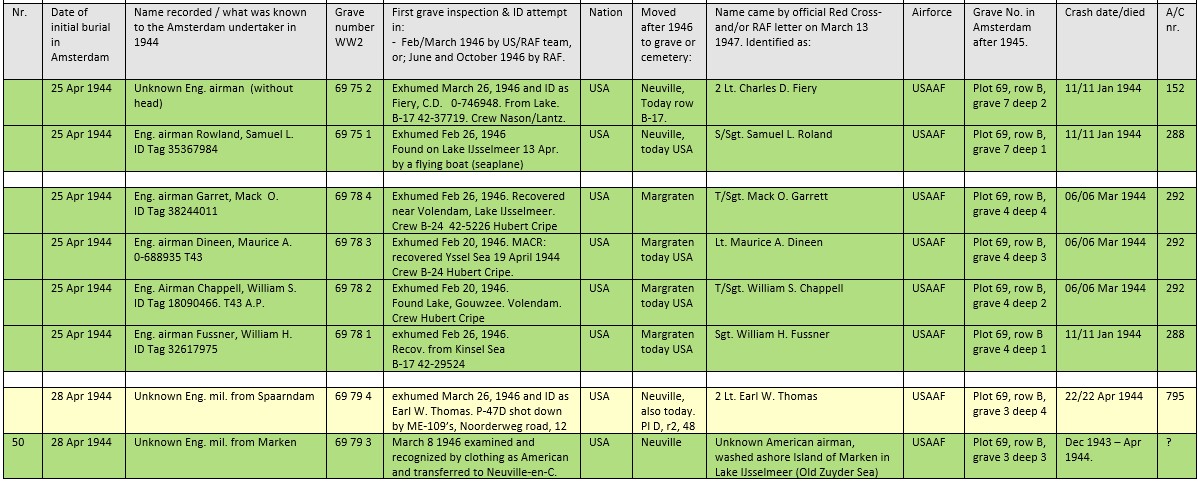 2Lt. Earl W. Thomas was the pilot of P-47D 42-75263, 359 FG. He was shot down west of Amsterdam during bomber escort on 22 April 1944. He was buried here on 28 April in the bottom position of grave 79, coffin 79-4. They registered him here on this cemetery as 'Unknown English Military' and had no name on the cross. On March 26, 1946, he was exhumed and transferred to the American Identification Center in Neuville-en-Condroz (Belgium). He was identified either in Amsterdam in 1946 or in Neuville. Today he rests in the ID-centers cemetery, which is American Cemetery "Ardennes" in Neupré.


Coffin scheme 25 and 28 April 1944.

Green color is body recovered from Lake IJsselmeer (Old Zuyder Sea), Yellow is land crash, Blue is from the Dutch North Sea coast, Zandvoort Beach.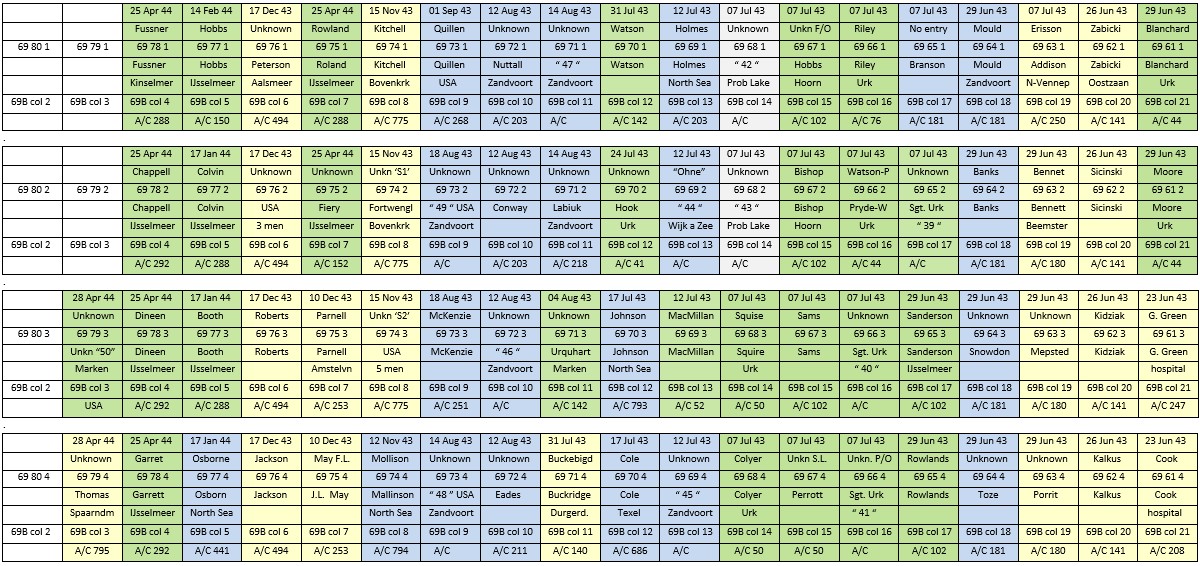 B-24H 42-52226, 453BG, crew 1Lt. Hubert R. Cripe. March 6, 1944.

This B-24 bomber returned from Berlin (Genshagen Daimler Benz aircraft engine plant, 10km south of Berlin). A colleague in the formation had an engine out (Lt. Tobin) and some space came between the front of the formation and the section that stayed with straggler Lt. Tobin. Over Dümmer Lake near the Dutch border, Me-109s entered the gap and set the wing afire of both Lt. Tobin's and Hubert Cripe's aircraft. Lt. Cripe flew on for some time without worry because only a 20mm hole in an empty fuel tank in the left wing seem to burn. He tried to get the fire out, but it mounted when altitude became lower. Eventually the whole wing was ablaze and bail out signal had to be given. At that time the aircraft was still above the clouds at 9000 ft. When the crew hanging in parachutes floated below the clouds, they noticed they were over water: the Zuider Zee. Their bomber had smashed in it a minute before them and a piece on the surface was still burning. Seven men drowned in the ice cold water and were recovered weeks later.

Three of the crew, T/Sgt. Mack O. Garret, 2Lt. Maurice A. Dinneen and T/Sgt. William S. Chappell were buried in Amsterdam on 25 April 1944 in grave 78 (coffins 78-4, 78-3 and 78-2, see above scheme). Later, on the 6th of May, crewmember S/Sgt. Gerard B. Yoder was buried in next grave 79 (coffin 79-2), see scheme below.

Three others washed ashore further southeast, buried there. Sgt. Keefe and McGue in the city Amersfoort Oud Leusden 'Rusthof' war graves plot.

Below image of the actual aircraft is an artist impression, left wing afire. Photo-date with the same ice cold water and view on crash position is 6 March 2016.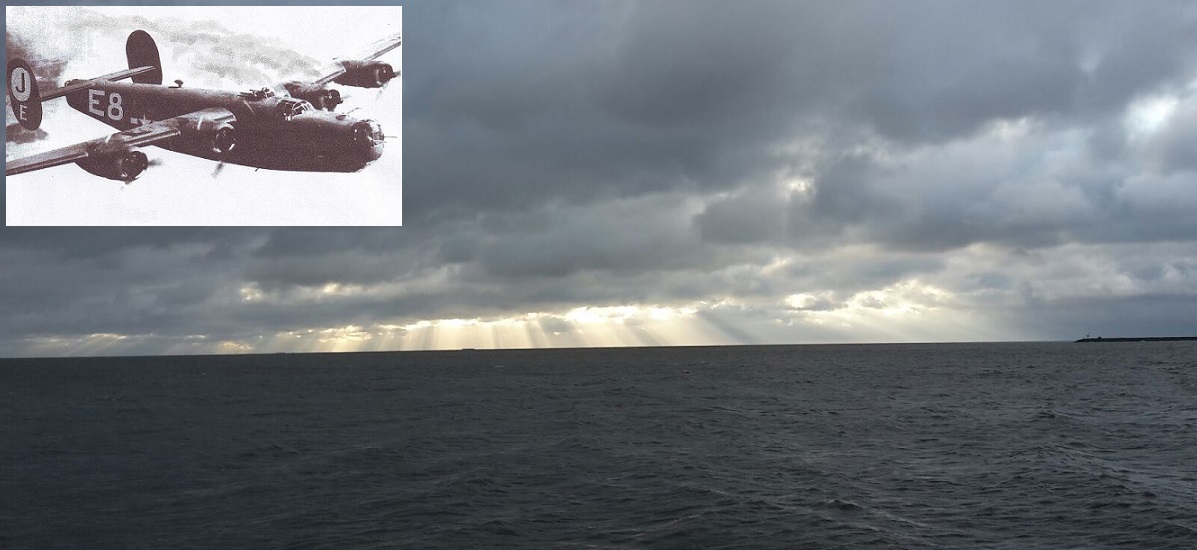 The men that had jumped last from B-24H 42-52226 (northeast of Edam), were pilot 1Lt. Hubert Cripe, co-pilot 2Lt. Russell Anderson and 2Lt. "Spike" Dallacqua (first name was Homer, but preferred Spike). Two fishing boats turned towards and got to them in time. The other seven crew more to the East were already under water (the pre-war designed Mae West life jacket had not enough buoyancy for the 1944 winter flying gear). The VD67 (Volendam 67) with brothers Jaap and Klaas Kwakman (Bol) and Jaap's son Klaas Jr (Klaas Drop) rescued Cripe and Anderson. The VD106 with skipper Klaas Klouwer (Janke), Klaas' son Jan (Prent), Sijmen 'van de Loos' and Hans Kes rescued Dallacqua from the water and revived him with CPR. The VD67 set sail to Volendam harbor to hand over their two airmen to the resistance, but a German patrol boat from direction the aircraft had crashed came after them on full speed and signaled them to halt. They ignored that, but 5 minutes later a machine gun volley through the front jib made them drop sail and stop. Hubert Cripe and Anderson were led into the German boat and there already sat Spike Dallacqua.

Klaas and Jaap were arrested. Later that day released thanks to burgomaster van Baar, who kept persuading the German officer. Somebody applied the fishermen in 1945 for an Eisenhower pilothelp certificate ( example ). This was denied because it remained unclear who the rescued airmen had been. It stayed unknown until year 2009 when thanks to the 453BG website and Mrs. Tina Fleming of Mr. Cripe's church we came in contact with him and Mr. Joe Dallacqua (youngest son) and could match the stories. In 2016, Mr. Cripe (95), Mr. Klaas Drop (86) and Mr. Hans Kes (86) were still with us.

Below image. The old slipway 1944

Two dead airmen brought into Volendam harbor by fishermen. As was custom the bodies were not taken aboard, but held alongside the hull in a folded sail. In the harbor the bodies were laid down on the old slipway (boat repair wharf, see photo below), waiting for German inspection (the white building is now restaurant De Ouwe Helling 'The Old Slipway'). After some time only a German medic showed up. Member of the underground resistance and hiding in a safehouse on the dyke was Mr. Jan Koning (Jan van Teun, now 95). The medic was not a fanatic Nazi and frequently Jan stepped out of his hiding to help the medic. Jan put the bodies in an upright sitting position while the German cut open the flying overall with a pair of scissors in search for identification items. Then they laid the body in a coffin that was later transported or sailed to Amsterdam for burial. Because the date was written on the back of below photo, we could determine that inside the coffins on the photo were T/Sgt. Mack O. Garrett and 2Lt. Maurice A. Dinneen of Hubert Cripe's crew. Buried a few days later on 25 April 1944, grave 78, Amsterdam.




























Burials 6 May and 2 June 1944

Two weeks later S/Sgt. Gerard B. Yoder (crew Cripe) was recovered at Volendam, a month later Lt. Albert H. Bendix (B-17 'Full House').
















Photo below. Looking towards the crash position in the Lake of B-17G 'Full House' 42-37773 (22 December 1943).

Of B-17 'Full House' Lt. Bendix (scheme above) washed ashore after 5 months, S/Sgt. Rudolph C. Marsilio after 6 months at Marken Island (schemes below). They could identify him as 'English airman Marsilio, Rudolph'. He was buried here in grave 80, coffin 80-3. Today he is buried in Plot B-17, American Cemetery "Ardennes".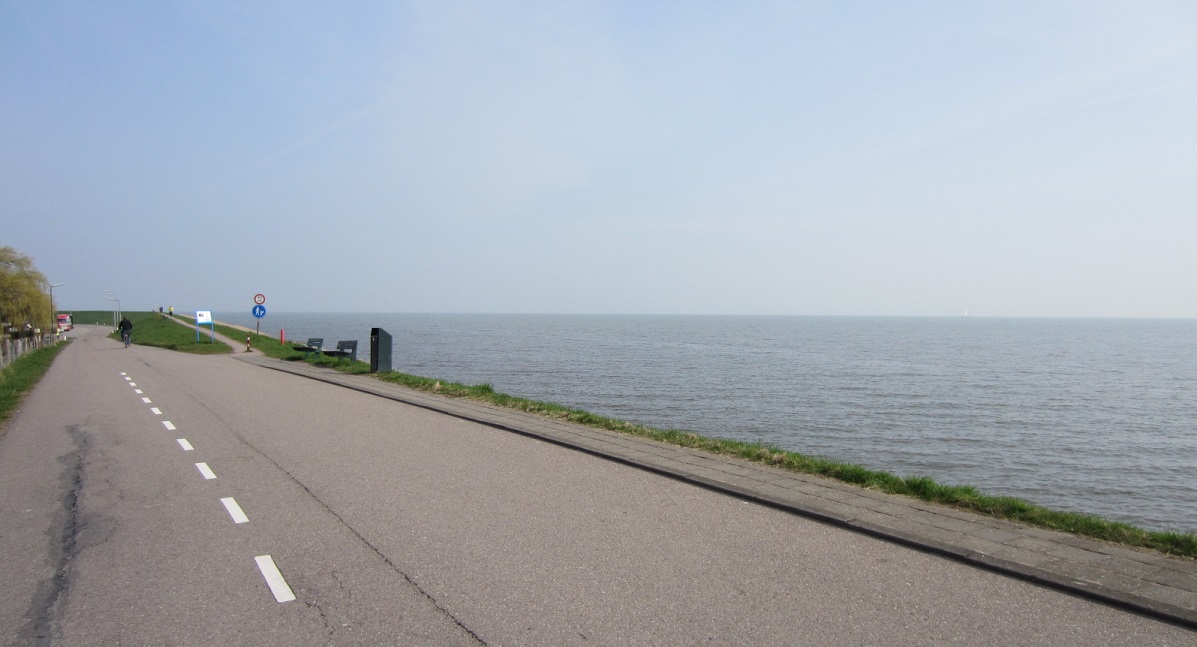 Burials 23 and 29 June 1944.

Plot 69, Row B. With completion of grave 80 (below), row B was full (20 graves x 4 coffins, 80 airmen).
























Coffin scheme per 29 June 1944. With the unknown American airman from Zandvoort Beach in grave 69-80-1, row B was full (80 airmen).

Under the unknown American ("52"), was buried also on 29 June 1944 and from the same beach, "Eng. mil. Henslee 0756572". Grave 69-80-2 (coffin 2). Because there was doubt on who he was, he was not transferred and reburied in American Cemetery "Netherlands" in Margraten. However, quite easy to see is that he was an American officer, because the service number must be read as O-756572 (O for Officer). In the American ID-center in Neuville (Belgium), were also Unknown "52" went, Englishman Henslee was identified as USAAF 2Lt. Leland K. Henslee and reburied in its cemetery "Ardennes".

In 1949/1950 during the American Repatriation Program, Lt. Henslee was reburied in Texas. Lt. Henslee had to parachute out of his burning P-38J Lightning 42-68126 on 18 April 1944. His engine was on fire on the Amsterdam side of Lake IJsselmeer (Old Zuyder Sea) on the return to England. He passed over the North-Holland peninsula and jumped out in the North Sea off the Dutch coast at IJmuiden. His colleagues saw him landing in the water, he seemed wounded.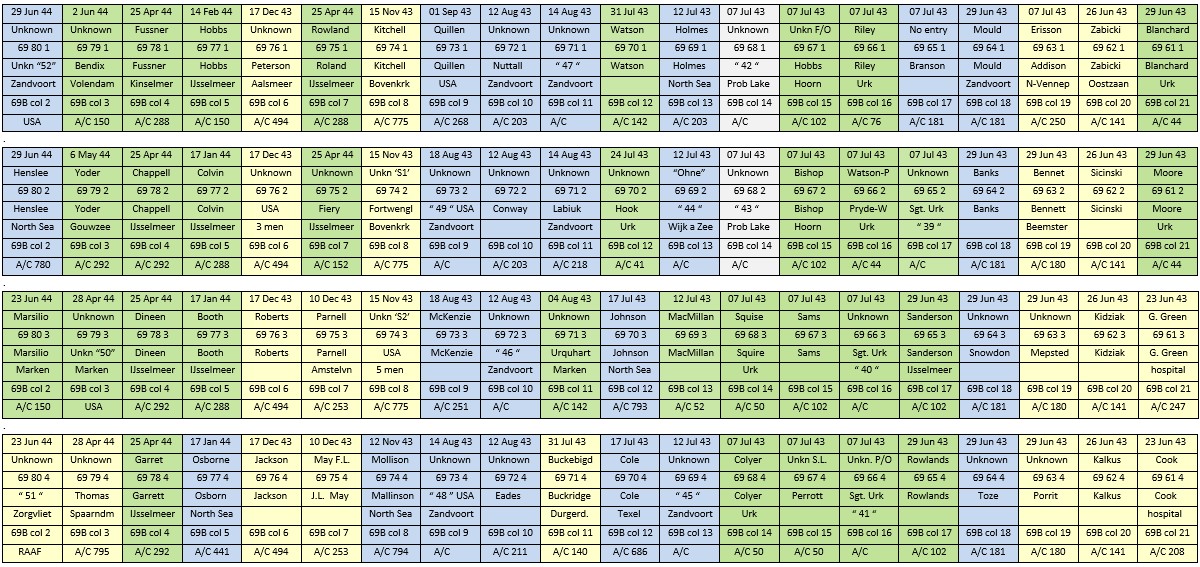 The unknown Australian 17 June 1944 (Halifax NA508)

The unknown Australian airman was buried here on 23 June 1944, in the bottom coffin of grave 80 (coffin number 80-deep 4). On top of him were buried the above mentioned three Americans. The Australian is without doubt a crewmember of Halifax NA508.

This aircraft fell from the sky like a stone and drove deep into the soft ground (clay) in a meadow in the Bovenkerker Polder, on the southern edge of Amsterdam. The location not belonged to Amsterdam, but to the independent community Nieuwer-Amstel (Amstelveen). The Germans did a recovery ( photo), but did not went very deep because of lack of heavy equipment. They found body parts of only one airman and a name O'Meara, but it was not conclusive that the name belonged to the body. We discovered that the coffin was brought to Nieuwer-Amstel cemetery, named 'Zorgvlied'. However, this is one cemetery to early on the route Bovenkerk - New Eastern Cemetery in Amsterdam. There were no war graves in Zorgvlied, therefore the coffin was moved further to neighbour New Eastern Cemetery in Amsterdam, which was the designated cemetery for Allied airmen in this area. On the burial card in Amsterdam is written 'Unknown English Airman from Zorgvlied'. In the post war identification process, the nationality of the unknown changed to Australian because of his uniform. Full identification was not possible.

When the three Americans were exhumed, also the Australian airman was exhumed from grave no. 80. In this emptied grave rests now Sgt. Albert E.G. Everest. He died in Whitley T4208 on 13 November 1940. He came from Plot 72 and was reburied in the empty grave 80 because Plot 72 was cleared. In 1945 grave 80 was the most left grave on row B. The Australian airman was laid left of grave 80, in fact in a new grave '80-left'. After the war the these graves were renumbered by the CWGC in (Plot 69), Row B, grave 1 (the Australian airman) and grave 2 (Everest).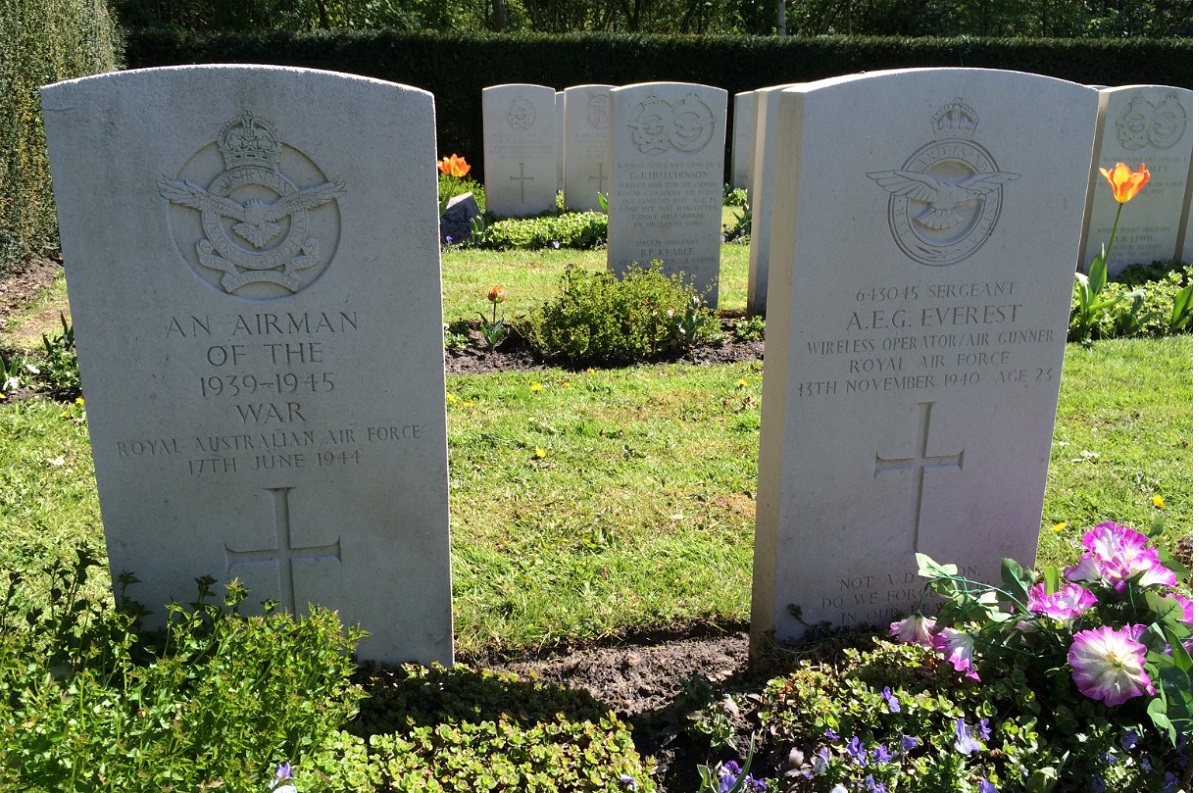 In 1953 the remains of W/O John P. O'Meara were found in the Bovenkerk Polder at the NA508 wreck site. Because Amsterdam was closed for war burials, his remains were therefore buried in centralization war cemetery Bergen-op-Zoom, Canadian section (Plot 12, row F), see also photo below. During the recovery of NA508 by the Dutch airforce in 1990, mixed human remains were found and assembled in one coffin, buried with military honour next to O'Meara, hence the new headstone. Two crewmembers were British: Sgt. Herbert Moore and Sgt. Dennis Tustin, this is the reason that the 1990 headstone has both the RAF and RAAF emblem.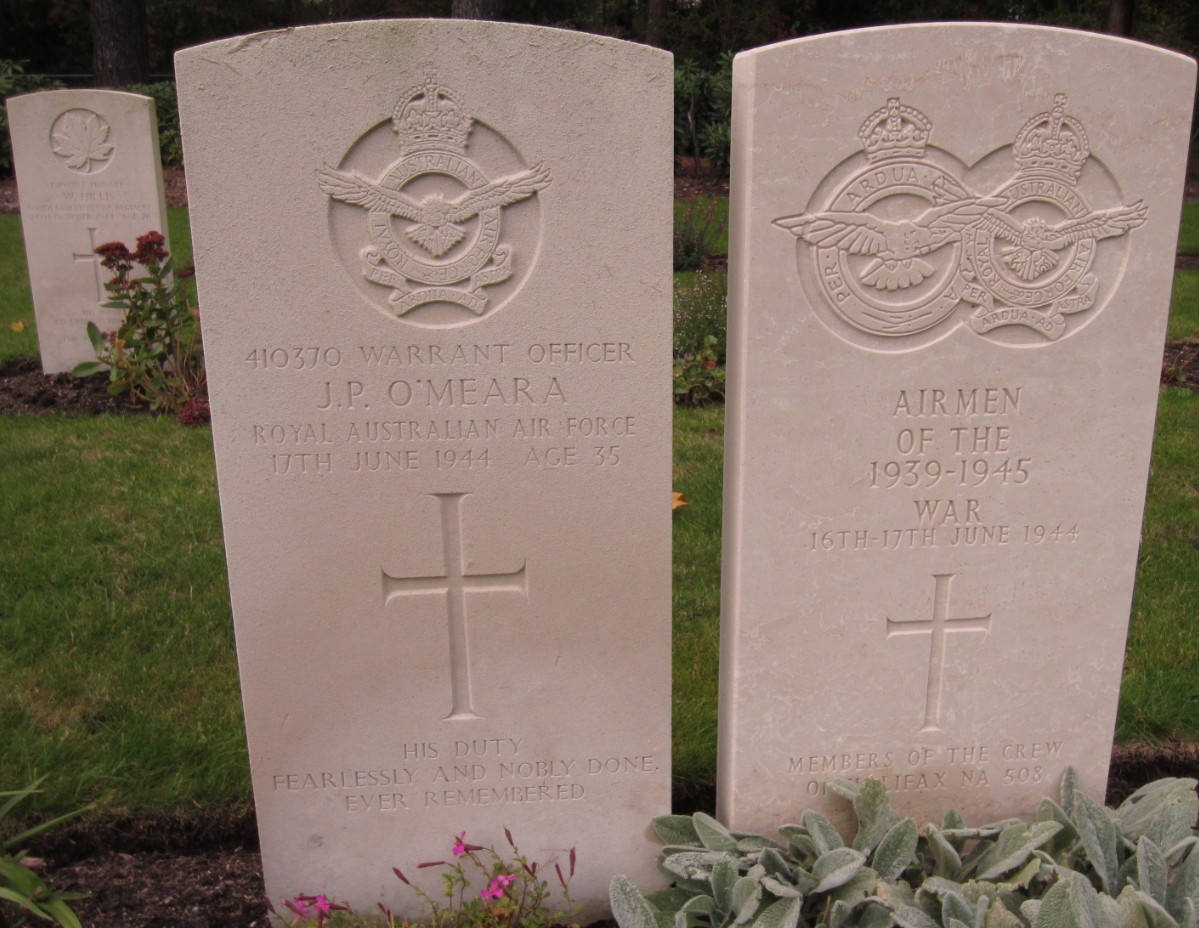 Burials 18 July and 03 August 1944. The first burials Plot 69 in Row A.

Grave 81 is the grave most left grave on front row A. Today named 'Plot 69, Row A, Collective grave 1'. On 18 July 1944 three Canadian Flying Officers were buried in this grave. They washed ashore on the Dutch North Sea coast on Zandvoort beach. Crew of Halifax III, LK879 of RCAF 426 Sqn, crashed off The Hague in the North Sea, raid on Sterkrade 16/17 June 1944. They were F/O William D. Carson (coffin 81-deep 4), F/O Leonard G. Hill (coffin 81-3) and F/O George R.G. Shannon (coffin 81-2).

Two weeks later the grave was closed with upper coffin 81-1 "English Militair McCord, Fresno, Calif." Of course this was an American, but this not occurred to the Amsterdam undertaker, he kept on filing the Americans as 'English airman'. S/Sgt. Gerald D. McCord's body was brought in Volendam harbor and also he was laid down on the old slipway. He was crew of (the in 1975 recovered) B-24H 42-7638, crew Kent Miller. This aircraft made a hard belly landing in central Lake IJsselmeer (Old Zuyder Sea) on 22 December 1943. Sgt. McCord was recovered after 7 months and one week in the water. Today he rests in American Cemetery "Netherlands" in Margraten.




















Burials 14 August 1944 to 22 December 1944. Row A, second grave.

Grave 82. Second grave from the left on row A (front row). Today named 'Plot 69, Row A, Collective grave 2'. This grave is as it was in WW2, no exhumations. It contains not bomber-crew, but fighter pilots that had to patrol and attack ground targets. They were shot down period Aug. 1944-Dec. 1944 when the front line was getting nearer.

Czech F/Sgt. Arnost Elbogen in Spitfire AR441 (310 Czech Sqn RAF) attacked a train on August 11. Hit a pole with his wing and crashed next to the rail track at Buurmalsen. He was wounded and brought to Amsterdam Luftwaffe Hospital but died. Buried here on 14 August in grave 82, bottom coffin no. 82-4. He was identified in 1946. The RAF ranked him Flight Sergeant, but on his headstone it reads 'Por', which means 'Porucik' = 2nd Lt.

On 9 November 1944 was buried one coffin above Arnost Elbogen another Spitfire pilot, unknown. Years after WW2 his name came on the cross after the identification process was completed: Plutonowy (Corporal) Jan Wierchowicz. Polish 303 Sqn, Plot 69, grave 82, coffin deep-3.

On 22 December 1944 the two men crew of RAF Mosquito HK529 were buried in grave 82, shot down west of Amsterdam: F/Sgt. Robert W. Donaldson and F/Lt. Nicolai R. Schwartz from London.






















Burial scheme Row A. Period 18 July 1944 to 22 December 1944. Last Allied airmen burial during WW2 in Amsterdam.

This row A (front row) was filled starting from left to right. The burial of the Mosquito crew on 22 December 1944 were the last wartime burials in this cemetery. The Allies had full air superiority over German occupied Holland and made every movement on the ground very dangerous. Casualties of downed aircraft were not longer transported to Amsterdam, but buried in villages near to where they fell. In 1944 also Urk Island did not sail its washed ashore Allied pilots to Amsterdam anymore. The Urk war graves plot grew to 25 casualties. The Germans surrendered on May 5, 1945. On the 8th of May 1945, Canadian troops had reached Amsterdam in strength and disarmed the German occupation force.

Dutch soldier Cornelis M. Meur died on 9th of May 1945 and was buried here in grave 83, coffin deep-4 on 12 May 1945.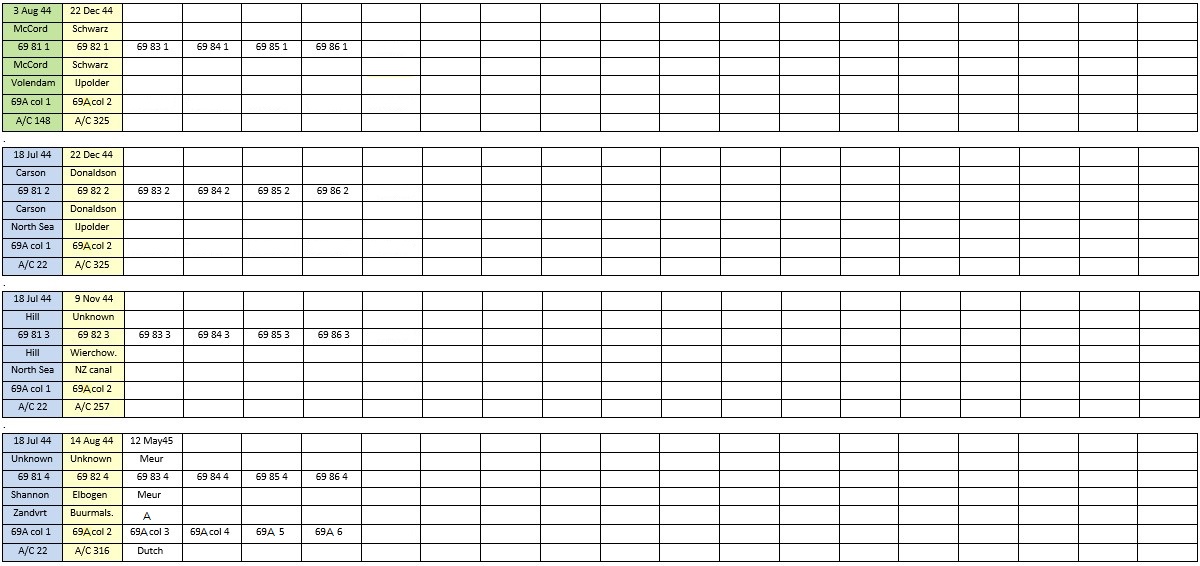 ============================================================

Summary 1944 war graves Amsterdam

Remarkable is that after so many British RAF casualties buried in this cemetery in 1940, 1941, 1942 and 1943, there were almost no RAF burials in 1944.
If Mosquito HK529 with English F/Sgt. Donaldson and F/Lt. Schwartz were not shot down near Amsterdam on their way to Germany on 17 December 1944, there had not been casualties from the UK buried here in 1944.


Buried in Amsterdam 1944:


-2 American fighter pilots (P-47 & P-38) and 1 unknown US-airman, all 3 washed ashore Zandvoort beach (North Sea).

-1 American fighter pilot (P-47D, Lt. Thomas), bomber escort, land crash west of Amsterdam

-14 American bomber crew, all from Southwest corner of Lake IJsselmeer (Old Zuyder Sea). Involved bombers:

B-17G 42-37773 'Full House', 388 BG, crew Bull, 22 December 1943
B-24H 42-7638 'Big Banner', 44 BG, crew Miller, 22 December 1943
B-17F 42-29524 'Meat Hound', 303 BG, crew Nason, 11 January 1944
B-17G 42-37719 'Hellcat', 381 BG, crew Nason, 11 January 1944
B-24H 42-52226, 453 BG, crew Cripe, 6 March 1944

Many more B-17 and B-24 came down in the Lake in this period, but crews were not buried in Amsterdam.

-1 Australian airman, crew Halifax NA508

-3 Canadian Flying Officers, washed ashore Zandvoort Beach, crew Halifax LK879, 426 Sqn RCAF.

-1 Czech Spitfire pilot

-1 Polish Spitfire pilot

-2 English airmen, Mosquito. F/Lieutenant Nicolai Schwartz was the last airman buried Amsterdam during WW2.






============================== End of 1944 ==============================






© ZZairwar (Zuyder Zee Air War)