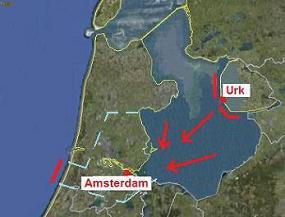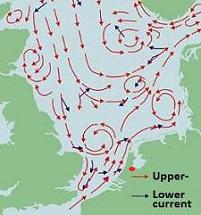 Relation with Lake (class): Lake Casualty Cemetery (LCC)
Total nr. of casualties buried here (TC): 330 end WW2, today 300.
Lake casualties, initially, end WW2 (LC-I): 100
Unknown today: 50, all airmen & naval,
of which unknown from Lake (LC-U): 12
of which unknown from North Sea (NS-U): 10
Initial burial site in WW2: yes, Lake Cemetery West side of Lake (LCW)
Post war burial site for collection and reburial from other sites: yes
Cemetery with Lake casualties today: yes (LCW).



AMSTERDAM war graves 1945

War time burials in 1945: none.

Amsterdam was liberated by Canadian troops on the 8th of May 1945. There had been no burials of Allied airmen in this cemetery in the period January - May 1945.

On the 9th of May 1945 a Dutch soldier was killed, this was C.M. Meur and he was buried here between 12 May and 24 May 1945 in grave 83, bottom coffin 83-4. After Meur, the crew of Halifax NA347 would be interred here by Canadian troops. These six airmen were the last Allied casualties buried on this cemetery.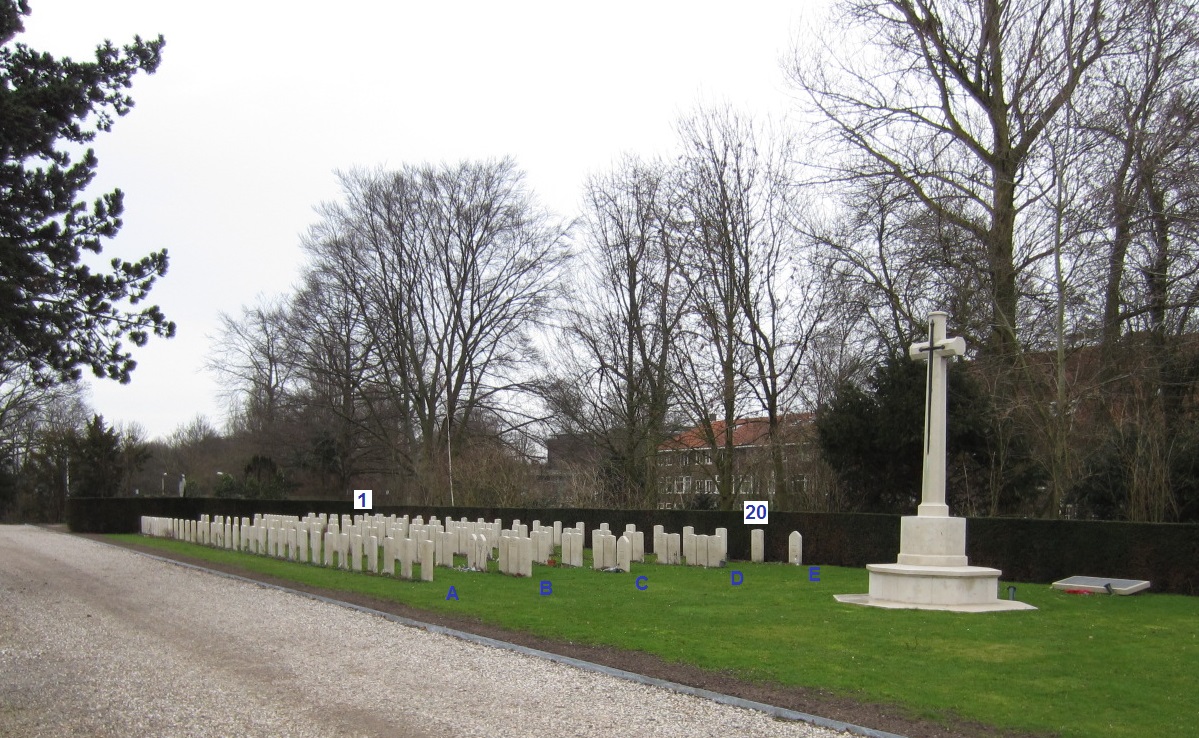 Above. War graves Plot 69. Dutch soldier Meur and crew of Halifax NA347 are buried on the far end of front Row A, where the headstones are close together.

Below scheme. Top view of Plot 69.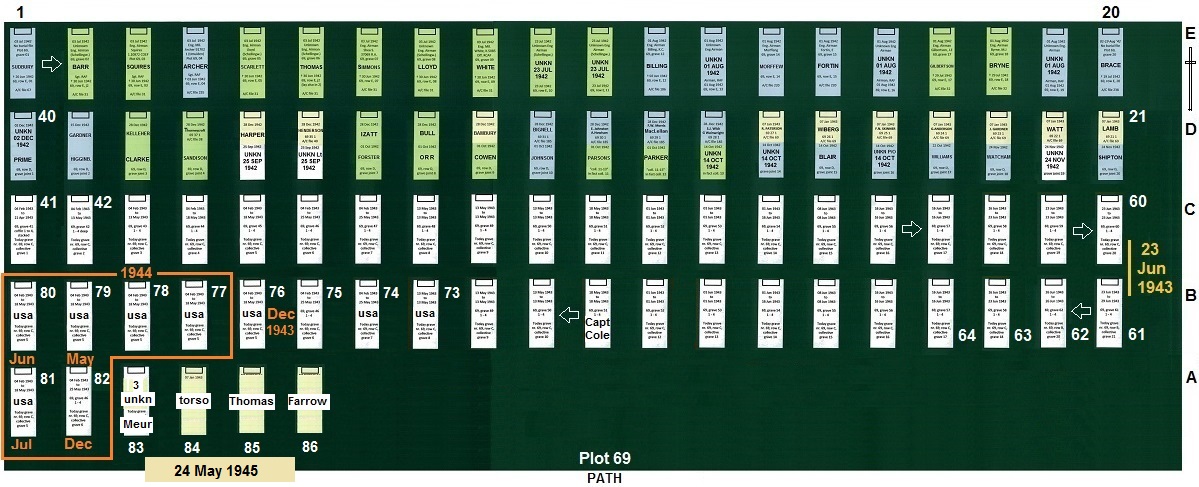 Grave 81. Row A. First grave, most left on row A (McCord-exhumed, Carson, Hill, Shannon). Buried 1944
Each in own coffin. Today named: "Plot 69, Row A, collective grave 1"

Grave 82. Row A. Second grave from left (Donaldson, Elbogen,Schwartz, Wierchowicz). Buried end 1944.
Each in own coffin. Today named: "Plot 69, Row A, collective grave 2"

Grave 83 (phase 1). Row A, third grave from left. On approx. 12 May 1945 buried Dutchman Cornelis M. Meur. Coffin 83-deep 4.
"Plot 69, Row A, grave 3".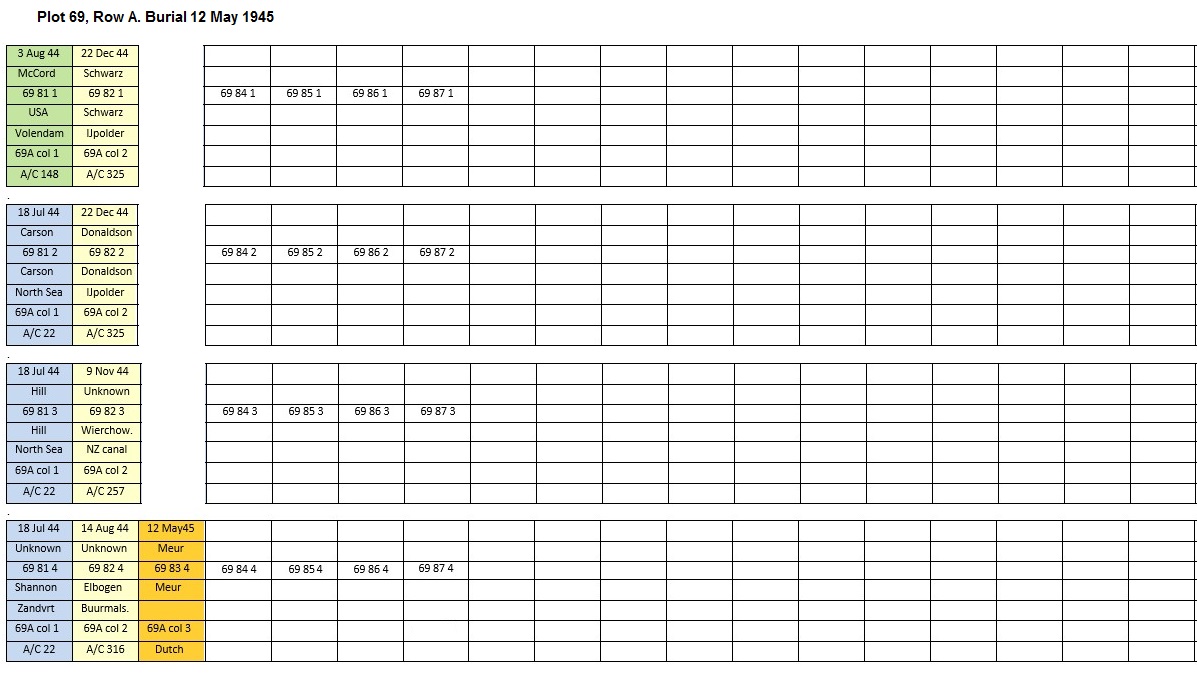 Halifax NA347 was a weapon dropper for the Dutch resistance. RAF Special Operations Squadron 298. In entered the Dutch coast at Zandvoort. This was in the night of 12/13 April 1945. It was flying at low altitude to stay under German radar, but was shot down by 20mm Flak on the coast line. It crashed with brute force and in flames in the dunes of the Amsterdam Drinkwater Company. The Germans were present at the location in minutes. Next morning they probably buried four bodies in a field grave near the crash site or in Zandvoort cemetery.

Two weeks after the liberation, On the 24th of May 1945, Canadian forces delivered 4 coffins from Zandvoort in Amsterdam for reburial in this cemetery:

Grave 83 (phase 2). Above Dutch soldier Meur in coffin 83-4, was lowered 24 May 1945 in coffin 83-3 an unknown English airman of NA347.
Headstone next to Meur today is that of Fl/engineer Sgt. Archie G. Gillon. Grave name became in 1945 "Plot 69, Row A, joint grave 3"

Grave 84. 24 May 1945. In coffin 84-4 was the torso of an airman, without name. Headstone today: Flying Officer (pilot) John W. Scott.
Name CWGC for this grave today is: "Plot 69, Row A, collective grave 3-4". In fact this the 4th grave from the left and seems a single grave.

Grave 85. 24 May 1945. In coffin 85-4 was an unknown English Sgt. Headstone today: air gunner Sgt. Stanley Thomas.

Grave 86. 24 May 1945. In coffin 86-4 was buried 'Eng. Officer Farrow'. Headstone today: navigator Flying Officer Arthur Farrow.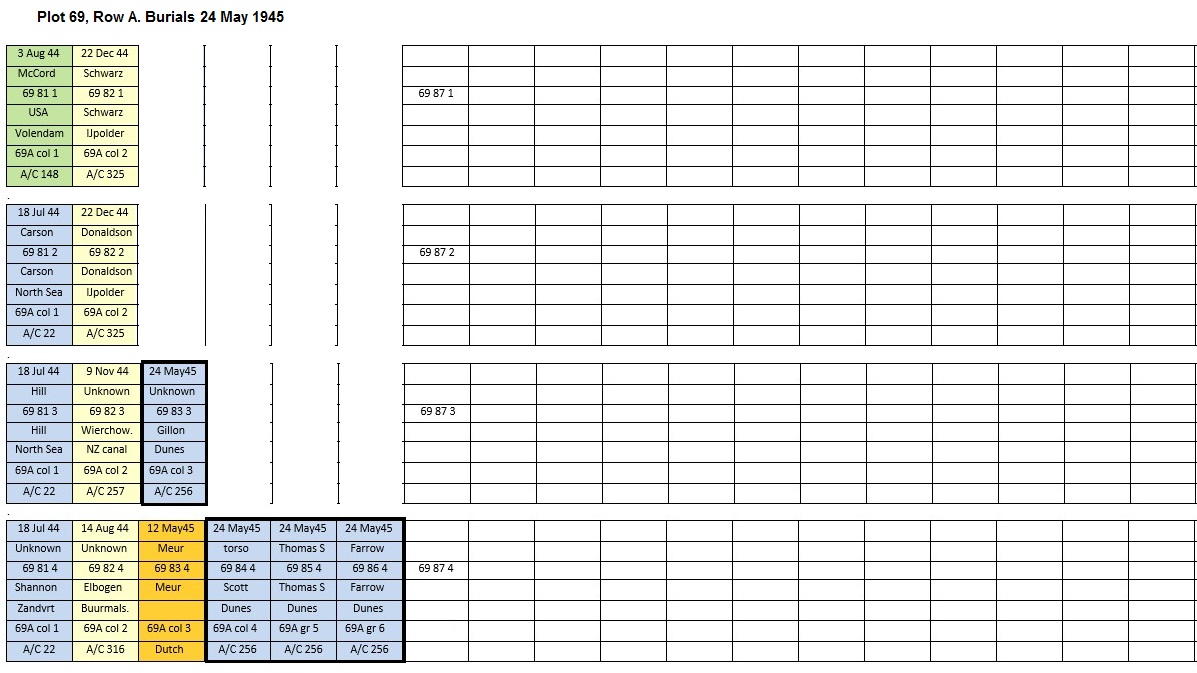 On 7 February 1946, after wreck recovery, again remains of two crew of NA347 were buried in this cemetery. Lowered in grave 83, coffin 83-2 and 83-1.
Headstones on this positions are now of radio operator Sgt. Arthur Hogg and bombardier Flying Officer Samuel A. Lytle.
The CWGC changed name of grave 83 today to "Plot 69, Row A, collective grave 3-4" (was joint grave). In fact it is grave 3 (third from left).
The burials of 7 Feb. 1946 were the last entry of Allied casualties in Amsterdam. In grave 87 (gr. 7) and onwards dead from Plot 72 were later reburied.

Grave 83 (phase 3). "Plot 69, Row A, coll. grave 3". Photo today grave 83.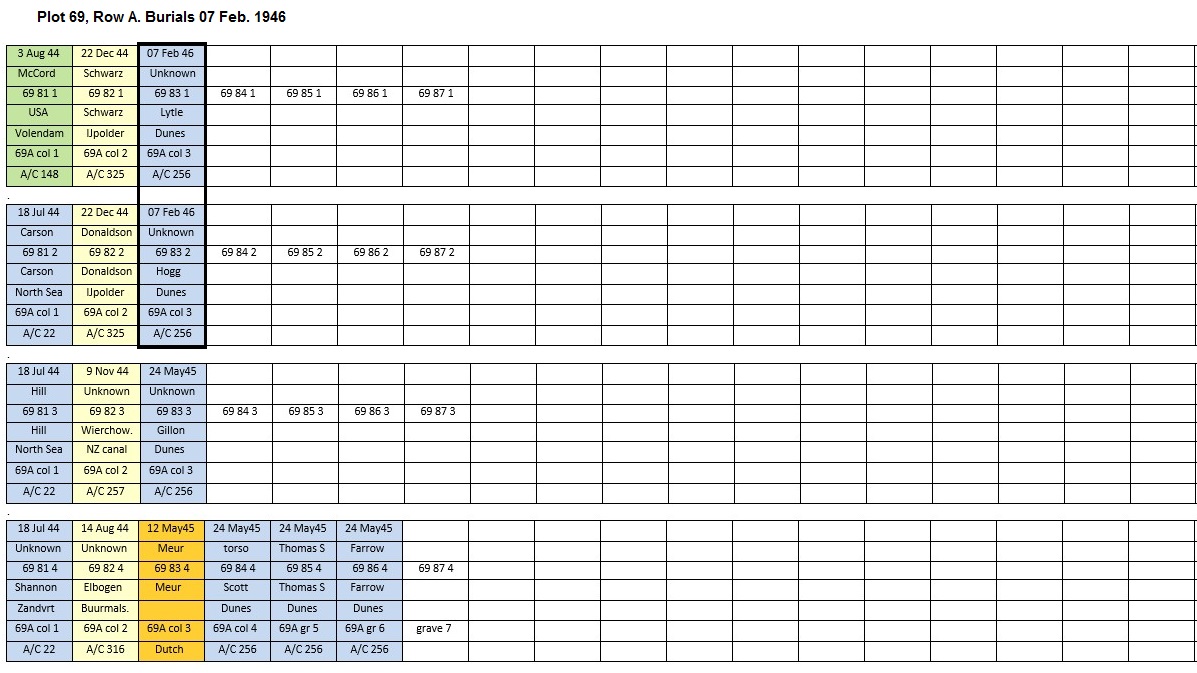 Below photo: Commemoration Day November 1948. Photo taken from position grave 41.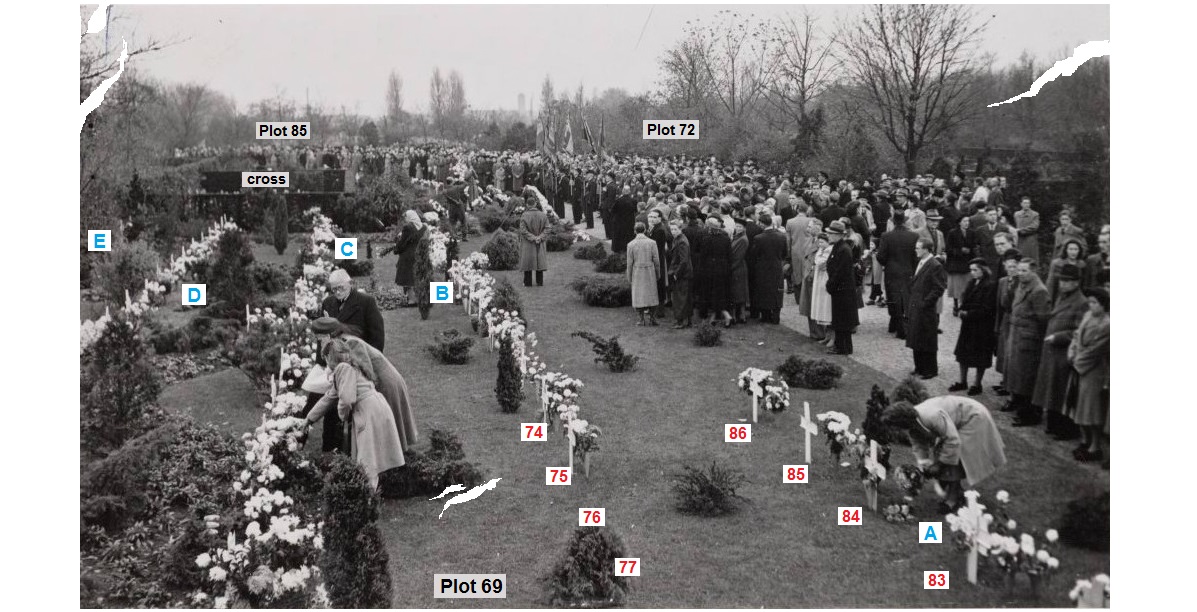 Above image explained: in 1948 the original German wooden crosses were replaced by crosses of steel, painted white. English text. These have not been there long. They were replaced with the CWGC headstones we know today. The woman at Row A is laying down flowers at grave 84, that of Halifax NA347 pilot F/O John W. Scott.

Grave 83 has an extra large name plate in front, because the names of four persons are on it: Private Meur, Sgt. Gillon, Sgt. Hogg and F/O Lytle. The American graves 76, 77 (78 and 79 not visible) on this end of Row B are empty (exhumed). Row A was not used after grave 86 of F/O Farrow. Later on Row A most of the graves of Plot 72 (1940 - Sept. 1941) would be replaced here. The Cross of Sacrifice is not there yet. On this position are civilian graves that later would be exhumed, after which the cross was placed. The people are standing also in the curve around Plot 85. In the centre flowers are laid down, flags of the Allied nations are held in front.


Below photo. Row A, situation today.

Grave 81 with the three Canadian Flying Officers Carson, Hill and Shannon, washed ashore Zandvoort beach mid July 1944. (Halifax LK879). Grave 82 with RAF Mosquito navigator Donaldson, Spitfire pilot Arnost Elbogen (Czech headstone), Mosquito pilot Schwartz and Polish Spitfire pilot Jan Wierchowicz. Grave 83 with Dutch soldier Cornelis Meur and three men of the crew Halifax NA347: Sgt. Gillon, Hogg and F/O Lytle. The individual graves 84, 85 and 86 with NA347 crew pilot F/O John W. Scott, Sgt. Stanley Thomas and F/O Arthur Farrow. After Farrow, the rest of Row A in 1945 remained empty. Until a few years later when Plot 72 was exhumed and the empty spaces in row A were used for reburial. Next to F/O Farrow rests now Sgt. Kenyon (June 1940), P/O Saunders (June 1940), Sgt. Swallow (June 1940) and Sgt. C.W. Thorley (June 1940). See their stories in the Amsterdam 1940 section.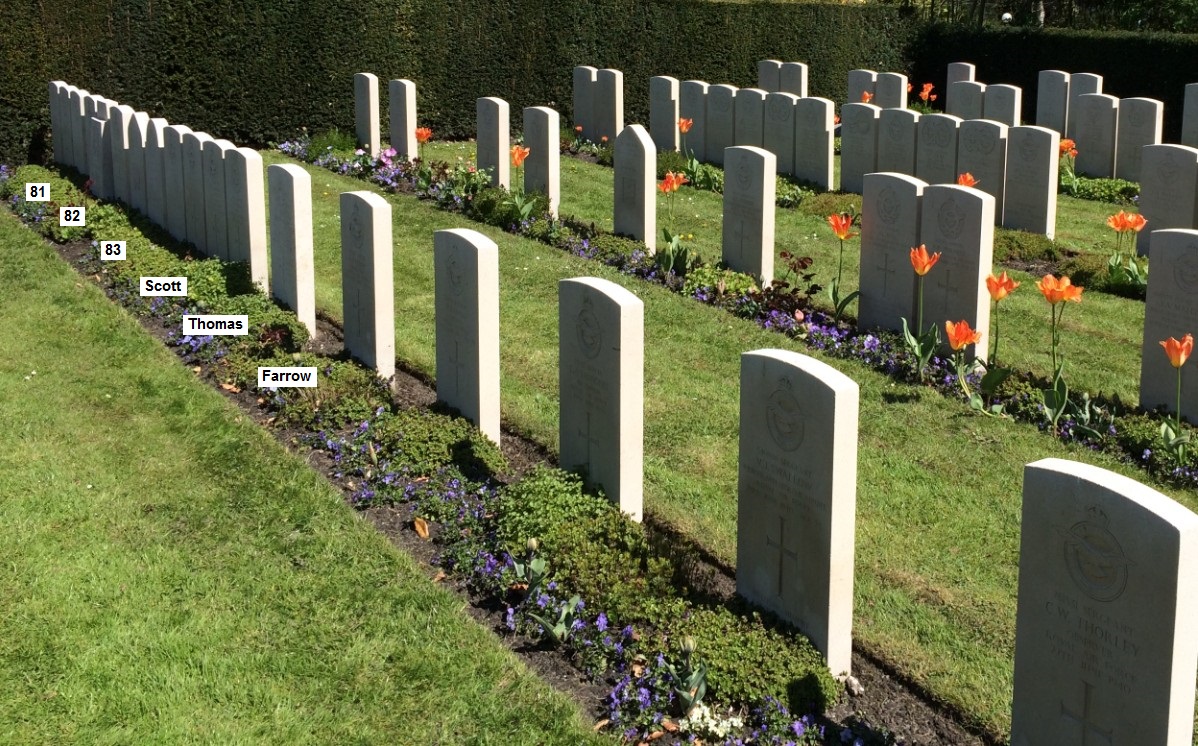 Monument on the crash location (Amsterdam Drinkwater Dunes) for crew NA347.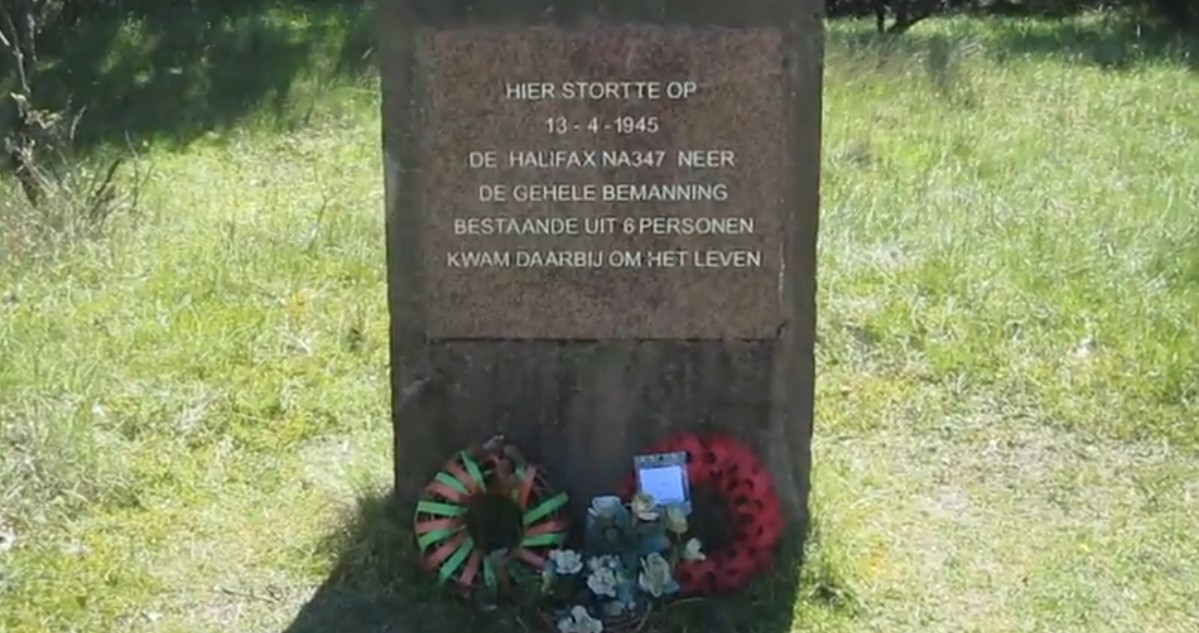 =========================== End of 1945 =========================








© ZZairwar (Zuyder Zee Air War)