Date: 1943 Apr 09/10
A/C Type: Lancaster III
SN: ED613
Code: SR-X
A/C Nickname:
File: 059
Airforce: RAF
Sqn/Unit: 101 Sqn
Mission/Raid: Duisburg
1
Pilot
F/Sgt. John "Jack" D. Steele RCAF, Canada
9
2
Bomb.
Sgt. John Hence Durham, UK
10
3
Nav.
F/Sgt. Michael J. Bennet Coventry, UK
11
4
Eng.
Sgt. D'Arcy Gould Auckland, New Zealand
12
5
WO/AG
P/O Norman Ritchie New South Wales, Austr.
13
6
MUG
F/Sgt. Stanley Grundy JHburg, South Africa
14
7
Rear gunner
Sgt. William D. O'Brien Brighton, UK.
15
8
16

Shot down by a German nightfighter and exploded in the air south of Elburg. Crew are buried in Doornspijk. The German was hit by debris and crashed also.



In the late evening of April 9 1943, German nightfighter Leutnant Oskar Köstler and his radio operator Heinz Huhn (Me-110 Werk-nr. 4811) were patrolling over Lake IJsselmeer in their radar box Hering at Medemblik. A stream of one hundred RAF bombers crossed the Dutch Northsea coast at Egmond and flew on southeast in direction of Apeldoorn and the Ruhrgebiet (Duisburg). The bombers passed the underside of Köstler's patrol area and he set couse south to Harderwijk to intercept them. At 22:40 he picked up a signal on his onboard radar and spotted a lone fast flying Lancaster on the side of the main bomber stream's course. Manouvered behind the Lancaster, the cannons of the Me-110 fired a salvo. Behind the German pilot was sitting radio operator Heinz Huhn. He later described that the bomb load of the Lancaster exploded instantly with huge force, sending a ball of fire, light, heat and debris towards them. Damaged they lost control and fell down, on fire. Huhn could open the cockpit roof and bailed out at 5000 meter. Under him was water, but thanks to the wind and pulling the lines of his parachute, he landed in a forrest and could free himself.

Both aircraft both came down under Elburg. The Lancaster in polder Het Goor and the Me-110 one km more east, north of Hoge Enk between the Stoopschaarweg-road and the Puttense Beek (Puttenerdijkje) under estate Old Putten. During the night, the face-burned Huhn struggled without boots through the forrest bewteen 't Harde and Oldebroek and came to a railroad track. Here he stopped a freight train with a red flare from his signalling pistol. The train took him to Harderwijk. Already next morning he was returned at the crash site at Hoge Enk. German soldiers and Dutch Police (report under) guarded the smouldering parts of the Me-110 and recovered the body of Oskar Köstler. Two trailers took the wreck of the Me-110 away six days later.

The Lancaster fell from the sky in small burning parts that spread out in Het Goor and north of hamlet Hoge Enk. In 1980, a Rolls Royce Merlin engine of ED618 was found during construction in a meadow on the northside of polder Het Goor. Of the crew of ED618, two mutilated but identifiable bodies were recovered next morning from the fields and farmlands, these were Canadian pilot Jack Steele and his flight engineer from New Zealand, Sgt. D'Arcy Gould. The scaterred mixed small remains of the other five men were assembled in four coffins and buried as unknown airmen next to Steele and Gould in the nearby Cemetery Hoge Enk, community Doornspijk.



















































Oost-Flevoland.
The sea opposite to Elburg was made a polder in 1958. In 1960 two aircraft wrecks were recovered in the former sea bed on the Alikruikweg-road southeast of Biddinghuizen. They were a Me-109 with the remains of pilot Uffz. Fritz Kostenbader and an allied bomber with radial engines (not Rolls Royce Merlins), probably Lancaster II, DS794, pilot F/Sgt. Basil W. Pattle. In 2011 each crash position on the Alikruikweg-road received a commemoration pole, P3 and P4, see map above. To everyone's surprise, P3 received a plaque stating that Oskar Köstler's Me-110 was found and recovered there (...). P4 received a plaque that Jack Steele's Lancaster ED613 had crashed there. Mistakes, but these incorrect plaques are still in position.



In memory of F/Sgt (Warrant Officer II) Jack Steele, born Weyburn, Sasketchewan, Canada.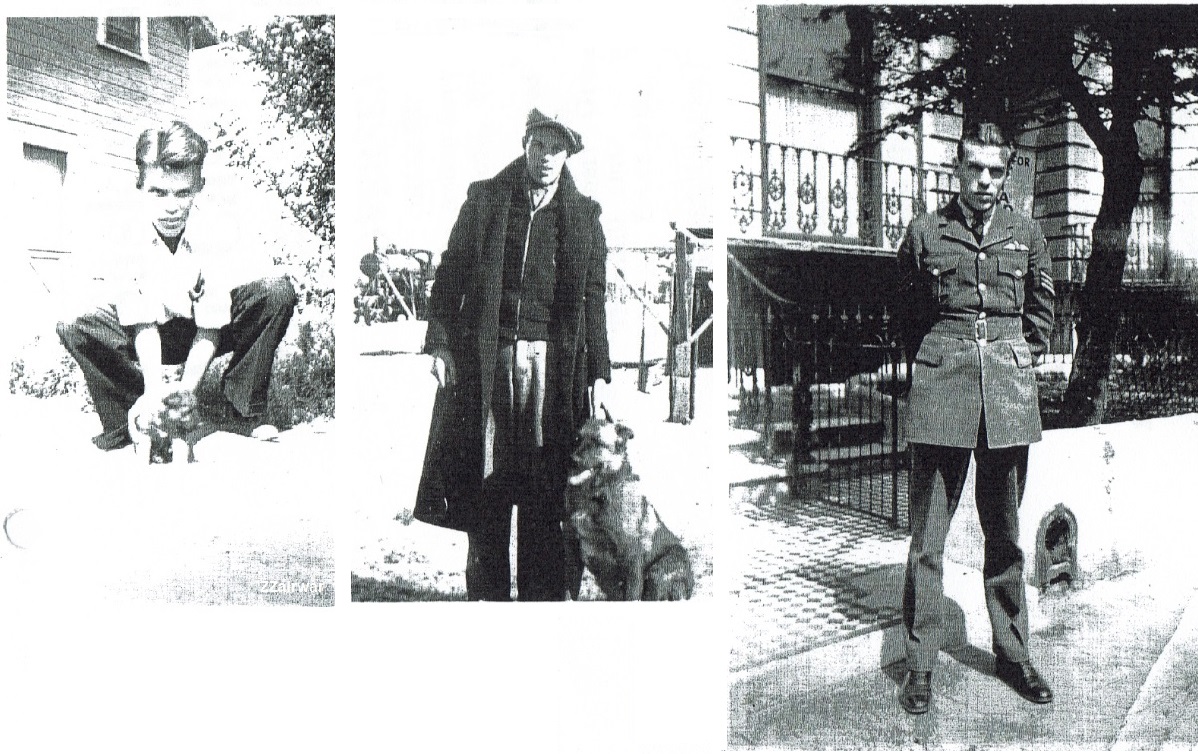 Below. In the event Jack Steele would not return from a mission, he had pre-written a letter that had to be posted to his parents.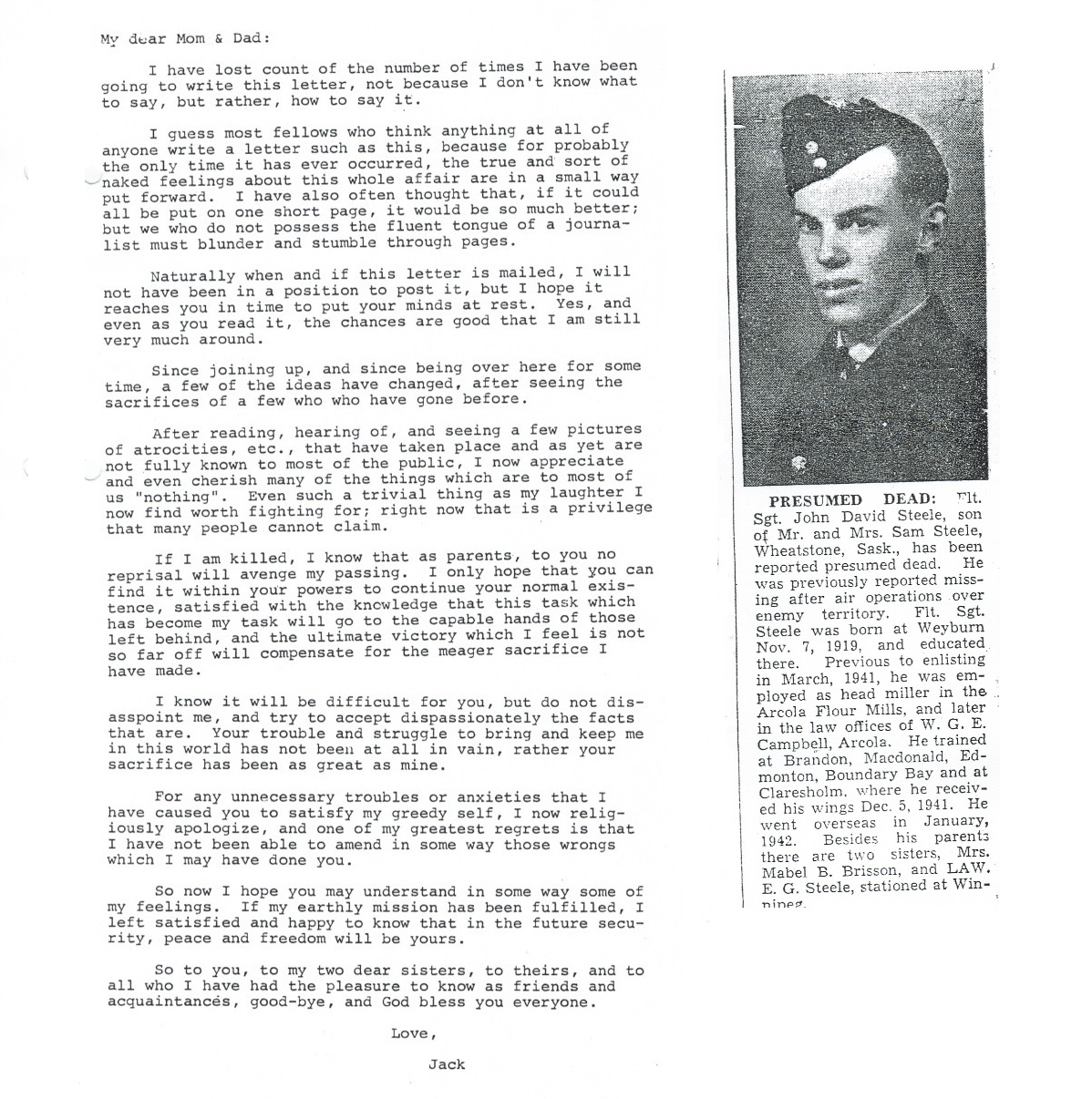 Police report.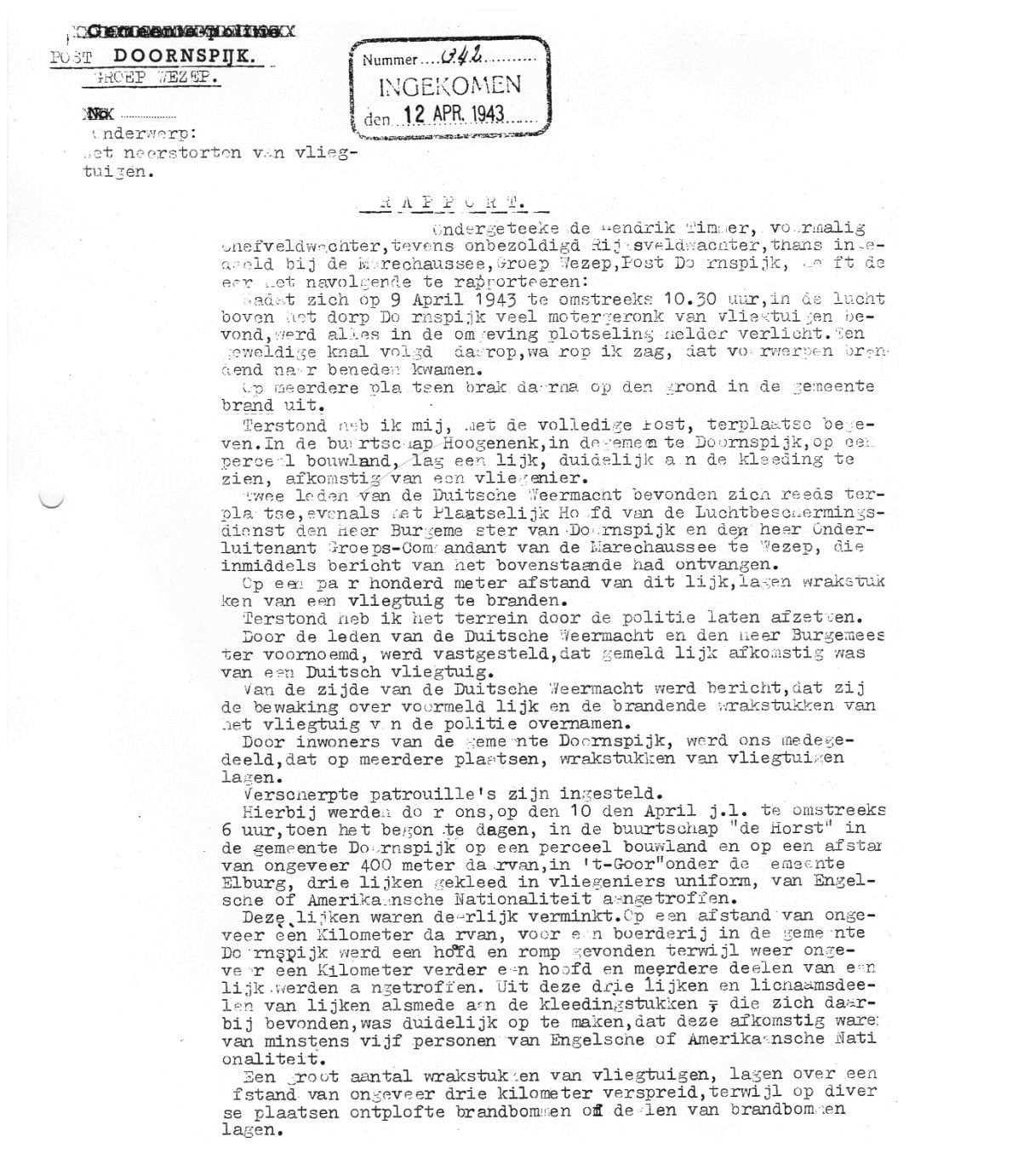 Detailed map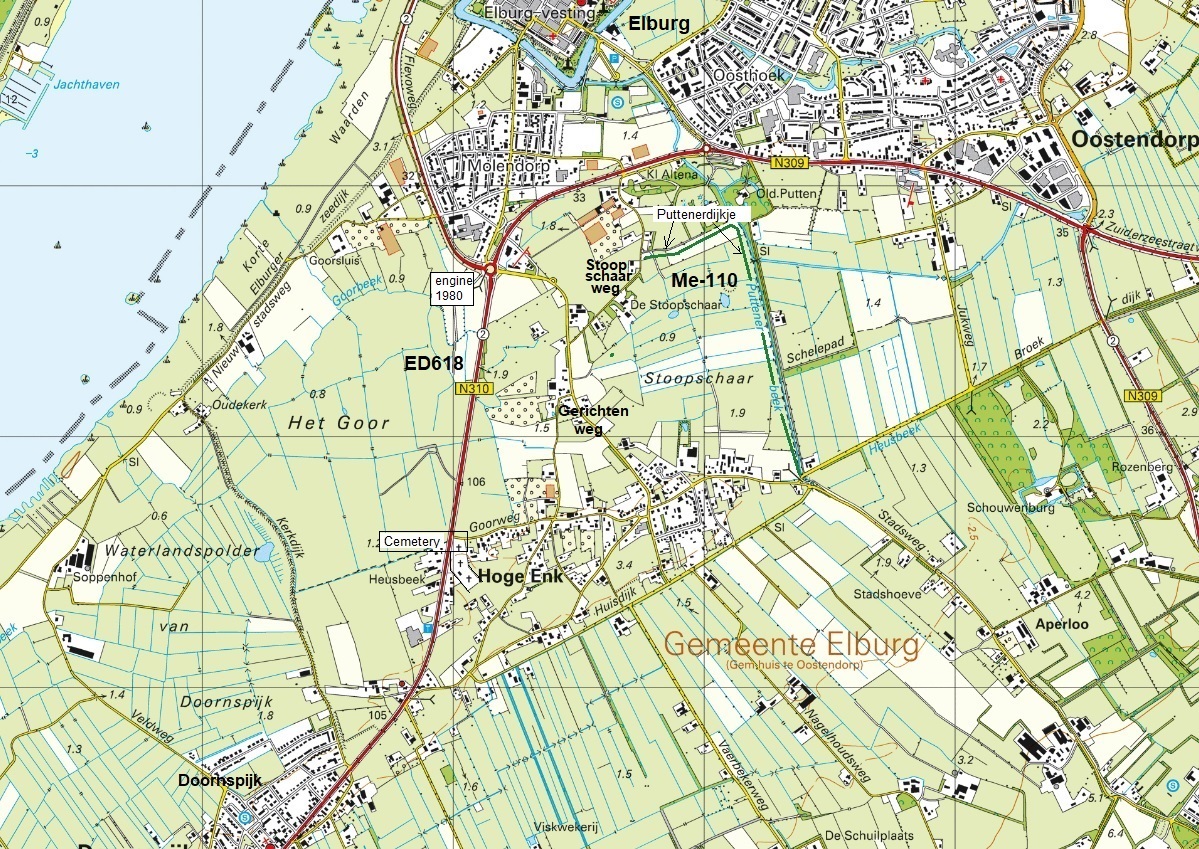 Eyewitness account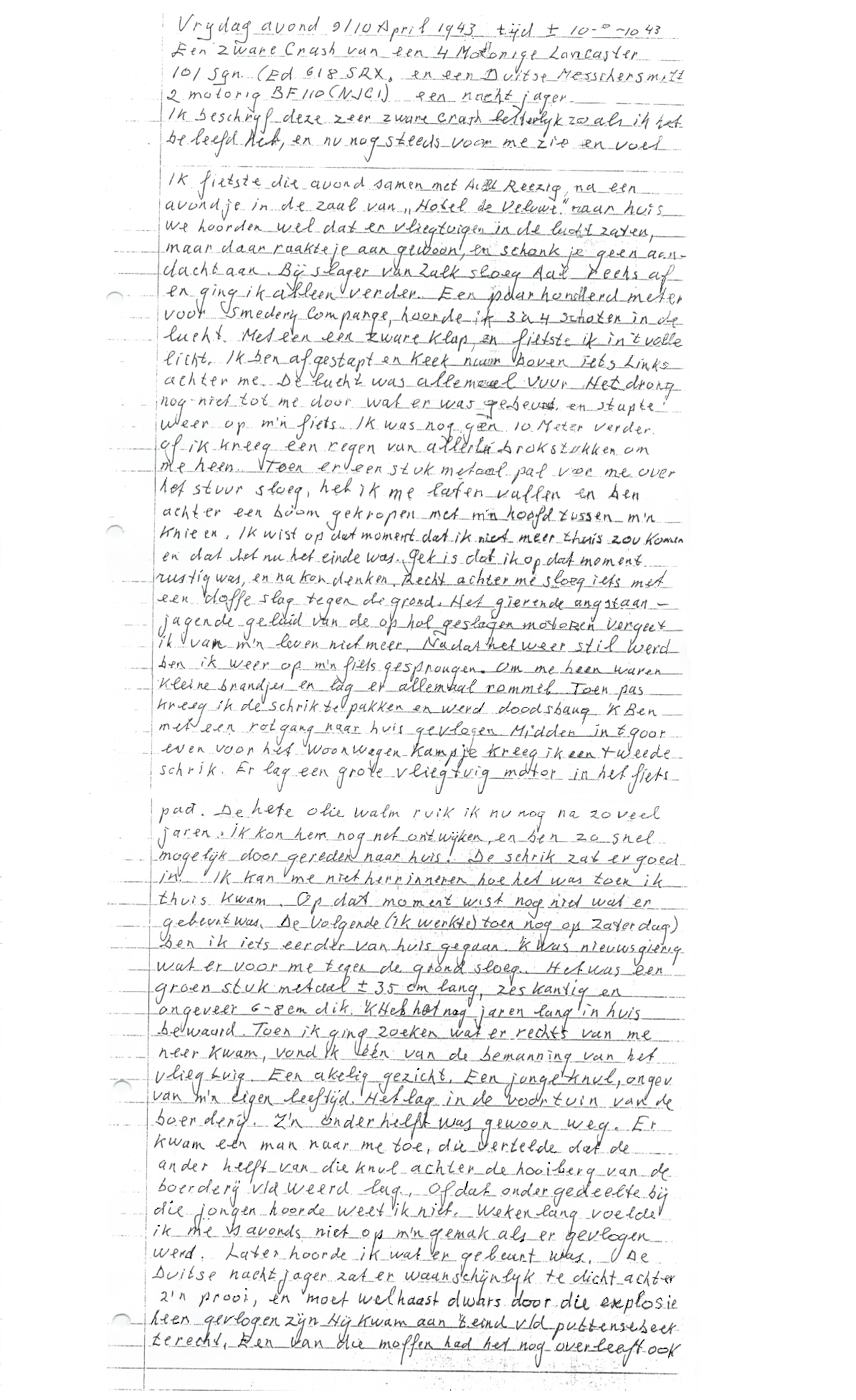 Sources:

- Website CWGC
- Book Elburg in Oorlogstijd
- Archive Noordwest-Veluwe
- Book Nachtjagd Combat Archive 1943, part 1 by Dr. Theo Boiten, 2018
- Website PATS
- Dick Breedijk
- Stichting Urk in Oorlogstijd
- Het Flevolands Archief




© ZZairwar (Zuyder Zee Air War), 2020.