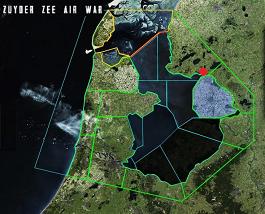 Relation with Lake (class): Lake Casualty Cemetery (LCC)


Total nr. of casualties buried here (TC): > 45 end WW2. Today 44.
Lake casualties, initially, end WW2 (LC-I):
Unknown today: 8.
of which unknown from Lake (LC-U): 8
of which unknown from North Sea (NS-U): 0
Initial burial site in WW2: yes, Lake Cemetery East side of Lake (LCE)
Post war burial site for collection and reburial from other sites: no.
Cemetery with Lake casualties today; yes (LCE).
LEMMER



Important Lake-airwar cemetery. Lemmer had a life boat station (the 'Hilda'), some km of dike to patrol, a port for cargo, fishermen, German military patrol- and Flak vessels and a big hinterland. Most dead airmen were brought in from Lake IJsselmeer (Old Zuyder Sea). After the war the American airmen were moved to other cemeteries. Of the 44 Allied casualties in Lemmer today, 32 are identified Commonwealth, 1 is Czech and 3 Polish. 8 airmen are 'Known unto God'.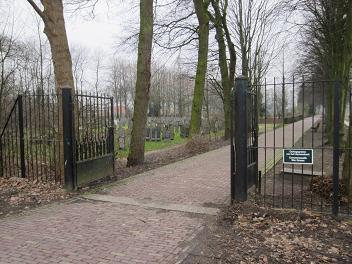 Dutch name cemetery: Lemmer Alg, begr. pl.
Full name: Lemsterland (Lemmer) General Cemetery.
Address (usable for car navigation):
Straatweg 22, Lemmer.

For reaction or comments; send us an email,
see address and info at CONTACT.
Please use as subject title: 'Lemmer'.
On 28 June 1941 rescue boat 'Hilda' found the body of Australian Flying Officer John du Vernet Broughton. He was the first Allied casualty on this cemetery. He was buried on the first row (back row 10a, at the morgue), in the most left grave (grave 260). A month later his pilot was recovered near the dike: Wing Commander Vyvian Quentery Blackden (son of a General Blackden). Their Wellington bomber W5375 of 12 Sqn crashed in the lake in the night 9/10 April 1941 north of Andijk.
View from the cross of sacrifice.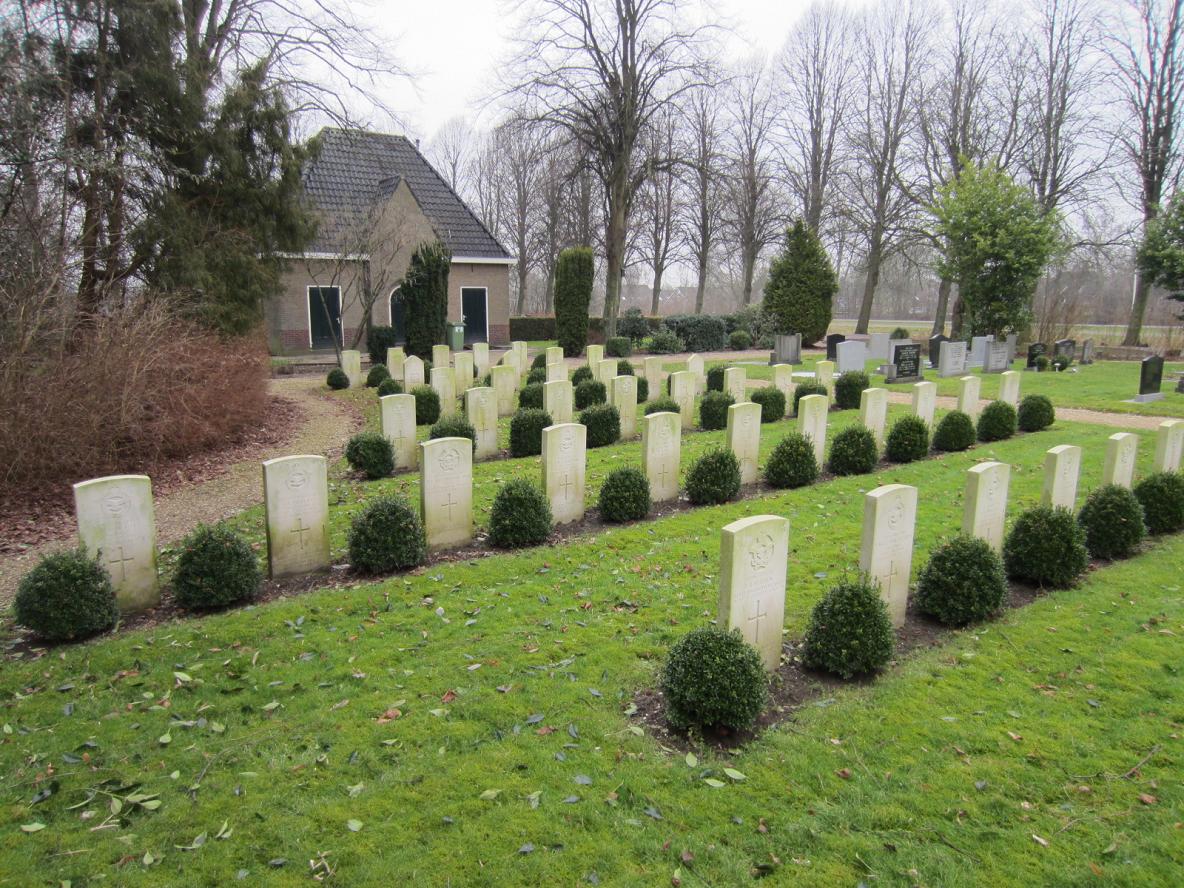 Lemmer war graves in scheme.

Same color are crew members. Typical for Lemmer is that the rank of the unknown Airmen is not engraved on the head stone, not once. We estimate that on at least 4 not identified men this important data must be retrievable in the original files (pending).

Polish Wellington Z1204 - 1942 (aircraft no. 6). More info: Wellington Z1204 page on site Polish war graves.nl.

Polish Wellington Z1204.
Z1204 of Polish 300 Sqn, crashed in the lake night 2/3 July 1942, three crew are missing. Since 4 non-identified airmen washed ashore in the weeks after the crash and were buried in same period and next to Krasnodebski, Lozinski and Lugowski of Z1204, it is not impossible one or more of the missing crew from Z1204 are buried here as one of these 4 unknown. Possible is that on the remains, rank and PAF (Polish Air Force/Polish identity) could not be established, which then resulted (as in other cases) in the standard RAF-headstone without rank.

Lancaster
JA853
(our aircraft no. 13), 16/17 December 1943, crew Watson.
Last burials in Lemmer involved Sgt. McWha and Hurst, F/Sgt. Robinson, Waterman and Hedges. Their Lancaster JA853 (7 Squadron) was on its way from airfield Oakington (UK) to Berlin, when it exploded with great force high in the air, 6km NNE of this cemetery. Parts came down near the hamlet Follega, on the muddy land of a farmer which was crossed with and adjacent water. The five men buried in Lemmer were recovered by the Germans, but pilot Warrant Officer Wallace A. Watson (age 21) from Maclean (New South Wales) Australia was not found. As was Flight Sergeant John Butterworth (age 22) from Tinderbox near Hobart (Tasmania), Australia. Both these Royal Australian Air Force airmen are registered as MIA since then, but their remains cannot be far off the crash site, which is behind the tram-dike, between the Follega-sloot and the reed fields, just south of this position. Aircraft parts are still in the soft ground and water. Address Straatweg 31, Follega, Netherlands.
Photo below: View from the morgue, looking towards the entrance of the cemetery in the distance. The Czech and 3 Polish stones are clearly visible. Wing Commander Blackden (below, 3rd stone from right) is overlooking the war graves plot as highest ranking officer in this cemetery.

The unknown airman on the back row.

Burials in Lemmer started on this row (below) on the right hand side with:

1. F/O John Du Vernet Broughton (from Australia), recovered from the Lake and buried 28 June 1941. Wellington W5375

2. Sgt. Jiri Mares (Czech, RAF). Czech headstone. Recovered from his sunken aircraft and buried approx. 19 July 1941. Wellington R1718.

3. Wing Commander Vivian Q. Blackden, found on the Lake and buried approx. 22 July 1941. Wellington W5375.

4. Non-identified RAF sergeant. From the lake here, buried 9 August 1941. Photo below. Wellington R1322?

5. Pilot Officer E.D. Pockney (headstone not visible). From the lake, buried well after his crash 18/19 August 1941. Wellington N2844.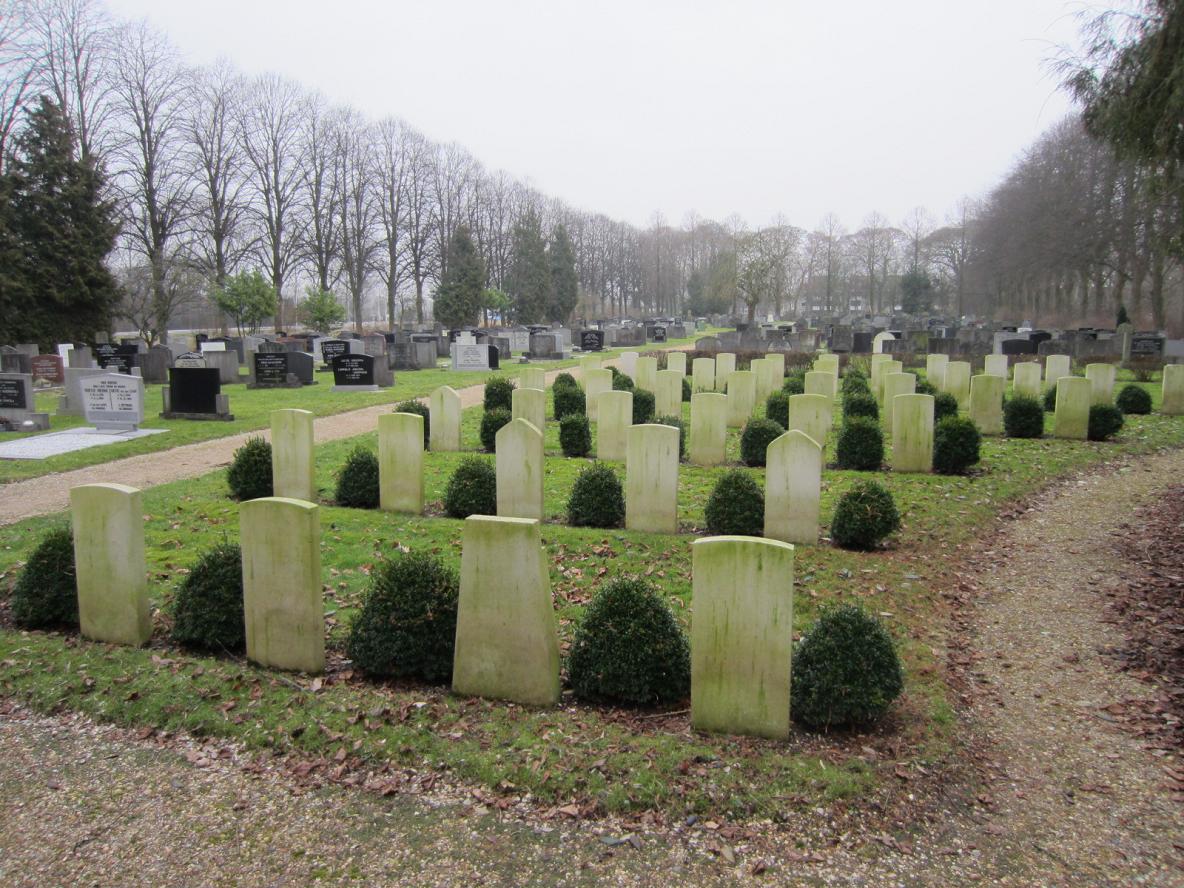 The unknown airman 9 August 1941.

A possible match for this airman, is that he is a crew member of Welllington R1322 (Pilot Jan Dorman, Polish 305 Sqn, 08/09 May 1941).

Crashed in the lake some 15km to the Southwest of here. The wind brings bodies into this direction. Tail gunner Ludwik Karcz also washed ashore here, but on the southern side of 'Rotterdam corner' which was within the community boundry of Urk and therefore buried there (July 2nd, 1941). This unknown airman was found in the water a month later, a bit more to the North, which meant burial in Lemmer. In the cemeteries above Lemmer (Nijemirdum, Scharl and Stavoren) are also unidentied airmen buried, but they cannot have relation with R1322.

In 2017 Wellington R1322 was recovered with the missing crewmen inside, which excludes this airman as Polish.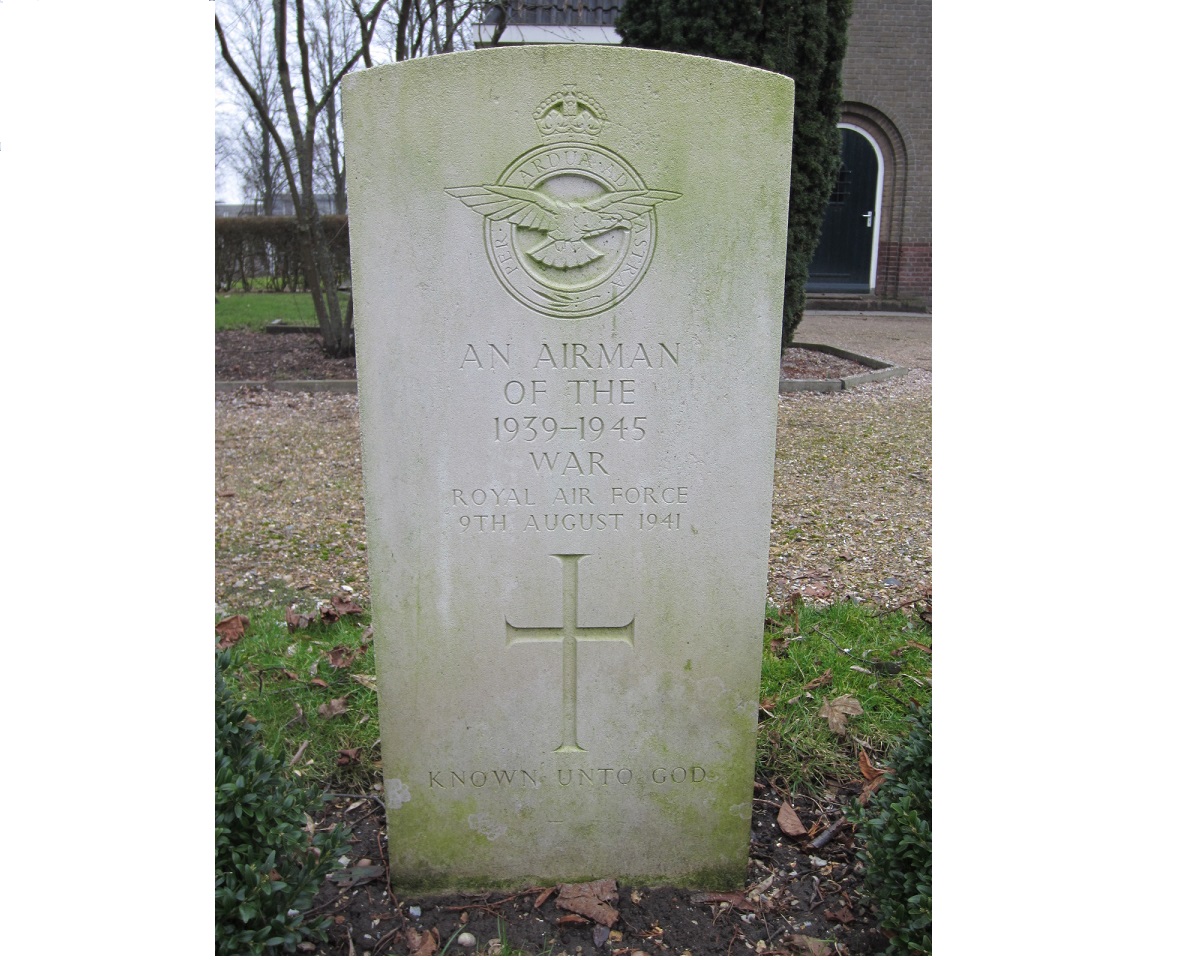 © ZZairwar (Zuyder Zee Air War)
=========================
Route Lemmer to Vollenhove on the old Zuyder Sea dike.

When leaving Lemmer, standard travel route by car is north or north-west up upon nice modern roads leading into Friesland province. Or south via motorway A6 towards Amsterdam. Underneath photos however, show the old route leading into Lemmer along the old Zuyder Sea dike from and to Vollenhove. After WW2 this ancient dike and its small seaside road became obsolete because the Northeast Polder was constructed in front of it (right side of dike, water was pumped out) and new roads were constructed. During WW2, more than 20 aircraft crashed in the Northeast polder or made an emergency landing in its still wet reed lands. Since there were no cemeteries in the new polder yet, dead airmen were taken from the swampy polder to this dike and buried in the old Zuyder Sea cemeteries along it. These old gravesites were in use for the local population and washed ashore sailors from Zuyder Sea, North Sea and Atlantic Ocean since the year 1200, but became forgotten after the polder was completed in 1940.
Entry to the old dike road starts outside Lemmer on the Eastern side of motorway A6, exit Lemmer, direction Oosterzee. After 50m follow the 'Grietenydijk' in direction of Schoterzijl. At below junction on photo keep following the road running to the left. The road to the right leads to a farm in the Northeast polder.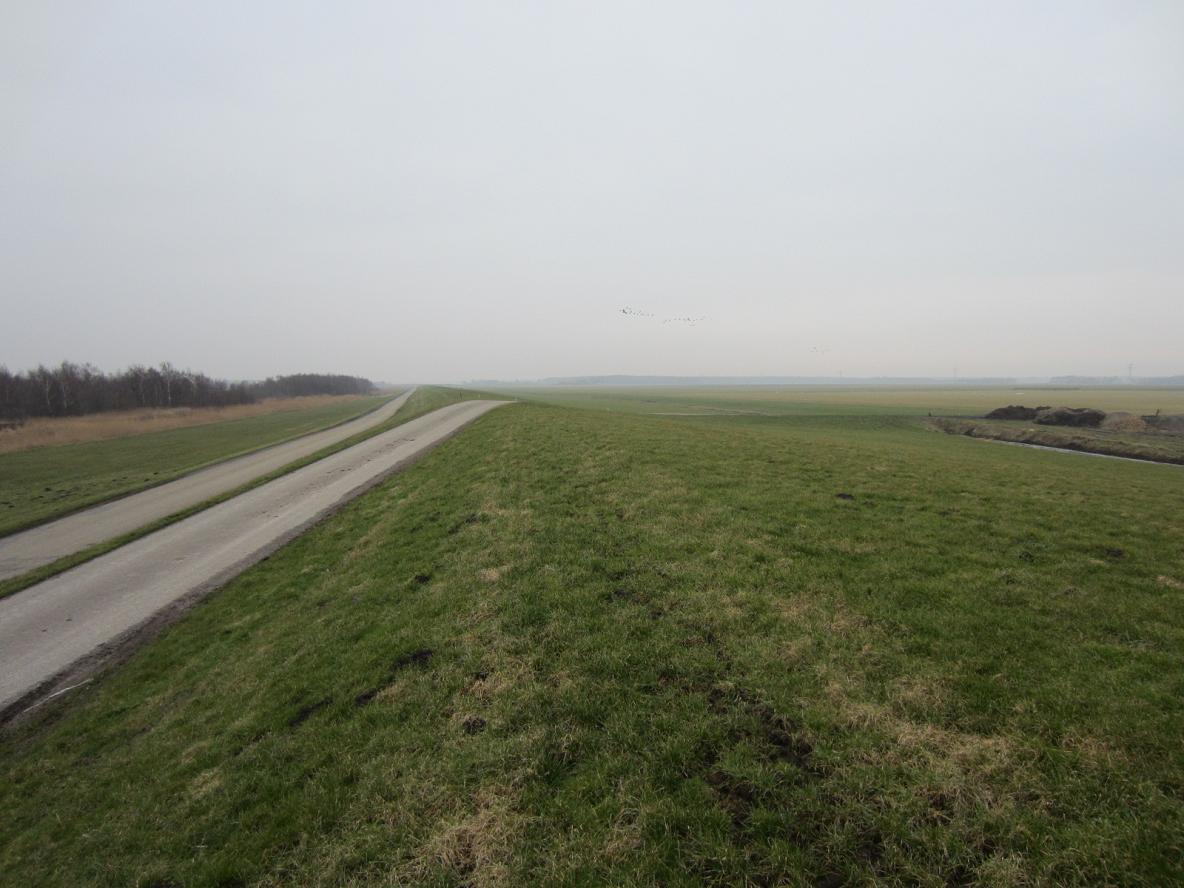 Below: On the dike, looking back towards Lemmer on the horizon, left (north-west).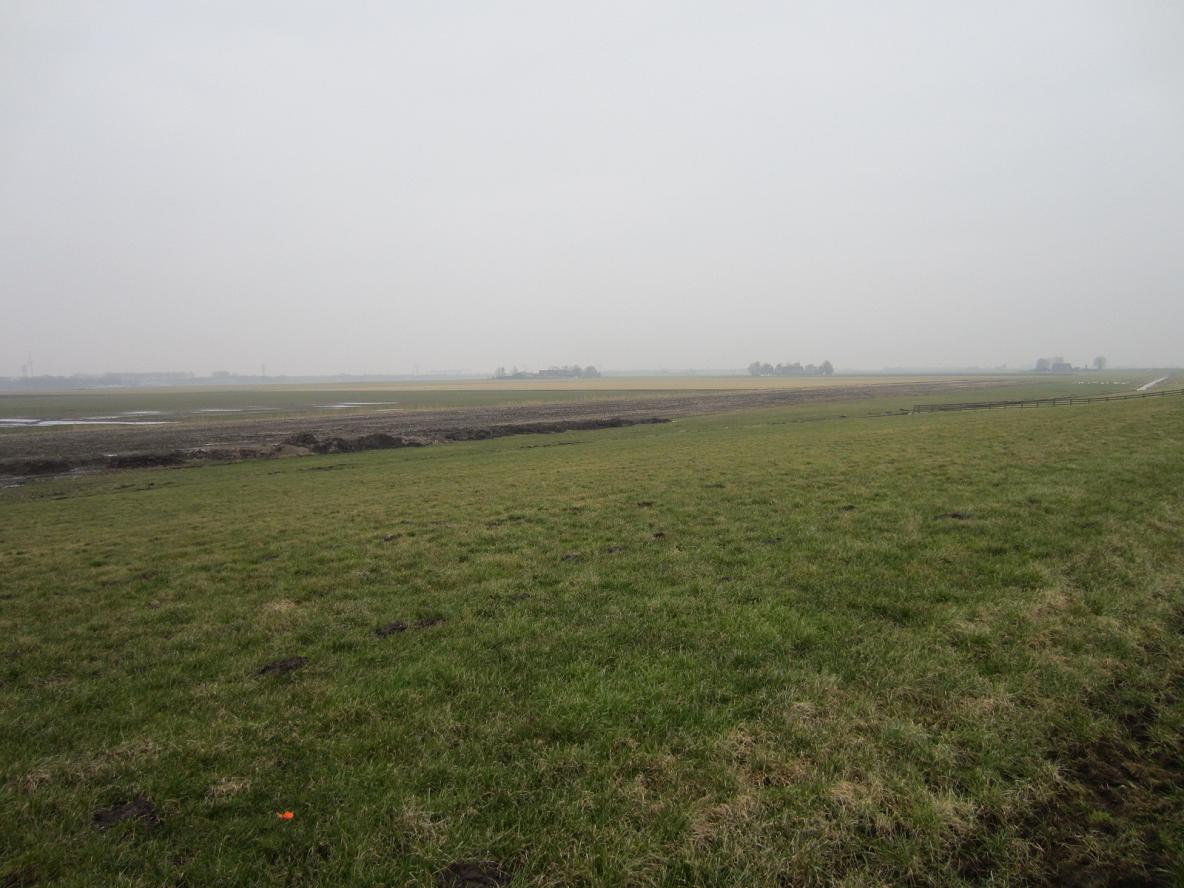 Photo below:
Looking back towards the beginning of the dike (north, where we came from). Over this small road in April 1945 the Allied advance proceeded (Canadian troops) for the liberation of Lemmer and the Westside of Friesland province.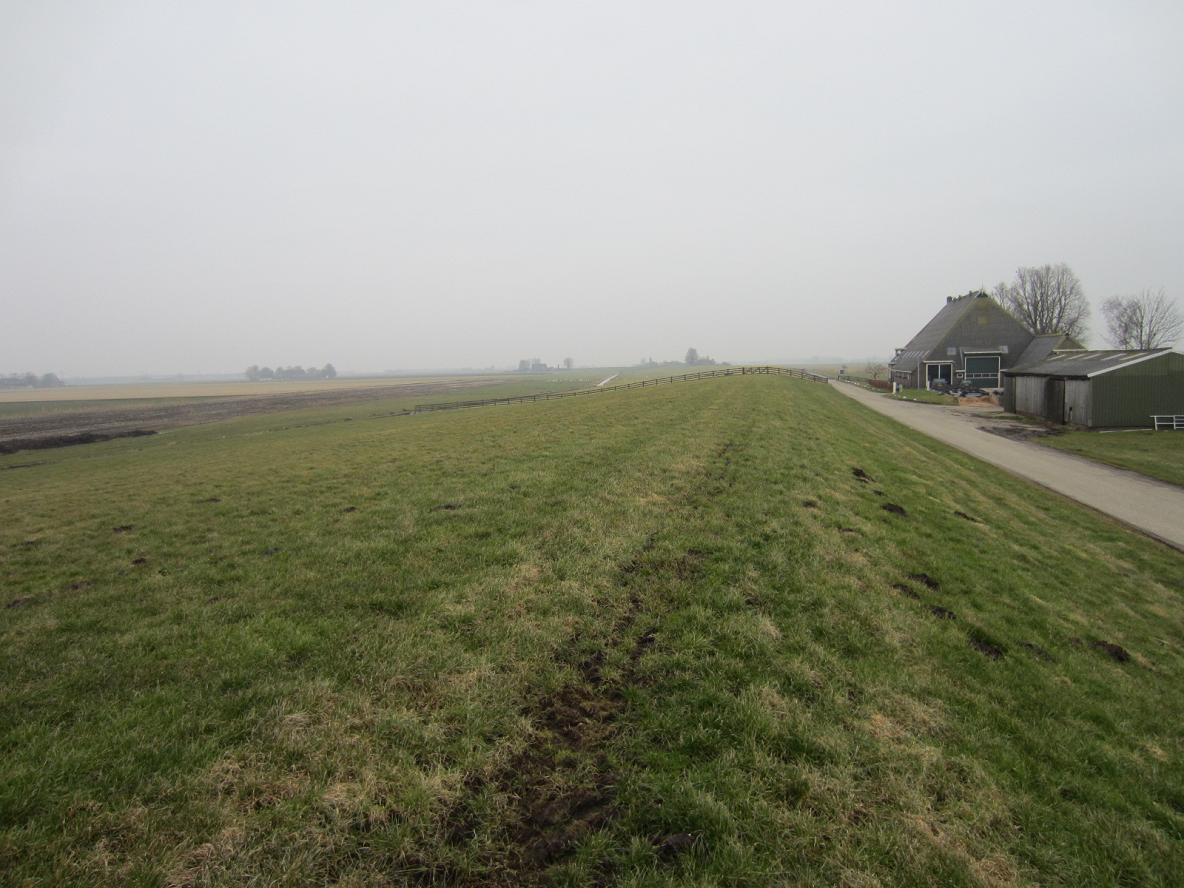 Photo below: On route south again, into the direction of Schoterzijl-Slijkenburg, where the road runs on top of the dike. Here Dutch police-/resistance man Harmen Visser was hit by German bullets and killed. He acted as guide in front of the first Canadian scout-troops that advanced on this road towards Lemmer.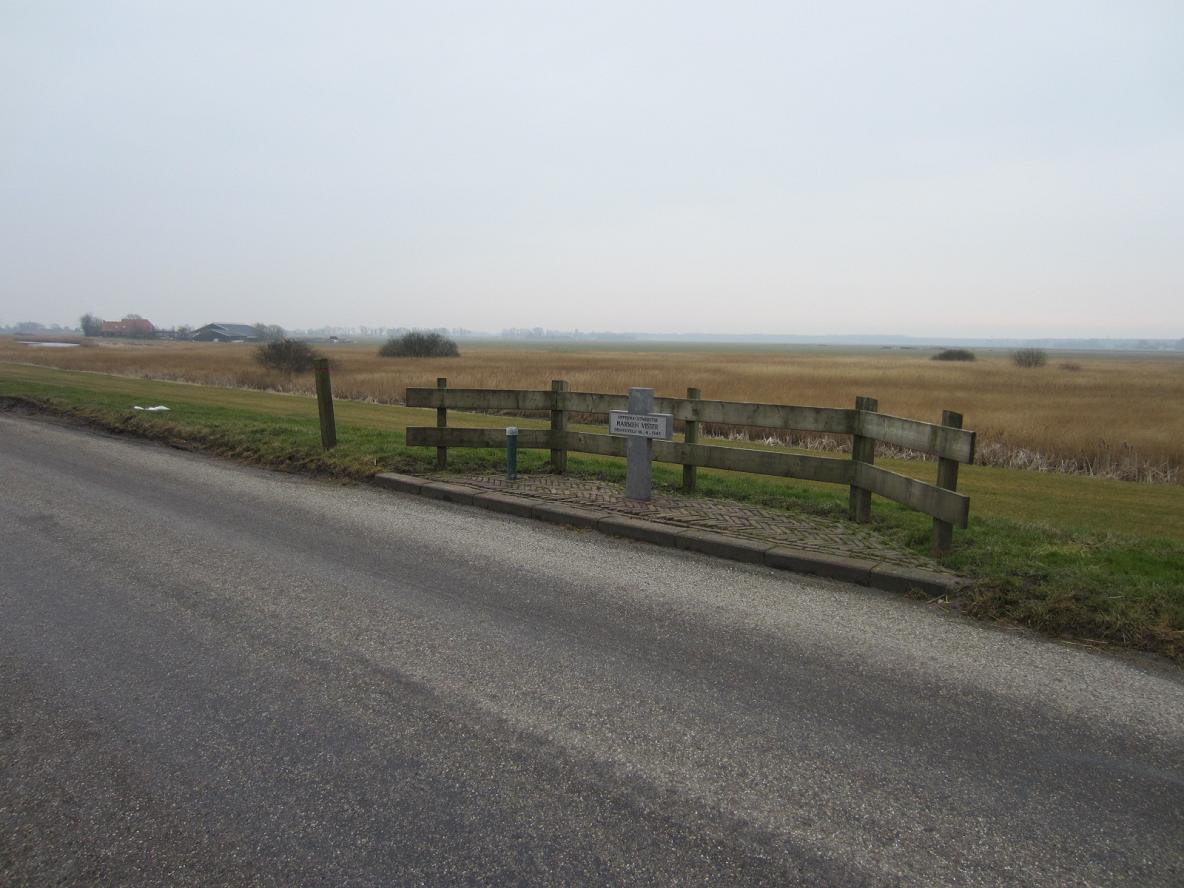 Monument for Dutch (military) police adjutant and resistance leader Harmen Visser.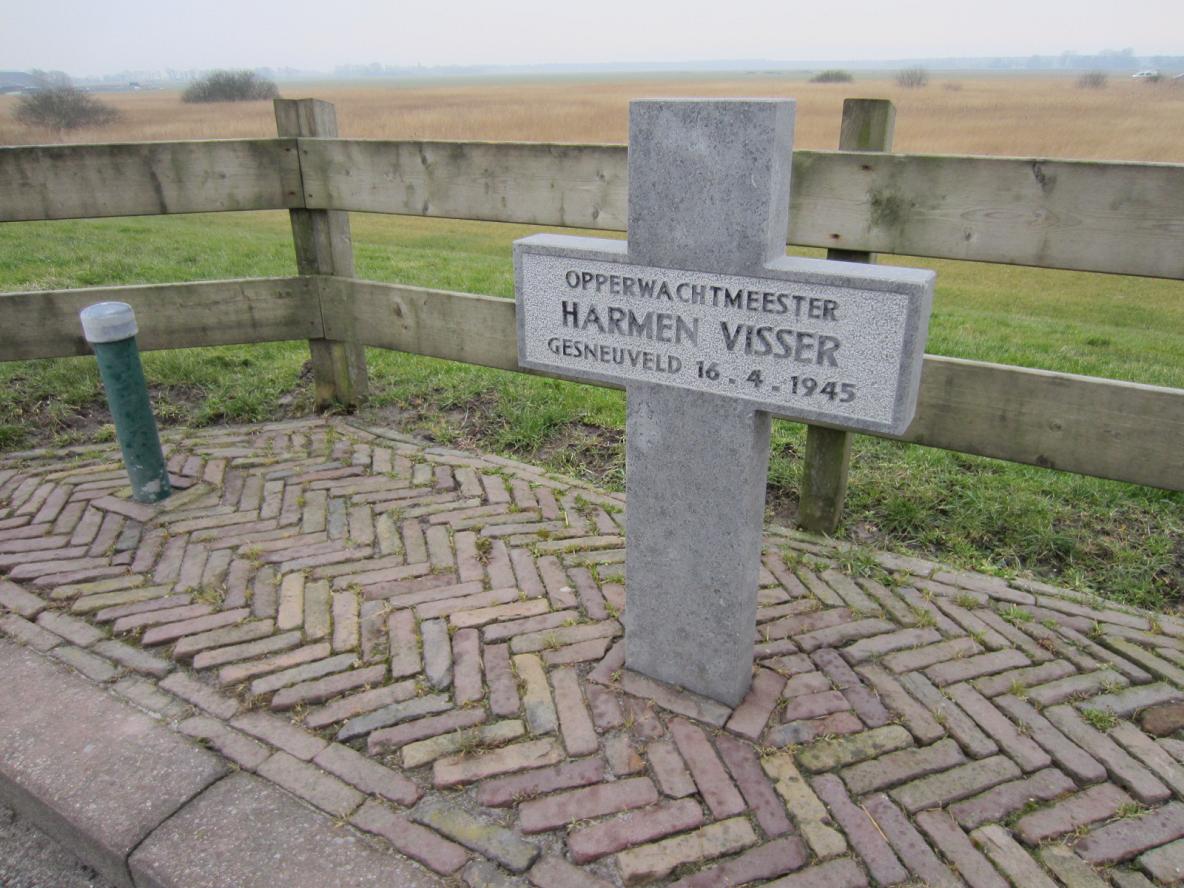 Photo below: Luftwaffe OP 'Kooisloot'
Moving south towards Kooisloot (near Schoterzijl). Here in the distance on the dike was an isolated Luftwaffe Observation post (OP). Their main task was to report Allied movements in the air. On the 13th of November 1943, a damaged American B-24 bomber turned back over Lake IJsselmeer (Old Zuyder Sea) and made a successful belly landing here in the polder (right side of this dike). It slided and came to a halt right in front of the Luftwaffe OP. The older (Austrian) German soldiers were reluctant to step out of their post because the B-24's armament looked too dangerous to them. Aircraft was the 42-7650, 44 BG-67 BS, piloted by 1Lt. Hansen and 2Lt. Hanson. Eventually all 10 crew were taken POW: http://www.zzairwar.nl/dossiers/100.html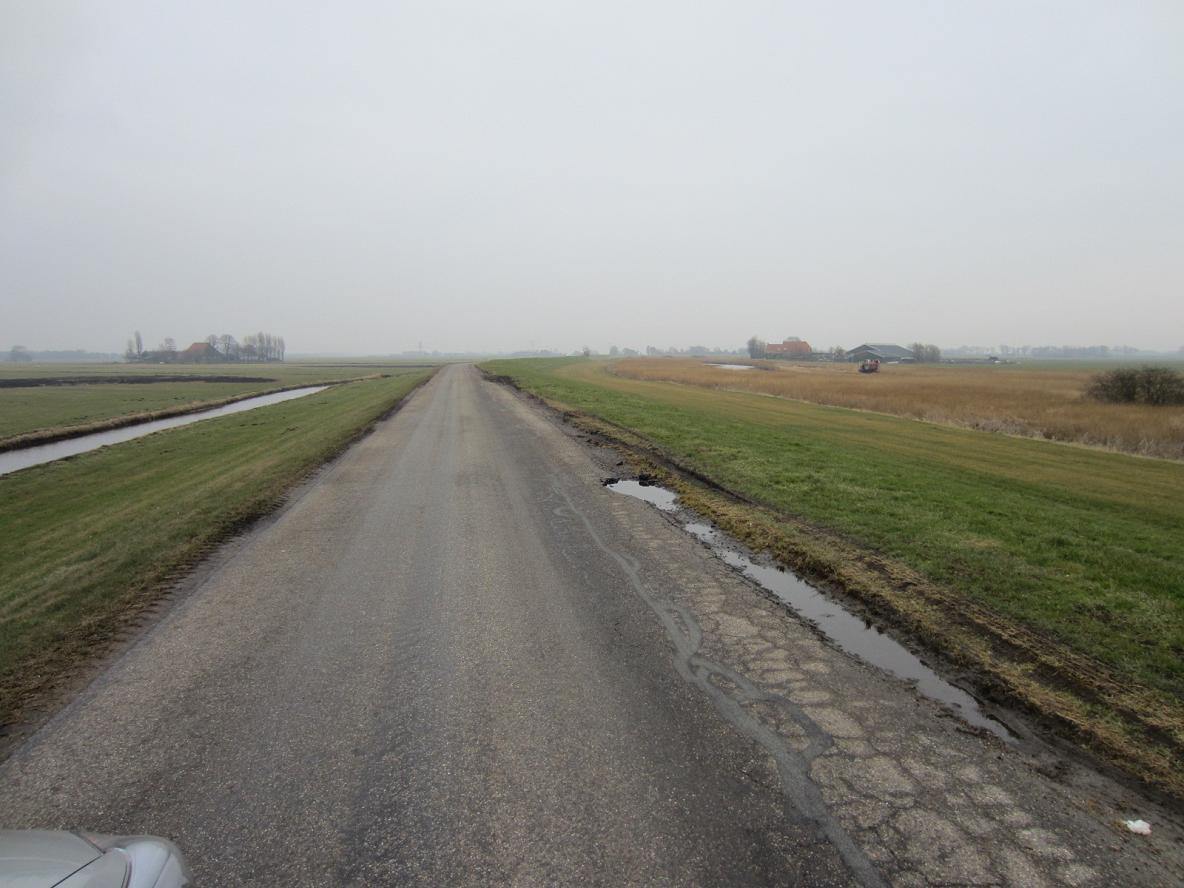 Hamlet Slijkenburg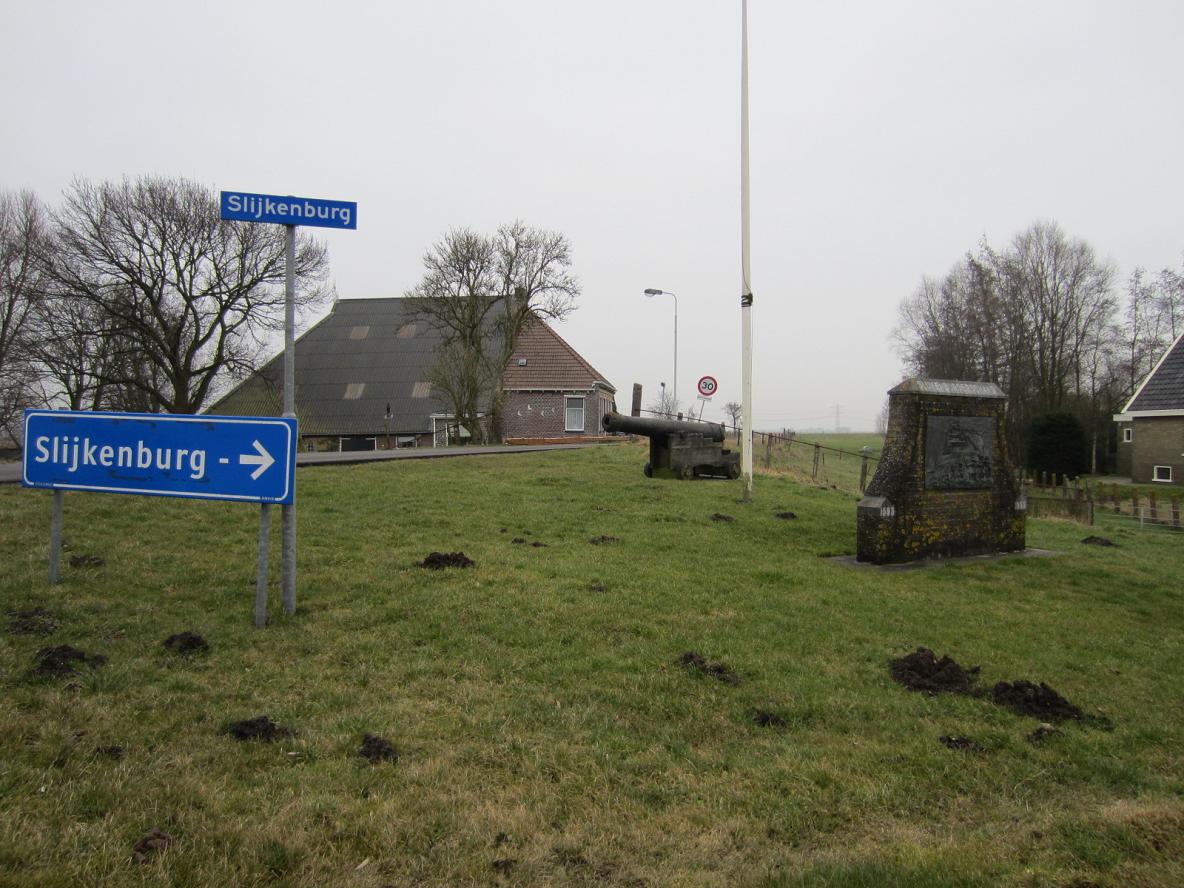 Slijkerburgschans.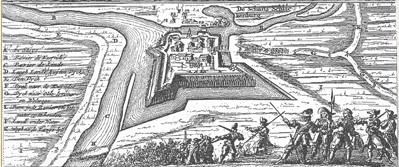 This was a fortification on the dike, demolished in the 17th century and the earth probably used for dike reinforcement. The canon was used long after, to warn the farmers during high tide and storms for possible dike-breakthrough.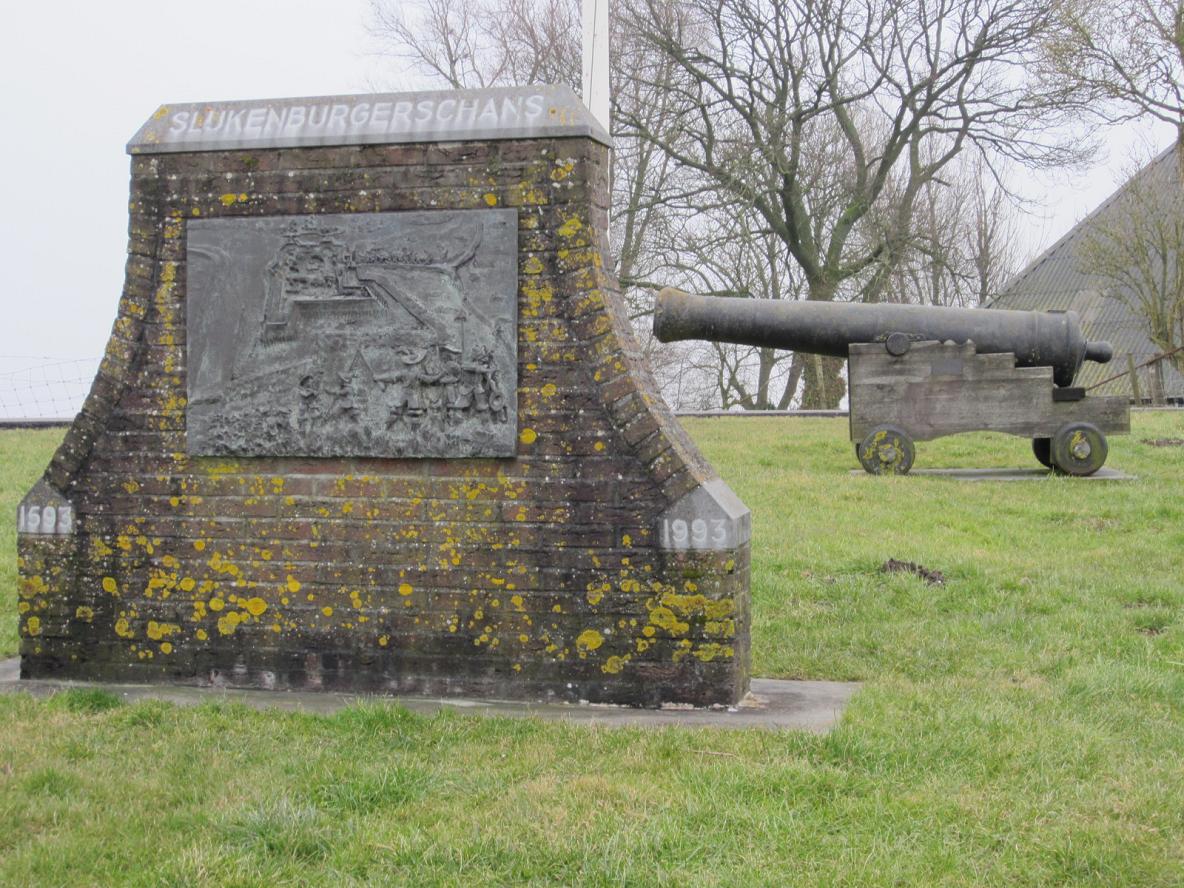 The route on this dike leads further south to Kuinre (a Lake Area Inland Cemetery):
File Air War Graves Cemetery Kuinre http://www.zzairwar.nl/dossiers/949.html
The nearest air war cemetery to the North of Lemmer is Nijemirdum. http://www.zzairwar.nl/dossiers/959.html
© ZZairwar (Zuyder Zee Air war).