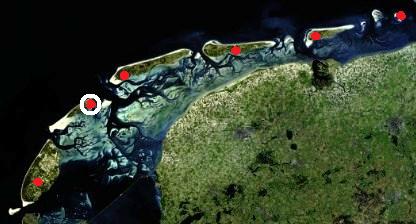 Relation with Lake (class): None. Cemetery without lake link.
Total nr. of casualties buried here (TC): 98 end WW2, today 48 CWGC and several others.
Lake casualties, initially, end WW2 (LC-I): 0
Unknown today: 9 RAF airmen, 2 British sailors and 13 crosses with 'Unknown'.
of which unknown from Lake (LC-U): 0
of which unknown from North Sea (NS-U): 11 + 13 = 24.
Initial burial site in WW2: yes.
Post war burial site for collection and reburial from other sites: no
Cemetery with Lake casualties today: no.



VLIELAND (OOST) GENERAL CEMETERY

Vlieland is the 2nd Frisian isle. In 1905 this cemetery was extended including a plot for future washed ashore victims of the sea. After WW2 it was completely filled. End July 1940 some 30 Dunkirk-evacuation victims washed ashore here. The Germans and local authorities buried them with military honour besides the pre-war buried sailors.
Most 1940-dead were shipwrecked French soldiers and sailors, mined and bombed in the Channel between Dunkirk, Dover and Ramsgate. Between them also 2 English soldiers. In 1941-1945 the rows with war graves filled with 42 washed ashore Allied airmen (RAF) and some sailors. Post war, the French government exhumed 23 of their military, but some stayed here because nationality could not be established. They received a plain white cross with just a number. Also an American airman and 2 Germans were exhumed. All these exhumations left scars and empty places on the plot. In below article the build up of the plot and now empty rows are explained. Some data is incomplete and will hopefully be updated in future.
Vlieland is car-free and largely uninhabited. It has large white stretches of beach and sandbanks, see the satellite image above. The left island-part is the former gunnery practice/shooting- & bomb range of the Dutch Army (tanks) and NATO airforce. The range was named 'the Vliehorst', code name 'Cornfield'. We highly recommend photos of this range and its targets (including a Sherman M4A4) by islander Mr. Dick Bruin. Google: 'flickr dirk bruin Vlieland'. Must see is his set of 'most interesting photos'.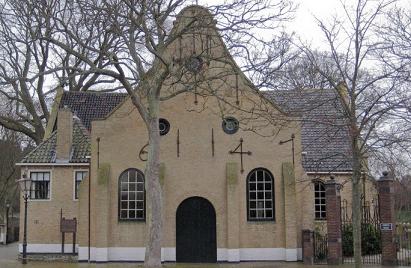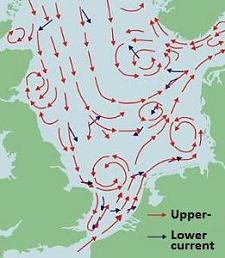 Dutch name cemetery: Alg. Begr. Pl. St. Nicolaas kerk.
Full name: Vlieland General Cemetery.
Address (usable for car navigation):
Middenweg, Vlieland-Oost, but cars are not allowed on the island.

For reaction or comments; send us an email,
see address and info at CONTACT.
Please use as subject title: 'Vlieland'.








The cemetery is in the only village on the Island, named Vlieland-Oost ('Vlieland-East'). Its Nicolas Church was build 1641, which is depicted on the front.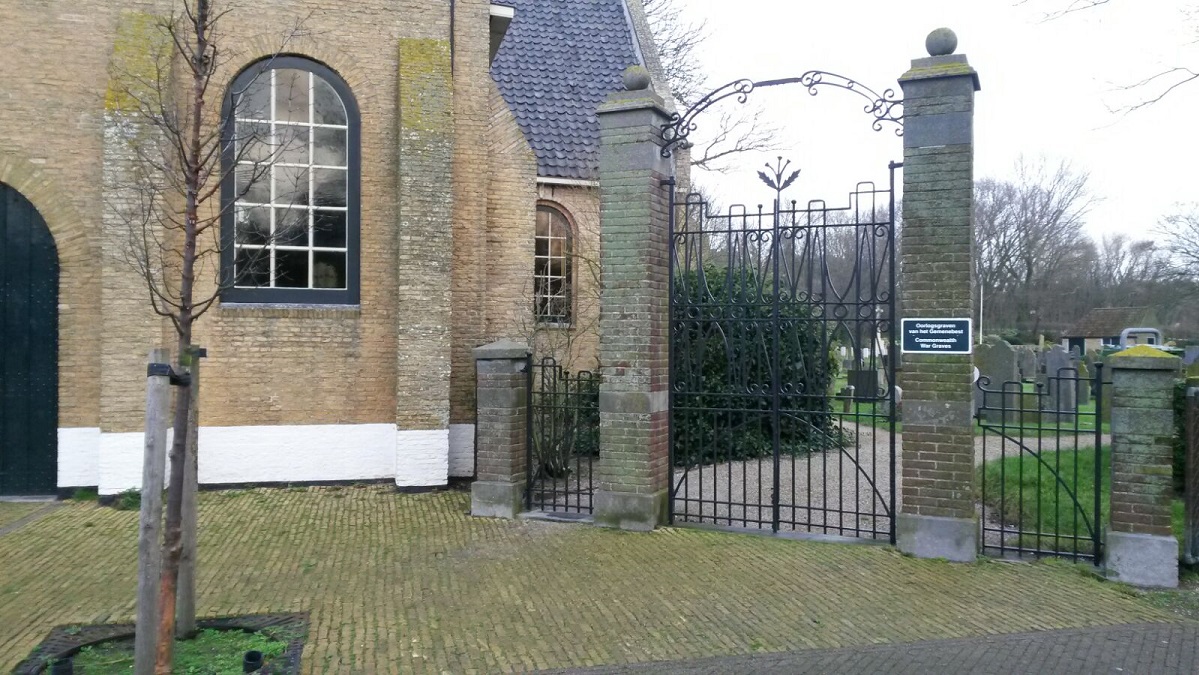 Overview below. On the left is 'The White Monument'. An important landmark on this cemetery.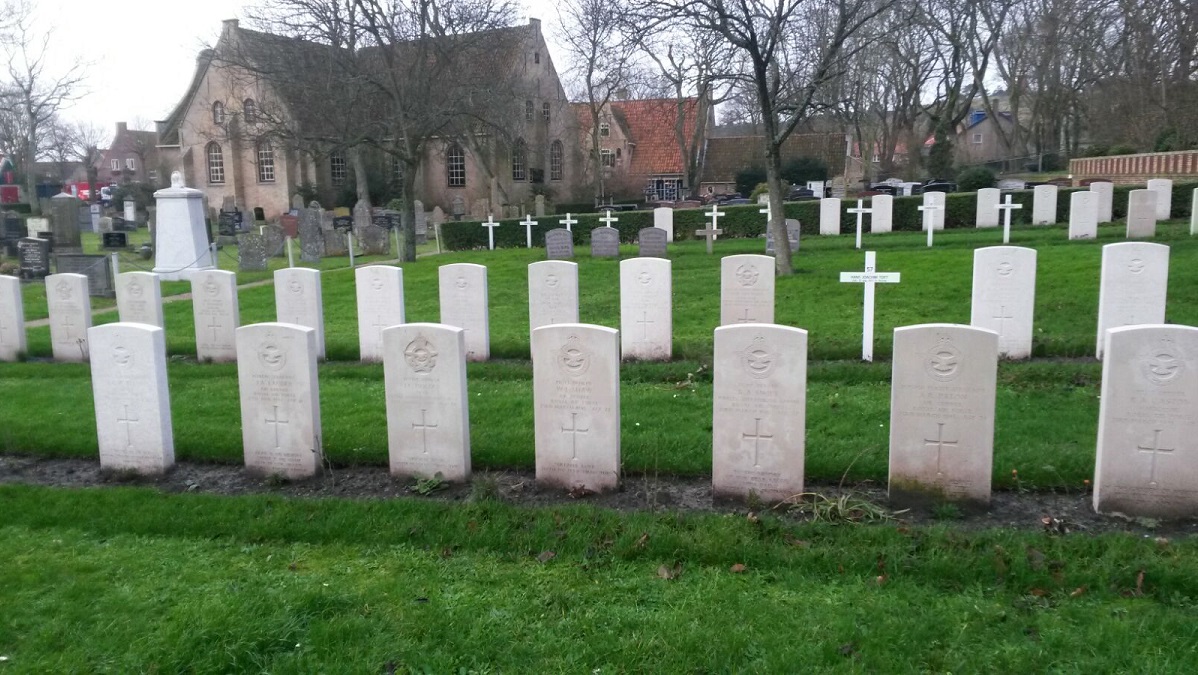 Below photo shows the 7 rows with war graves. Row 1 and 2 are in the back. Row 3 has one CWGC headstone on the side, this was the first Allied burial on this cemetery. Row 4 has also one headstone (grave no. 10). Row 3 and 4 are now empty because the washed ashore French Dunkirk-victims were exhumed from these rows in 1949. Row 5 is a full row with CWGC-headstones, but with a white cross in the middle. This is a German civilian buried in 1935. Row 6 has an empty space, an American airman was exhumed from this grave. The front row no. 7 has 5 graves, of which the outer 2 are CWGC.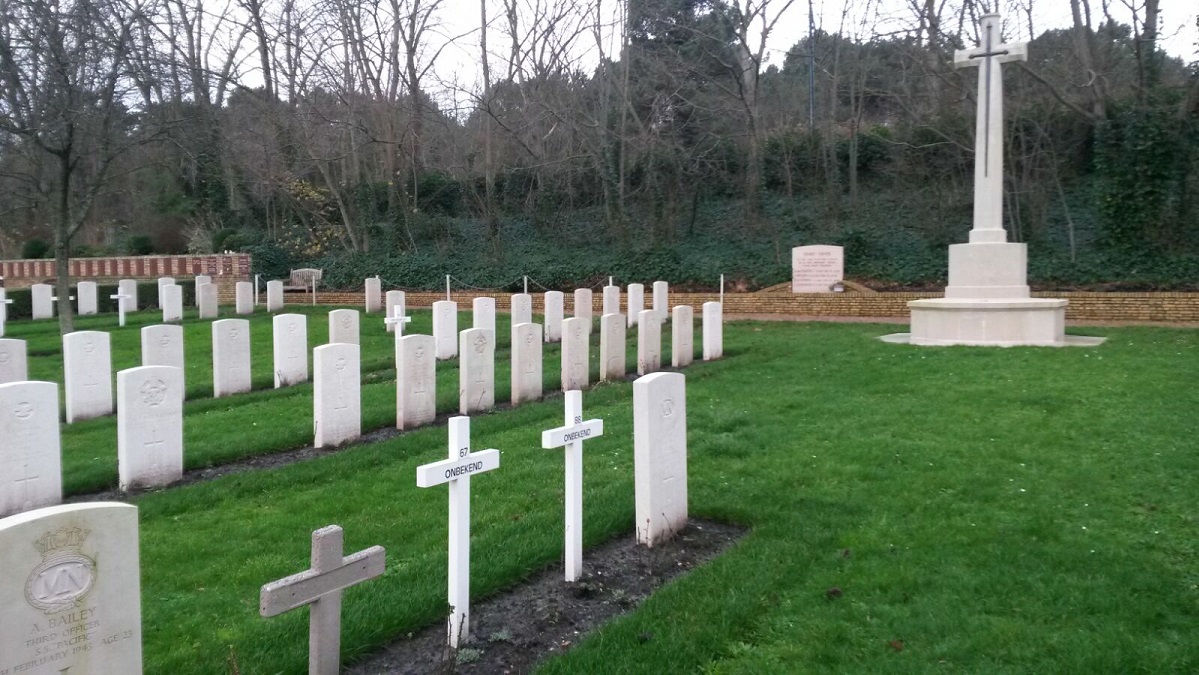 22 JULY 1940
Below images show the second Allied burial, involved a French Navy Sailor on 22 July 1940 (Raymond Plan). Shown is row 3, with his open grave no. 3. Marked with '1' is the White Monument on the side of row 2. Marked with '2' is the local Protestant pastor reading his speech. Behind him is a white cross with the grave of a German sailor. The first Allied grave had already a white cross (3). In that grave no. 1 is buried an unknown Royal Navy Sailor washed ashore here 6 June 1940. After the war he could not be identified.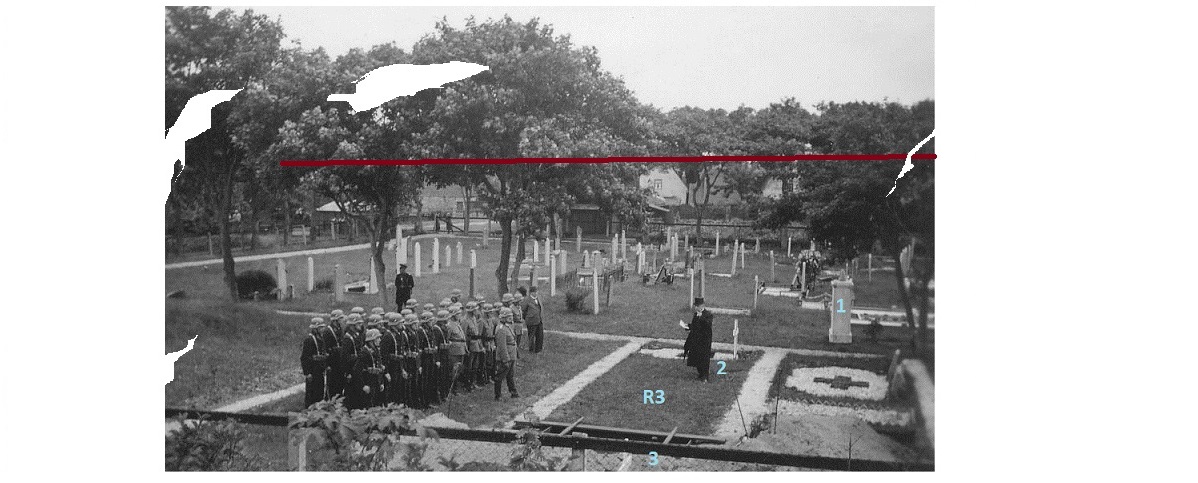 Photos under show the same burial as above.The White Monument is visible on the right (1). Church is in direction of the 'C'. Marked with ' 2' is the grave of the German sailor. R3 is row 3. At position (3) grave 1 is protected by a tarp on which the sand from grave 3 is piled up. Shovels are in the sand. The pastor concludes his words and has put away his paper. On row 4 is a German officer in front of a section of German Navy sailors (in black) and a section of German Army soldiers (in grey). The mayor of Vlieland is holds flowers in his hand. A Dutch policeman stands in the back. The photo is taken from the high dune (D) along the cemetery fence.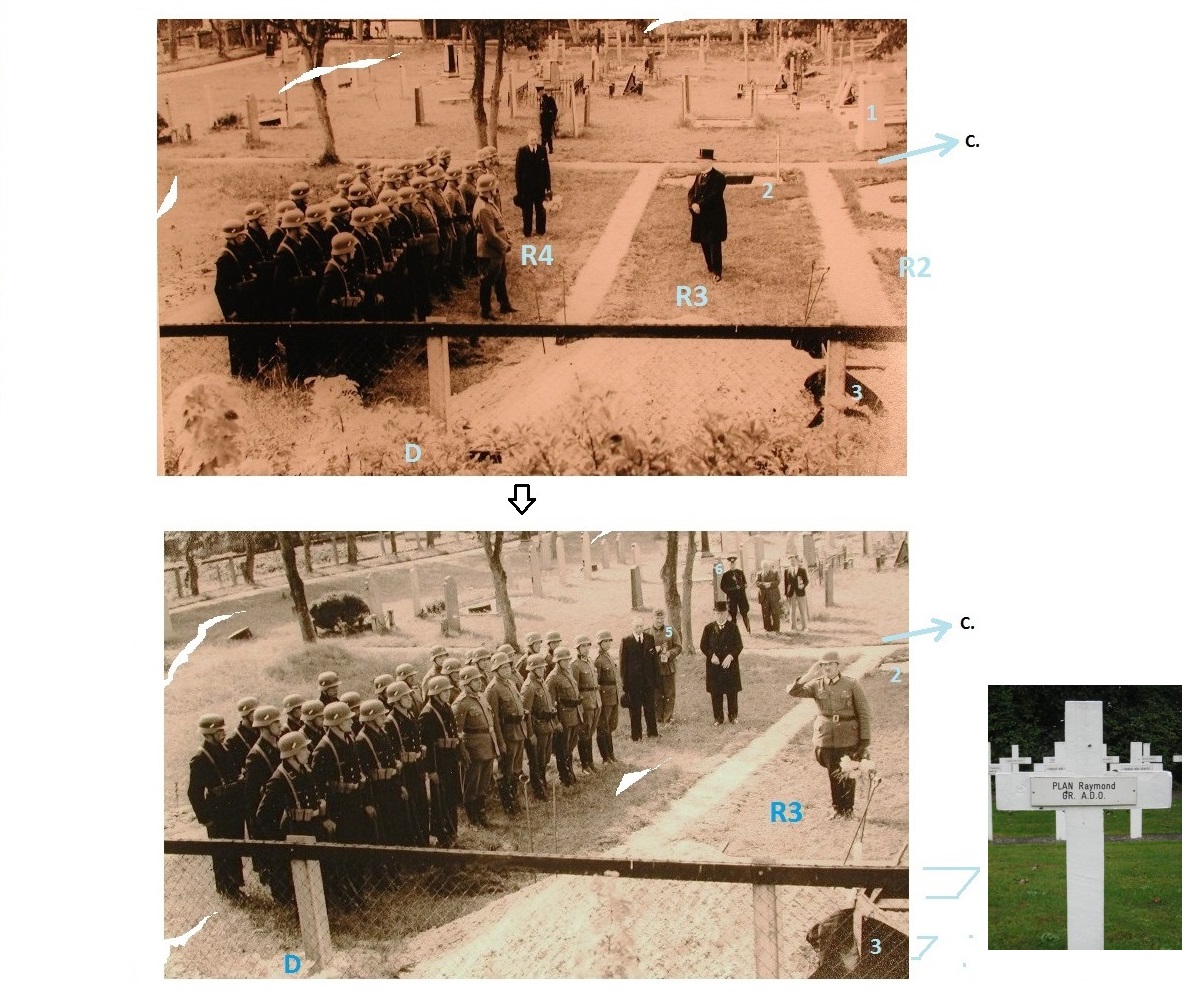 On above photo the mayor has handed over his flowers to the German officer. He makes a salute towards the open grave. At '5 ' a German military photographer with a box-camera takes pictures. The Dutch policeman (6) got company of two newspaper reporters. The man buried on this day 22 July 1940 in grave 3 is French Navy sailor Raymond Plan (from Roche Colombe). He washed ashore as first of a whole group of French war dead, Dunkirk-evacuation casualties. Raymond Plan was exhumed in 1949 and reburied in the French centralization war cemetery in the Netherlands in Kapelle near Goes.
Below map shows the situation of this plot on 22 July 1940 with the open grave 3. In grave 1 is the unknown Royal Navy sailor buried 6 June 1940.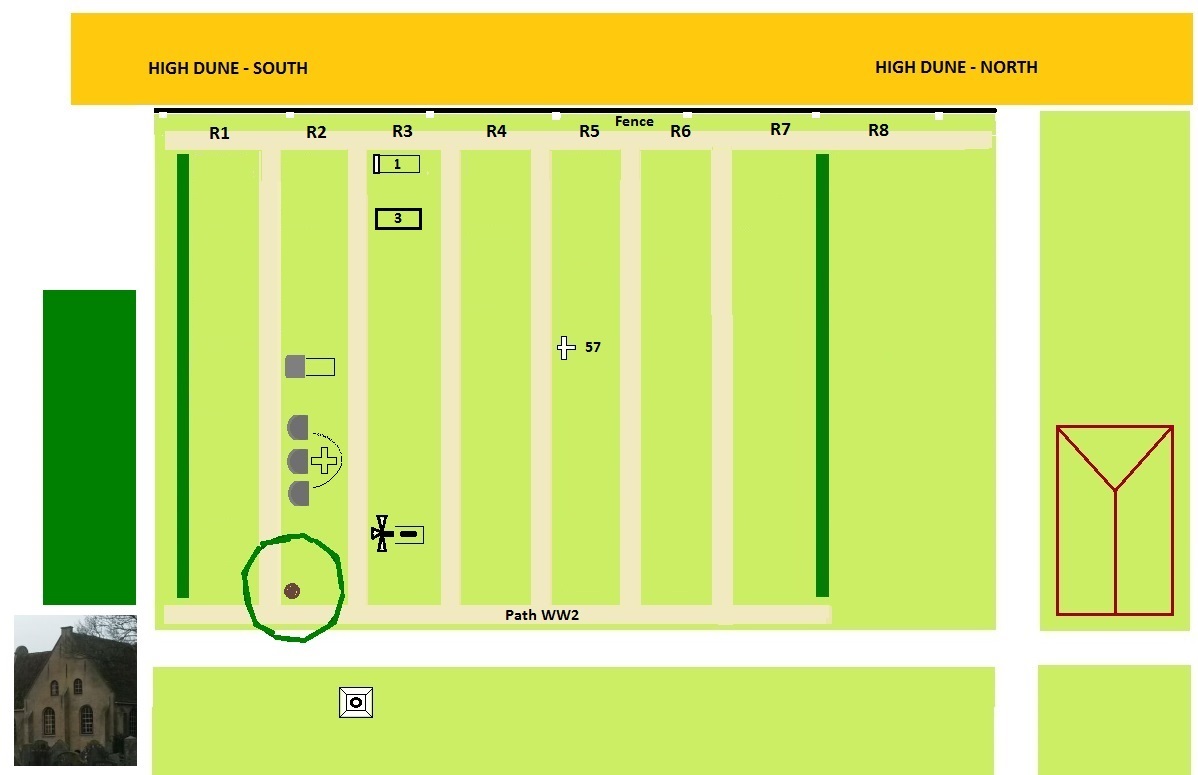 Row 3. Table with the first WW2 burials. First interment was on row 3, grave 1, June 6 1940. Only this grave is left on row 3 today.

Photo below. THE FRENCH MASS-GRAVE ON ROW 4, 30 JULY 1940.
In the days after the burial of Raymond Plan on row 3, another 4 French soldiers were buried next to him. Then burials moved to underneath row 4 on the photo below (R4). On 30 July 1940 they buried here 12 French Dunkirk victims on the end of this row. At position 1 on the photo again the same group of people are present: the priest, the Dutch policeman, the mayor (again with flowers), the German officer and his section of soldiers.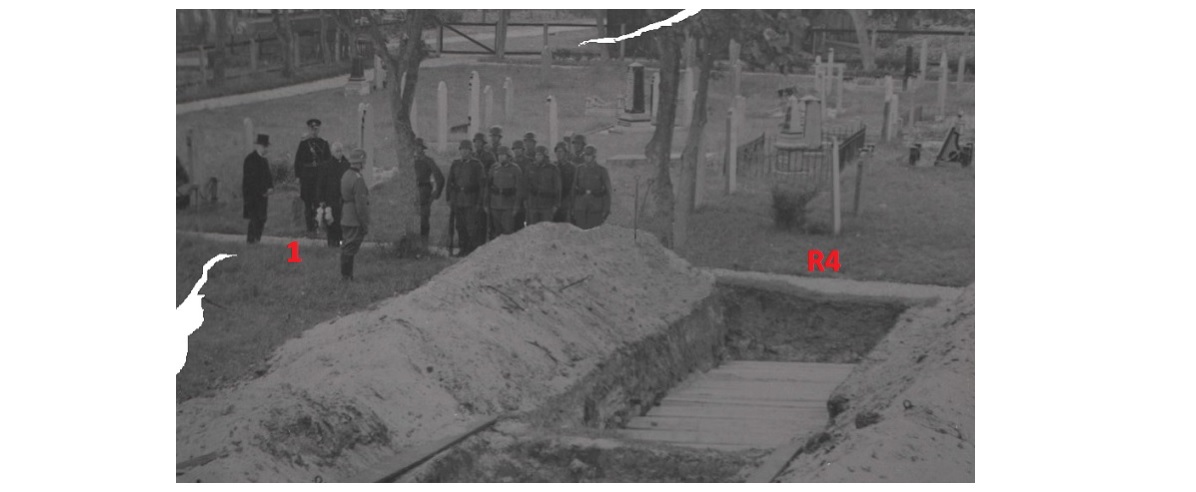 Below: ROW 4, FRENCH CASUALTIES - THEN AND NOW.
Underneath black and white image shows grave 19 to 25 of the French mass-grave on the end of row 4. This picture dates mid 1941, because the grass on the graves has developed since 30 July 1940 and the English 1942 casualties are not yet on row 5. Behind the French is the grave of the German sailor on row 3. On row 2 (R2) is a pile of sand. The tree (T) in the background and the White Monument have not changed today. The former French war graves and the grave of the German sailor are marked in red on today's photo.

Row 4. Table of the original burials on row 4 with the French mass-grave of 30 July 1940: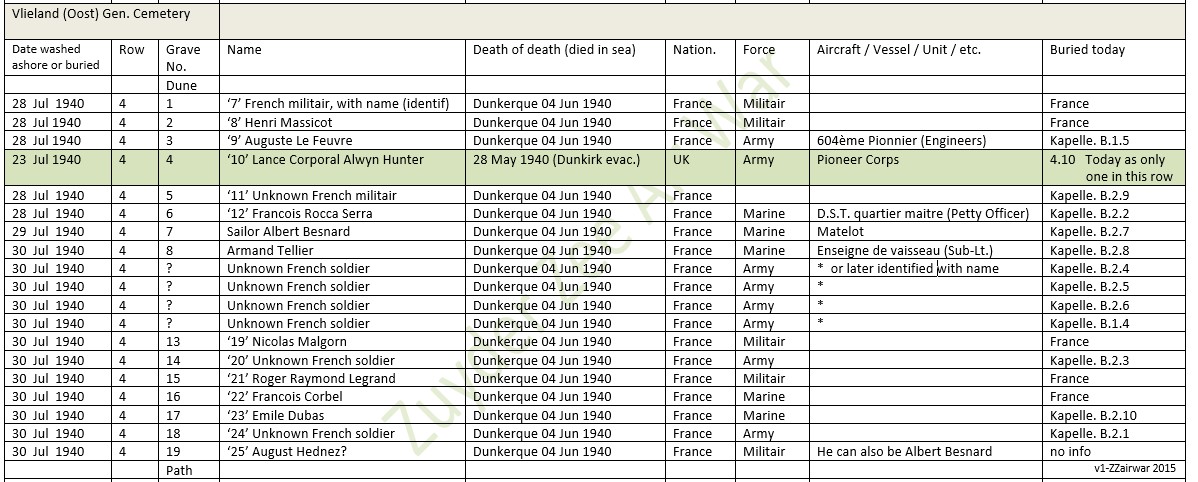 Row 2, table below. The burials of Dunkirk-victims continued on row 2, possibly also on row 1.
Below: Plot-situation on 15 December 1941 (grave 38).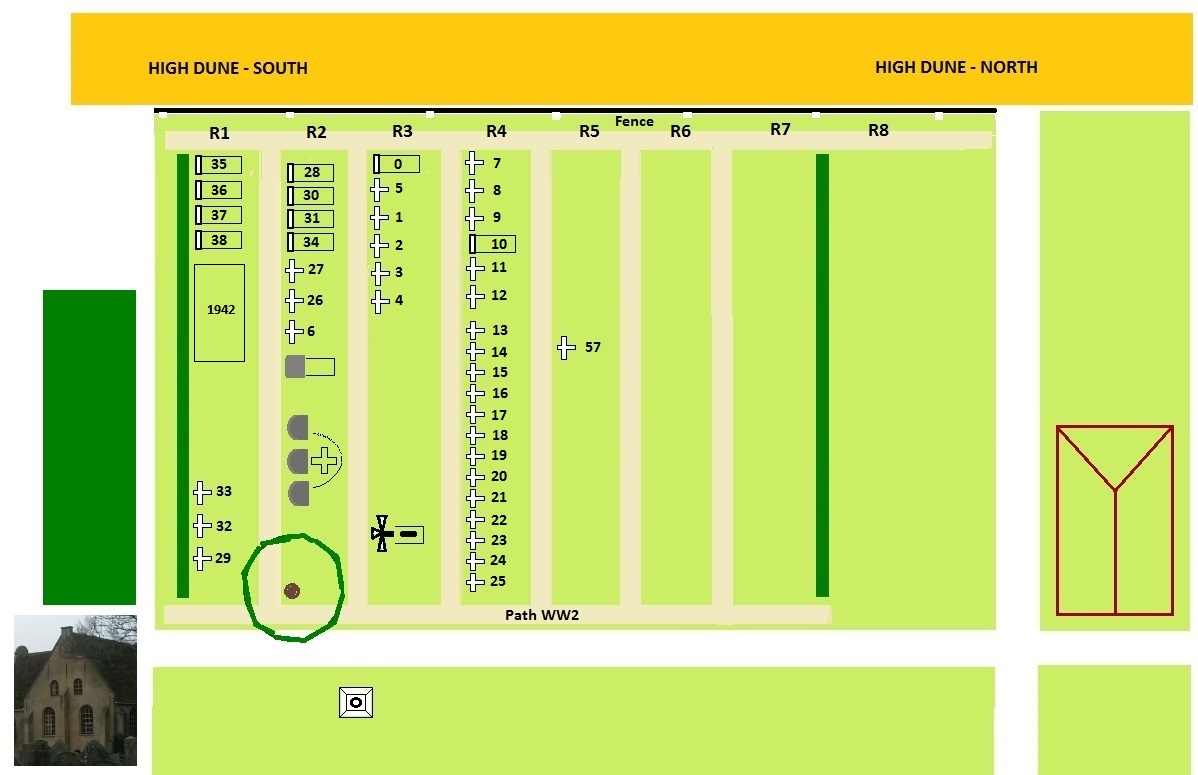 Below: German burial June 1942 on row 1
Photos under show the war graves at the High Dune South-side 1942. These were taken by a German photographer, standing at the high dune fence (F) at Row 5 (R5), still empty at that time. For the middle photo (below) the photographer moved towards end of row 3 and 4 and stands on the central path, near the cross of the German sailor. Subject is a burial of 2 washed ashore RAF sergeants on row 1, graves 40 and 41 in June 1942: Sgt. Frank Ormerod and Sgt. Harte. See for position the above map. The soldiers are a group of Kriegsmarine (German Navy) sailors with an NCO on their right. They wear berets in stead of helmets. The church is at position 'C'. Grave 10 shows the cross of British Dunkirk victim Lance Corporal Alwyn Hunter, buried July 1940. The cross with no. 10 reads 'A. Hunter CE xxxxxxxx'. CE means 'Church of England' followed by his service number. Today Hunter's grave 10 stands alone because all the French Dunkirk casualties around him were exhumed 1949. Alwyn Hunter was in the Army Pioneer Corps (Engineers). Next to him in grave 9 was French soldier August LeFeuvre, also a Pionier. There are more photos of funerals on Vlieland Island in Germany.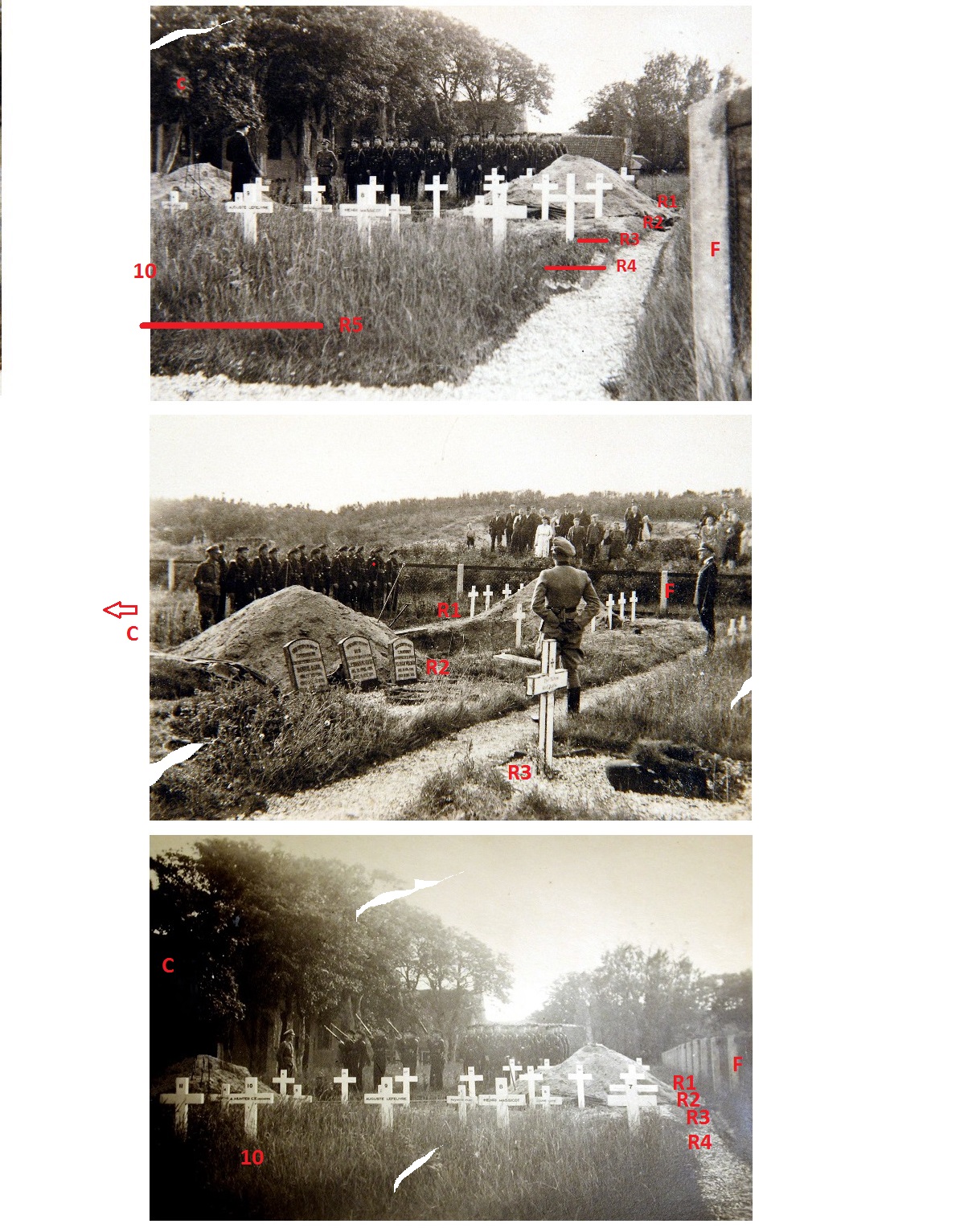 Row 1:

Row 1 today: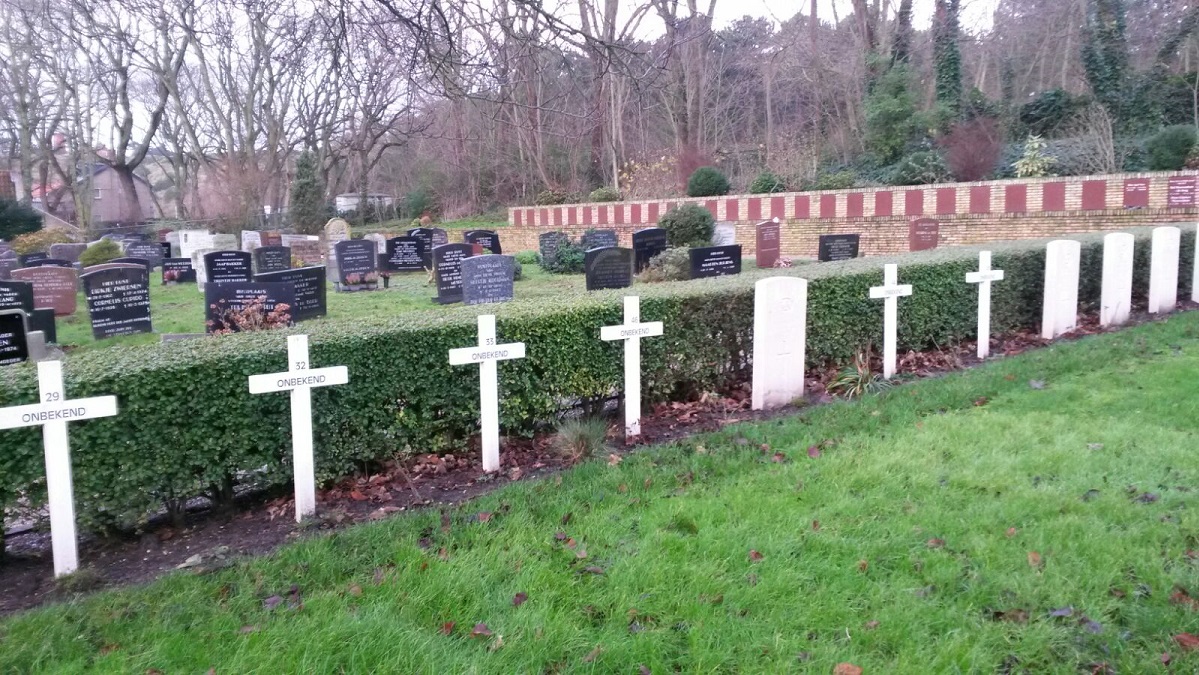 Row 5. Mid 1942 - mid 1943. Distinct for row 5 is the white cross in the middle with the German civilian buried 1935.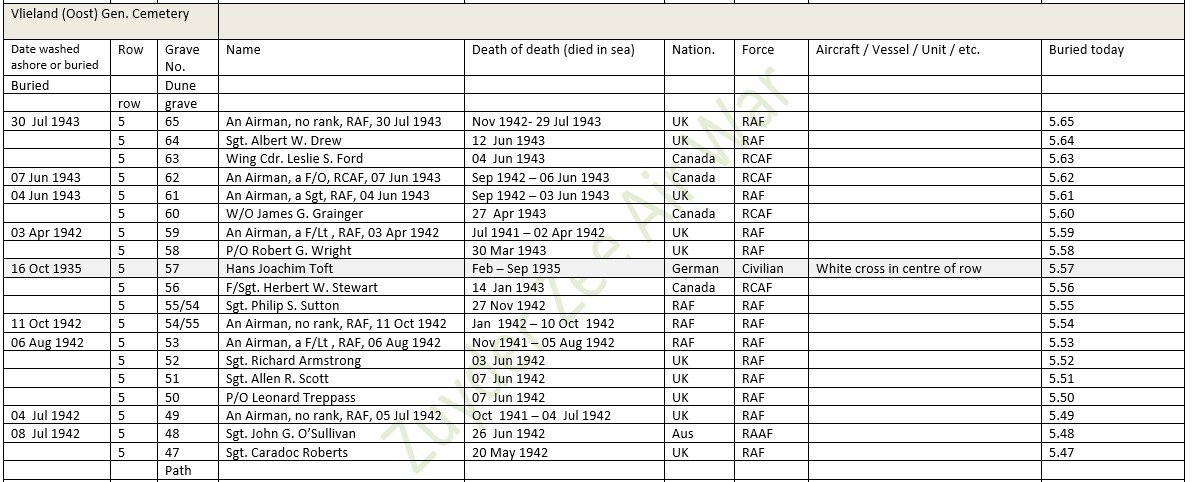 Photo below row 5, 6 and 7. Nearest to the camera is front row 7. Behind it row 6 (with empty place) and row 5 (white cross in centre).
Row 6. In the empty grave in row 6 lay American S/Sgt. James W. Craig. He is the only trace of the lost B-24 bomber 42-41015, 93 BG - 328 BS. That bomber was the leading aircraft on the raid to Osnabrück on 22 Dec 1943. It was shot down in the North Sea to the West of here on the return route. Pilot was Captain Herrell E. Ford, co-pilot was Colonel John H. Hayden, the CO of the 93 BG/328 BS. The entire crew were Ploesti-veterans and are MIA, except for tailgunner S/Sgt. Craig. Based on the high number of USAAF bombers that came down in these waters with dozens of MIA, we would not be surprised if the American Quartermaster Grave Recovery Team post war recovered one or two Americans more from this cemetery, possibly nameless but based on clothing USAAF. Information about this is missing.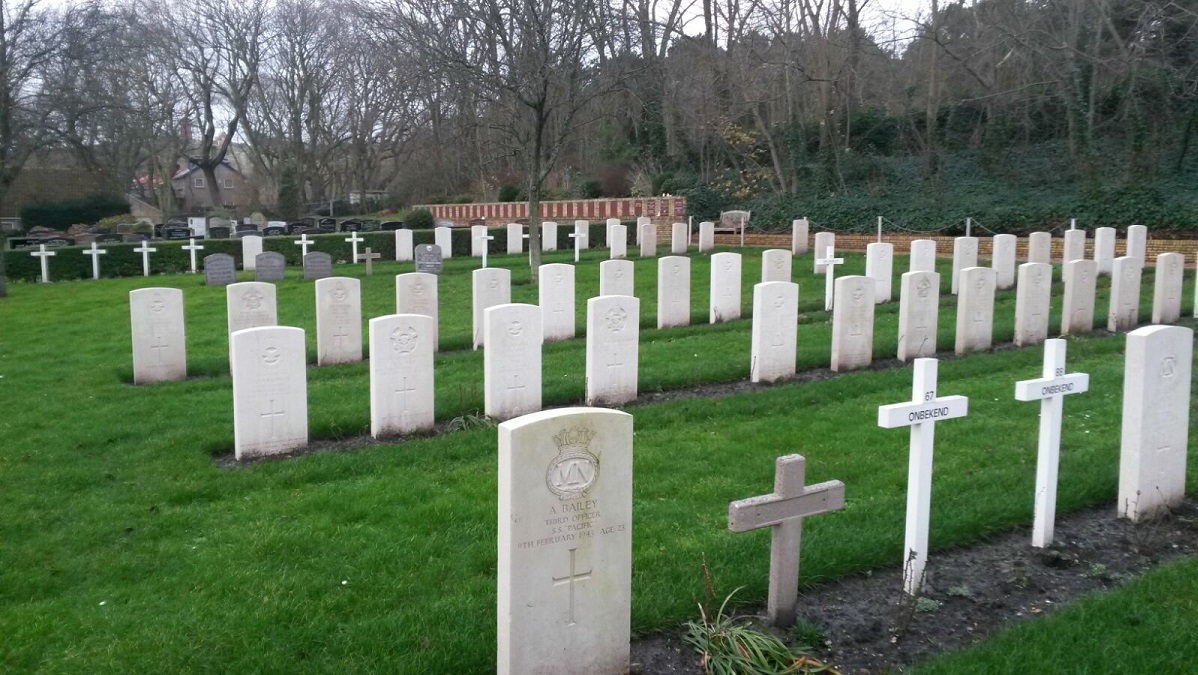 Row 6. Name overview.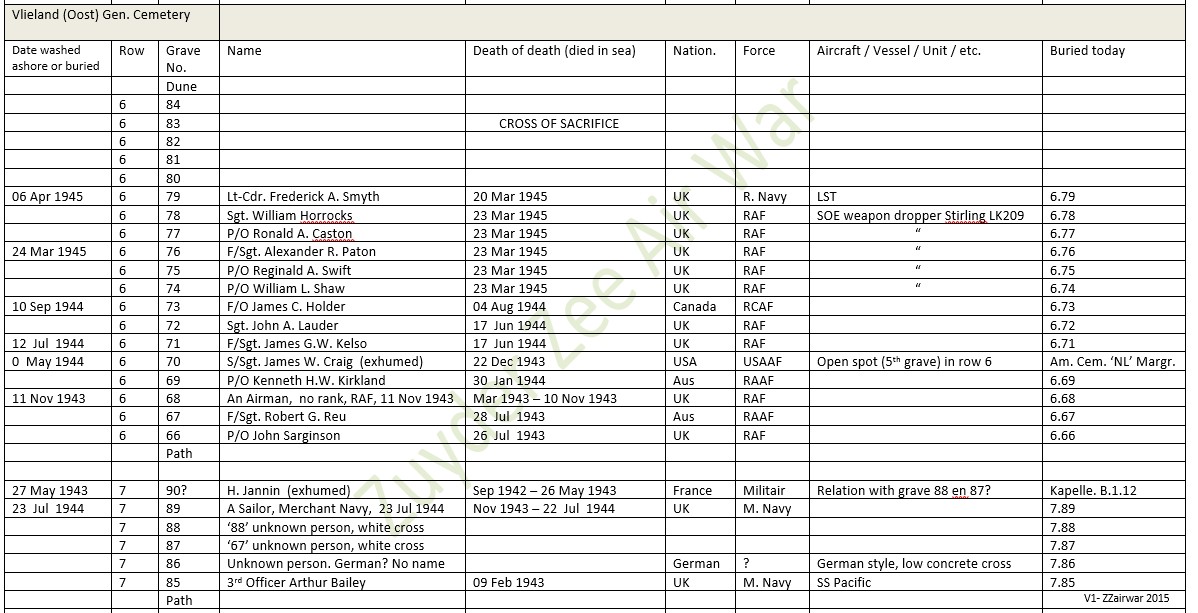 Below map: MAP VLIELAND WAR GRAVES. PLOT SITUATION TODAY.
Exhumed French (1949) on row 3 and 4 well visible. Possibly the unknown persons 6, 26, 27, 29, 32 and 33 are (French) Dunkirk casualties as well, but could not be identified as such and after post war examination reburied here again. Also row 8 holds unknown persons washed ashore here.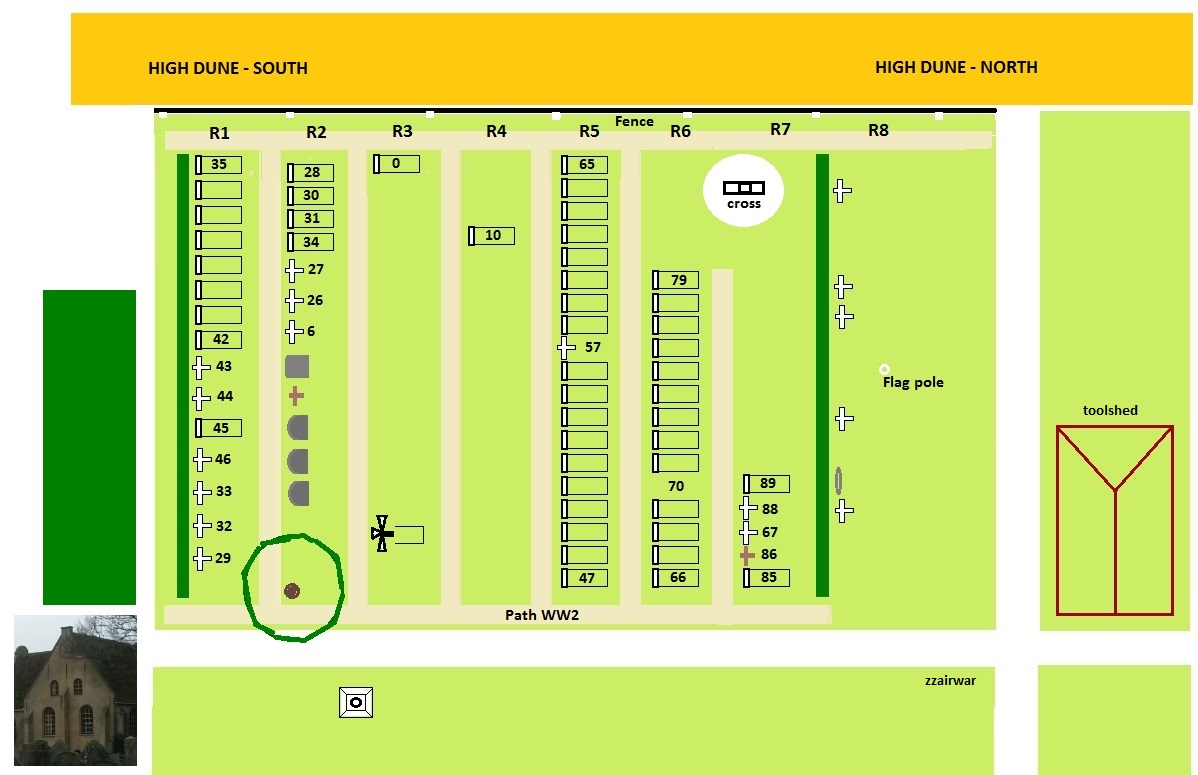 .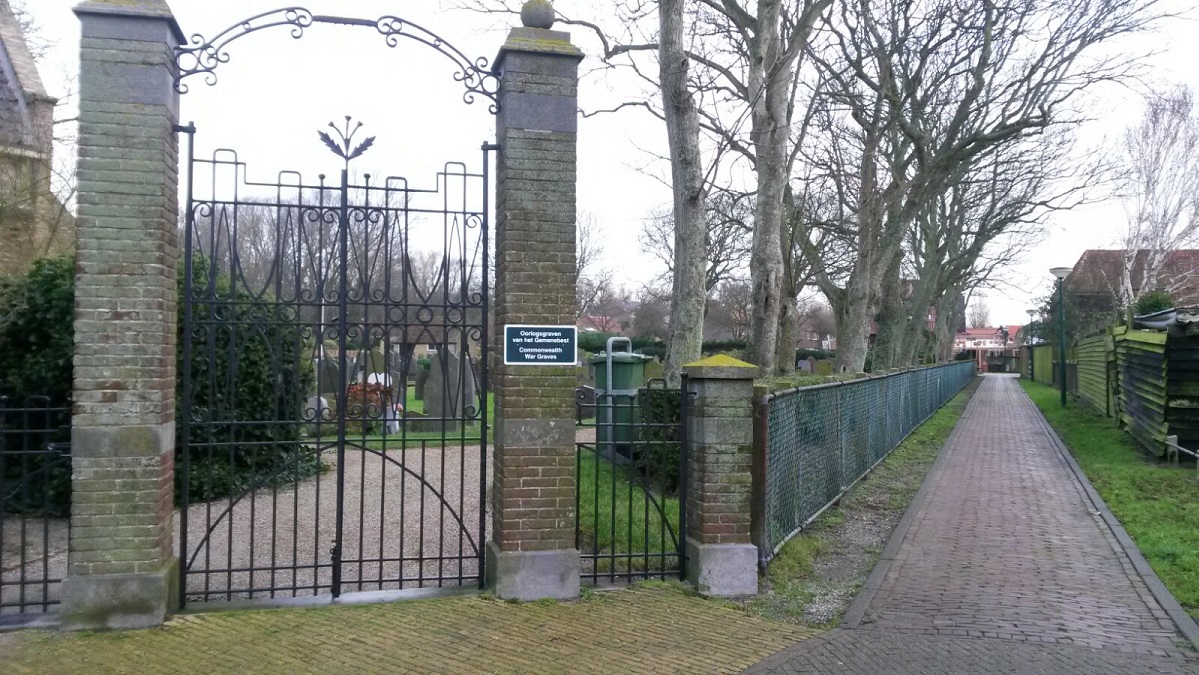 Statistics (rough data, in concept, not definitive):
- June 6, 1940. One unknown English sailor Royal Navy. Washed ashore.
- Dunkirk. 2 English soldiers (Butler and Hunter)
- Dunkirk. 28 or 29 French 1940, of which 23 exhumed. 6 identity not established 1949?, stayed here: white cross no. 5/6, 26, 27, 29, 32 and 33.
- 2 Germans (at least 1 exhumed), possibly one under low stone cross. There are 2 low stone crosses today. No names.
- 1 American airman (exhumed). Washed ashore. American not-identified exhumed: no info.
- 3 white crosses 'unknown' 1942 on row 1: no. 43, 44 and 46. Possible Dieppe-raid victims or Dutch 'Engelandvaarders'?
- 2 white crosses 'unknown' 1944 on row 7: no 67 and 88. Possible relation with Frenchman H. Jannin (end 1942 - May 1943)
- 11 washed ashore Commonwealth servicemen 'Known unto God'. 9 are RAF airmen, 2 sailors.
- 32 washed ashore Commonwealth servicemen identified.
- 5 RAF airmen crashed on the Island (SOE bomber - weapon dropper 1945)


Sources/Read more:
- Website CWGC on Vlieland war graves
- Photos courtesy by Mrs. Ina Duiker

- Mr. Willem de Jong researched much more on Vlieland in WW2. See his site-page for the stories of the Commonwealth servicemen buried here and more photos. . Google: '626 sqn Willem' (page 17) or try this link: http://www.626-squadron.co.uk/willem17.htm

- Also some info on: http://www.ormerod.uk.net/Graves/CWGC/The_Netherlands/Vlieland_General_Cemetery/vlieland_general_cemetery.htm
On this website are 4 more pictures on burials on Vlieland.
- https://www.flickr.com/photos/dirk_bruin_vlieland/





© ZZairwar (Zuyder Zee Air War)





Other files on the Dutch Frisian Island War Graves:


- Texel Island 'Den Burg' Cemetery http://www.zzairwar.nl/dossiers/971.html

- Vlieland Island (this page)

- Terschelling Island 'Longway' Cemetery http://www.zzairwar.nl/dossiers/900.html

- Ameland Island http://www.zzairwar.nl/dossiers/899.html

- Schiermonnikoog Island 'Vredenhof' Cemetery http://www.zzairwar.nl/dossiers/898.html

- Rottumeroog Island former War graves http://www.zzairwar.nl/dossiers/865.html